Hiya, just wanted to share my latest favourite recipe cinnamon popcorn!
I suppose it is a 'healthy' take on caramel popcorn, my kids used to always be happy with just plain old popcorn, then I foolishly bought a bag of caramel corn as a treat during lockdown, now apparently plain popcorn just doesn't cut the mustard anymore lol
So I thought I would work on a healthier homemade version, which is how I ended up with this cinnamon popcorn recipe. I created it by simply combining my tried and true vegan caramel sauce with popcorn and the end result was pretty darn delicious!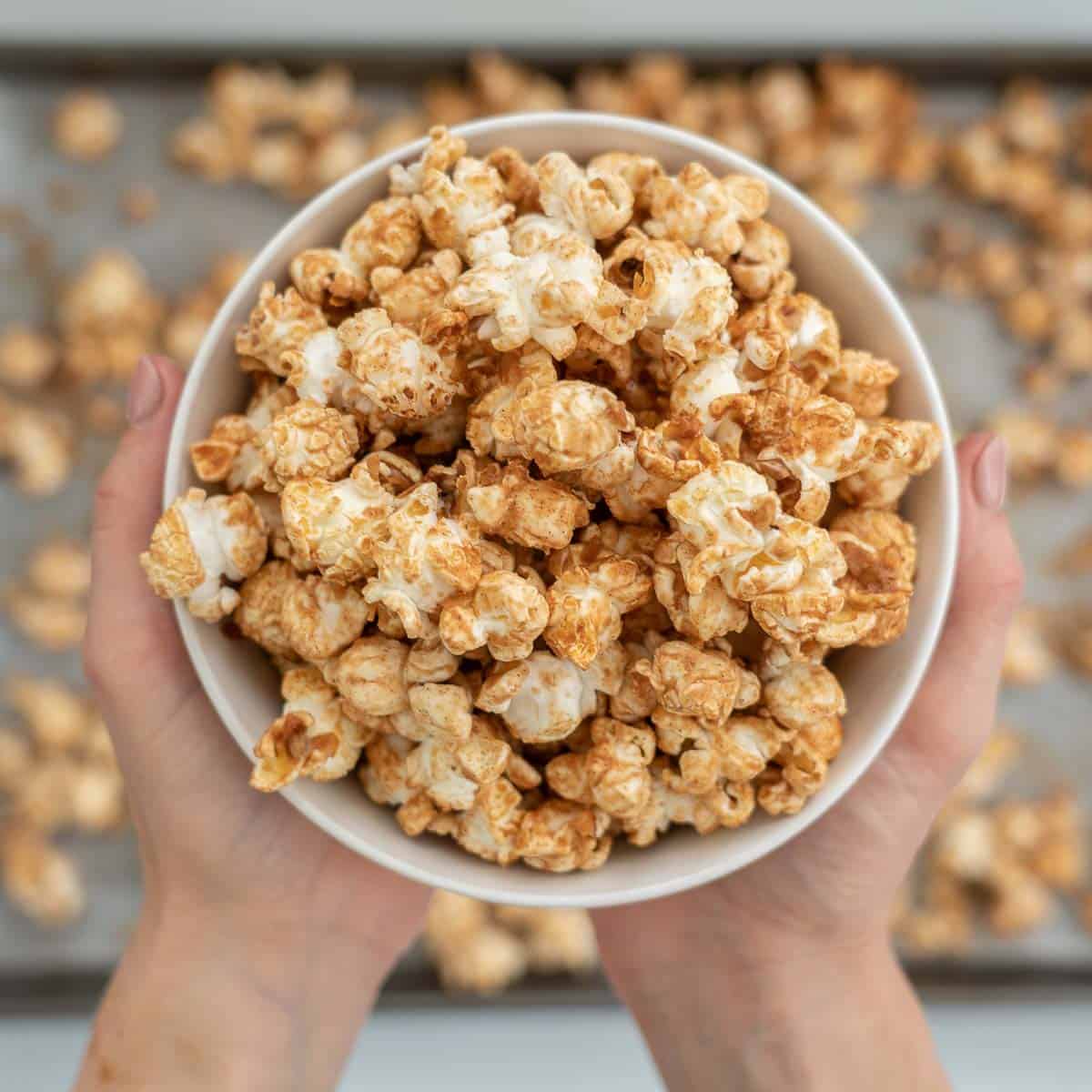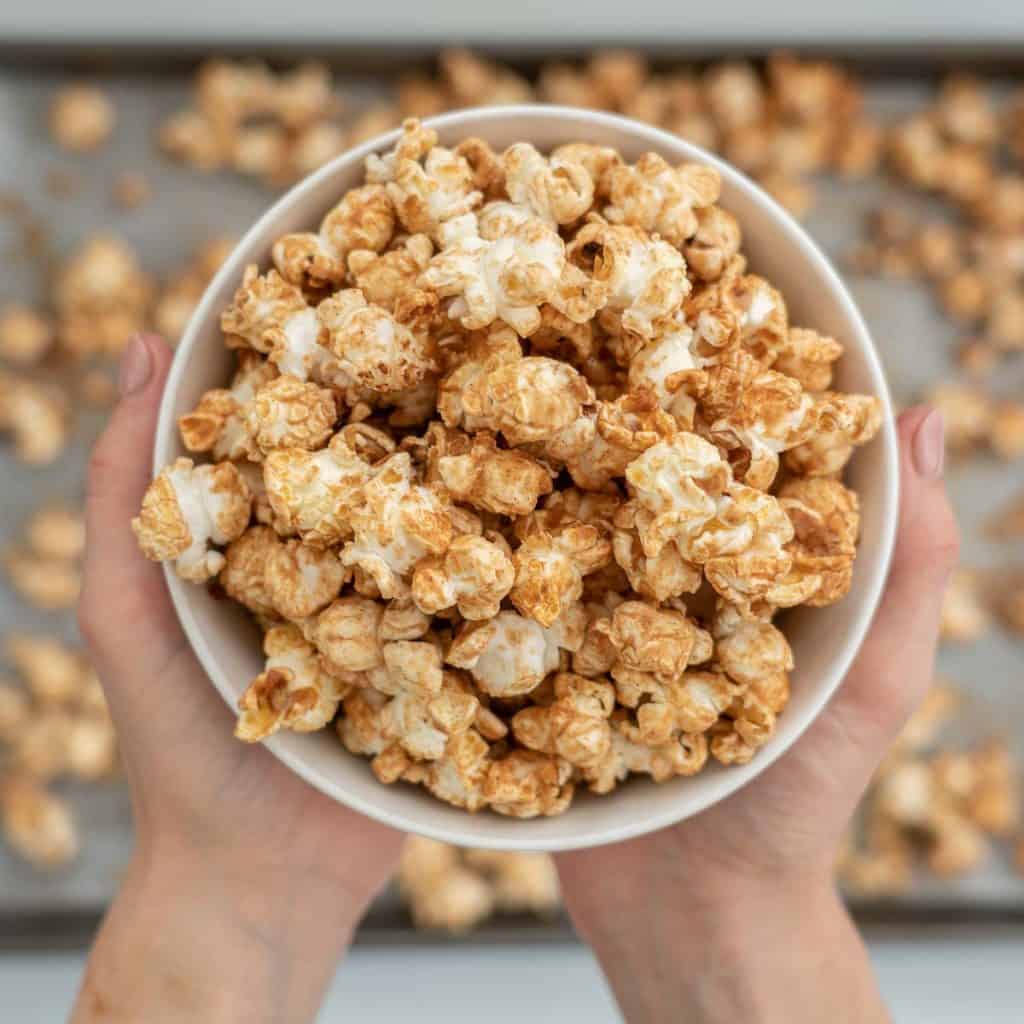 Is Popcorn safe for toddlers and kids?
On my website I share lots of recipes for toddlers and kids, and even babies. I therefore just want to check off some points regarding the safety of popcorn and young children
Popcorn is a known choking hazard this is for two reasons.
Un-popped popcorn kernels/husks are a small hard food, which means it is difficult for children to bite though and break down enough to swallow safely – pieces can become stuck in children's airways. Unpopped popcorn kernels often sneak into bowls of freshly popped popcorn.
Popped popcorn is what is known as a 'compressible food' this means that the food can be squashed into the shape of a child's throat and get stuck there.
The New Zealand Ministry of Health Recommends popcorn should not be given to children under 3 years of age, I've also seen recommendations of not for children under 4 and 5 on other guidelines.
I therefore don't serve popcorn at playdates or parties for pre-school children, It's also a food I wouldn't give to a young child to snack on when we are on the move like in a pram or car.
Choking risk also increases when kids are walking around or playing while eating, so for younger children pop corn is probably a better snack to have up at the table when they are sitting upright and not distracted.
Quick Vegan Caramel Sauce
The quick vegan caramel sauce I use in this cinnamon popcorn recipe, could be used for all sorts of other things. I call it vegan, as at the moment vegan is a 'hot' term. But for my parents of allergy kids it also means this is a way to make a dairy-free and egg-free caramel sauce, it's gluten free too!
To make a vegan caramel sauce you just need equal parts of
Coconut oil
Maple syrup
Nut butter (I typically use peanut butter as it's the most economical, but its also delicious with almond butter or cashew butter)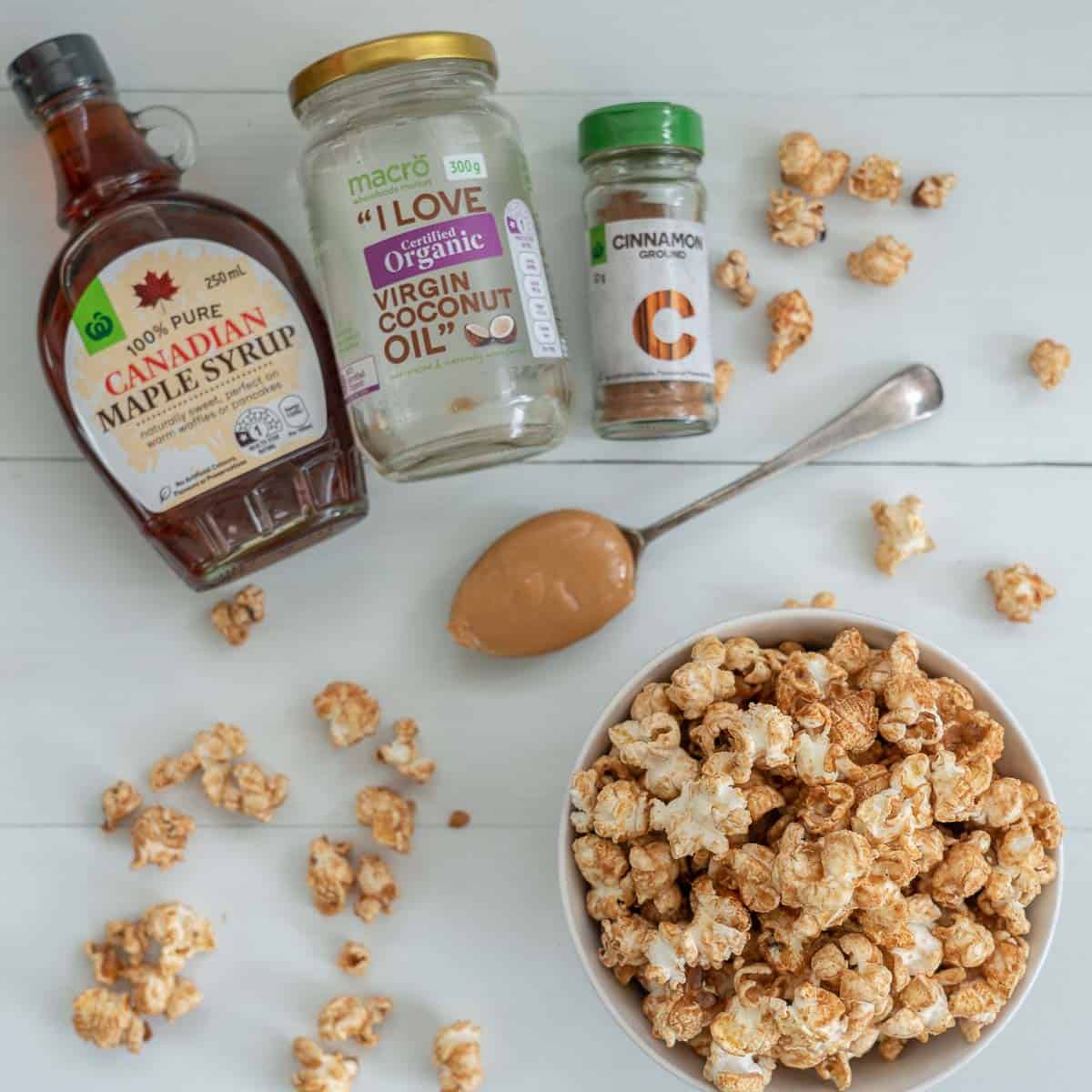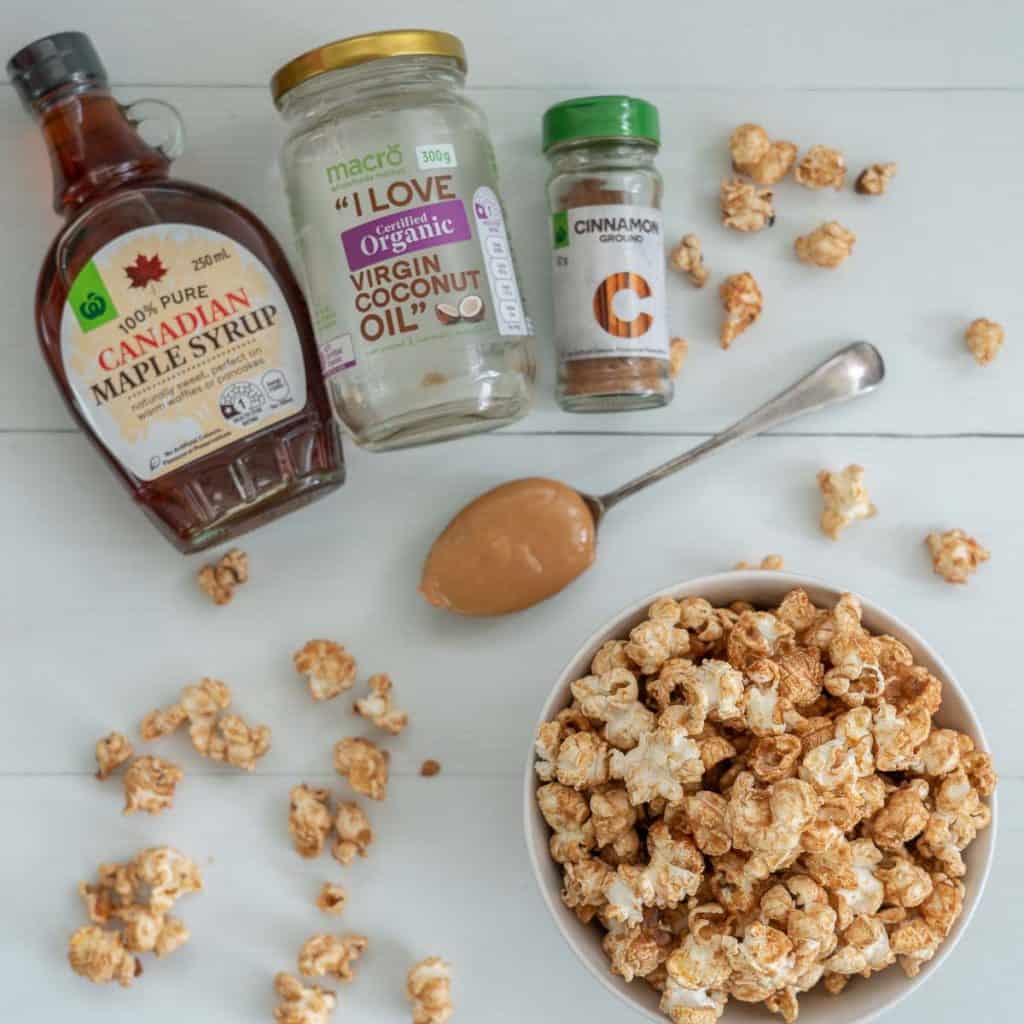 Melt the coconut oil and maple syrup together, you can do this on the stove top or even in the microwave. Then whisk in the nut butter and voila you will have a caramel sauce. I usually also add a little vanilla at the end as well, You can also add a little salt for a vegan salted caramel sauce. Of course for my cinnamon popcorn I added a good dose of cinnamon to the caramel!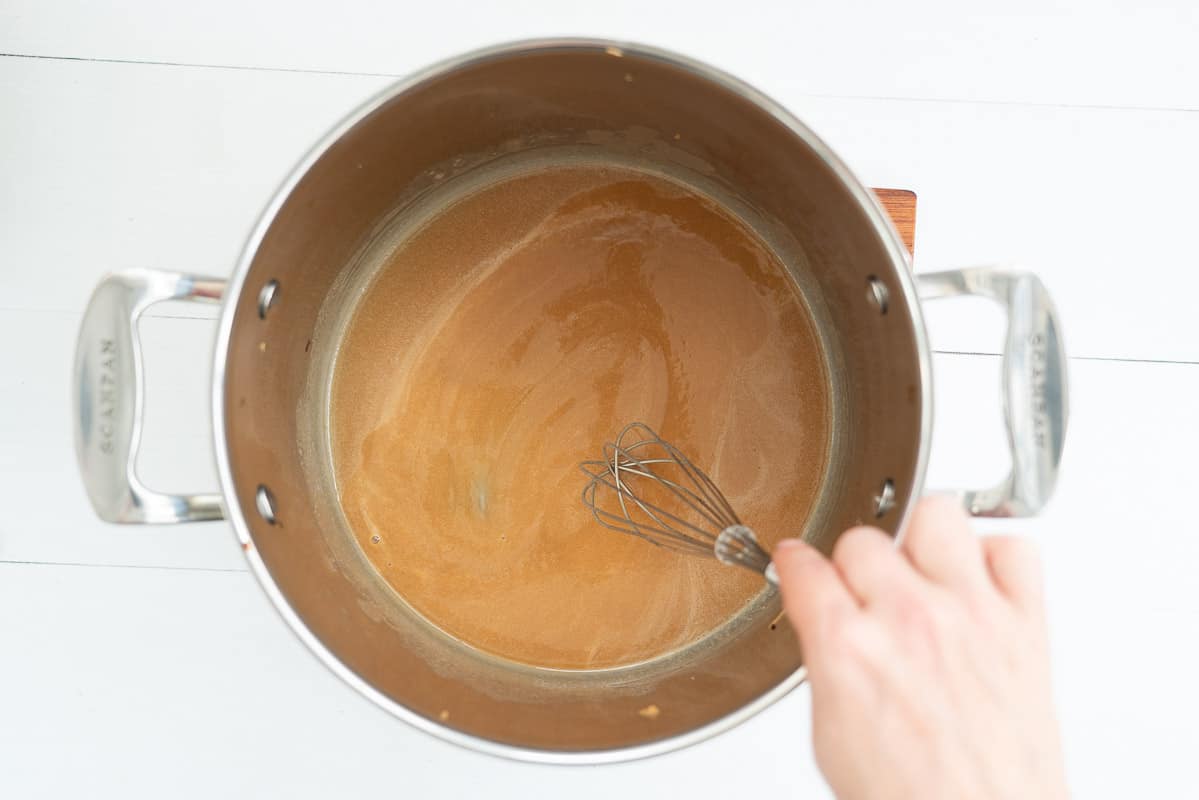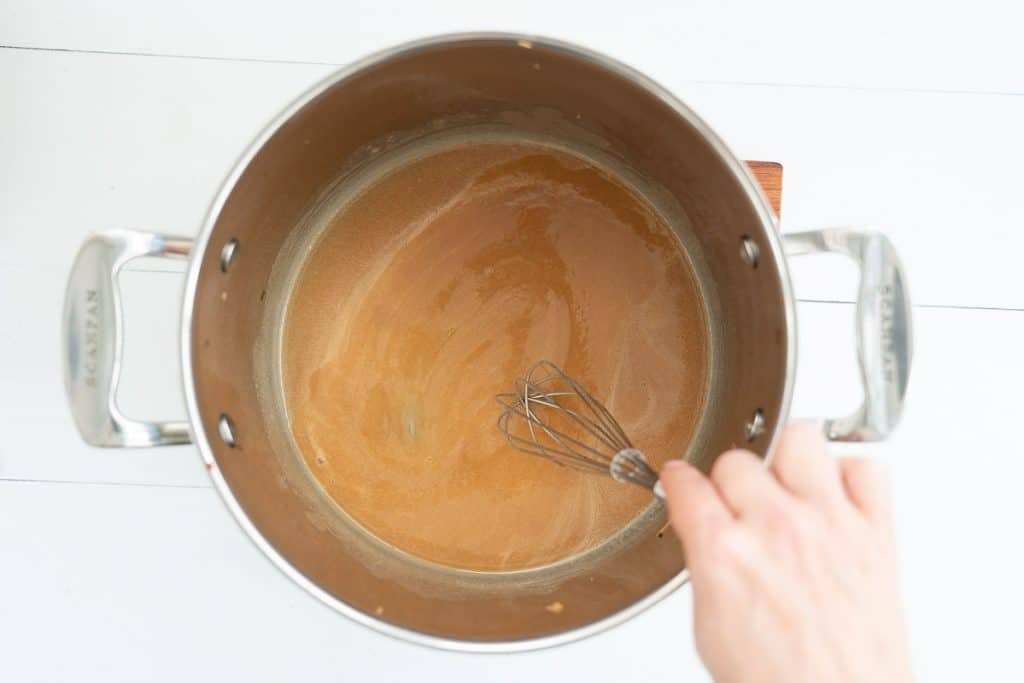 How to pop popcorn!
I am a stove top girl, I heat oil in a pot. I add a few popcorn kernels to the oil while it's heating. These are my guide for when the oil is at the right temperature.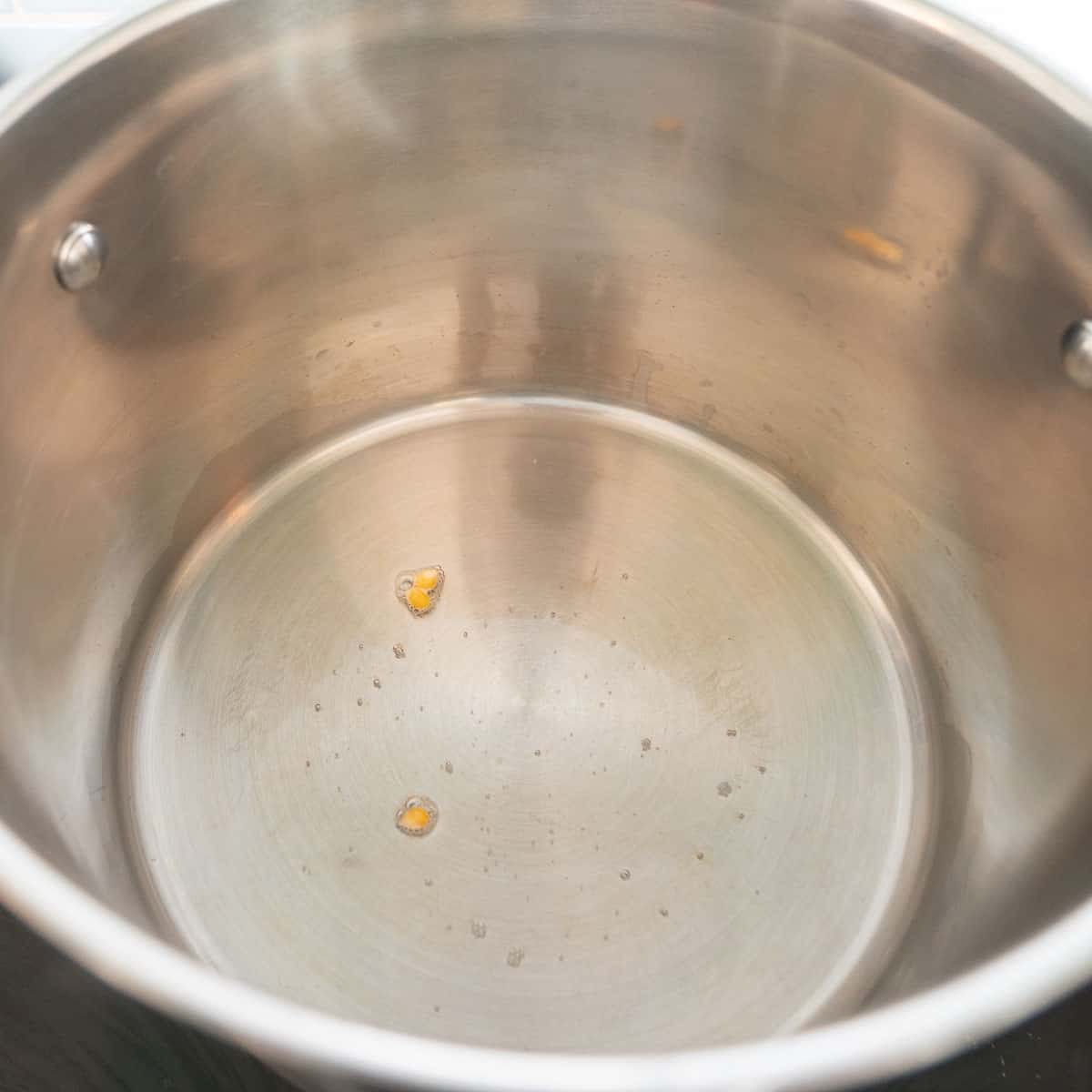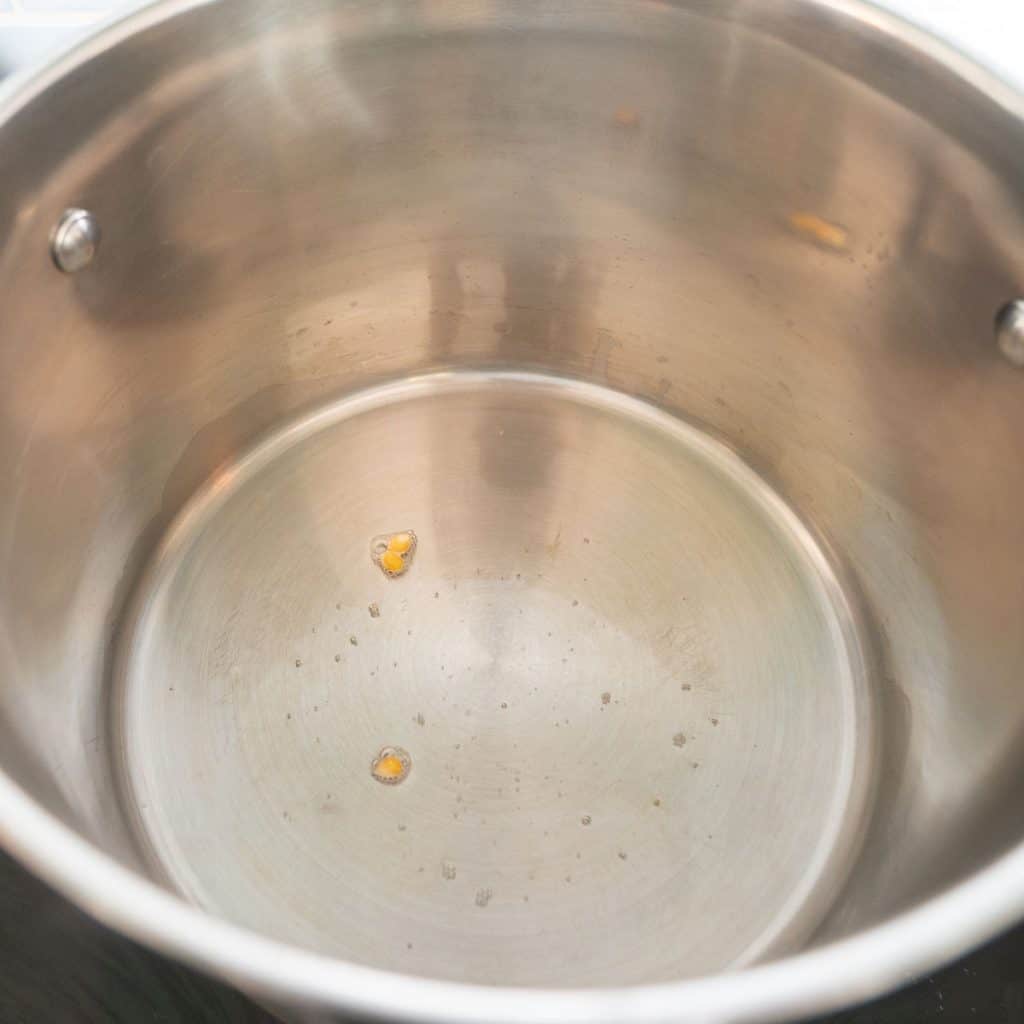 When they pop, I add the rest of my popcorn kernels, turn the heat down low and listen to the popping party!
I have a popcorn maker as well, it definitley works, but for some reason I find the popcorn is a little harder and a little less fluffier than if I use the stove and a pot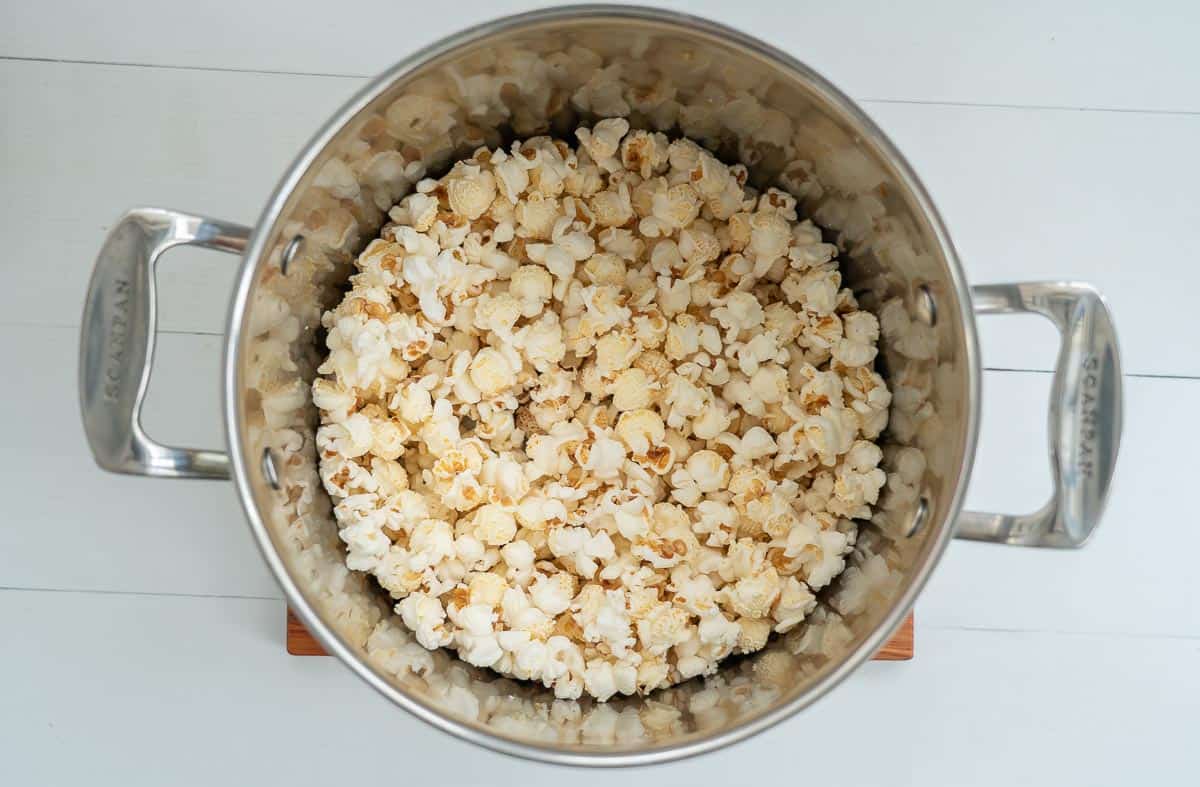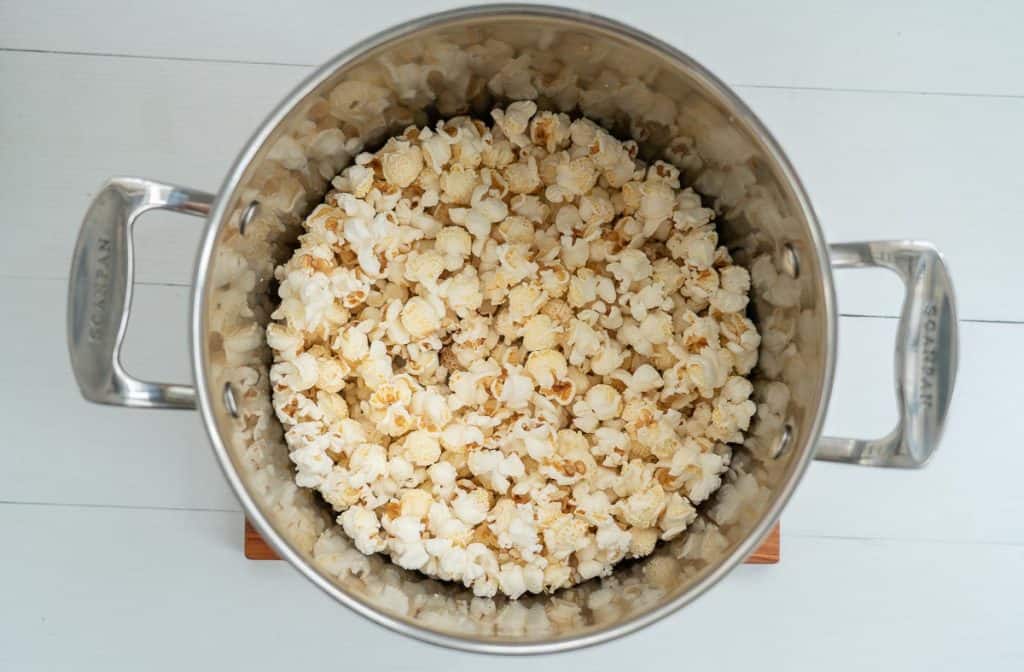 You could always microwave your popcorn kernels in a paper bag, you can find instructions to do this right here How to make microwave popcorn in a brown paper bag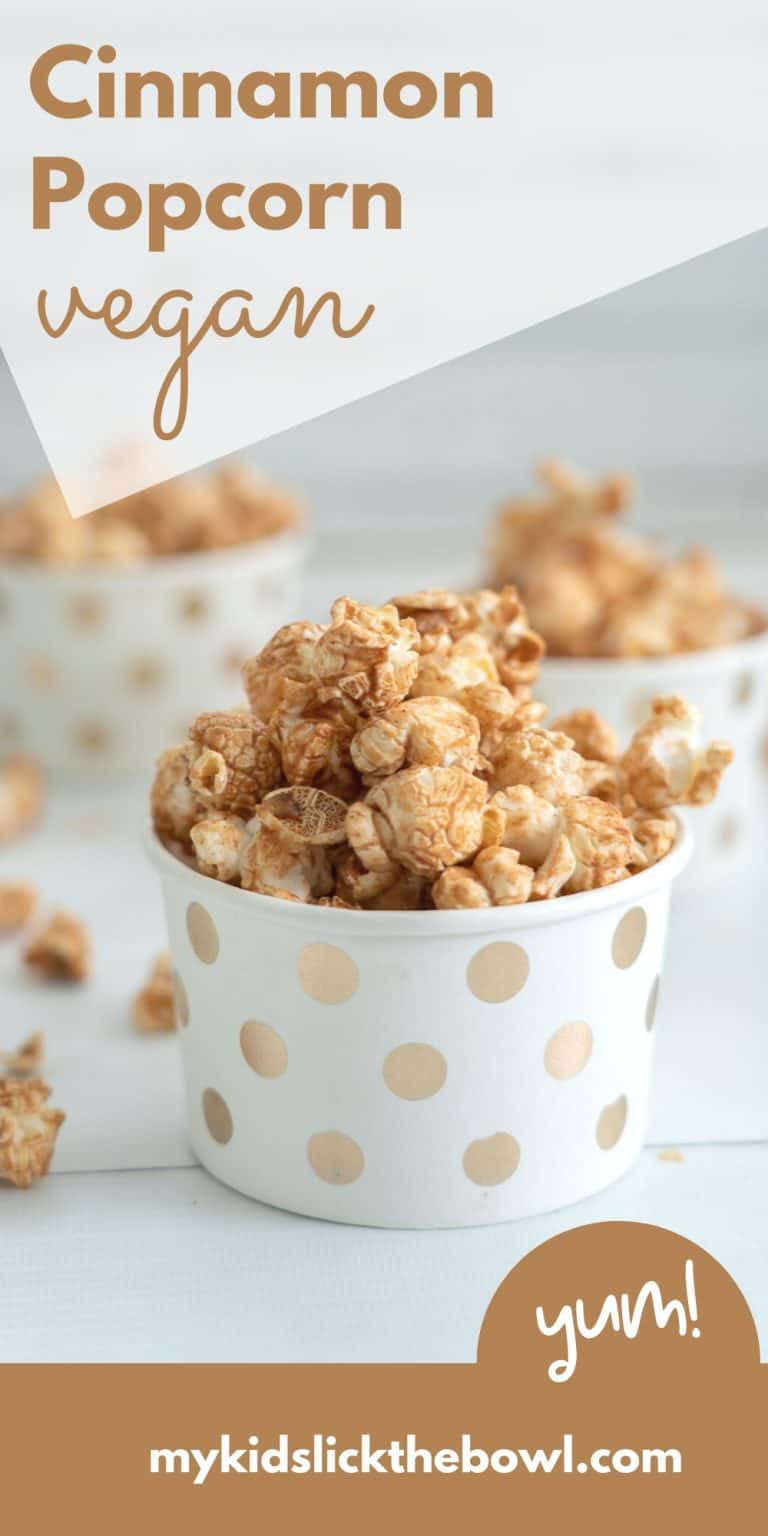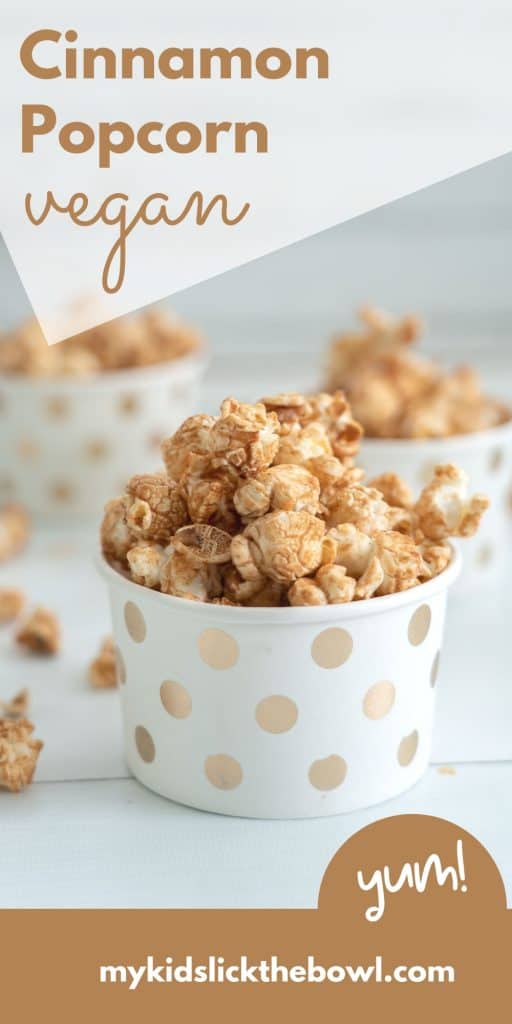 Other recipes that might tickle your fancy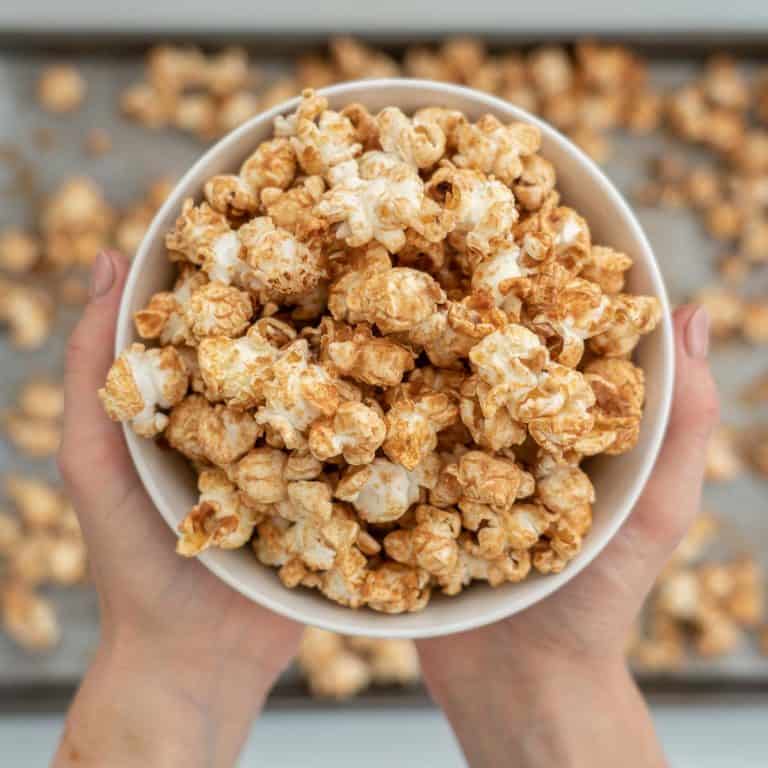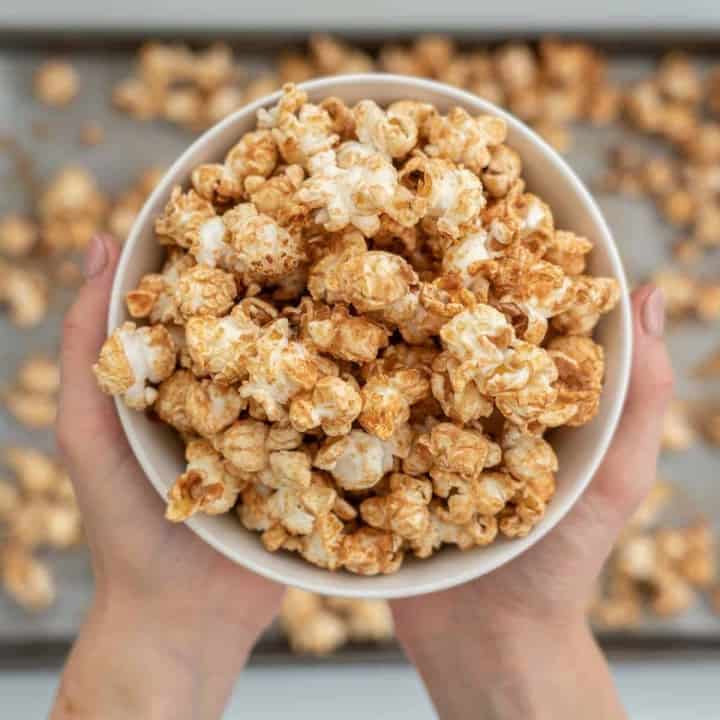 Cinnamon Popcorn
Delicious homemade cinnamon popcorn, this vegan caramel popcorn recipe is so moreish and a healthier caramel corn
Ingredients
Popcorn
3 Tbsp coconut oil
⅓ Cup popcorn kernels
Cinnamon Caramel Topping
2 Tbsp coconut oil
2 Tbsp maple syrup
2 Tbsp peanut butter
1 tsp cinnamon
½ tsp vanilla
Instructions
First, we will pop the popcorn, I do this on the stovetop, but you could choose to pop your popcorn in the microwave or buy popped popcorn
Heat the first measure of coconut oil in a large saucepan over a medium-high heat
Add a couple of kernels into the oil, when these pop the oil is hot, add the rest of the kernels. Put the lid on and reduce the temperature to low.
Listen to the pops, when they slow down and there are large gaps between pops remove from heat
Pour the popped corn into a large bowl
Give the saucepan a quick clean out I use a paper towel to do this
Return the saucepan to a medium heat
Add the second measure of coconut oil and the maple syrup, heat unit l melted and they combine easily when whisked
Turn off the heat, whisk in the peanut butter until you get a smooth caramel
Whisk in the cinnamon and the vanilla
Return the popped popcorn to the saucepan with the caramel, stir to coat the popcorn
You can stop here... but you will get a slightly better end product if you do the next couple of steps
Line a baking sheet with baking paper
Spread the cinnamon caramel-coated corn evenly over the baking paper
Bake at 150 degrees celsius for around 10 minutes stirring halfway through, this crisps up the popcorn, but isn't entirely necessary
You can add a little salt to the finished popcorn if you like the sweet and salty type thing!
Notes
⅓⅓ of a cup of popcorn kernels will yield approximately 10 cups of popcorn
You can make the caramel with honey but it will not be vegan
You can sub the peanut butter for any nut butter
Nutrition Information:
Yield:

10
Serving Size:

1 cup
Amount Per Serving:
Calories:

93
Total Fat:

8g
Saturated Fat:

6g
Trans Fat:

0g
Unsaturated Fat:

2g
Cholesterol:

0mg
Sodium:

18mg
Carbohydrates:

4g
Fiber:

0g
Sugar:

3g
Protein:

1g
Please know this nutrition analysis is based on the ingredients only, this recipe has not been sent to a laboratory for independent testing