Healthy Banana Zucchini Wholemeal Muffins
THIS POST MAY CONTAIN AFFILIATE LINKS.
These healthy banana zucchini wholemeal muffins with chocolate chips have been an absolute hit in my house.
My kids have not at all been disappointed recipe testing these banana zucchini muffins, each batch I have made have been gobbled up.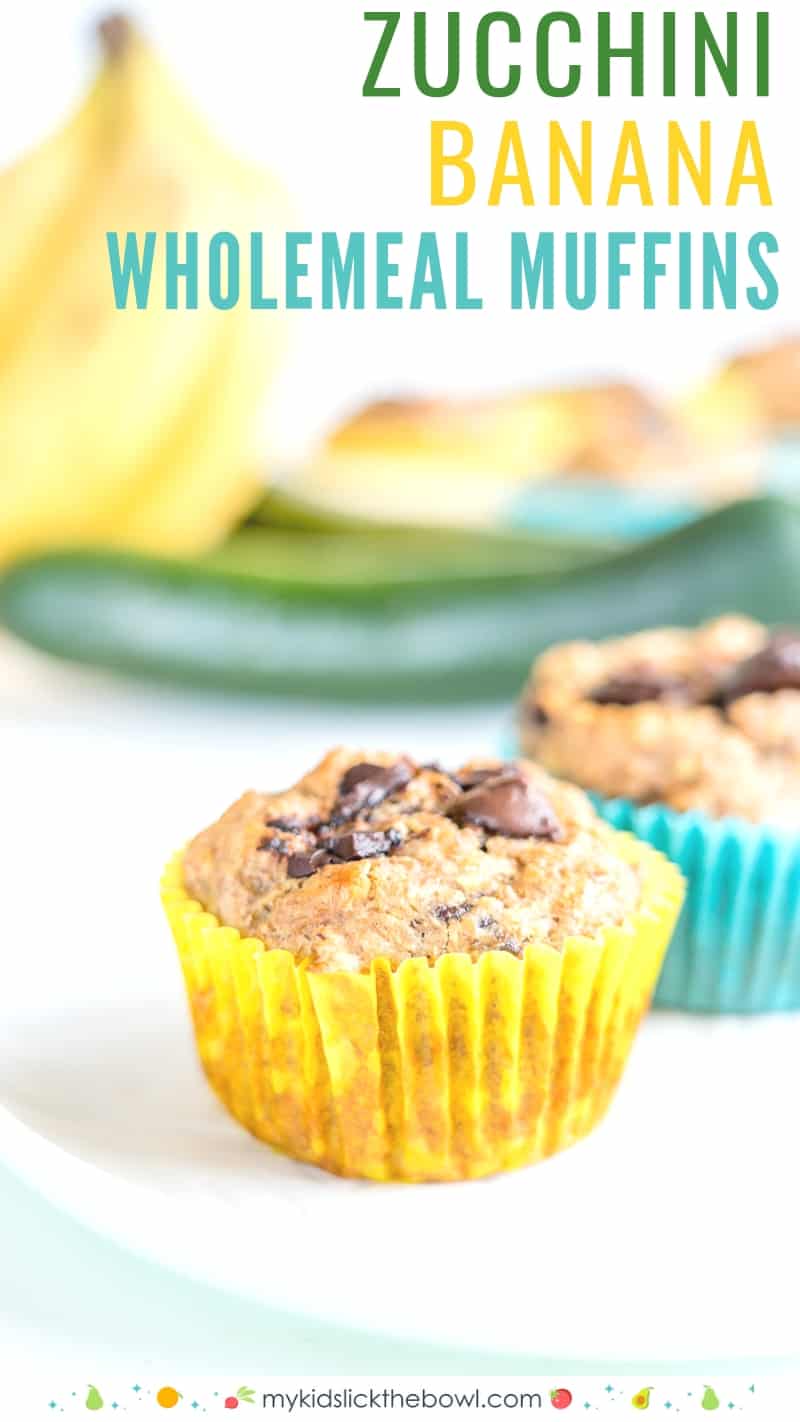 Healthy Zucchini Muffins For Picky Eaters
These zucchini muffins have been made with the picky eater in mind! I am very much into encouraging vegetable intake in kids, and definitely, believe we should be offering children lots of veggie choices at meals.
But sometimes, well sometimes a little recipe with some 'hidden veggies' in it can help increase a picky child's veggie intake while they are 'learning to like' vegetables.
Because liking vegetables is a learning process, and for some children learning to like vegetables takes longer than for others.
3 things help these zucchini muffins appeal to the picky eater.
They are sweet, these muffins contain banana which brings a natural sweetness to the recipe, a little maple syrup adds some extra sweetness too without the added sugar content of the muffin getting too high
I use naked zucchinis so there is absolutely no green to freak out a picky eater. By naked zucchini I mean I peel the zucchini before grating it and adding it to the muffin mix. This means it totally disappear
A few chocolate chips seal the deal, ensuring these healthy muffins have enough fun factor to tempt a picky eater to give them a try.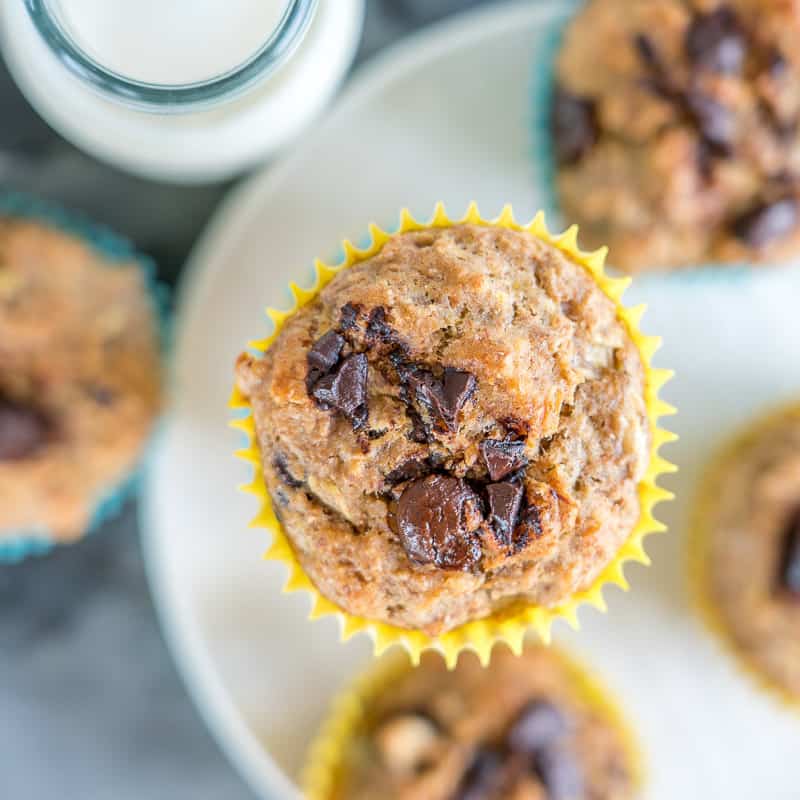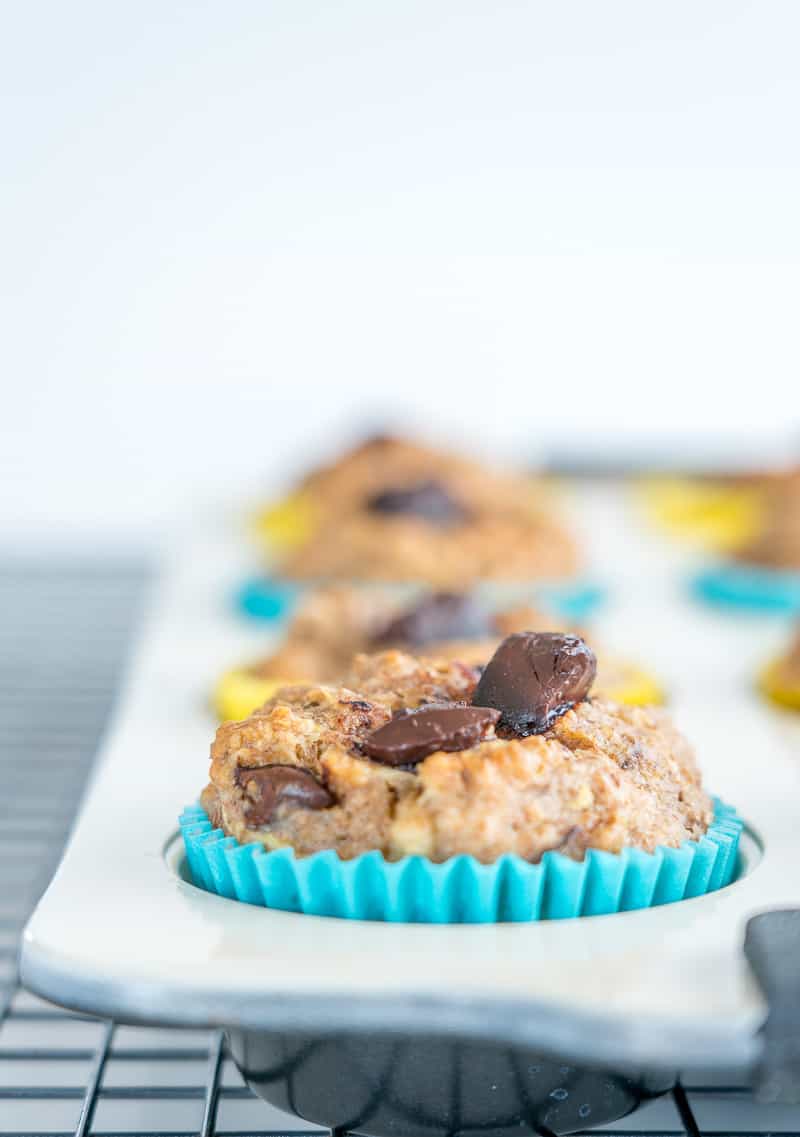 How to store wholemeal banana zucchini muffins
I find these banana zucchini muffins store ok for a day or two in an airtight container. But I believe freezing them is the best way to go if you want them to maintain their freshness.
I freeze them for up to 3 months and pop them frozen into a lunchbox or snack box before we head out and about. They defrost pretty quickly.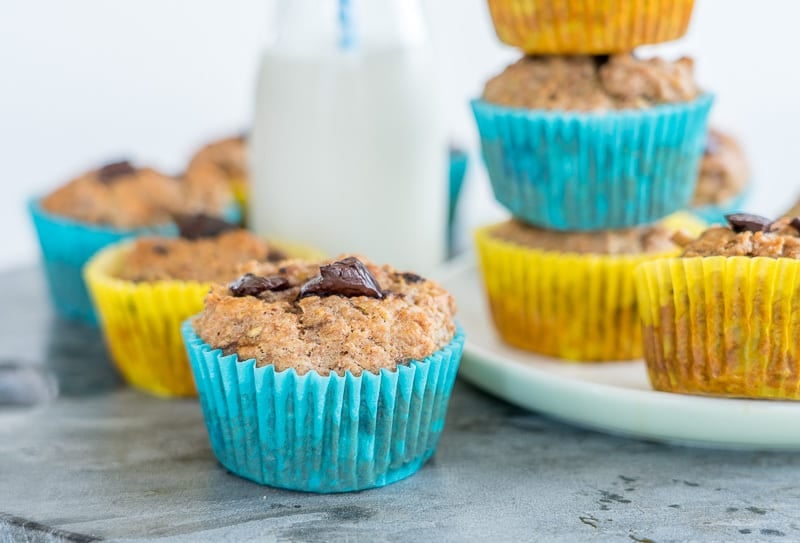 Other healthy muffin recipes
My kids like muffins, which means I make them quite often. These are some of the other tried and tested muffin recipes on my website.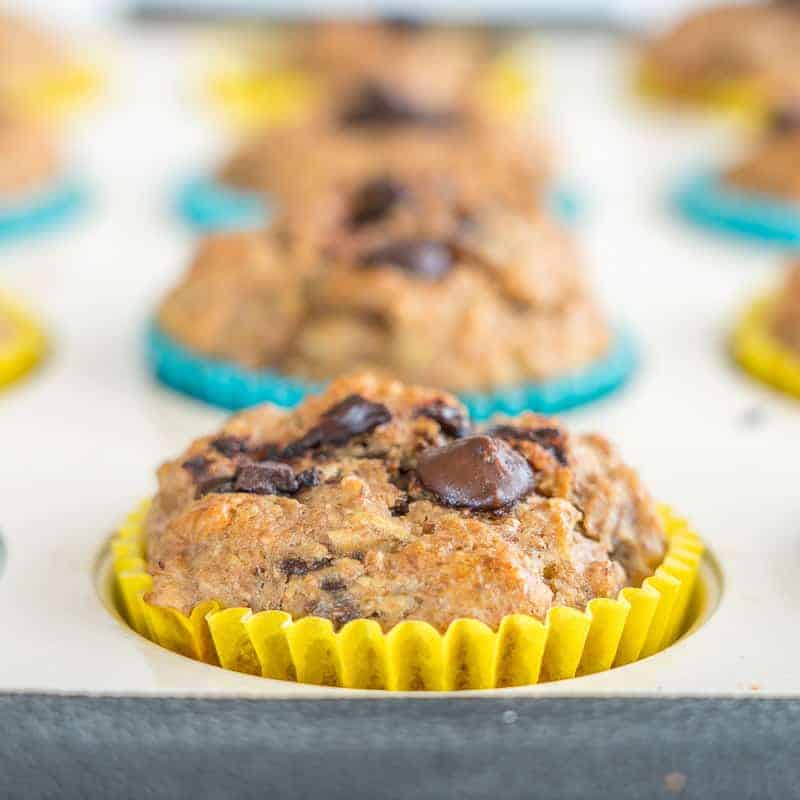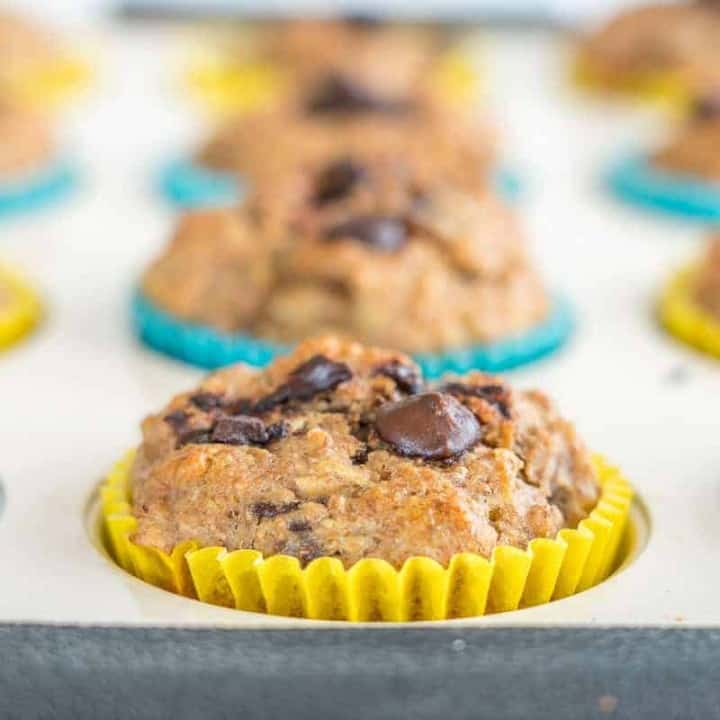 Healthy Banana Zucchini Wholemeal Muffins
Healthy banana zucchini muffins with chocolate chips an easy recipe made with wholemeal flour perfect for a picky eater
Ingredients
1 medium banana 160g
2 eggs
¾ cup milk
¼  cup oil
1 tsp vanilla
3 tablespoon maple syrup or honey
2 zucchini approx 250g
2 cups wholemeal flour
3 teaspoon baking powder
⅓ cup choc chips
Instructions
Preheat your oven to 180 degrees Celsius and prepare a muffin tin. ( you will either need to grease it well or line with muffin liners
In a large bowl mash a banana, add eggs, milk, oil, vanilla and maple syrup and mix well so that the eggs and liquids are well combined
Peel and grate the zucchini
Over a sink squeeze the grated zucchini to remove excess moisture, add the grated zucchini to the wet ingredients
Add the wholemeal flour and baking powder to the bowl, I sprinkle the baking powder over the flour as I am too lazy to sift.
Mix, but not too well, the general rule is to not over mix a muffin, add the choc chips (reserve a few to sprinkle on the top) and again just mix gently
Portion into a 12 regular muffin tray, top with a few of the reserved choc chips (just so the picky eater will definitely see them
Bake at 180 degrees Celsius for 25- 30 minutes or until golden
Notes
If your child is not scared of a little green then do not peel the zucchini
For the oil make sure you choose one with a mild flavour. Extra virgin olive oil is too strongly flavoured for this type of recipe
These muffins freeze well in an airtight container for up to 3 months
In regards to the extra sweetener ie. the honey or maple syrup you may be able to get away with less or no extra sweetener. Two of my 3 children actually ate the batch with no added maple syrup. But not my picky eater. She needed the extra sweetness