Rainbow Water Challenge - Sugar Water Density Experiment
THIS POST MAY CONTAIN AFFILIATE LINKS.
Rainbows are awesome, in this sugar water density experiment your kids can create a rainbow in a glass and learn a little about the science water density as they go along.
I am so lucky to have the fabulous Jessica Wilson of Playful Learners blog writing guests posts for me.
A Science teacher by trade Jess is putting together a series of STEM (Science Technology Engineering and Maths posts for me, most of which will have a kitchen science bent.
This is her second post, her Kitchen Science Experiments – Fizzing Rainbow StarsFizzing Rainbow Stars is a fun activity too, hopefully we should have one Kitchen Science or STEM activity up on the blog each week.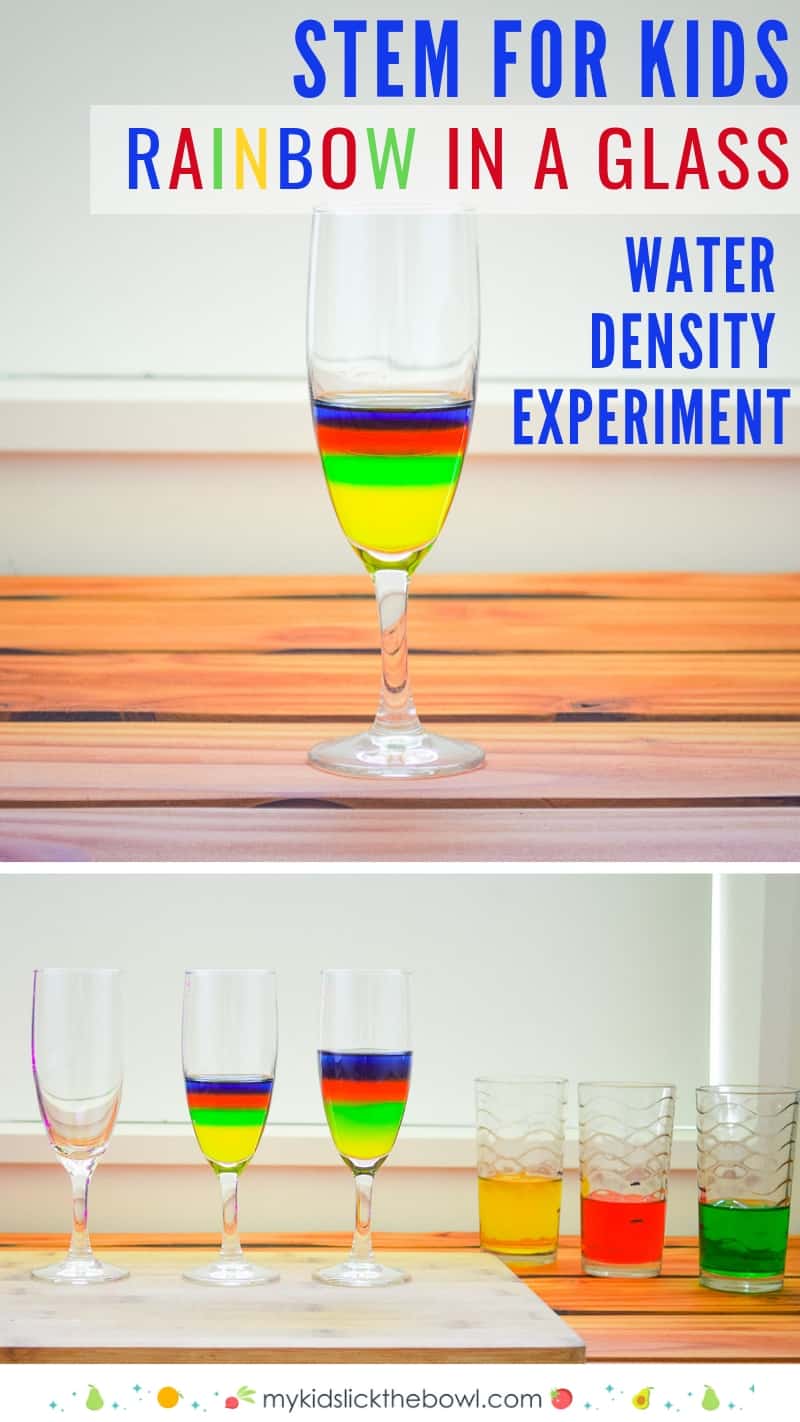 Rainbow Water Density Experiment
Challenge: To create layers of different coloured water within a glass
Materials needed
4 drinking glasses

Measuring Jug

Food Dye

Sugar

Syringes

Spoons

A small glass to layer the coloured water into
Method
Fill each glass with 100ml of warm water

Add a couple of drops of different food dye to each glass and stir

Decide the order in which you would like to layer your colours from top to bottom

Starting with the bottom colour – add 3 tablespoon of sugar, add 2 tablespoon of sugar to the next colour, 1 tablespoon of sugar to the next and none to the top colour.

Stir vigorously until all the sugar has dissolved

Let the coloured water cool completely

Using the Syringe, add 20ml of the bottom colour to a small glass, then 20 ml of the next and so on

Hopefully you will have created a layered rainbow water effect into the glass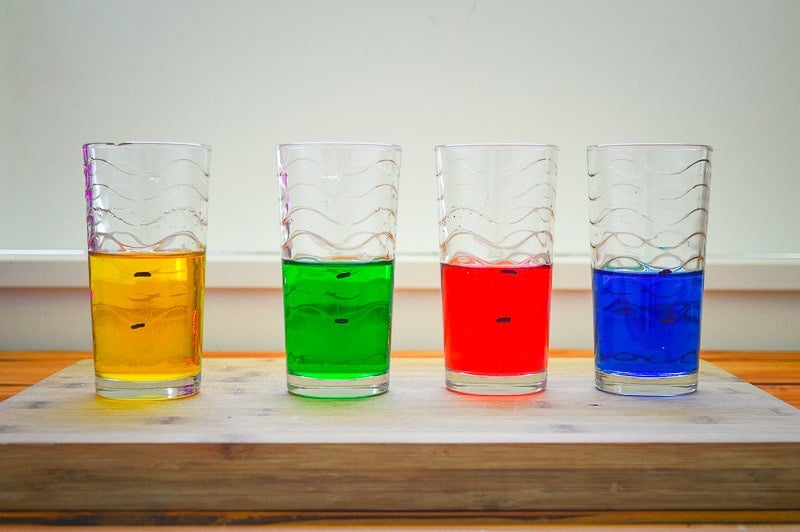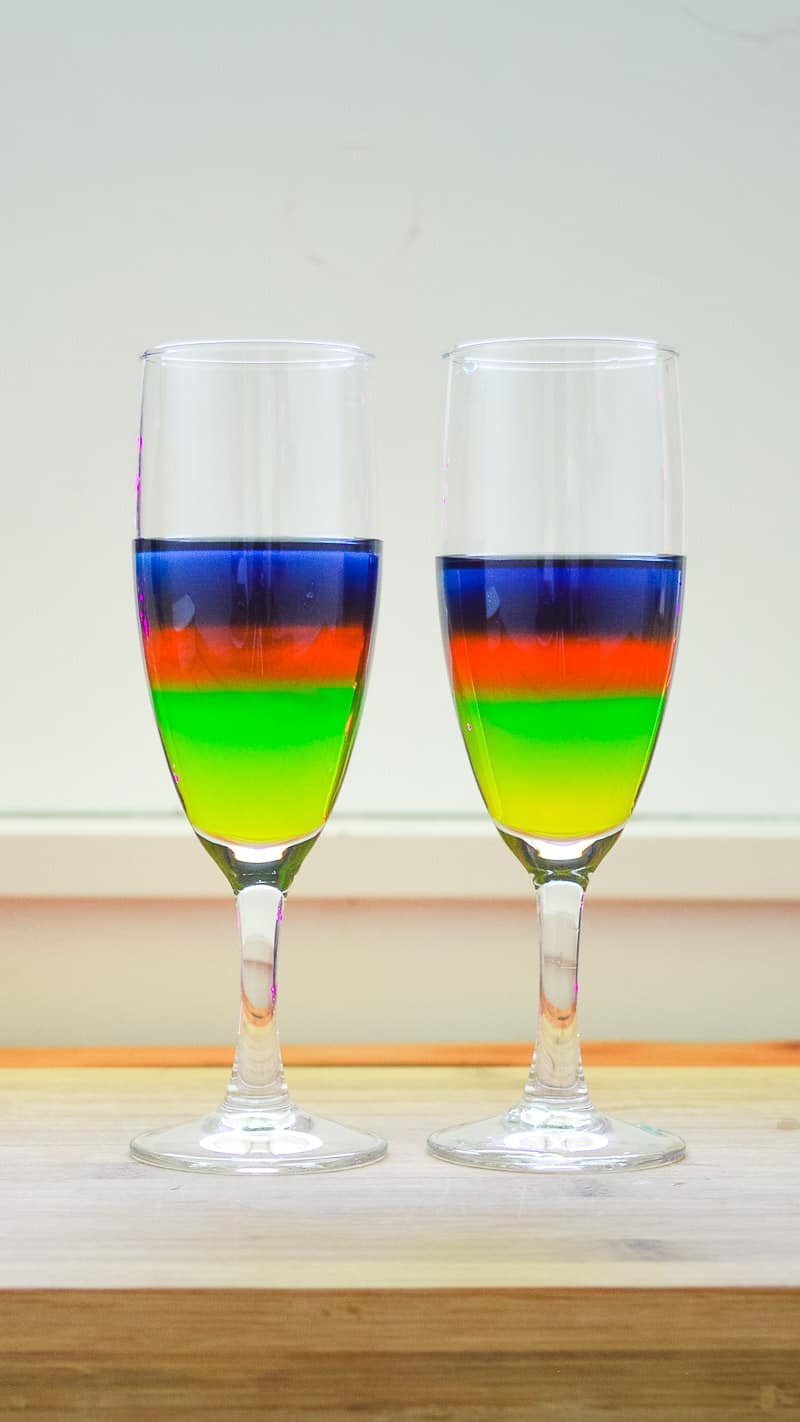 Tips for Parents & Teachers
Use a marker to draw a line, pointing out the level to which each glass should be filled (100ml) – this will make it easier for younger children who cannot yet measure quantities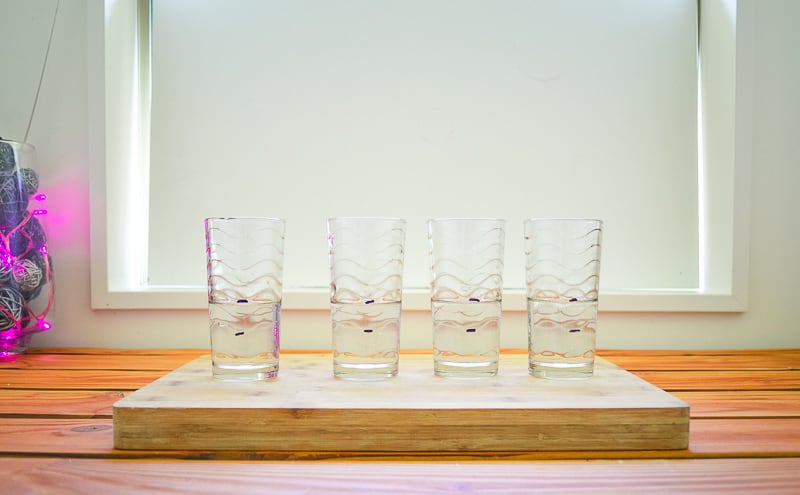 If the sugar is not fully dissolved, gently warm the water in the microwave and stir again until completely dissolved.
When children are deciding upon the order of the colours, it may be useful to have a discussion around mixing colours; e.g. if yellow and blue water mix, green will be produced, or if blue and red water mix, purple will be made.
It might be worth avoiding this for younger children so an adult may need to guide them on this.
Sugar Water Density Experiment- What happened and why?
Key terms: Density and Particles
The sugar particles are small enough to fill the gaps between the water particles. As more sugar is added, more space between the water particles is filled and the volume of liquid increases.
Density refers to the number of particles in a given volume. So the glass with 3 tablespoon of sugar contains the largest number of particles per 100ml of water and is, therefore, the densest.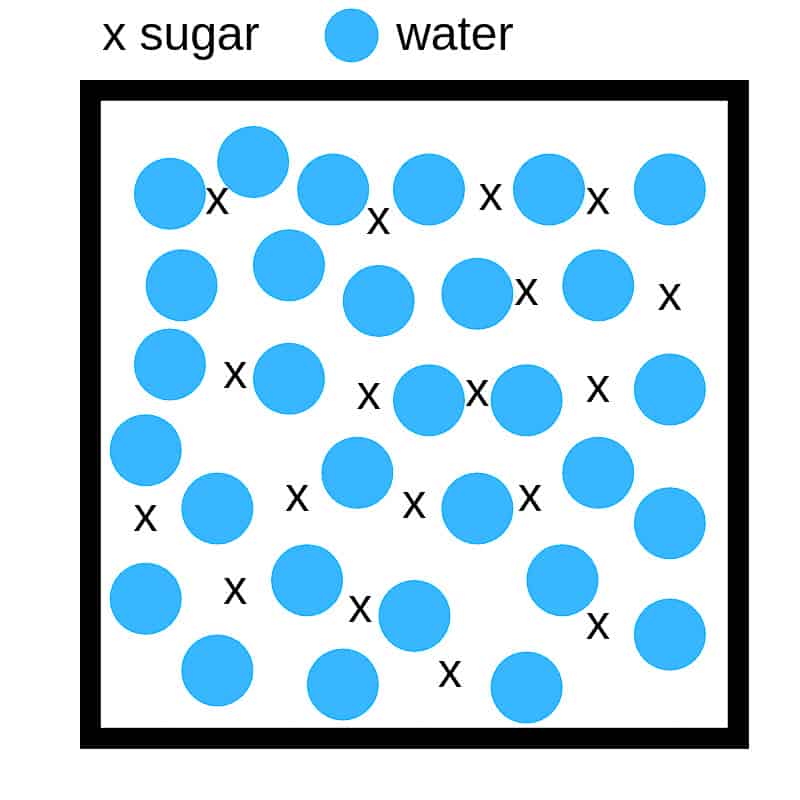 Younger children will understand the term heavy. And although this is not the correct way to explain this particular phenomenon, the idea of heavy and light will help the youngest learners to gain some understanding of why the different colours form layers.
The densest colour will stay at the bottom, with the least dense 'floating' at the top.
Science Skills
Measuring – children can either measure 100ml using a measuring jug or can simply pour 100ml to a marked point on a glass. Both require fine motor work and are a great way to practice skills needed in the Science classroom.
Observation – children will have to determine at what point the sugar has completely dissolved. This is a great point of discussion with younger children who may be meeting this key term for the first time.
Observation – the coloured layers of water may mix temporarily when added on top, but if the correct amount of sugar has been added, the upper layer should move on top
Observation – The volume of coloured water in the 4 glasses will increase as sugar is added – a marked line may help children to notice this.