Christmas Cake Decorating Ideas - No Traditional Icing!
THIS POST MAY CONTAIN AFFILIATE LINKS.
I love Christmas, I love Christmas Cake, well I love Christmas Cake right up until the point that it gets covered with marzipan and white icing.
Countdown Supermarket came to me and asked me to come up with a Christmas Hack to share with people and 2 things sprung to mind.
One was how to take a store-bought cake to the next level so that you can wow friends and family without much effort and the second thing that sprung to mind, was how to do it without resorting to my nemesis marzipan!
Countdown makes Christmas easy and affordable, especially if you use their in-store Rich Dark Fruit Cake as a base!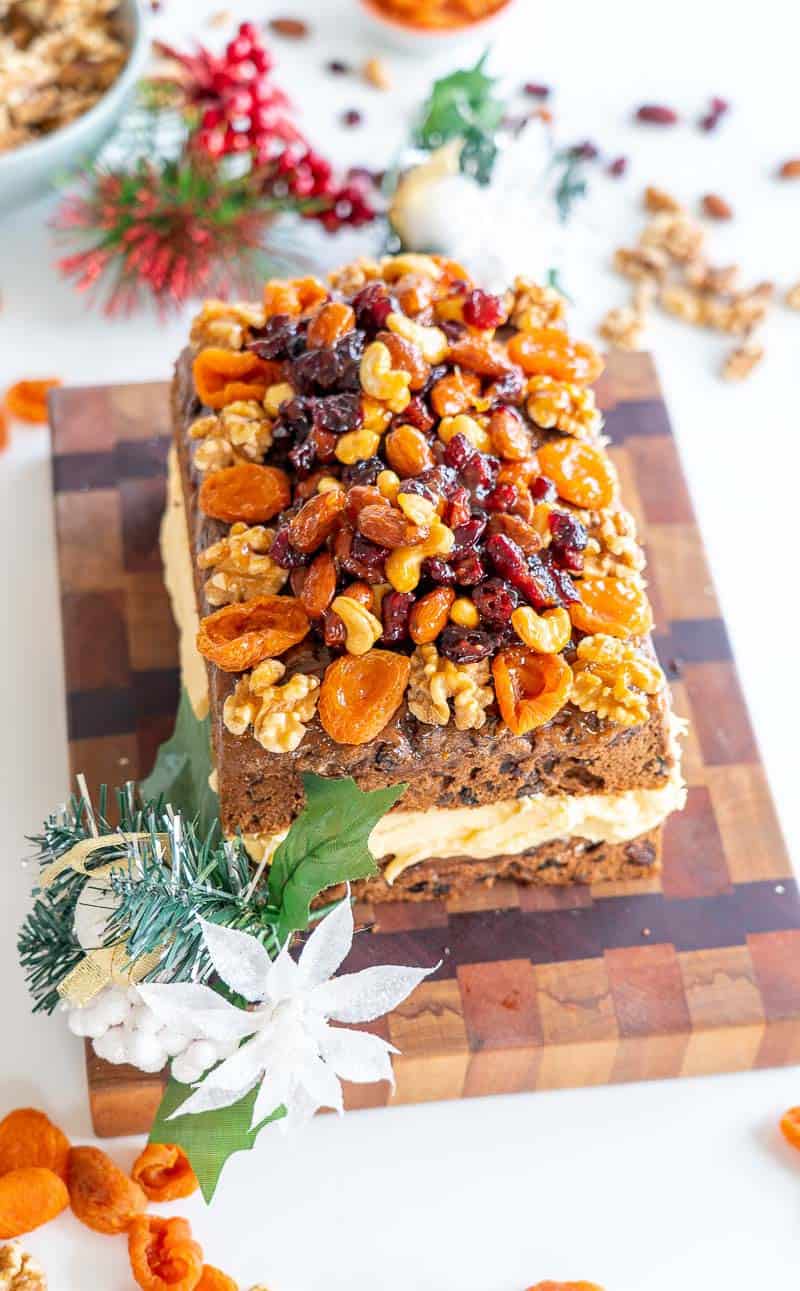 Christmas Buttercream
Buttercream is my favourite type of icing, I know it's not as gorgeous as say fondant, but let's face it. Buttercream tastes good.
I tried a few different ideas for buttercream flavours with a Christmas cake, but ended up with this very very very simple idea.
Add Apricot Jam to your buttercream and it tastes amazing with a Rich Dark Fruit Cake from Countdown and you are on to a winner!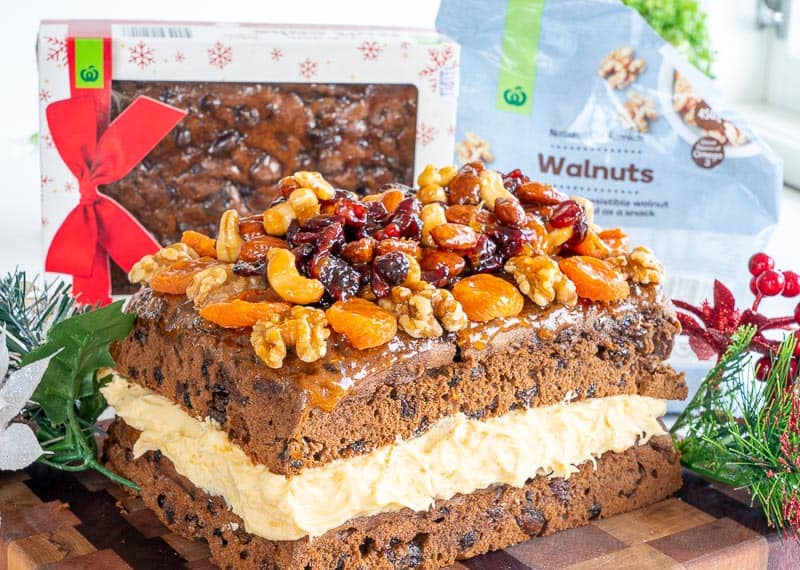 Christmas Cake with Glazed Fruit & Nuts
Countdown has a fantastic range of nuts and dried fruit in their baking section and leading up to Christmas so many of them are on Price Lockdown or Special.
So I raided their baking section to come up with the ingredients for my glazed fruit and nut topping.
I stuck the fruit and nut crust together with a little apricot jam glaze so that it would work with the apricot-infused buttercream, and voila, a cake that tastes good and I think looks like you've gone to a little effort!
I love the fruit and nut crust as you can go crazy with whatever combo you like, and it literally takes 5 minutes to put together!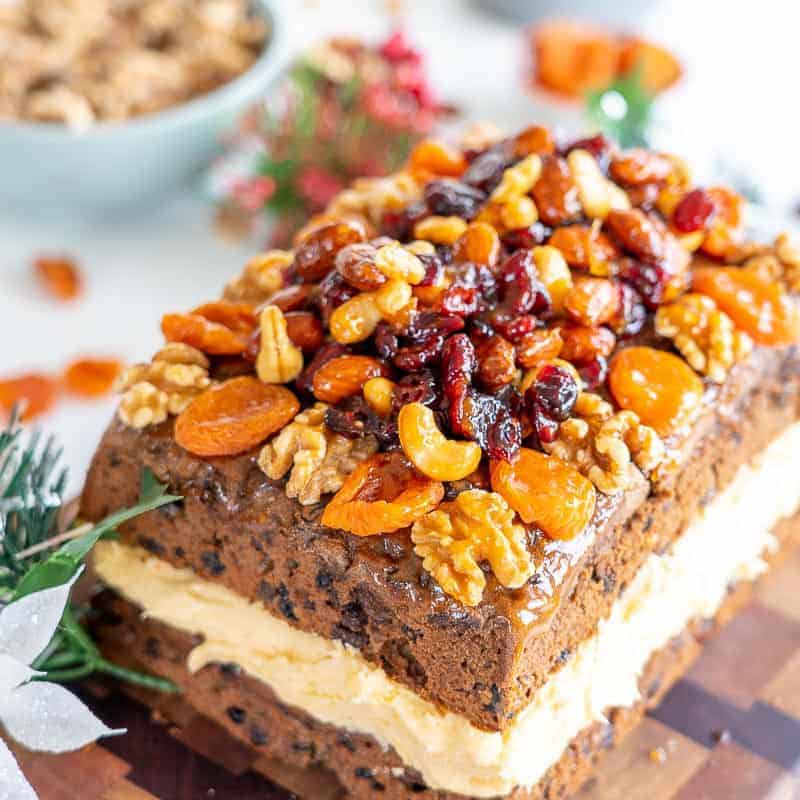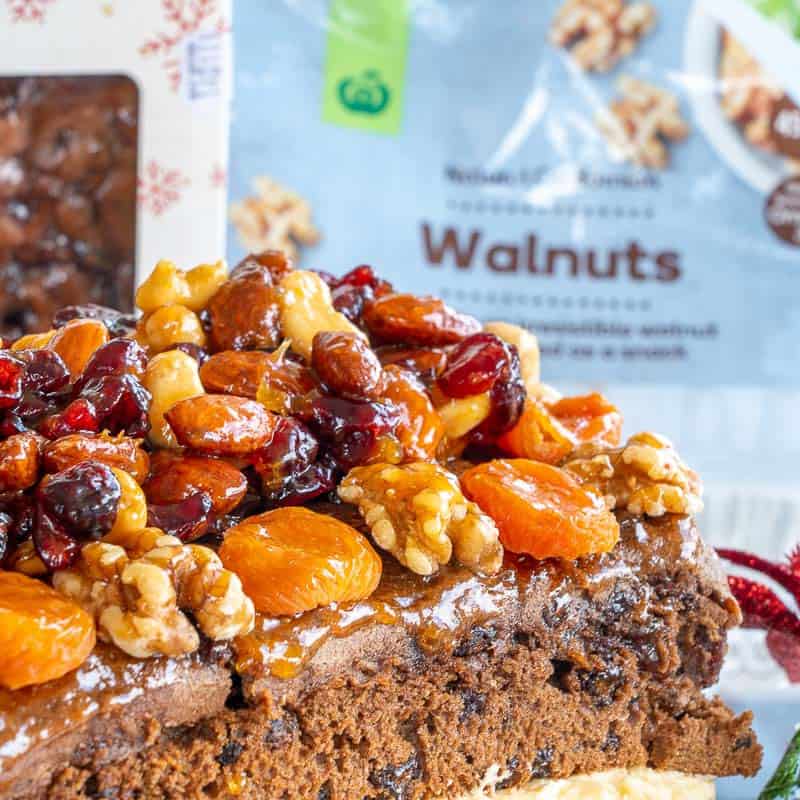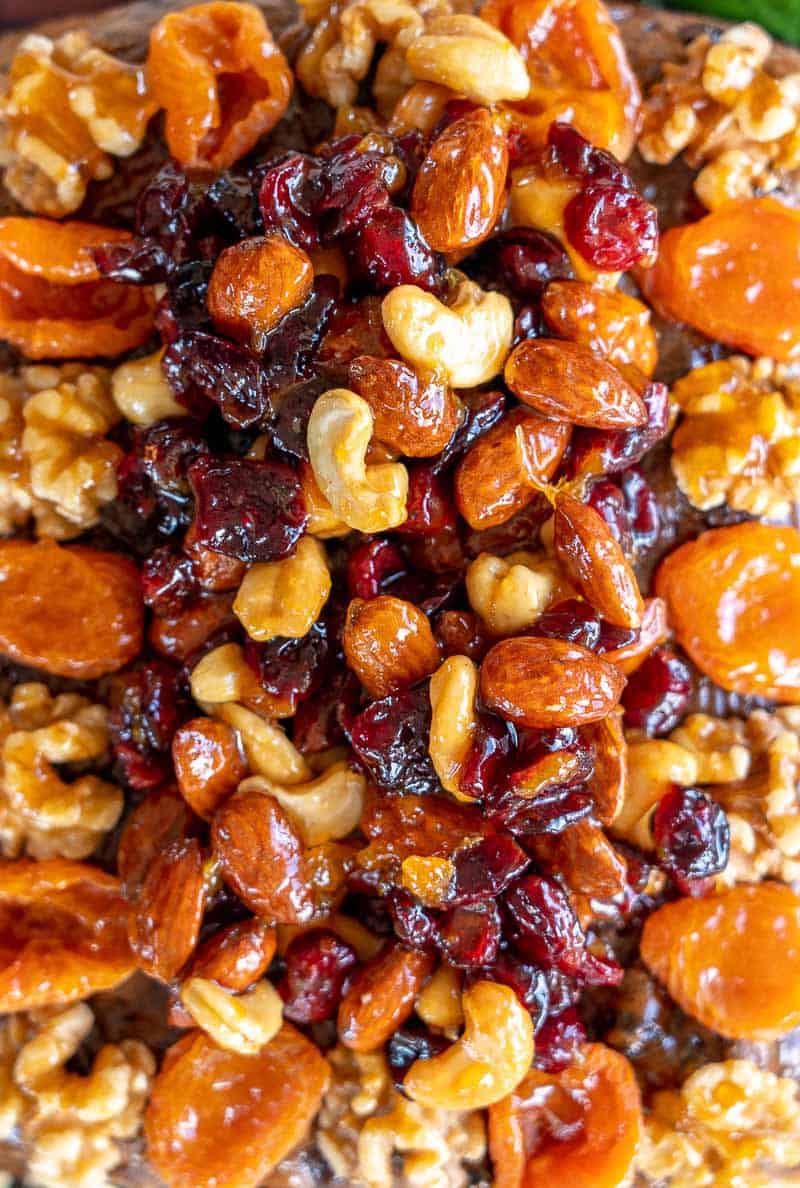 Decorating a Christmas cake without marzipan or traditional icing
To decorate your Christmas Cake without Marzipan you can either fill and ice a cake with the buttercream, or you top the cake with the fruit and nut crust.
Or you can go all out, stack two cakes with buttercream AND top with the fruit and nut crust.
Quick Recipe Video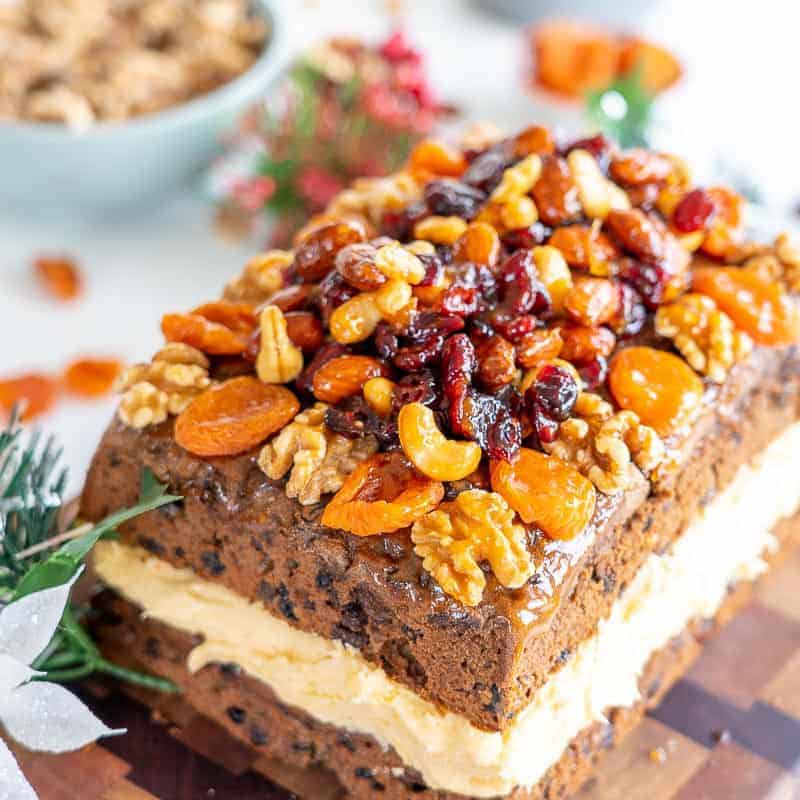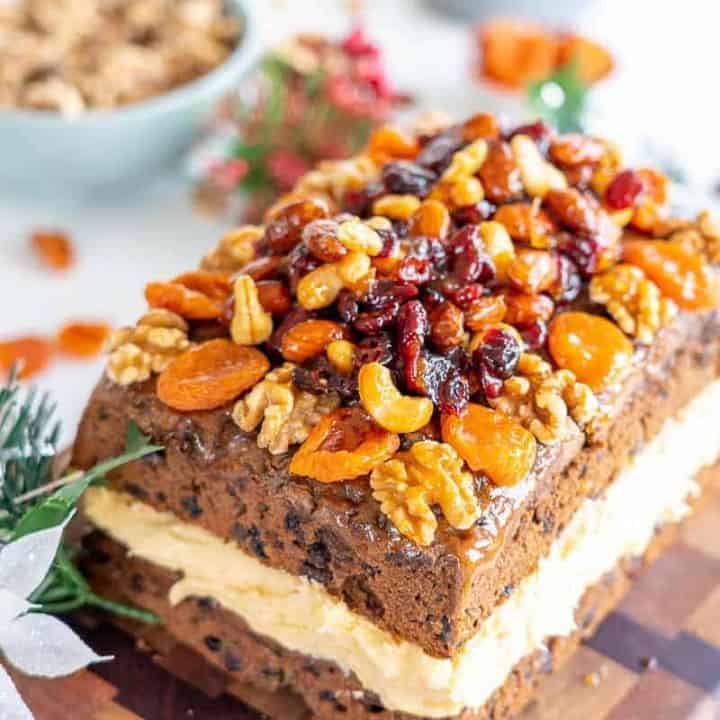 Christmas Cake Decorating Ideas - No Traditional Icing!
Yield:
1 l Christmas Cake
Christmas Cake Decorating Ideas - an apricot buttercream and glazed fruit and nut topping with no Marzipan or Royal Icing simple and quick for beginners and my kids love it
Ingredients
2 x  750g uniced rich dark fruit Christmas cakes
Buttercream
Buttercream
125g butter
125g apricot jam
200g icing sugar
Fruit & Nut Crust
Fruit & Nut Crust
½ Cup walnuts
½ Cup dried apricots
1 ½ Cup Cranberry Nut Medley
0.33 Cup apricot jam
A little water
Instructions
Start with the buttercream.

Beat room temperature butter until light in colour and fluffy

Add jam and beat to combine

Add sifted icing sugar, and beat (I find it best to do this in 2-3 parts, rather than all at once)

Spread on one of the Christmas cakes and then layer the second cake on top.

In a small pot hit the jam with a dash of water, you want it thin enough to be able to be spread with a pastry brush

Brush the top of your cake with the apricot jam glaze

Arrange the walnuts and apricots around the edge of the cake to form a frame

Brush the apricots and walnuts with a little more apricot jam glaze

Add the Cranberry Nut Medley to the glaze in the pot, stir to cover, then pour out onto the centre of the cake

Voila you are done
Notes
Notes
Buttercream
Unsalted is probably the best butter to use, but to tell the truth I like my buttercream a little salty

This recipe makes enough buttercream to fill and top the Christmas cake, if you have chosen to just use buttercream and are not going to use the fruit and nut crust

I find a tarter apricot jam works best, you could also substitute marmalade
Glazed Fruit and Nut Topping
I find a tarter apricot jam works best, you could also substitute marmalade
Feel free to substitute any dried fruit and nuts, and create any pattern you like