Gingerbread Christmas Nice Cream
THIS POST MAY CONTAIN AFFILIATE LINKS.
Have you tried banana nice cream? By nice cream I mean a vegan/dairy-free ice cream alternative made by literally blending frozen banana slices until it turns into a creamy soft-serve style ice cream alternative.
It really is a delicious summer snack or dessert, easy to make (although you do need a grunty food processor) and my kids love it.
Seeing as though it's coming up to Christmas I thought I would try out a new flavour. A flavour inspired by gingerbread, and I think the Gingerbread Nice cream worked out quite well.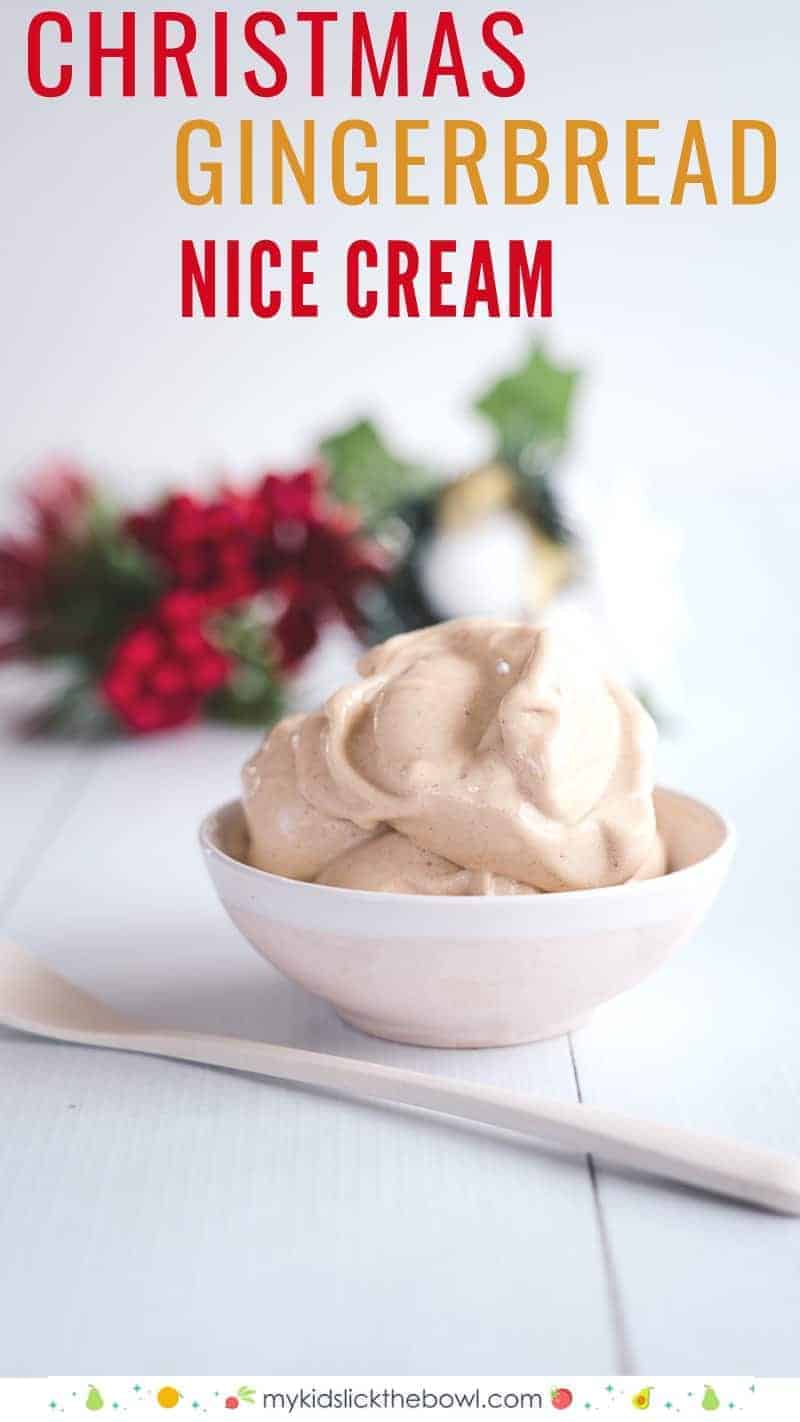 How to make Vegan Dairy-Free Ice Cream In One Step
Essentially the one step is to blend frozen banana in your food processor, be patient and eventually it will become a delicious creamy nice cream!
Despite the pictures, you do not need any actual gingerbread to make this recipe.
But the cute little gingerbread Christmas trees made the photos look good and were fun for dipping! But you can totally serve this dessert without the cookie.
There are perhaps a couple of other little tips you need to know
The frozen bananas need to have been pre-sliced before freezing, otherwise, most food processors will probably struggle with it
You need patience, the "nice" cream will go through a few different stages, one of them being very crumbly, and just when you think it will never have a creamy texture, it finally does. So just let your food processor keep going, it will get there.
Flavour it, you can use lots of things to flavour banana nice cream (In the recipe below I show a gingerbread flavoured version) or you can keep it plain. Vanilla is nice, a little peanut butter or almond butter also delicious, or some strawberries
This is not the only way I have found to make a vegan/dairy-free ice cream. My other recipe is based on cashew nuts and frozen berries rather than banana.
So if you would like a banana free dairy free ice cream then be sure to check out my 3-minute, 3 ingredient dairy-free strawberry ice cream.
Other healthy lower sugar Christmas treat ideas
If you are on the hunt for some 'healthier' Christmas Treat Ideas for kids (or adults) there are a few on my website that could be worth checking out.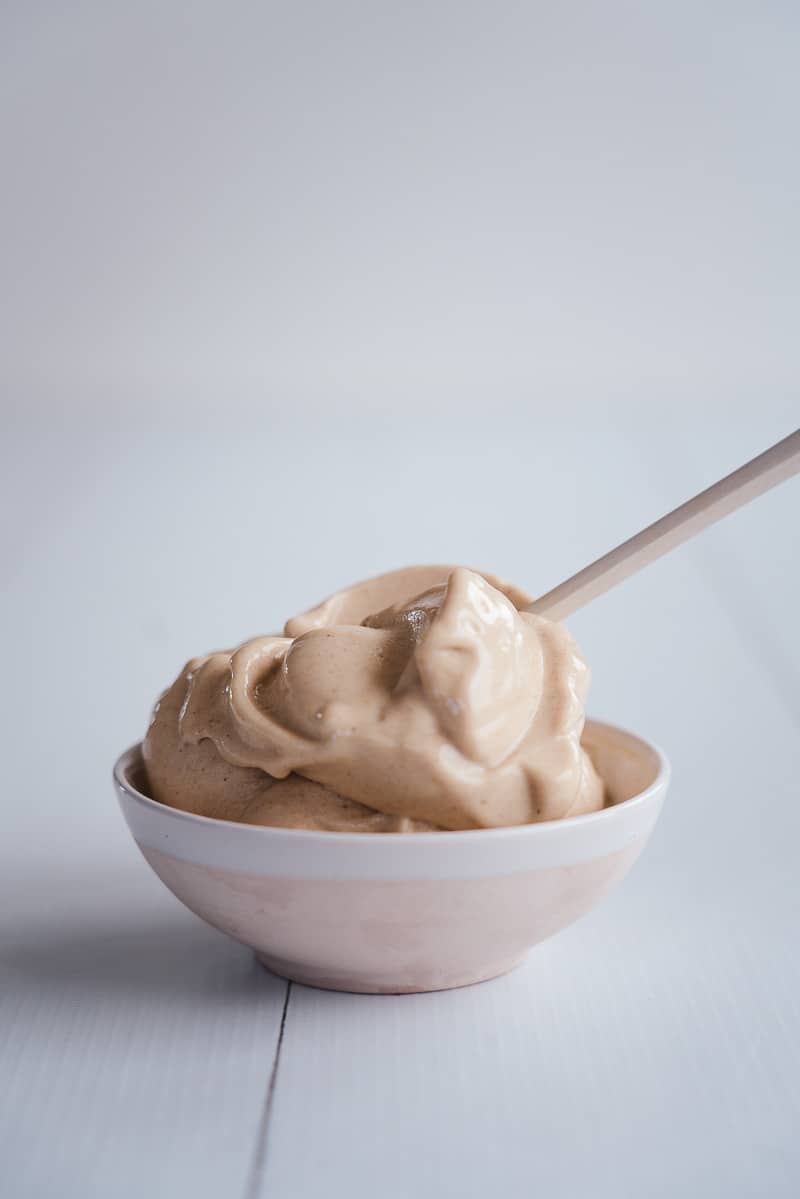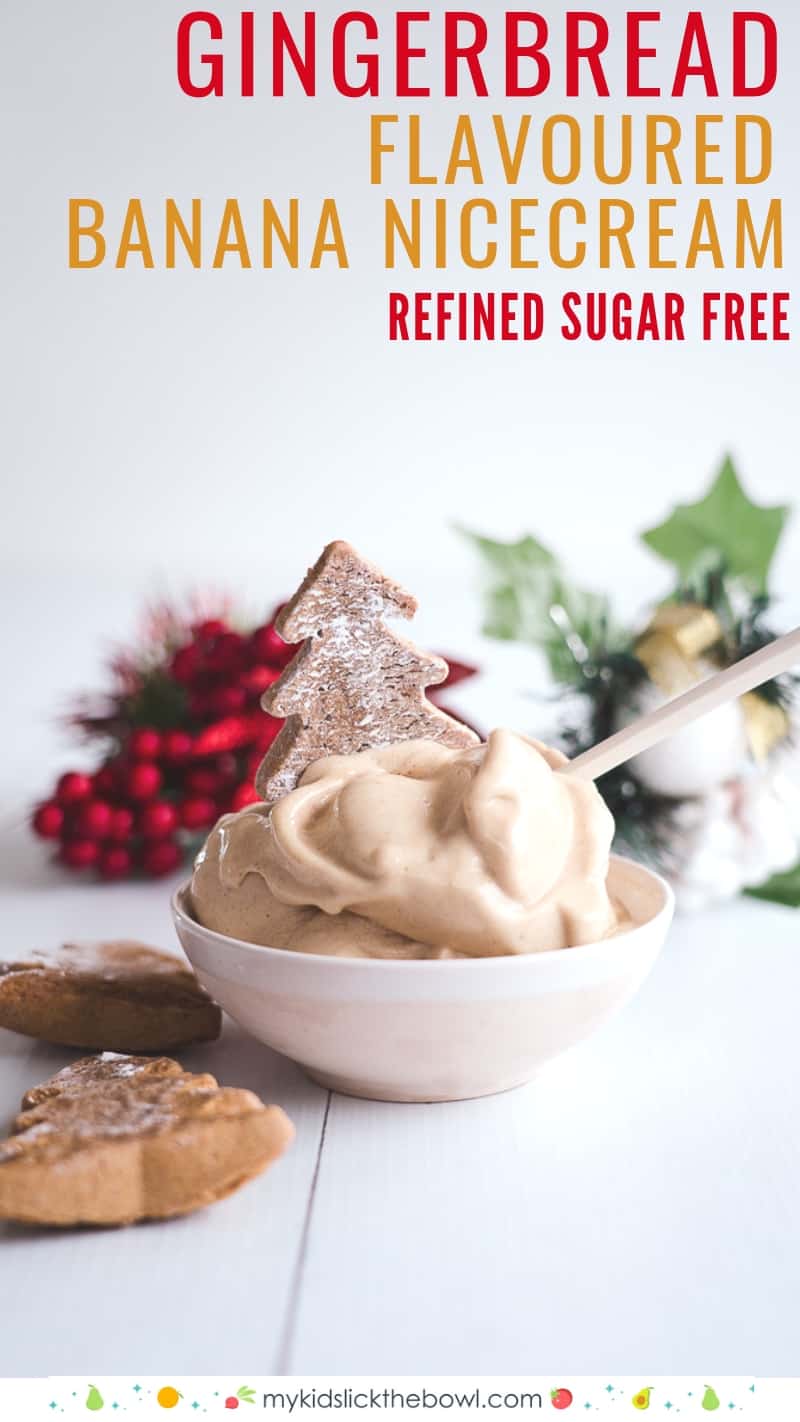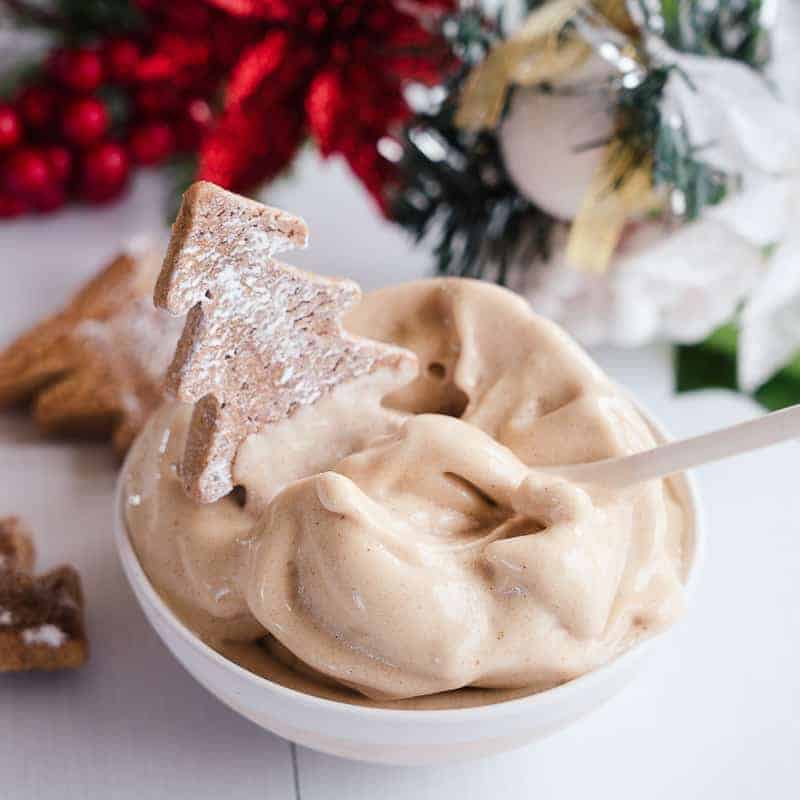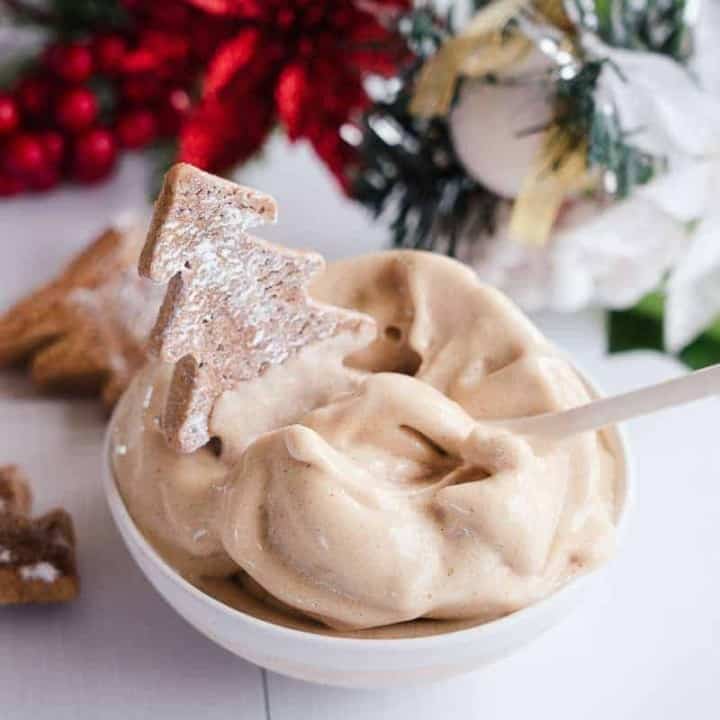 Gingerbread Christmas Nice Cream
Gingerbread Christmas Nice Cream an easy vegan dairy-free ice cream made with frozen bananas. Healthy and delicious
Ingredients
200g frozen banana slices (approx 2 bananas)
½ teaspoon cinnamon
½ teaspoon ground ginger
1 teaspoon vanilla
1 teaspoon date syrup (optional)
Instructions
Place all ingredients in a food processor, blitz until smooth and creamy (be patient it takes a few minutes) Stop the processor and scrape down the sides of the bowl as necessary.
Once smooth and creamy, taste test to check the spice level. You may want to add a little more of either the ginger or cinnamon depending on your taste preference
Notes
The date syrup is not essential but I found really brought out the gingerbread flavour, you can make date syrup, or if like me you want an easier option you can also purchase it at most supermarkets (at my supermarket it is next to the sugar section)
Nutrition Information:
Yield:

2
Serving Size:

1
Amount Per Serving:
Calories:

108
Total Fat:

0g
Saturated Fat:

0g
Trans Fat:

0g
Unsaturated Fat:

0g
Cholesterol:

0mg
Sodium:

1mg
Carbohydrates:

27g
Fiber:

3g
Sugar:

15g
Protein:

1g
Please know this nutrition analysis is based on the ingredients only, this recipe has not been sent to a laboratory for independent testing