These sweet potato cookies are absolutely perfect for babies and toddlers. They have a soft texture making them brilliant for baby led weaning. Easy to make, tasty and sweetened with fruit you can't go wrong with these sweet potato cookies for your little one.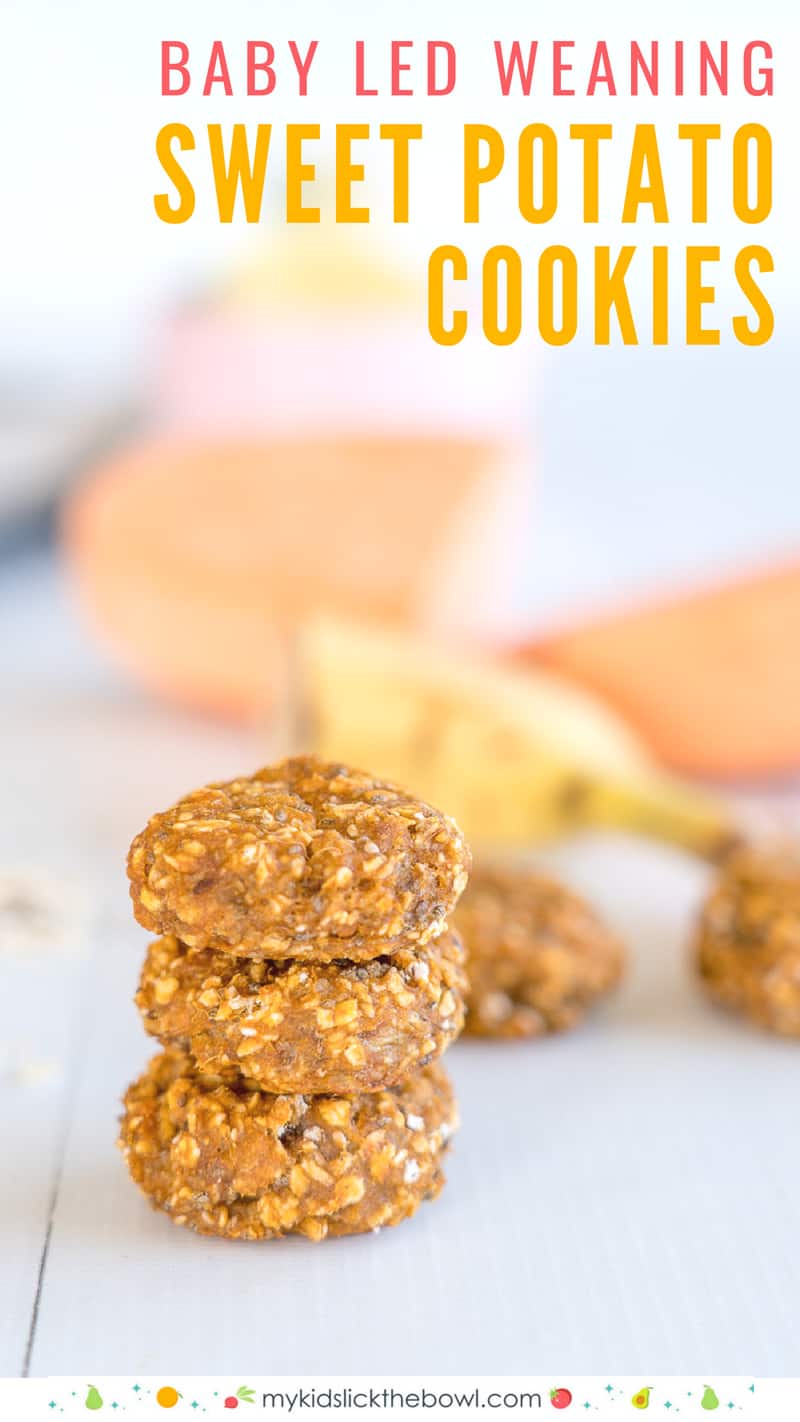 The sweetness in these sweet potato cookies comes from the sweet potato itself, banana and a little cinnamon, and this is all they need.
I use chia seeds in this recipe as they add a few extra nutrients and act as a binder, chia seeds are a brilliant egg replacer in most recipes, they should be readily available at your supermarket or grocery store.
These cookies are largely based on oats, but they do contain a little wheat flour too. I actually have done this on purpose. As research is showing that early introduction of the common allergen foods might actually reduce the risk of developing an allergy. You can read more on introducing your child to common allergy foods in my article starting solids the food allergy foods.   So I use the oats as the main grain as they are so nutritious and then a little wheat flour as it makes the texture that little bit softer and less crumbly. If your child is allergic to wheat or requires a gluten-free diet then this wheat flour can be substituted for a gluten-free flour such as rice flour.
In this recipe, I use quick cook oats as they are just that little bit easier for little ones to manage due to their softer texture in baking. Quick cook oats are just 1hole grain oats that have been chopped a little finer, they should not contain any flavourings or sweeteners. If you don't have any, you can just give your traditional rolled oats a quick blitz in the food processor to make them a little finer.
Baby led weaning recipes are proving to be very popular on my site, my baby led weaning muffins are very popular, and you can find a collection of baby led weaning recipes here.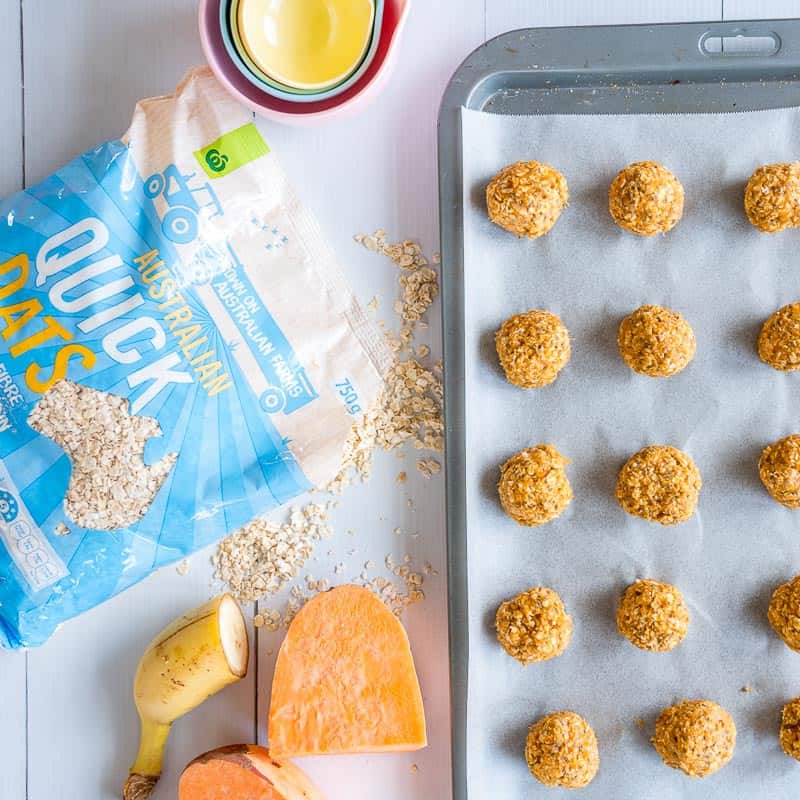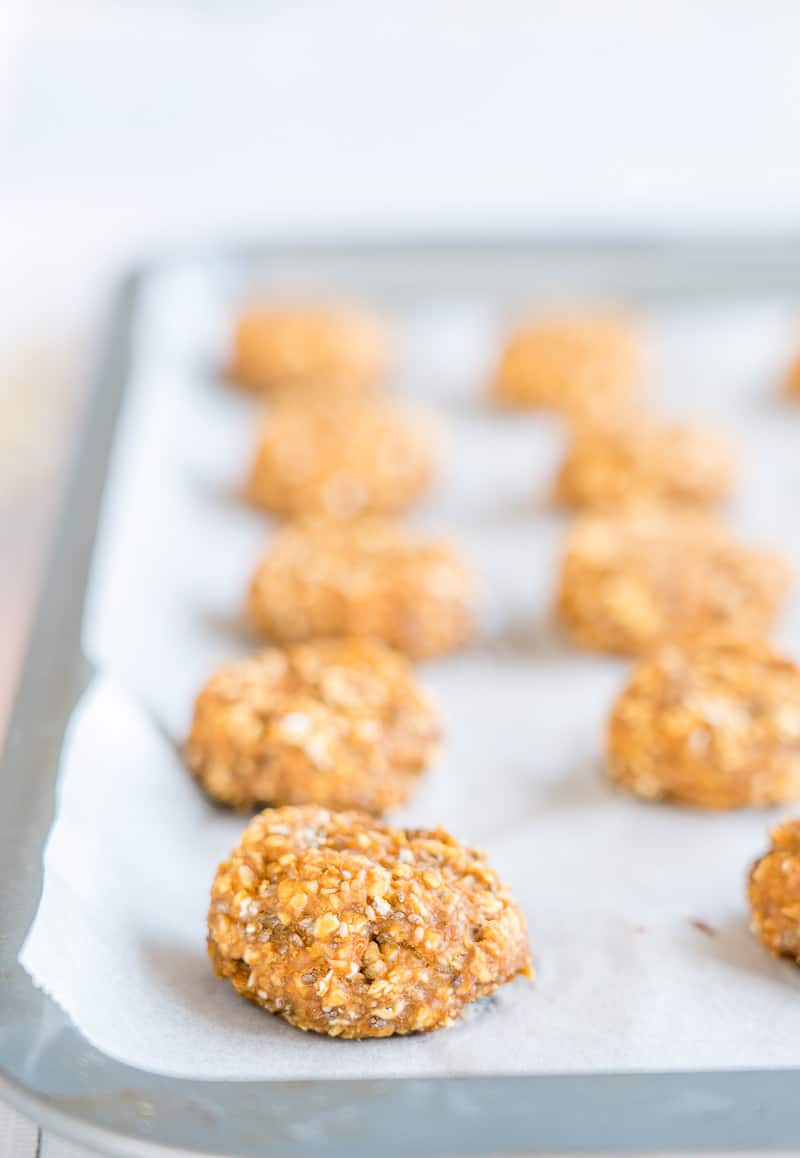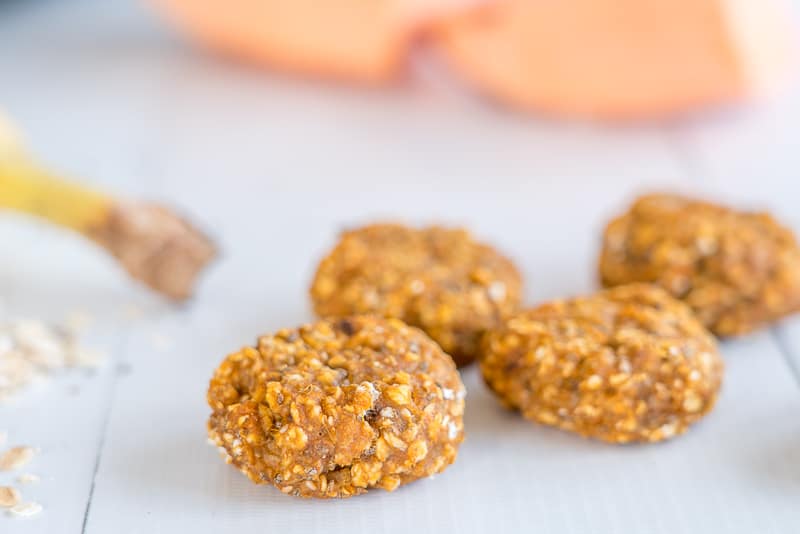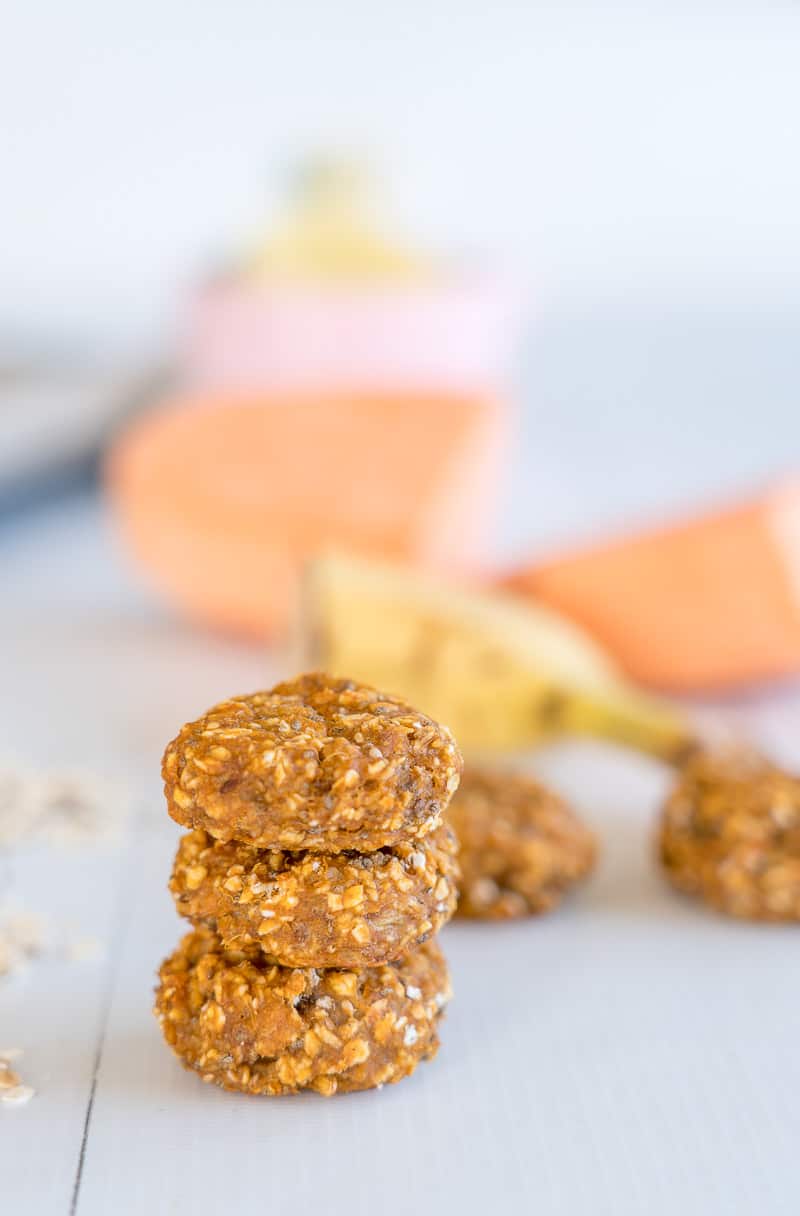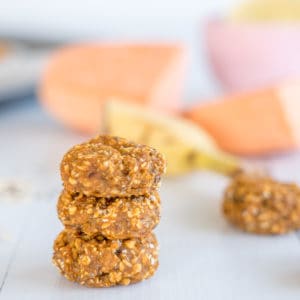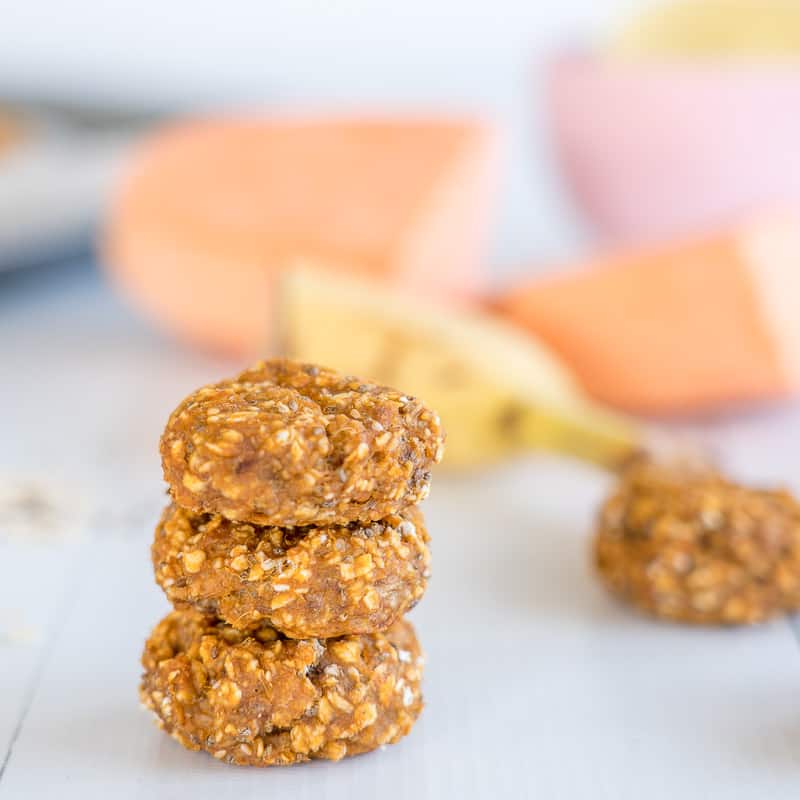 Print
Sweet Potato Cookies For Babies
Yield 20 cookies
Sweet Potato Cookies a baby led weaning recipe for soft healthy cookies with no added sugar perfect as a snack or breakfast idea 
Ingredients
250g sweet potato (cooked)
100g banana
1 Tbsp chia seeds
2 Tbsp water
1 cup oats
1/4 cup plain flour
1/2 tsp cinnamon
Instructions
If your sweet potato is not cooked then start by peeling it, and cutting into chunks, pop into a pot with water and cook/boil until the sweet potato is soft. Drain, then leave to sit in the warm pot for a minute or two, this allows a little extra water to evaporate
While the sweet potato cooks, pop the chia seeds into the water and leave to stand for 10-15 minutes (they should begin to gel in this time)
Add the banana to the sweet potato (I do this in the pot I cooked the sweet potato to cut down on dishes) 
Mash the banana and sweet potato together
Stir through the soaked chia seeds
Add the oats, flour, and cinnamon, mix well. This should form a cookie dough with a texture a little like playdough
Use a tablespoon to scoop the mixture, then roll into balls. I find damp hands is a good idea with this mix, (I get 20 tablespoons from this recipe), place the balls on a lined baking tray
Wet a fork, and give each ball a light squish with the fork
Bake at 180 degrees celsius  (approx 360 F) for 20-25 mins, allow to cool
The cookies should have a soft texture
Store in an airtight container for 2-3 days, or freeze and thaw as needed
Notes
I use orange sweet potato for this recipe, the red-skinned kumara (New Zealand) can be a little too starchy for this recipe 
I use quick cook oats in this recipe as they produce a softer cookie for little ones
If your child requires a wheat free flour, rice flour will work well in this recipe
Courses Baking
Cuisine Baby Led Weaning
Nutrition Facts
Serving Size 1 cookie
Amount Per Serving

Calories 39

% Daily Value

Total Fat 0.2 g

0%

Saturated Fat 0.1 g

1%

Sodium 7.2 mg

0%

Total Carbohydrates 7.8 g

3%

Dietary Fiber 1.2 g

5%

Sugars 1.1 g

Protein 1 g

2%
* Percent Daily Values are based on a 2,000 calorie diet. Your daily values may be higher or lower depending on your calorie needs.