Unicorn Cupcakes - The perfect school holiday baking project
THIS POST MAY CONTAIN AFFILIATE LINKS.

My girls are outright unicorn fans! So I have had this idea of baking unicorn cupcakes stored up in the back of my mind for a few months now, but I've been saving it for a Rainy School Holiday Day. Because honestly rainy school holiday days are not my forté, so I need to go in with a plan of attack to get us all through the day with smiles rather than tears and tantrums.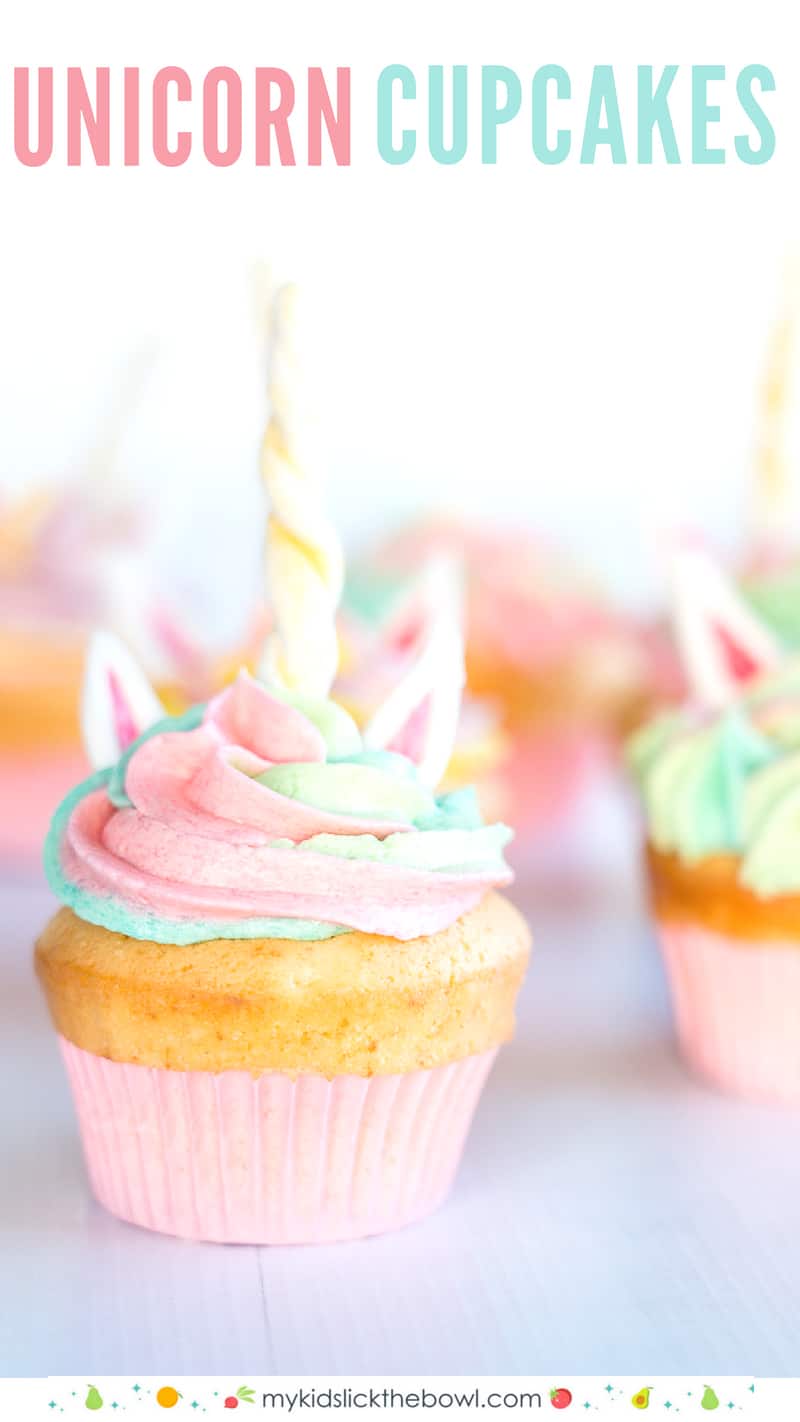 These unicorn cupcakes are the perfect project for this type of day. They are easy. Like super easy, as in I even use a store-bought cake mix as a base. But honestly, if a baking mix like the Vanilla Cake from Betty Crocker takes the stress out of the baking and turns it into a fun family project, then I am all for it!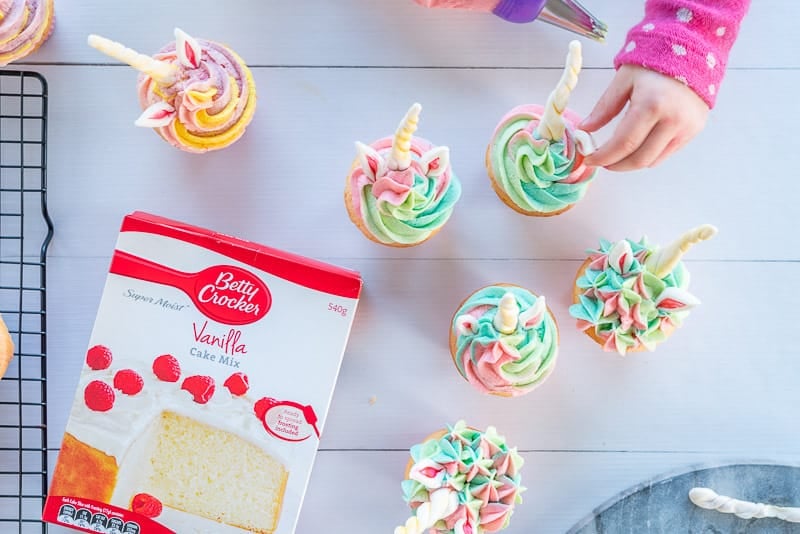 I am not going to lie, although these unicorn cupcakes are easy, and have loads of steps that the kids can do (yes even little ones) they are a full day project. But, then on a rainy day maybe that is the perfect thing! I am a firm believer in getting kids involved in the kit
chen. Magical moments full of butter and sugar and sticky fingers create fantastic food memories, in my book it's totally ok to go hard out with the food colouring, sugar and ALL THE THINGS every once in a while especially if kids are involved in the process.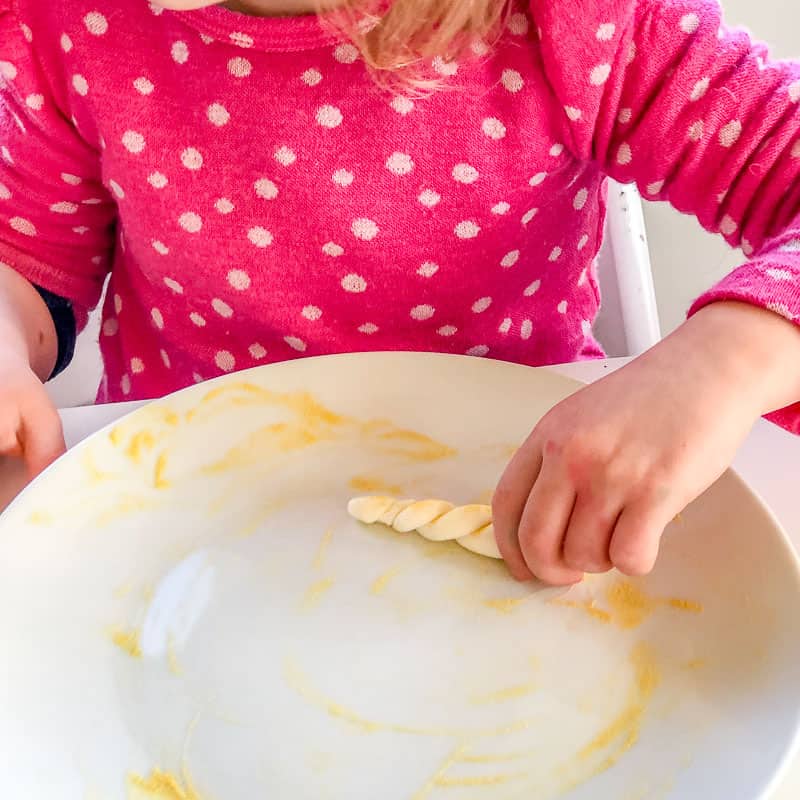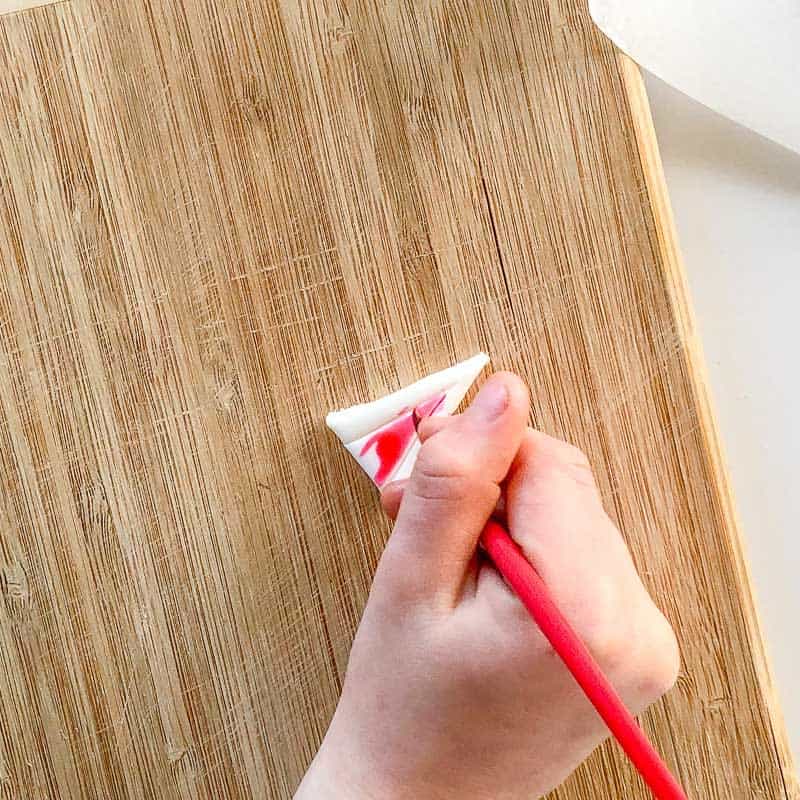 We coupled the making of these Unicorn Cupcakes with a movie watching session. As there are a few stages where there is a little waiting and patience needed, so mixing up the baking and decorating with some couch time watching a movie (while I had a coffee) was perfect!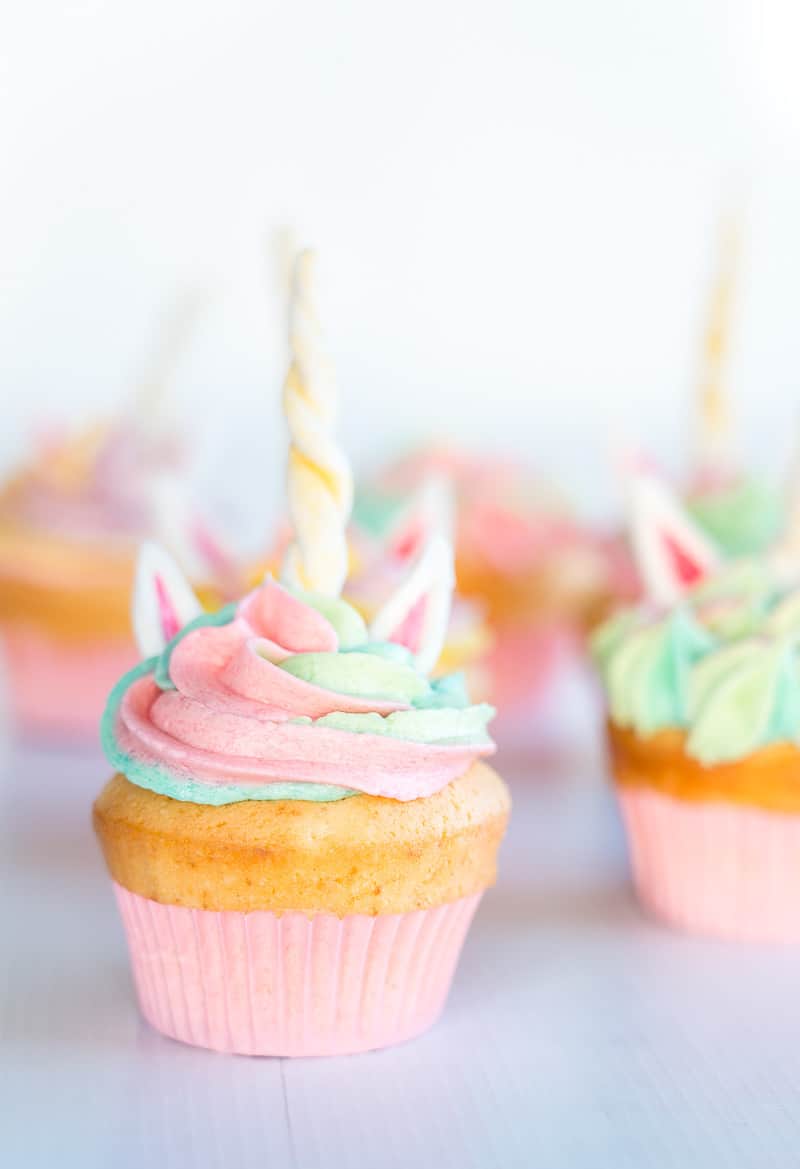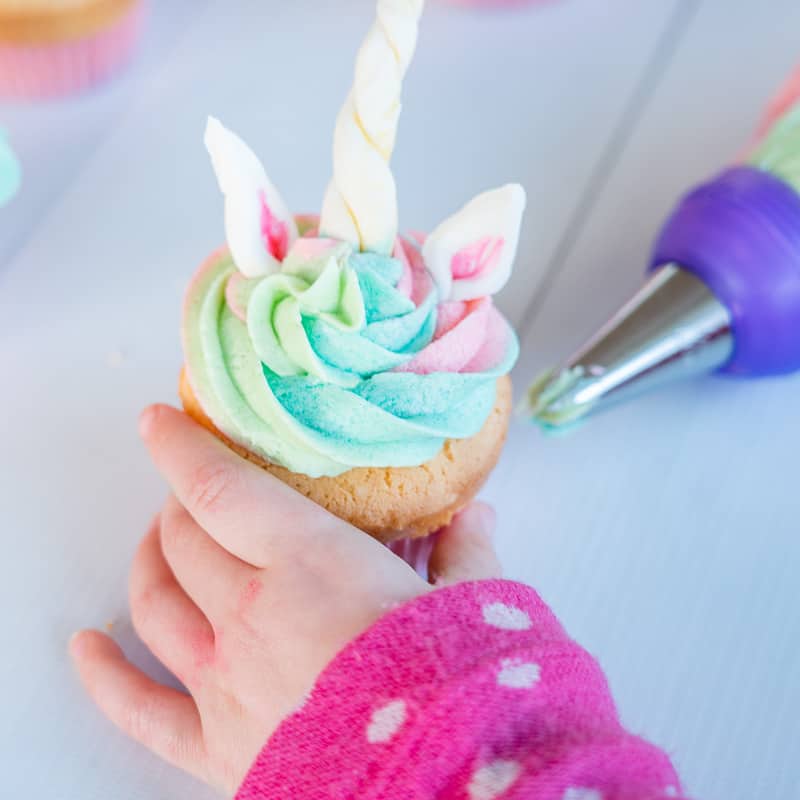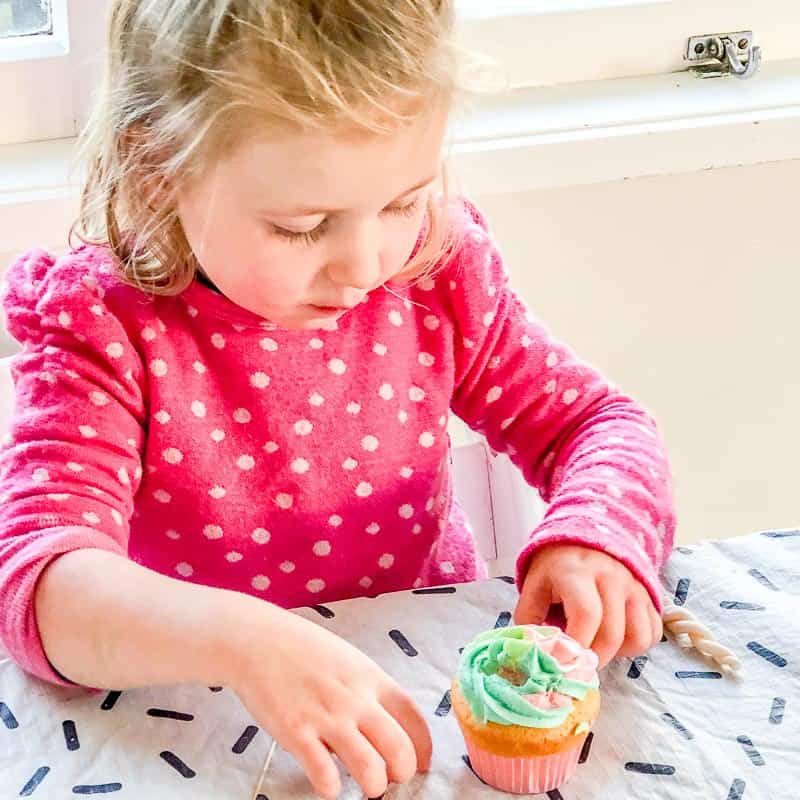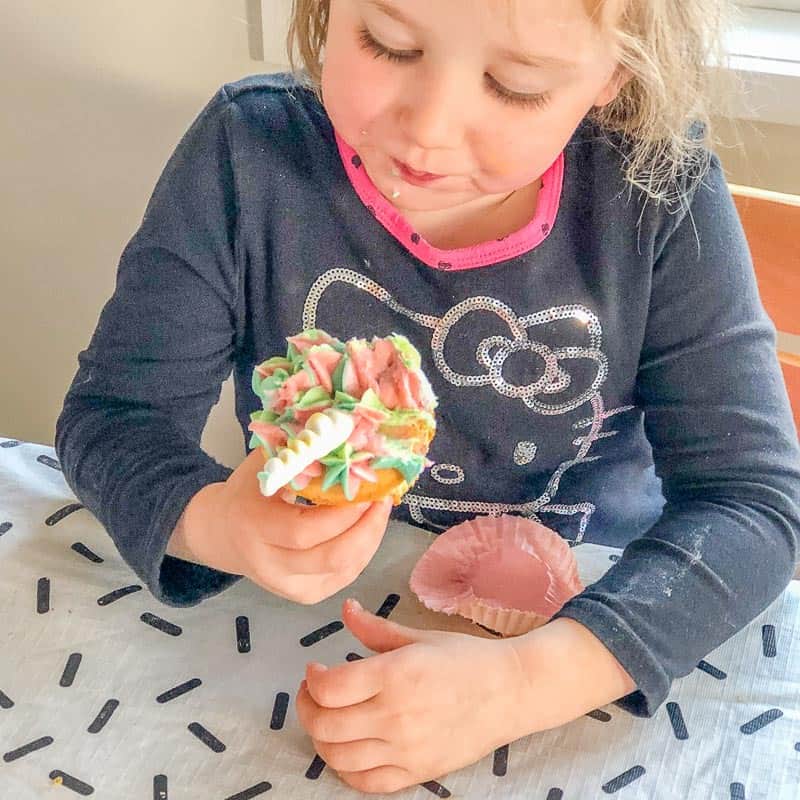 Unicorn Cupcakes
Ingredients
Cupcakes
1 x pack Betty Crocker Vanilla Cake baking mix
80 g butter or oil
2 eggs
¾ cup milk
Cupcake liners
Butter Cream Icing
250 g butter
480 g icing sugar (approx 3 cups)
2 teaspoon vanilla
¼ cup milk
<b>Decorations</b>
White Fondant
Edible glitter
Food colouring
Preheat your oven to 180 degrees Celsius, 160 degrees Celcius if fan forced
Prepare the Betty Crocker Vanilla Cake baking mix as per the instructions, instead of pouring into a cake tin, divide the mix into a muffin tin lined with cupcake liners. I found the mix made 18 cupcakes, but this will depend a little on the size of your muffin tin. I portioned half the cupcakes, the kids the other half, as you can see some of our cupcakes are massive, some are small, but that's ok perfection is not the goal!
Bake the muffins for 15 - 20 mins, until they have risen, are lightly golden and a toothpick comes out clean when inserted in the top. The time will vary a little depending on the size of your muffin tins
Allow the cupcakes to cool completely on a wire rack
While the cupcakes are baking and cooling you can move on with creating some of the decorations for the cupcakes
Unicorn Horn There are 2 ways to make the unicorn horn, try both ways with your kids to see which they find easier.  EITHER: Take one Tablespoon sized piece of fondant, roll into a ball, then roll out into a sausage around 8 cm long, you want the ends of the sausage to be thinner and the centre of the sausage a little thicker.  Fold the sausage in half and twist the 2 halves together to create the twisted horn. OR: Take two teaspoon sized pieces of fondant, roll each into a sausage around 4 cm long, the sausage should be a little fatter at one end than the other, twist the 2 sausages together to create the spiral unicorn horn. Once you have made your unicorn horns roll them in edible glitter, we used gold, but you could use any colour. Leave the horns to harden for an hour or two

Unicorn Ears: Roll fondant out until it is around 5mm thick, using a knife cut strips around 2 cm wide. Depending on the age of your child, they can do this. Using angled slices cut the strips into triangle pieces. Once you have the triangles, use the knife to score a second smaller triangle inside each one. This acts as the line for when you add the food colouring. Mix a little pink food colouring with water. Using a paint brush paint the inside triangles. Squeeze the bottom corners of the triangles together, this will create an ear shape. Leave the ears to harden for an hour or two

Icing: Prepare the buttercream icing. I made a double batch so that we could play with a few different colour ways, and that is what my quantities are for, but you would only need one batch of icing, so feel free to halve the quantities
Start with softened butter (not melted, but soft). Use an electric beater or cake mixer to beat the butter until it is as white as possible. Then add ? of the icing sugar and beat, add ? of the milk, alternate adding the icing sugar and milk until it has all been added.
Divide the icing into bowls, (we did 6 different colours) I have 3 children, so each child chose 2 colours and then stirred the food colouring into the icing
Fill a piping bag with icing (to create the icing effect I used a 3 way piping bag, it was my first time using it but it was really easy, you don't have to do this though, a one colour unicorn will be fine too!
Our two colourways using the 3 way bag were (pink, purple, yellow and blue, green, pink) Personally I think the blue green and pink versions were the best, but one of my daughters loved the pink purple and yellow, so be adventurous with the colours
Ice your cupcakes using the piping bags, do whatever you want, swirls, flowers, anything goes for unicorns
Your unicorn horns should now be solid, if some are a little structurally unsound, poke a toothpick through the centre of them. Top each cupcake with a unicorn horn and two ears, and voila a unicorn cupcake!
I would like to say a huge thank you to Betty Crocker for supporting my blog and making this post possible. The kids and I had a great time, and stress-free thanks to the Betty Crocker Baking Mix! Like I said at the start of the post I think every so often it is totally fine to get kids in the kitchen, use sugar, butter and food colouring with gay abandon and create amazing fun food memories.
Over the years I have made a few other easy baking creations with the kids using Betty Crocker Cake mixes as a base. So if you are after other ideas be sure to check out my: PJ Masks Rainbow Tower Cake, Easter Bunny Carrot Cupcakes and Christmas Pudding Cupcakes.
If you are after an allergy-friendly cupcake recipe  then check out my dairy free cupcakes, they are vegan and free from, dairy, egg, wheat, gluten and nuts.
If you prefer to skip the packet mix, my vanilla cupcake recipe is such an easy way to make cupcakes from scratch!