Christmas Pudding Cupcakes
THIS POST MAY CONTAIN AFFILIATE LINKS.
These Christmas Pudding Cupcakes are the Christmas baking project for the person who is just not a baker!
I am a baker, I am a cook, seriously my job is to create recipes. My recipes are full of ingredients like Chia Seeds, oat flour and quinoa, which I know for some people are just not in their comfort zone. The thing is though, I started this blog not to be pushing fancy or flash recipes, (I've just kind of fallen into that as the demand for allergy-friendly recipes is so high) I just wanted to provide recipes and ideas that helped parents get their kids into cooking and enjoying food.
For some parents, my recipes are probably way too far-fetched, I mean crikey (this is kiwi lingo by the way) look at my low sugar Christmas cookies with chia seed egg replacer, they are actually easy to make, but not everyone would even know how to go about using chia seeds.
So, today this Christmas Pudding Cupcakes post is for those who want to fill in a little of the school holiday time by doing a cooking activity with the kids but want to keep it simple. In this recipe, I suggest store bought cupcake mixes and decorations. You could totally replace any of these with those made from scratch if you wish.  Any of my low sugar muffin recipes could be used. But honestly, this post is to get more people into the idea of doing something easy and fun with kids in the kitchen than promoting healthy eating. We should never forget though, that food memories and family traditions are also very very important and a BIG BIG part of my food philosophy.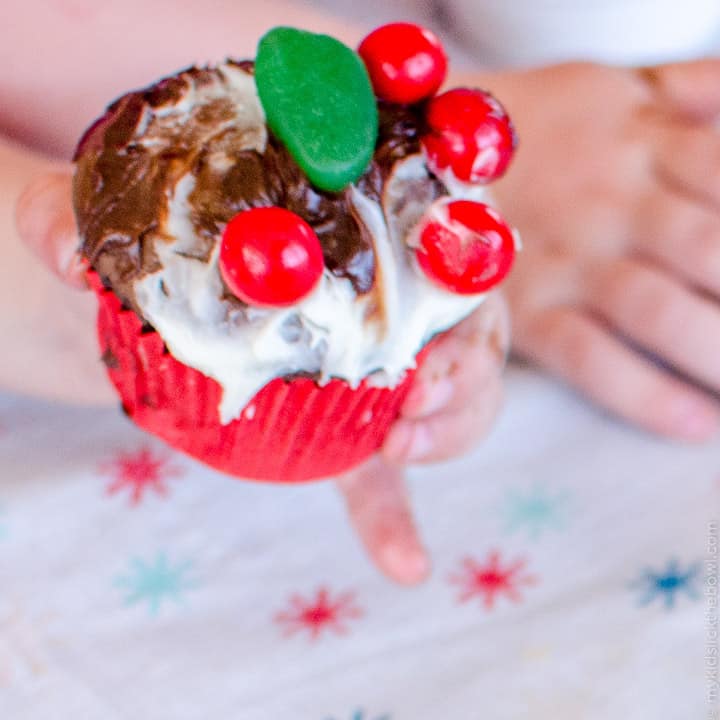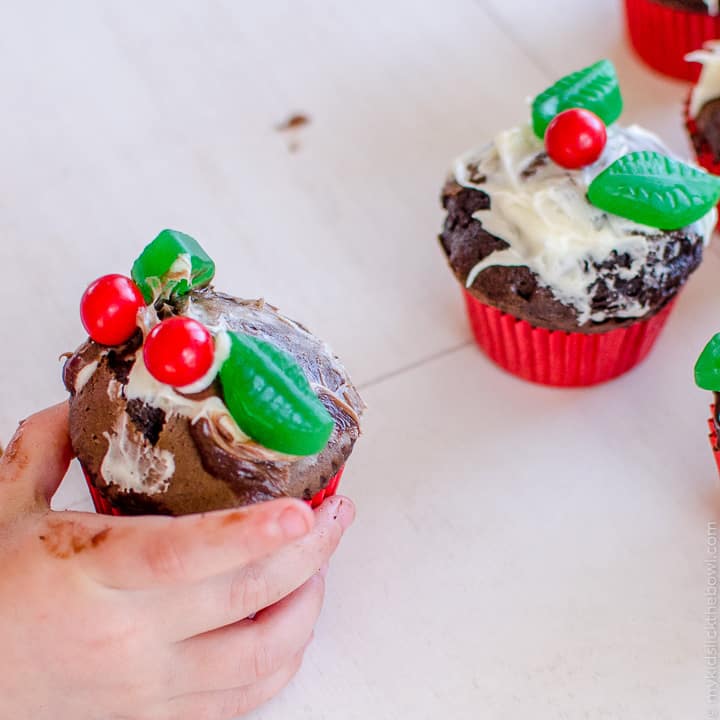 The perfect Christmas Pudding Cupcake image to pin!
Print
Christmas Pudding Cupcakes
Yield 12 Cupcakes
Ingredients
1 quantity chocolate cupcake mix or 1 quantity low sugar muffin
1 quantity chocolate cupcake frosting
1 quantity white chocolate or vanilla cupcake frosting
12 Jaffas or Red Peanut M&Ms
24 Green spearmint leaves (confectionary) or equivalent
Instructions
Prepare the chocolate cupcake mix as per the recipe or packaging, bake and set aside to cool
Prepare the two frostings as per the recipe or packaging
Gather the kids around
Use the chocolate frosting to first cover the top of the cupcake
Spoon a dollop of the white frosting on top to look a little like a Christmas pudding
Decorate with 1 Jaffa (or red ball-shaped sweet) and 2 spearmint leaves
Or ignore steps 4-7 to create your won Christmas creation, using the frosting and sweets in any order you like
Have fun!
Notes
You can totally use store bought cupcake mix and frosting, or use your favourite recipes
Jaffas are a New Zealand sweet also available in Australia, They are a small chocolate ball covered in an orange choc flavoured candy shell. Not dissimilar to an M& M or  peanut M&M
Spearmint leaves are a gummy lolly similar to a jet plane in texture that are a leaf-shaped and spearmint flavoured. You could use any green leaf resembling sweet you have in your country. 
Courses Baking