These Easter Bunny Carrot Cupcakes are the perfect easter baking project for kids.
I would be very hesitant to say that they are a healthy Easter treat, but they are a great way to get kids in the kitchen, they have carrots, so it's a fun way to present a healthy vegetable and they require very little baking skills!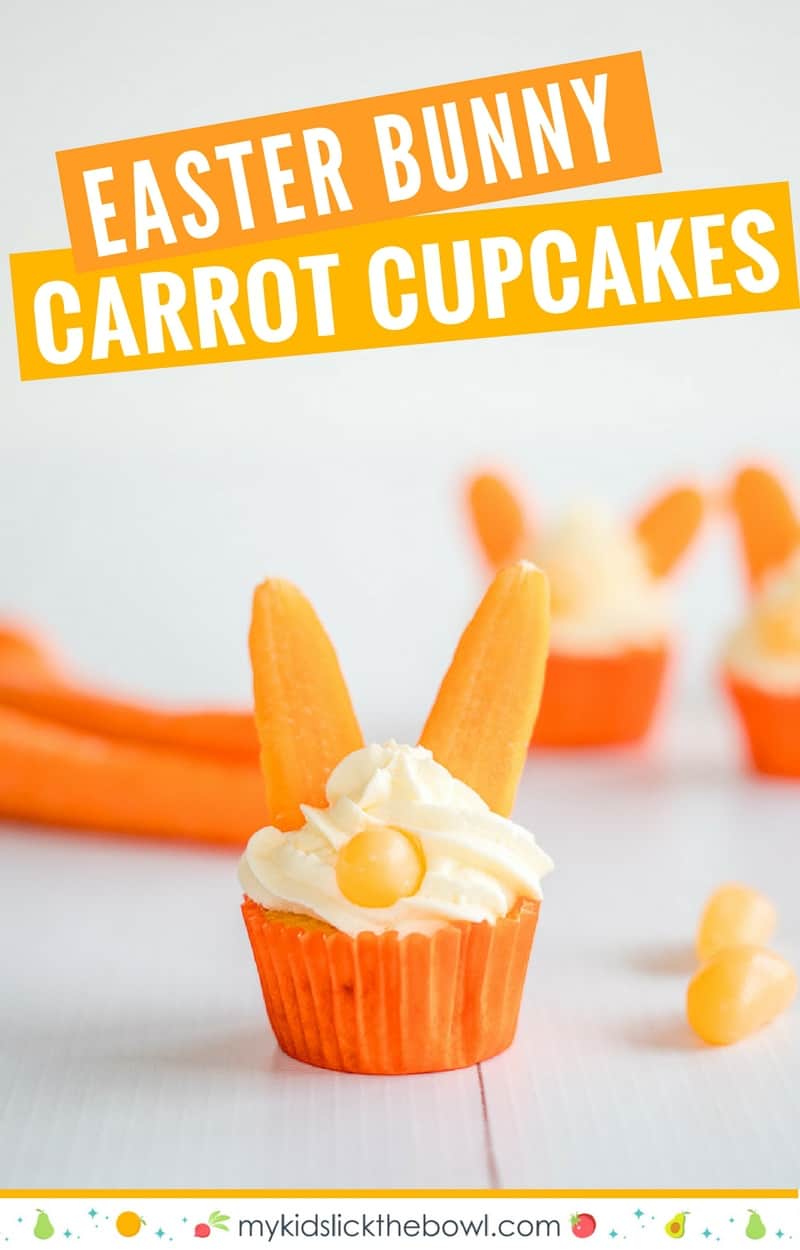 As far as the cupcake goes for these Easter bunny carrot cupcakes, there are a few options, you can either use a store-bought vanilla cupcake mix and just add some grated carrot.
Or you could use one of my lower sugar muffins for the cupcakes. I have recipes for carrot muffins, apple banana, carrot baby led weaning muffins and first muffins for baby all of which are sweetened only with fruit.
Or like I said, you can just go with a store-bought vanilla cupcake pack, a little similar to how I made my Christmas pudding cupcakes.
I've got Easter Snack Ideas for Kids if this isn't quite what you are after.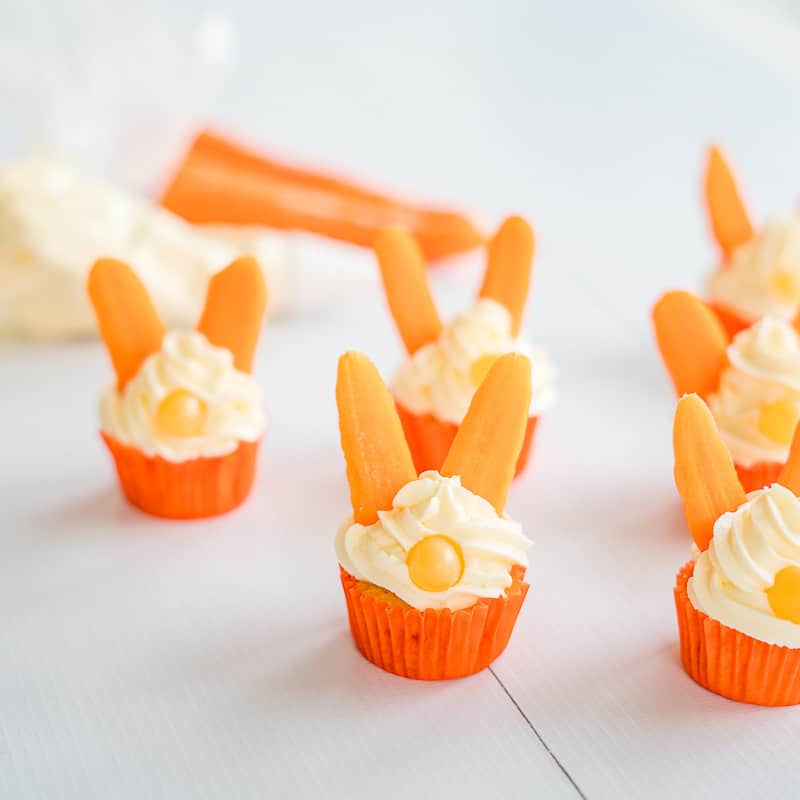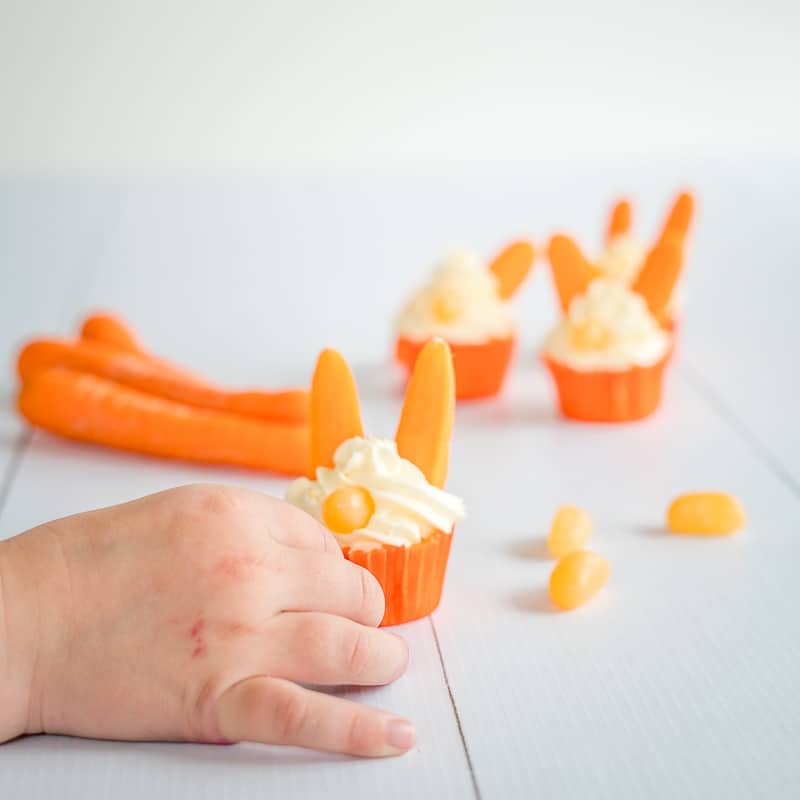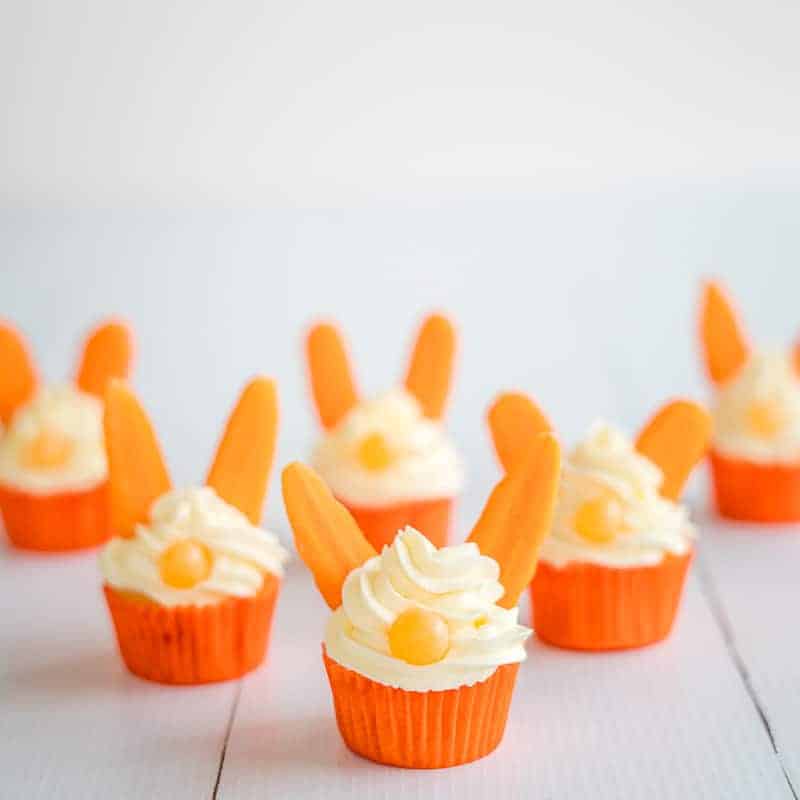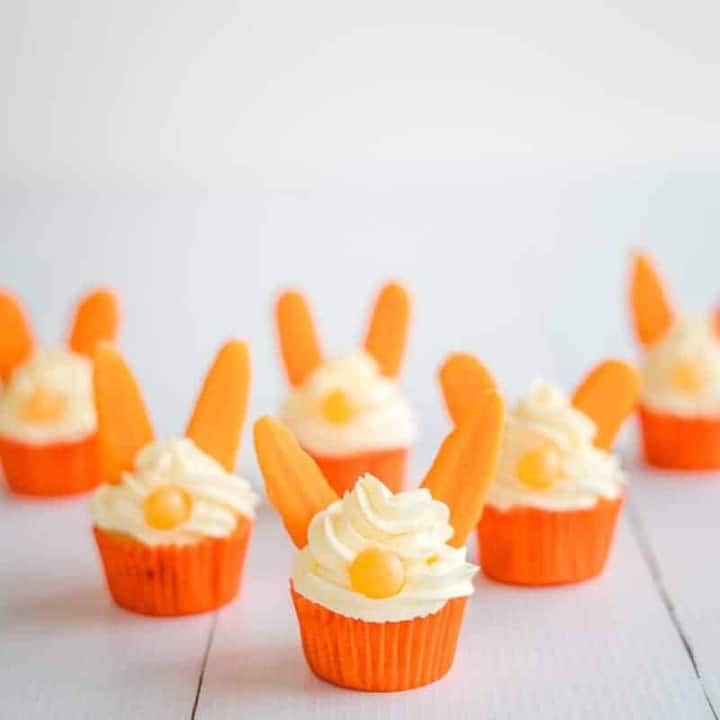 Easter Bunny Carrot Cupcakes
Easter Bunny Carrot Cupcakes are a fun easter treat for kids, as well as a brilliantly simple kitchen project to get kids baking in the kitchen this Easter! 
Ingredients
1 pack store-bought vanilla cupcake mix  (see notes for alternatives)
1 Cup grated carrot
12 baby carrots
12 orange jelly beans
Instructions
If you are using a store bought vanilla cupcake mix, then prepare the mix as per the packet instructions.
Add the grated carrot to the batter, and mix through
Portion the batter into 24 mini muffin trays, I line mine with mini cupcake liners for this recipe
Bake the carrot cupcakes as per the packet instructions, note the baking time will be shorter if you have made mini cupcakes
Allow the cupcakes to cool
If you used a store cupcake mix, it will have come with frosting, use this or alternatively make up some cream cheese frosting
Ice the cupcakes, I used a piping bag but you do not need to
Cut the 12 jelly beans in half
Cut the baby carrots in half, both crossways and long ways, this will form 4 bunny ears
Get the kids to help you add the carrot ears and jelly bean noses to the cupcakes
Nutrition Information:
Yield:

24
Serving Size:

1
Amount Per Serving:
Calories:

52
Total Fat:

1g
Saturated Fat:

0g
Trans Fat:

0g
Unsaturated Fat:

0g
Cholesterol:

2mg
Sodium:

16mg
Carbohydrates:

12g
Fiber:

2g
Sugar:

8g
Protein:

1g
Please know this nutrition analysis is based on the ingredients only, this recipe has not been sent to a laboratory for independent testing