No Cook 1 Minute Playdough
THIS POST MAY CONTAIN AFFILIATE LINKS.
My kids have all gone through huge playdough phases - my youngest who is coming up 3 years is right in the middle of the phase!
I thought before they all grow up I should share this recipe for my no-cook 1-minute playdough - super speedy
playdough, that's ready to play with almost straight away!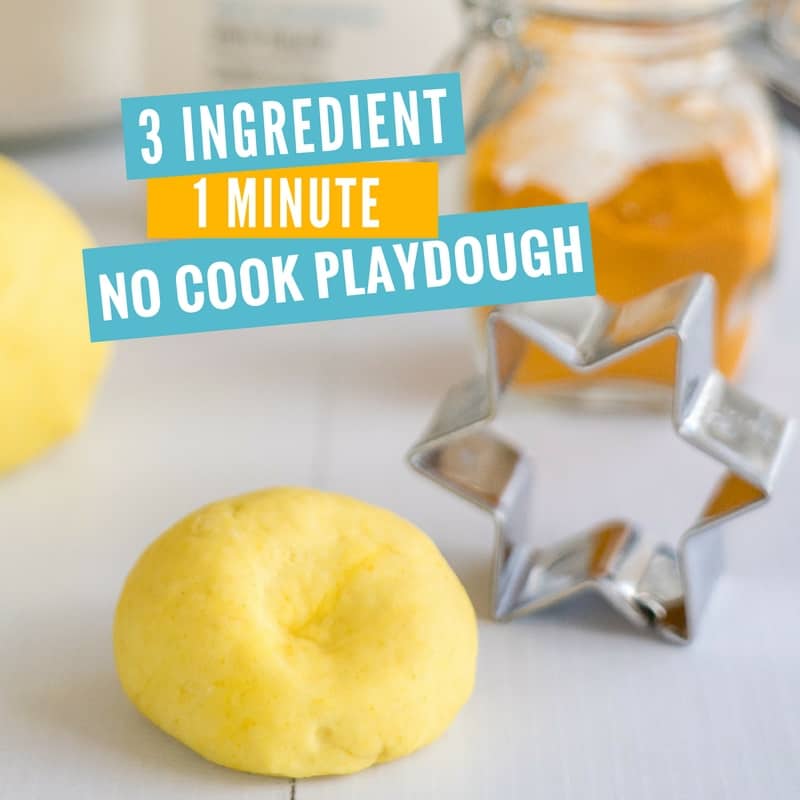 Be sure to watch the quick playdough recipe video!

I've partnered with ecostore to bring you this no hassle, no nasties playdough recipe as their dishwashing liquid is one of the main ingredients.
We've been an ecostore family for quite some time now and I love that this recipe is so easy to make and you don't have to worry about your children playing with any harmful ingredients.
I love that ecostore are a little kiwi company that have gone big!
They're a no nasties company but the products still do what they say they will - the dishwashing liquid does get my dishes clean, the body wash gets me clean, and the bubble bath is bubbly for my kids!
It's a bonus that the dishwashing liquid doubles as an ingredient in this playdough recipe, an eco-friendly activity that is a hit with my kids, perfect for the school holidays or weekend.
Small sustainable changes or activities like this in our lives can make such a big difference and contribute to a better world.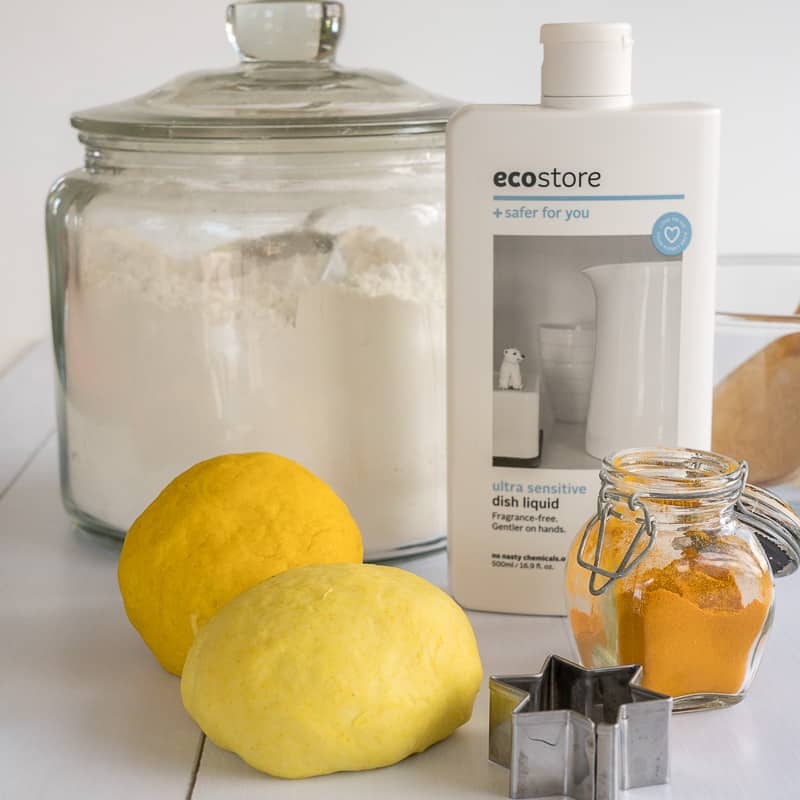 How to make playdough without cooking
I must say for quite a while I was a traditionalist when it came to playdough.
I was a traditionalist in that I made the cooked salt dough type playdough for my kids but then they wanted to be more and more involved with the production of playdough - the stirring and heat and 3 mini humans sometimes made it a little tricky.
I went on a google search for how to make playdough without cooking, stumbled on the idea of using flour and dishwashing liquid, added my tweak, perfected it, and there you have it, my take on no cook playdough.
I use turmeric as a colouring, depending on how much you add you can either have a pale lemon pastel colour, a bright yellow or a deep, almost orange.
This playdough is not designed to be edible - I find that as this playdough is not full of salt, kids aren't as inclined to eat it.
If your child likes to snack on playdough, my tip (no matter how you make your play dough) is to add a couple of drops of an essential oil like tea tree, lavender or peppermint, it puts them right off going for a second bite!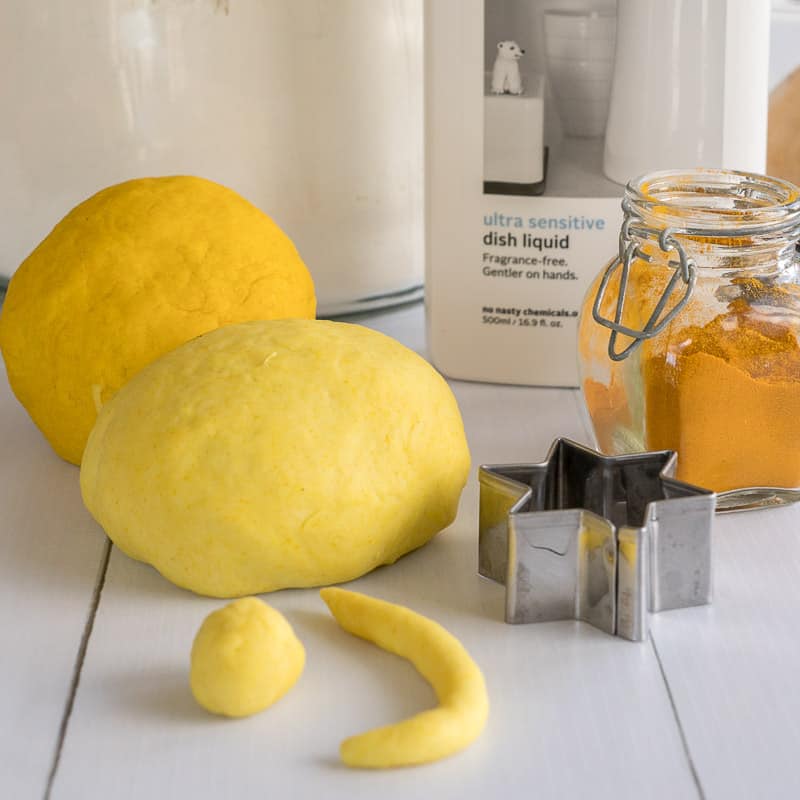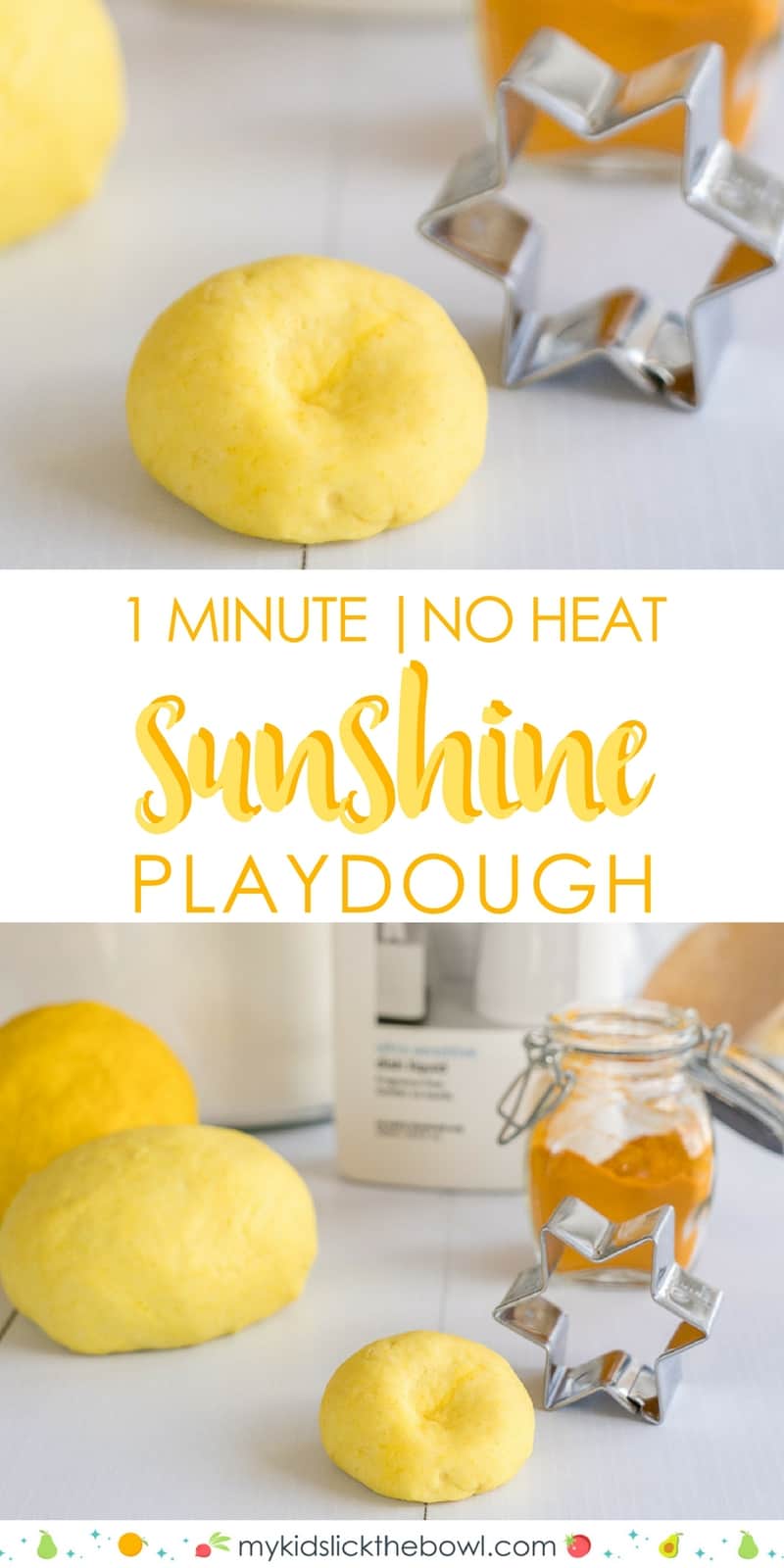 One Minute No-Cook Playdough Recipe
Ingredients
½ Cup Dish Wash Liquid
½ teaspoon Turmeric
1 Cup plain flour
1 teaspoon cream of tartar (optional)
Method
In a medium bowl add the dish wash liquid and the turmeric
Mix until the dish wash liquid is evenly coloured yellow
Add the flour and the cream of tartar if using
Mix until it comes together in a ball, then give it quick need until it has a silky texture
Give to your child to play with!
Notes
I use the ecostore ultra sensitive dish wash liquid for this recipe, as that is the dish was liquid I have in my kitchen
Using cream of tartare is totally optional. The play dough is fine without it, but the texture is better if you plan to store it if you do use it
Adjust the amount of turmeric to give a lighter or darker colour.
If your child is a playdough eater, try using a few drops of a highly perfumed essential oil to put them off.
This post was brought to you by ecostore