We are right in the middle of citrus season here in New Zealand, my lemon tree is going bananas, so lemon recipes are high on my list at the moment. Which led to the creation of these Lemon Oat Coconut Cookies.
As with all my cookie recipes, my aim is for them to be lower in sugar than most. Some of my oatmeal cookie recipes such as the Fruit Sweetened Oat Cookies and Apple Oat Raisin Cookies are sweetened only with fruit.
While some of my others such as my Orange Choc Chip Oat Cookies or Anzac Cookies contain sugar, but very little compared to a traditional cookie recipe.
This is where these Lemon Oatmeal cookies sit.
They are not a no-sugar recipe, but they are certainly a low sugar recipe compared to most. The sweetness comes from 2 Tbsp of Honey in the batch.
Which I think makes them fairly healthy lemon cookies!
I am a lemon fan, lemon and coconut is one of my favourite combinations.
My kiddos have enjoyed these lemon coconut cookies too, although my eldest has commented a couple of my batches were too lemony for his liking. Those lemony batches are the batches that I have enjoyed the most though. He and I will therefore have to agree to disagree.
My daughters have gobbled all of the lemon cookies, they haven't been bothered if they were a little or a lot lemony! .
One batch that I made included white chocolate chips. This made for a very decadent cookie. But probably not an everyday snack cookie.
It is certainly worth a try for a more special occasion! Lemon and white chocolate is delicious!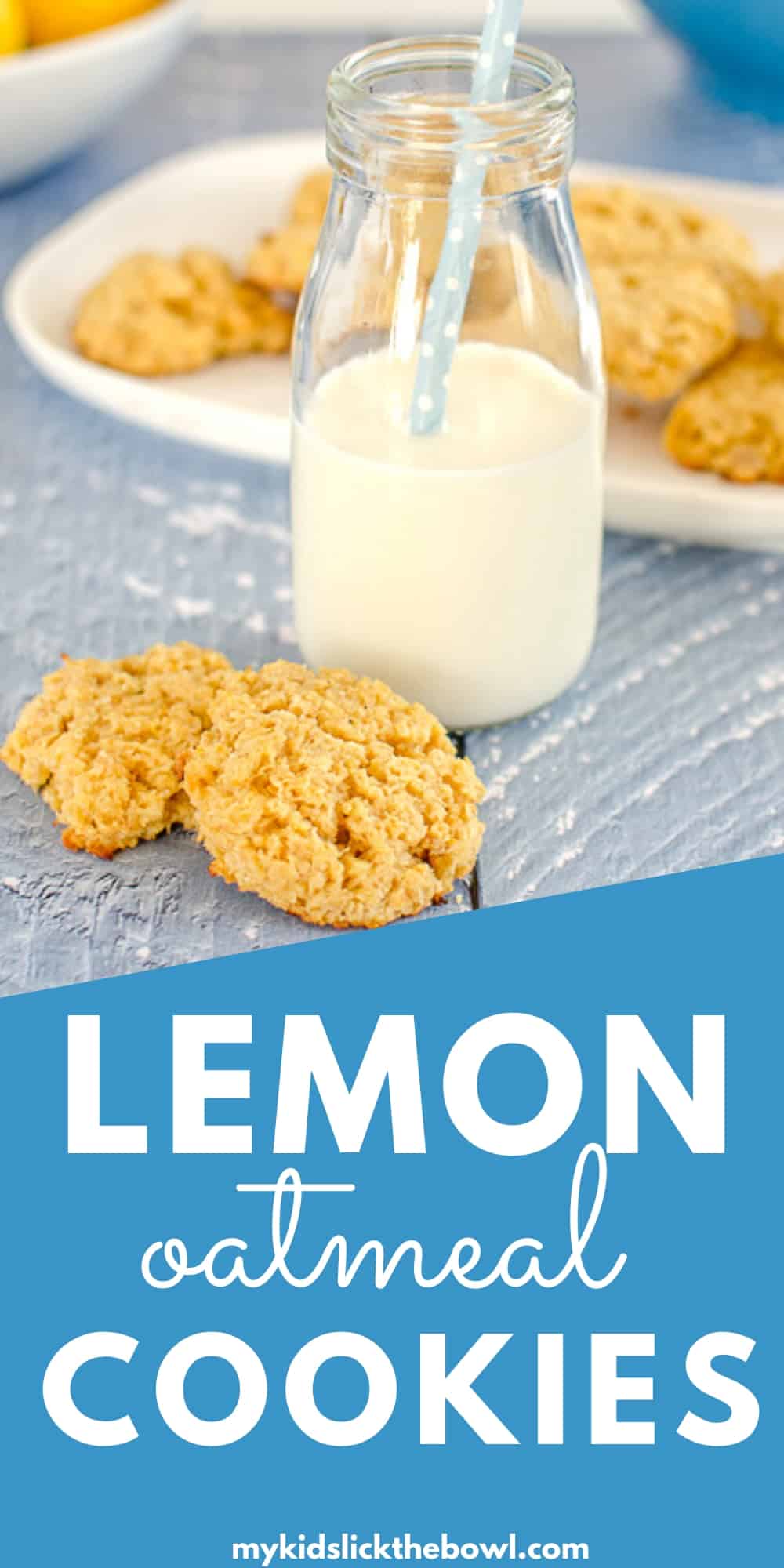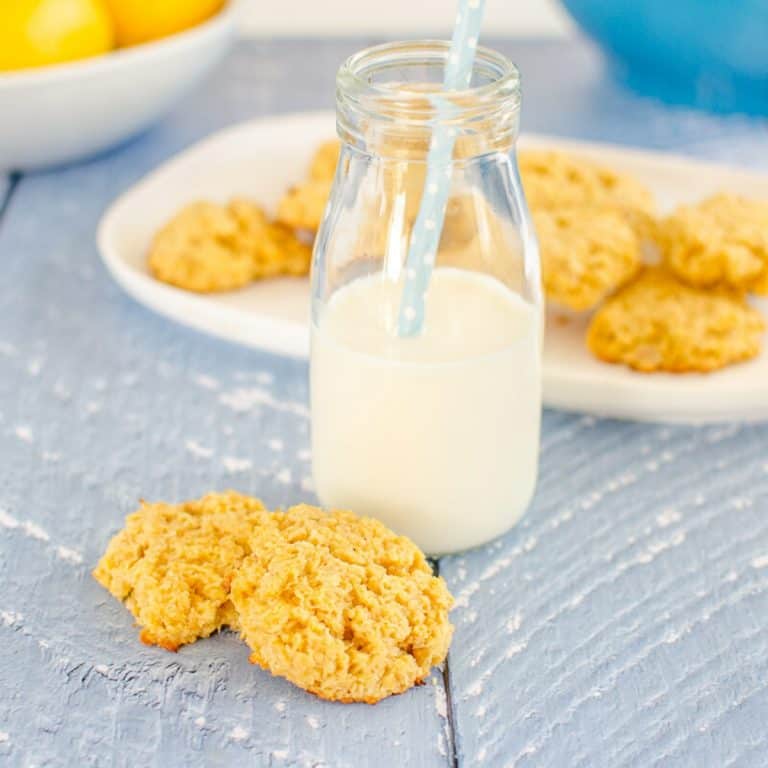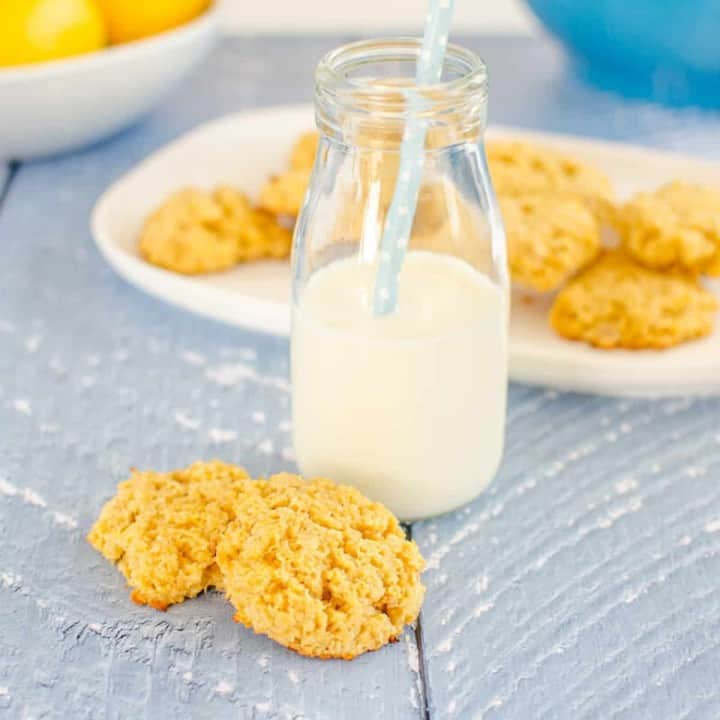 Lemon Coconut Oat Cookies
Healthy lemon oatmeal cookies, so easy to make flavoured with lemon honey and coconut, a soft cookie that my family loves
Ingredients
1 cup quick cook oats, the finer rolled oats (100g)
¼ c desiccated coconut 
1.5 tsp baking powder
2-3 Tbsp regular flour
40g  melted butter
1 egg
2 Tbsp Honey
Juice & zest of one lemon ( 30ml juice, 1Tbsp zest)
Instructions
You will need 2 bowls
In the first bowl place the first 4 ingredients, i.e. the dry ingredients, mix them together with a spoon or fork to ensure they are combined
In the second bowl whisk the wet ingredients, i.e. melted butter, egg, honey, juice, and zest of the lemon
Add the wet ingredients to dry ingredients, mix to combine (if you feel the mixture is too wet add a little extra flour, as it will depend a little on the size of the egg and the size of your tablespoons, in NZ our TBSp are 15ml, where in many countries they are 20ml
Place spoonfuls onto a baking tray, generous tablespoons resulted in 12 cookies, you can do smaller spoonfuls, shape the cookies with the back of your spoon to make them roundish... they don't need to be perfectly round, but you do want the flattish, they will spread a little during baking
Bake at 180 degrees Celsius, 360 Fahrenheit for 10-12 mins until just golden on the edges
Cool
Serve
Notes
For a dairy free or vegan version, substitute the butter for coconut
For a wheat free version, substitute the standard flour for rice flour or gluten free flour
To make these cookies a little more decadent, add ¼ cup of white chocolate chips
Nutrition Information:
Yield:

12
Serving Size:

1
Amount Per Serving:
Calories:

114
Total Fat:

4g
Saturated Fat:

2g
Trans Fat:

0g
Unsaturated Fat:

2g
Cholesterol:

23mg
Sodium:

106mg
Carbohydrates:

17g
Fiber:

2g
Sugar:

6g
Protein:

2g
Please know this nutrition analysis is based on the ingredients only, this recipe has not been sent to a laboratory for independent testing