This one-pan Mexican mince and rice meal is a favourite of my family. A favourite of mine too, mainly because it all cooks in one pan.
Actually hang on there are a few other reasons why I like this one-pan Mexican mince and rice recipe, besides of course the fact that it all cooks in one pan.
I also like it because I can cook once but have enough for 2 slightly different meals.
On the first night, I serve the Mexican mince and rice dish in a bowl with perhaps some guacamole.
For night 2, I serve it as a filling for wraps, if we have eaten more than half on night one, then I bulk it out a bit with beans. My kids don't mind black beans mixed into it.
So that's 2 reasons I like this recipe, the third reason I like this recipe is that it is loaded with veggies, loads, and loads of veggies go into this one-pan Mexican mince and rice dish and my kiddos still gobble it down!
The big secret for upping the veggie content of this recipe is a savoury smoothie I make using tinned tomatoes and spinach! I use this trick along with a few others in my ultimate hidden vegetable lasagne Can you see all those veggies in the picture below, all of them end up cooked into this dish.
Mince Recipes
I use mince quite often in family meals, I find it kid-friendly, economical and a good vehicle for carrying a lot of vegetables. Here are 3 of my family's favourite healthy mince recipes for kids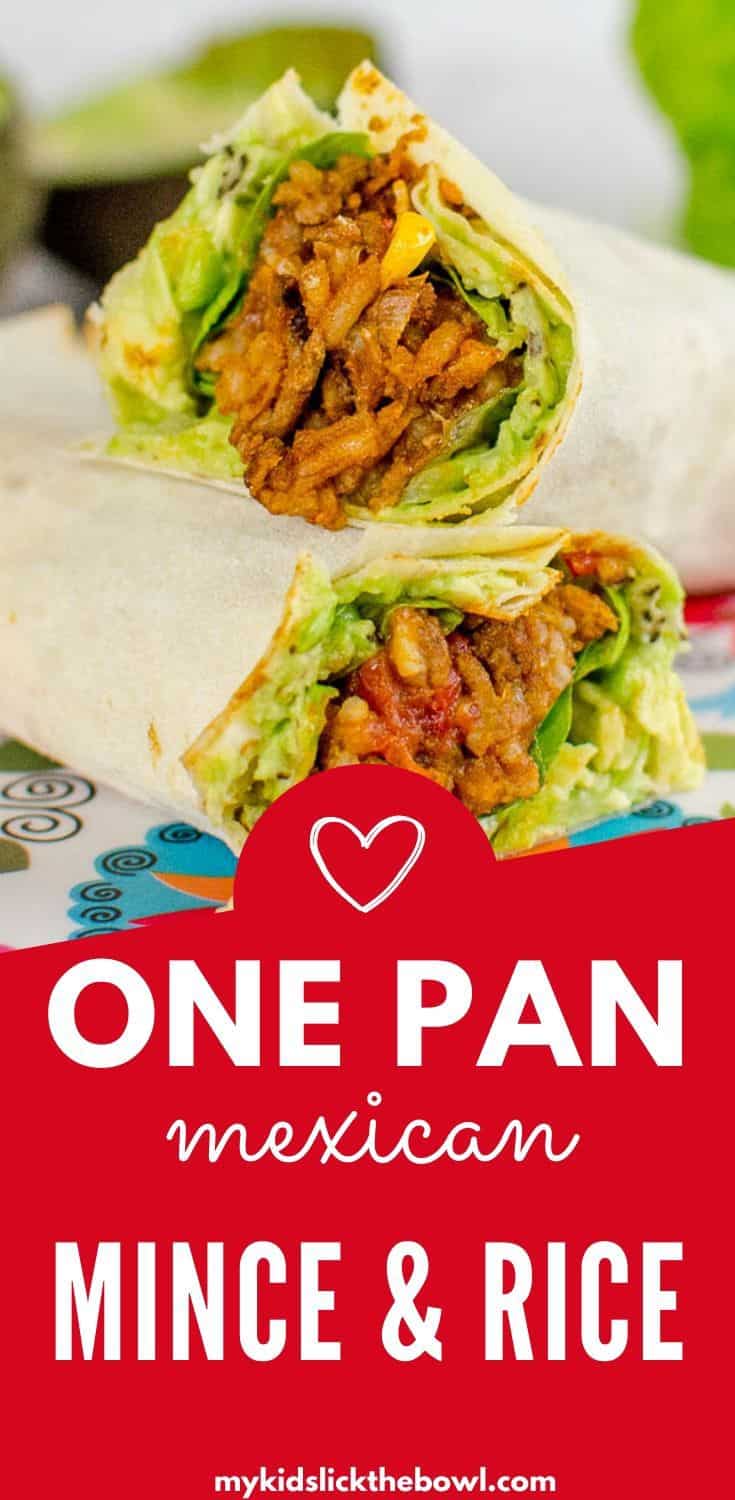 One-Pan Mexican Mince and Rice
One-Pan Mexican Mince and Rice a One Pot Family Meal an easy veggie loaded recipe
Ingredients
1 large Onion
500g mince
Mexican seasoning (store bought)
2 carrots (200g)
2 x 400g cans tomatoes
½ bag of spinach, 80g (you can use frozen too)
1 Cup rice
1 Cup water
1 Cup Corn (frozen totally fine)
Instructions
Saute onion, add mince and mexican seasoning, cook until browned
add grated carrots, cook for a bit while you do the next step
Take 1 can of tomatoes and the spinach, blend them ie make a savory smoothie with them, (yes it will look gross but trust me)
Add the smoothie to the pan
Add the other can of tomatoes to the pan
Stir
Add the rice and water
Cover and simmer for 15 minutes
Add the corn
Cover and simmer for another 5-10 mins, liquid should be absorbed and rice tender
Notes
Serve as is, maybe with some guacamole, and salsa on topSave the leftovers.
Serve the leftovers  as a wrap, with salad fillings, you can bulk it our further with beans if you ate a bit much the first night
I just use a store-bought mexican seasnoning, typically with paprika, onion, cumin, cinnamon, chilli
Nutrition Information:
Yield:

12
Serving Size:

1
Amount Per Serving:
Calories:

245
Total Fat:

11g
Saturated Fat:

4g
Trans Fat:

0g
Unsaturated Fat:

5g
Cholesterol:

56mg
Sodium:

125mg
Carbohydrates:

16g
Fiber:

3g
Sugar:

5g
Protein:

20g
Please know this nutrition analysis is based on the ingredients only, this recipe has not been sent to a laboratory for independent testing