THIS POST MAY CONTAIN AFFILIATE LINKS.
Lemon is one of my favourite flavours in baking. I've been working on this lemon loaf recipe to so that has all the yummy lemon flavour but isn't totally loaded with sugar.
What I've ended up with is a Lemon Yoghurt and Coconut Loaf that I think ticks all the boxes!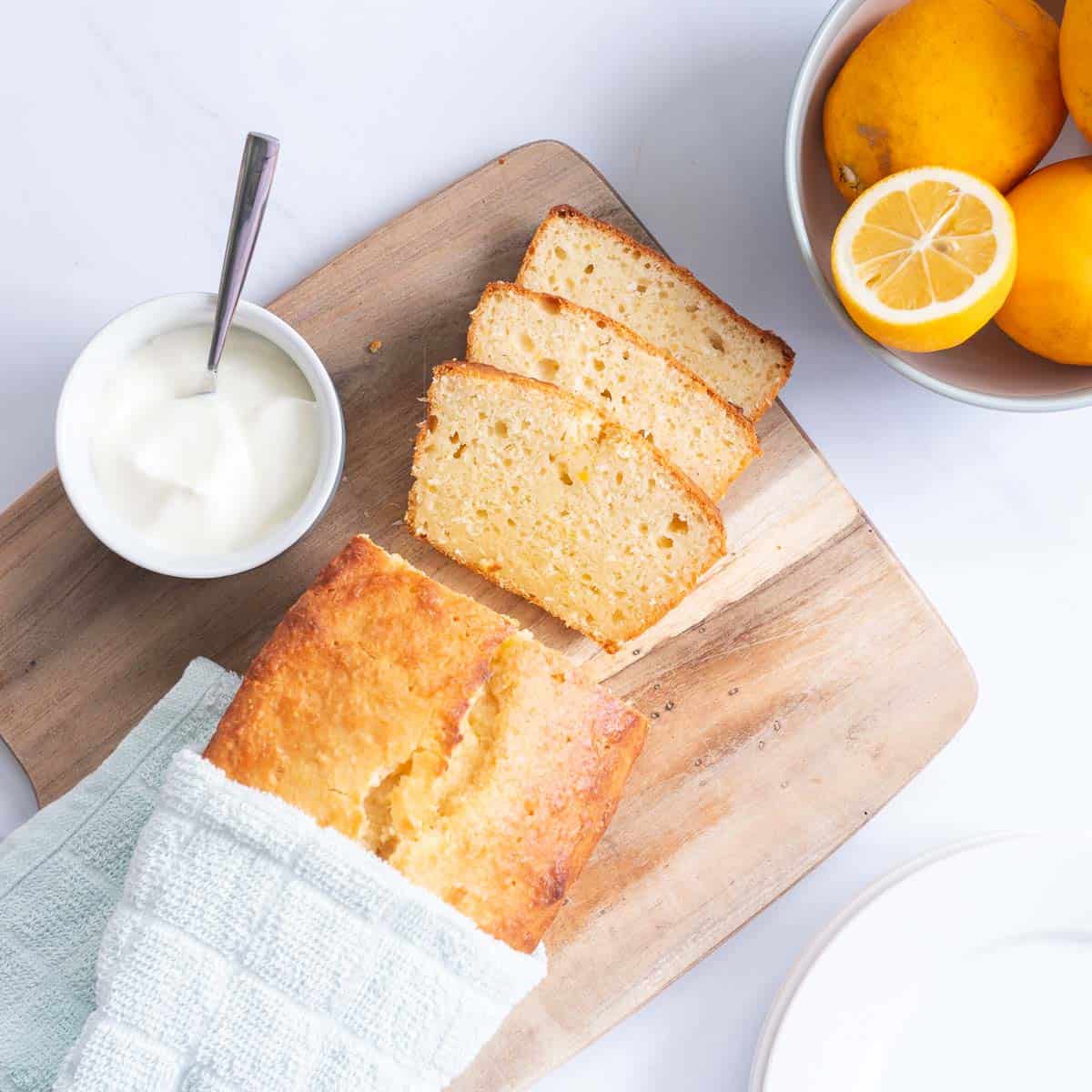 Why This Recipe Works
Low in sugar compared to regular lemon loaf (about half the sugar content) thanks to my desiccated coconut trick
Easy to make
Creates a moist lemon loaf perfect for when you have visitors or to throw in the kid's lunchboxes as it is relatively low in sugar.
The Ingredients you will need
Being a lemon loaf of course you will need a lemon! This loaf uses yoghurt (which you could sub for milk) and desiccated coconut. But the rest of the ingredients should be pantry staples; eggs, olive oil, flour, sugar and baking powder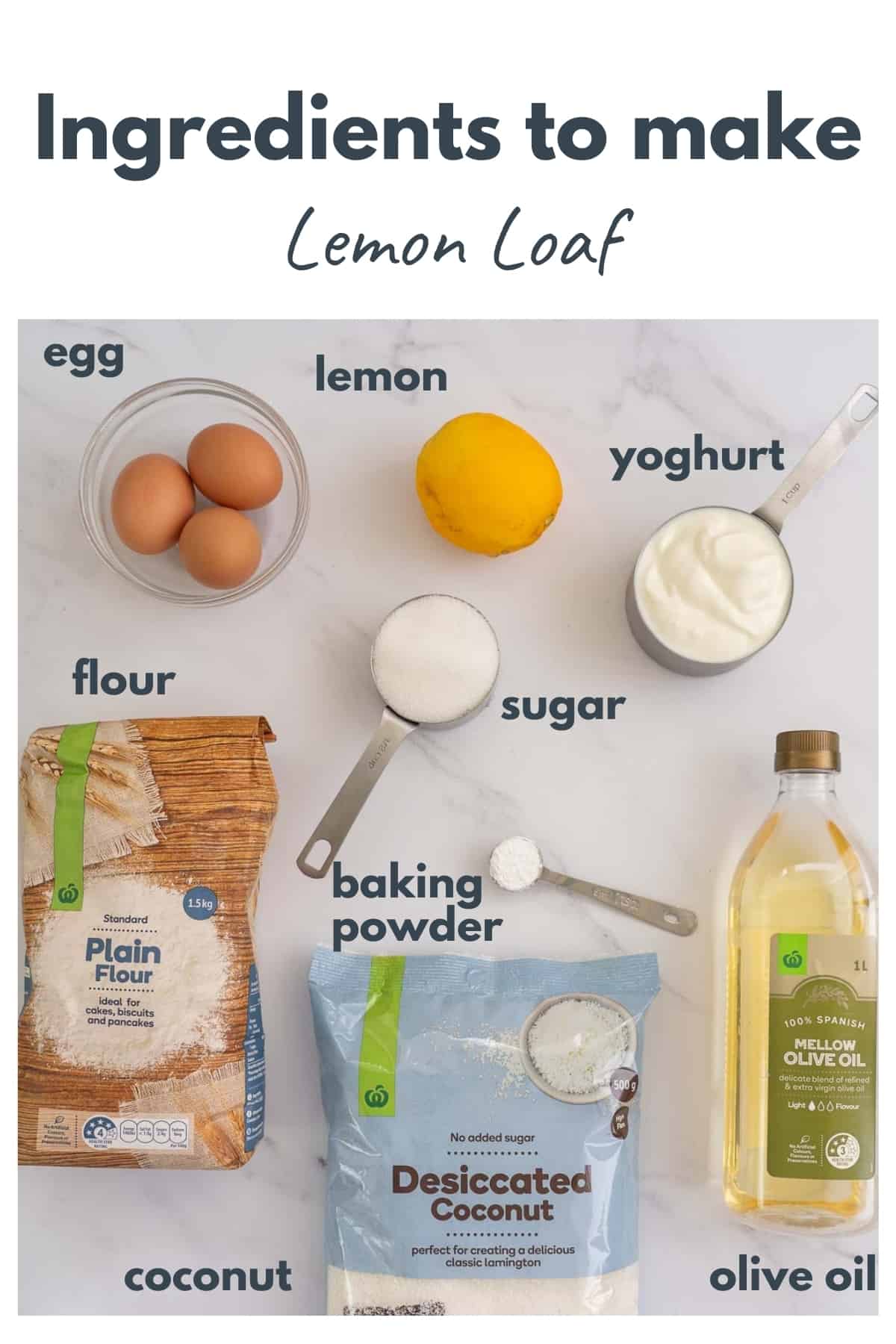 Olive Oil in baking
You will see in the picture of the ingredients that I choose a mild olive oil. Olive oil is great in baking, but extra virgin olive oil can be too strongly flavoured overpowering the other ingredients. In baking look for a 'light' olive oil rather than extra virgin.
[HACK] Reduce the sugar content in baking with desiccated coconut!
I have shared this little trick in my peanut butter cookie recipe, it's such a good one though and I used it while developing this lemon loaf recipe.
Essentially you can halve or reduce the sugar content of most recipes by two thirds and substitute the sugar with desiccated coconut.
If the traditional recipe calls for one cup of sugar, you can reduce it to either half a cup of sugar and add in half a cup of desiccated coconut or reduce the sugar even further to one-third of a cup while substituting in two-thirds of a cup of desiccated coconut.
You get the picture. Most lemon loaf recipes have 1 cup of sugar, this lemon loaf recipe has half the amount thanks to the desiccated coconut.
Try my coconut sugar swap in other recipes, it tends to work most of the time. You can also use ground almond as a substitute too.
I am an ambassador for Countdown supermarket, they support my blog by providing ingredients to me for recipe creation and testing. I used flour, desiccated coconut and olive oil from their range in this recipe.
Step by step instructions
Loaf
Preheat your oven to 180 Degrees Celcius (360 F)
Prepare a loaf tin, I use a silicone tin so don't need to grease or line it, if you are using a regular loaf tin, be sure to grease and line it.
Into a medium bowl place the eggs, sugar, and yoghurt (photo 1)
Whisk until combined (photo 2)
Add the olive oil and whisk until combined (photo 3)
Add the lemon juice and lemon rind from one lemon, whisk until combined (photo 4)
In a large bowl place the remaining dry ingredients; flour, desiccated coconut and baking powder. I use a clean dry whisk or fork to combine these (photo 5)
Add the wet ingredients to the dry ingredients (photo 6)
Stir to gently combine, I use a wooden spoon
Pour into prepared loaf tin (photo 7)
Bake the loaf for 35-40 mins, or until the top is lightly cracked and when you insert a toothpick into the centre of the loaf it comes out clean (photo 8)
Lemon Syrup Glaze (optional)
This step is optional but does add an extra lemony hit to the loaf
This step should be completed while the loaf is still hot and in its loaf tin
Pierce the top of the loaf with a toothpick, make holes evenly across the surface of the loaf (photo 1)
Heat lemon juice and sugar (just enough for the sugar to dissolve (I do this quickly in the microwave) (photos 2-3)
Pour the syrup over the warm loaf (photo 4)
Leave the loaf to cool in the tin
Enjoy!
Store for up to 3 days in an airtight container.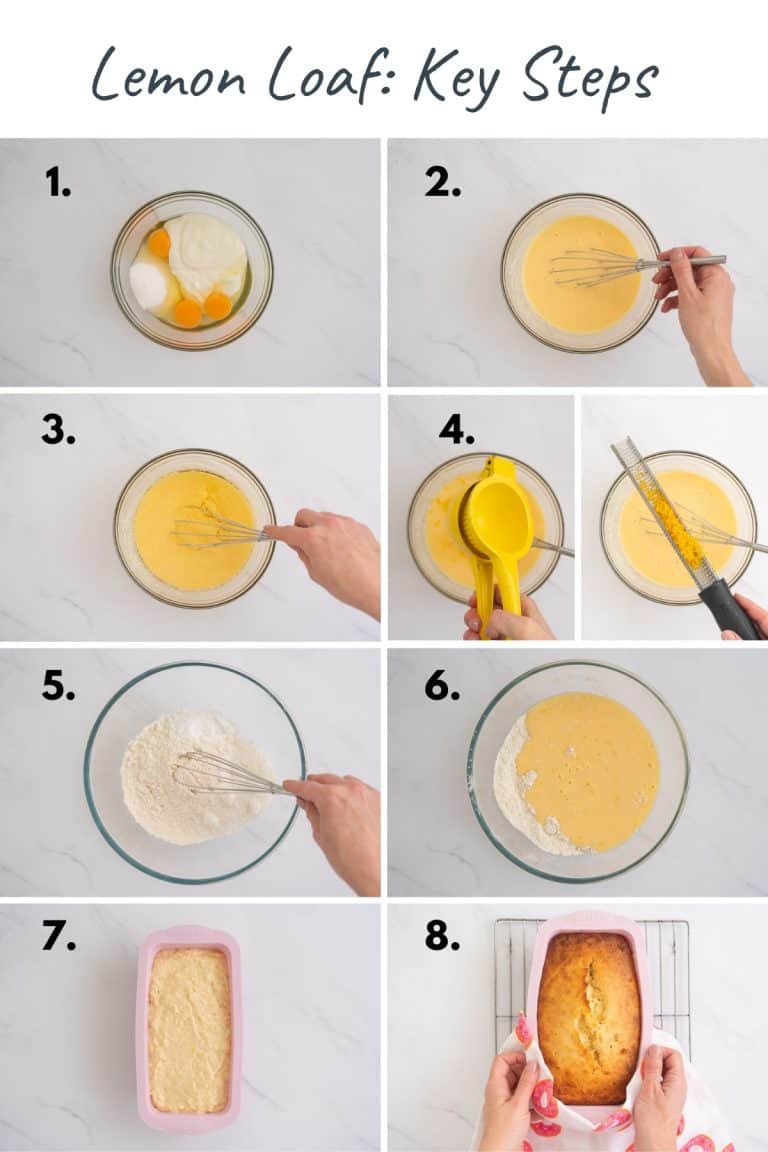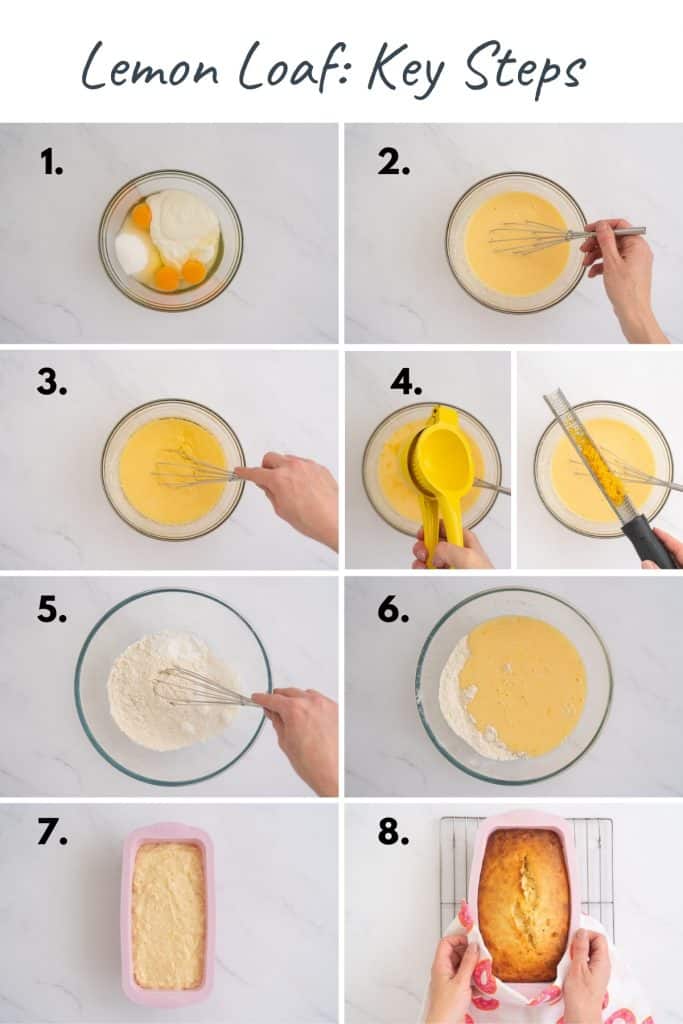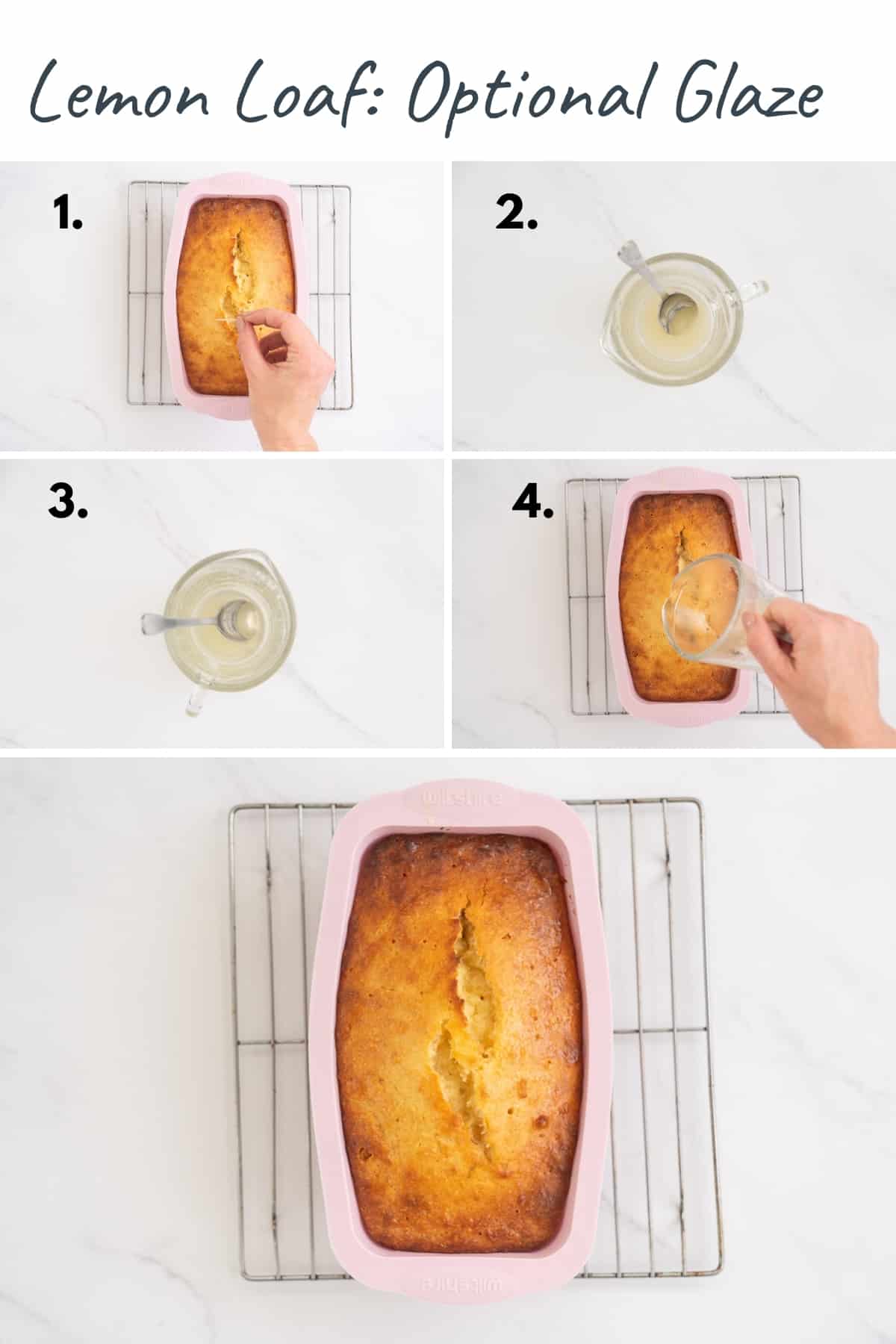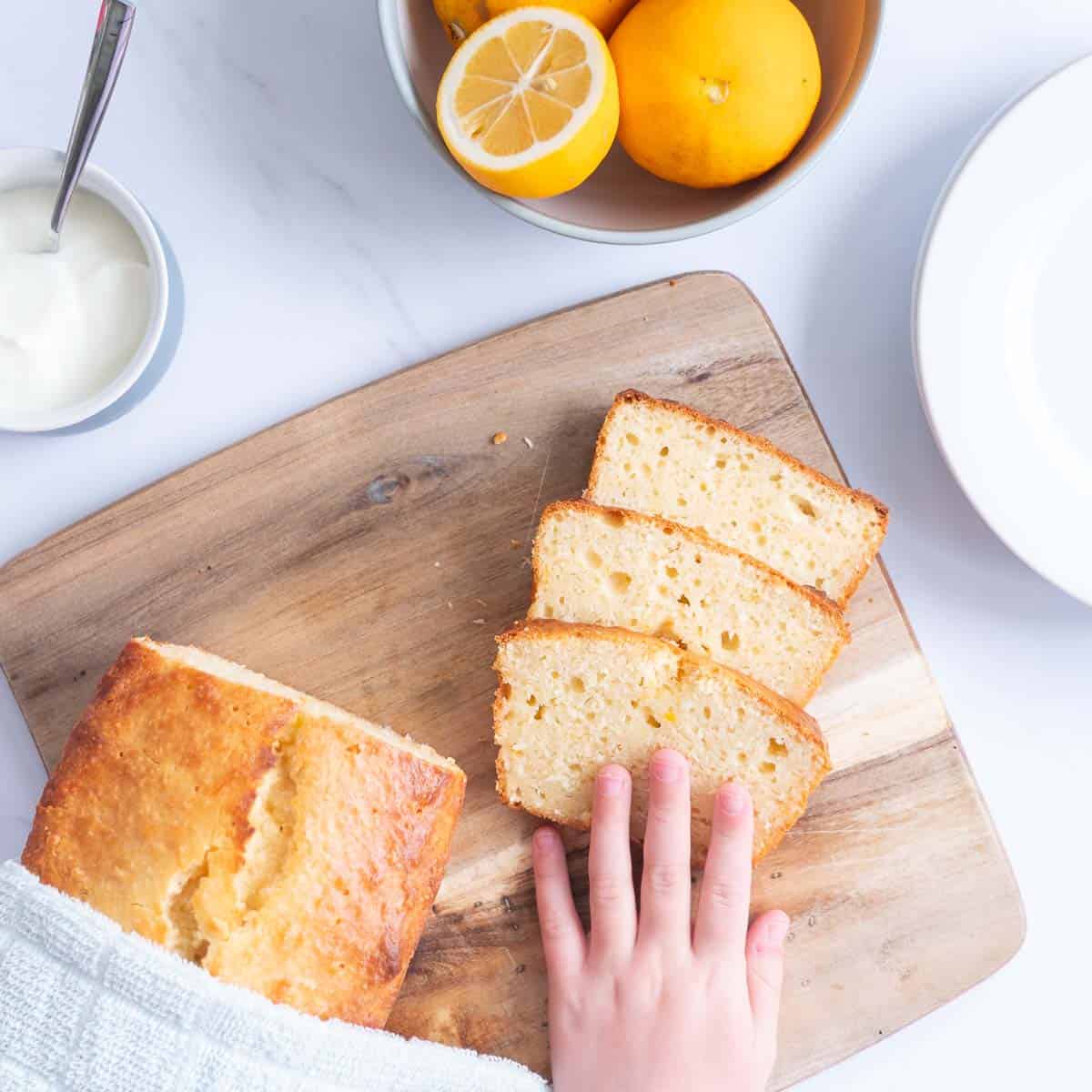 Top Tips
Here are my little hints and tips for making this recipe
To get more juice out of your lemon, get a little rough with it. before you cut or zest it roll it on the bench top pushing down hard, this makes it easier to get all the juice out. Another tip is to prick the skin with a fork, and pop the lemon in the microwave for 30 seconds, this also makes it easier to juice!
I use desiccated coconut as a way to reduce the sugar in this recipe. If you aren't a fan of coconut you can either sub for ground almond or you can just increase the sugar from ½ a cup to 1 cup.
FAQs
How long does lemon loaf last
I find it is best to eat this lemon loaf within 1-3 days of baking it. I think it is at its best on the second day
How to store lemon loaf
Store your called lemon loaf in an airtight container for 1-3 days. This recipe does freeze well for up to 2 months. Freeze in an airtight container or wrapped well in cling film, defrost on the bench and eat when at room temp
How to make a lemon loaf glaze
I do this by just making a quick lemon syrup, I dissolve sugar in warmed lemon juice and pour over the freshly baked loaf.
If you are on the hunt for other loaf and bread recipes, I would love for you to check out my healthy banana bread and my overnight oatmeal bread, both are fabulous loaves.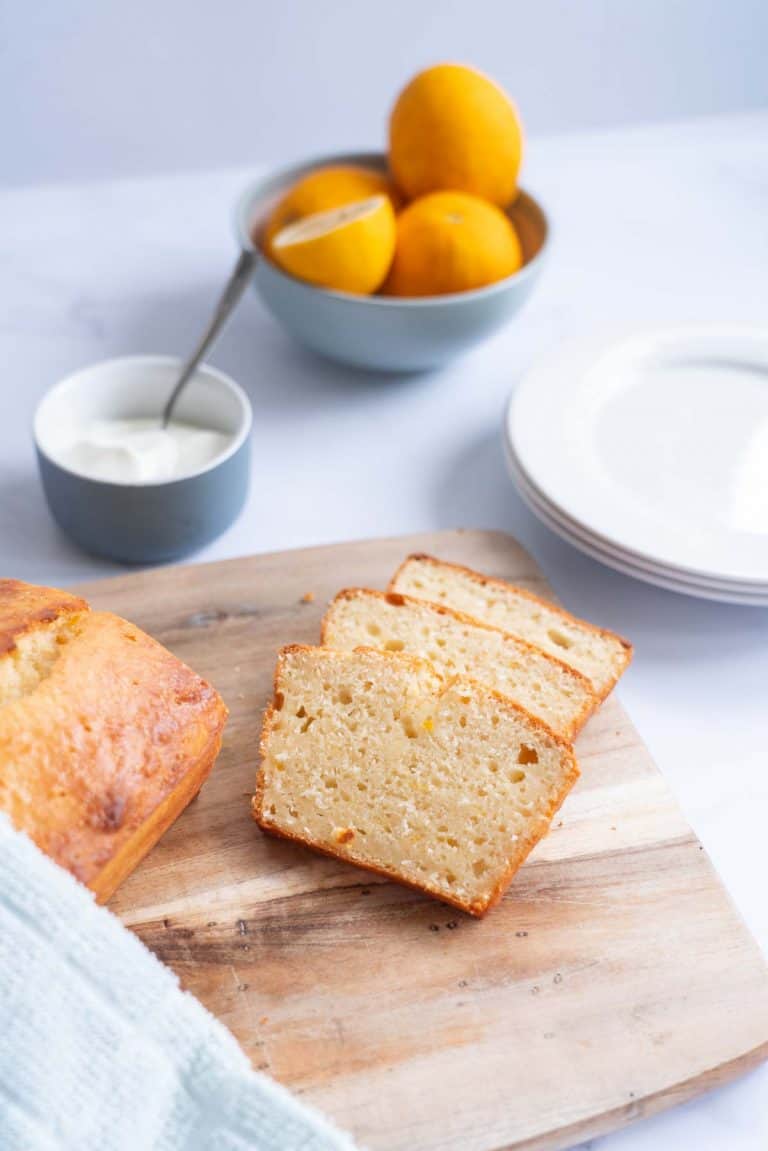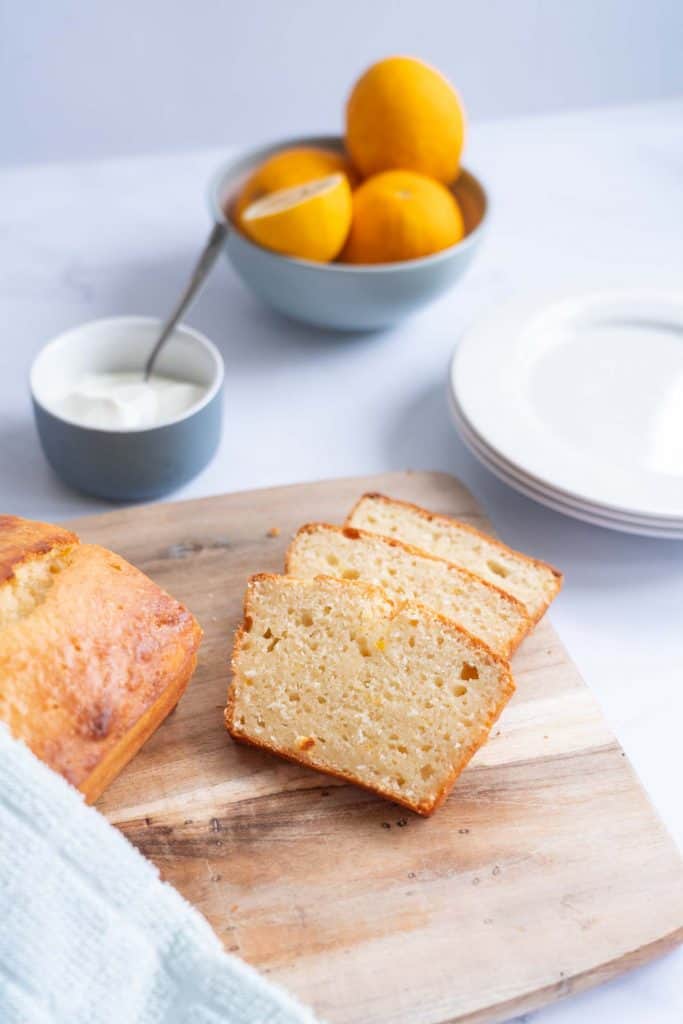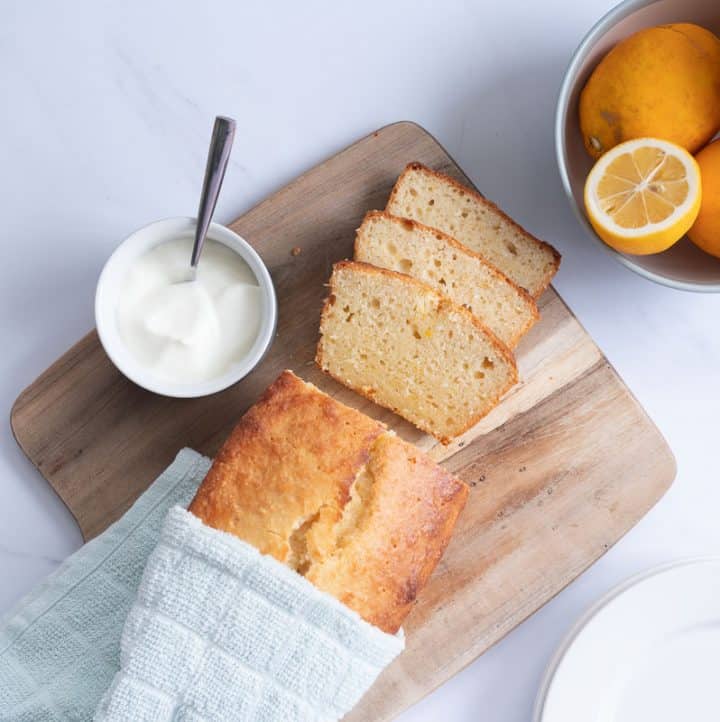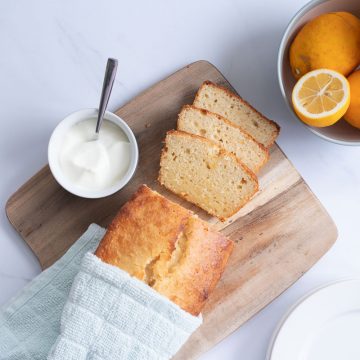 Lemon Loaf
This easy healthy lemon loaf is better than most because it tastes amazing but has far less sugar! No mixer needed no cake mix just pantry basics
Print
Pin
Rate
RATE THIS RECIPE
Equipment
2 mixing bowls

Whisk or fork

Loaf tin

Mixing spoon
Ingredients
Loaf Ingredients
3

eggs

1

cup

unsweetened yogurt

270g

½

cup

sugar

100g

½

cup

olive oil

light or mellow in flavour, Extra virgin is too strong.

1

lemon

large

2

cups

flour

2

teaspoon

baking powder

½

cup

desiccated coconut
Lemon syrup glaze
3

tablespoon

lemon juice

1

Tbsp

sugar
Instructions
Heat your oven to 180 degress celsius (360 F)

Line and grease your loaf tin, if you are using silicone bake ware you may not need to

Place egs, yoghurt and sugar in a medium mixing bowl, whisk until combined

Add olive oil, whisk until combined

Add the zest and juice from one lemon, whisk until combined

In a large mixing bowl place the remaining dry ingredients (flour, baking powder, deiccated coconut). mix these ingredients with a clean dry whisk or fork so that they are evenly distributed.

Add the wet ingredients to the dry ingredients. mix until just combined

Pour batter into loaf tin

Bake for 35-40 minutes. When done the loaf will be firm, the top may have cracked a little and will be golden in colour. When you insert a toothpick into the centre it will come out clean

(Optional) Lemon syrup glaze. This needs to be done while the loaf is still warm and in its loaf tin. Combine the second measure of lemon juice and sugar in a small bowl or measuring cup, heat until the sugar dissolves. I use a microwave

Pierce the surface of the loaf with a toothpick, creating regulalry spaced holes across the surface

Leave loaf to cool in the tin
Notes
The desiccated coconut can be substituted for ground almond, or additional sugar
The yoghurt can be subbed for ¾ cup of milk or milk substitute 
Store the loaf in an airtight container for up to 3 days. I find it best the day after it is made
Nutrition
Serving:
1
slice
|
Calories:
148
kcal
|
Carbohydrates:
16
g
|
Protein:
4
g
|
Fat:
8
g
|
Saturated Fat:
2
g
|
Cholesterol:
26
mg
|
Sodium:
65
mg
|
Potassium:
63
mg
|
Fiber:
2
g
|
Sugar:
6
g
|
Vitamin A:
48
IU
|
Vitamin C:
4
mg
|
Calcium:
49
mg
|
Iron:
1
mg