Healthy Monkey Bread Recipe
THIS POST MAY CONTAIN AFFILIATE LINKS.
Confession, I have never had true monkey bread.
I live in New Zealand so I didn't even know it was a thing until I discovered it on Pinterest and decided it looked fun and delicious enough to create my healthy monkey bread recipe!
From what I can tell monkey bread is known for being soft and sweet and sticky with a cinnamon hit, and this healthy monkey bread recipe checks all those boxes even though it is completely refined sugar-free.
The sweetness in this recipe comes from banana and date!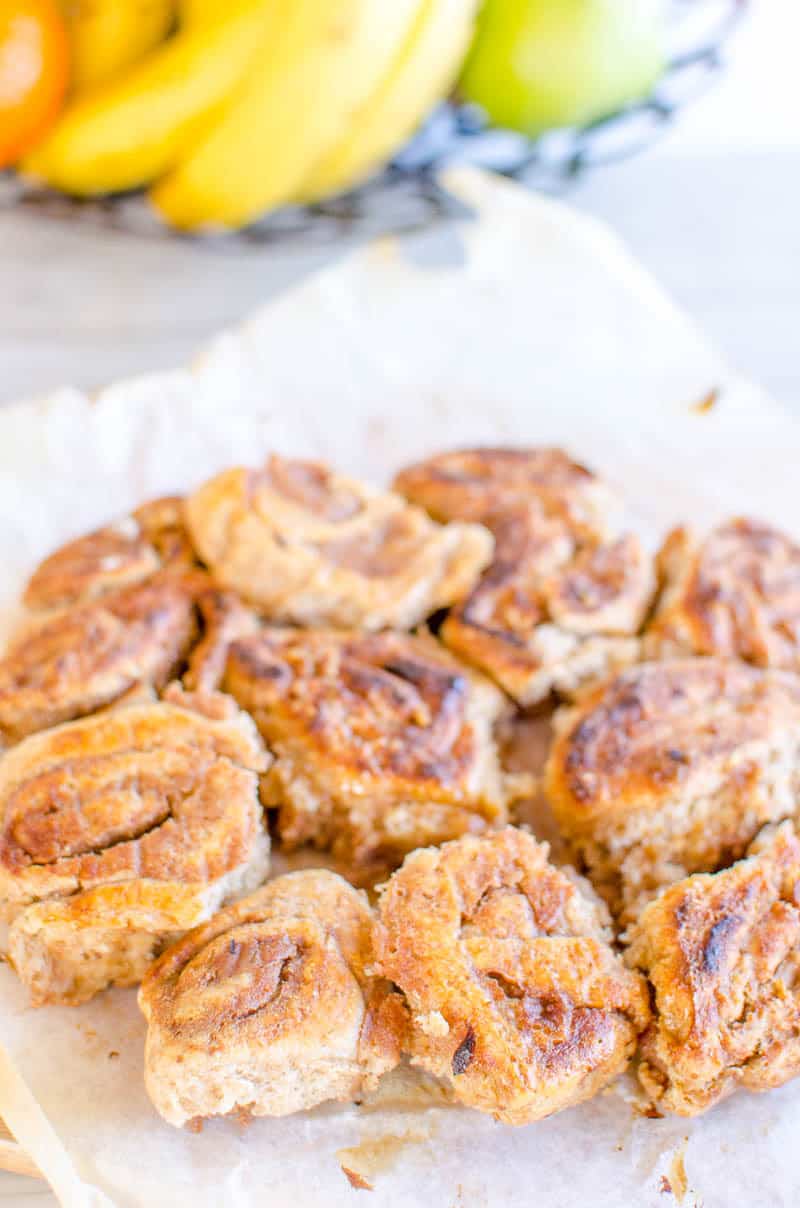 For the bread I use wholemeal yoghurt dough, it is literally a 2 ingredient dough and works spectacularly well in this take on monkey bread!
My kids who have also never tried traditional monkey bread are also totally down with the name of this recipe, because what says monkey food more to a kid than bananas!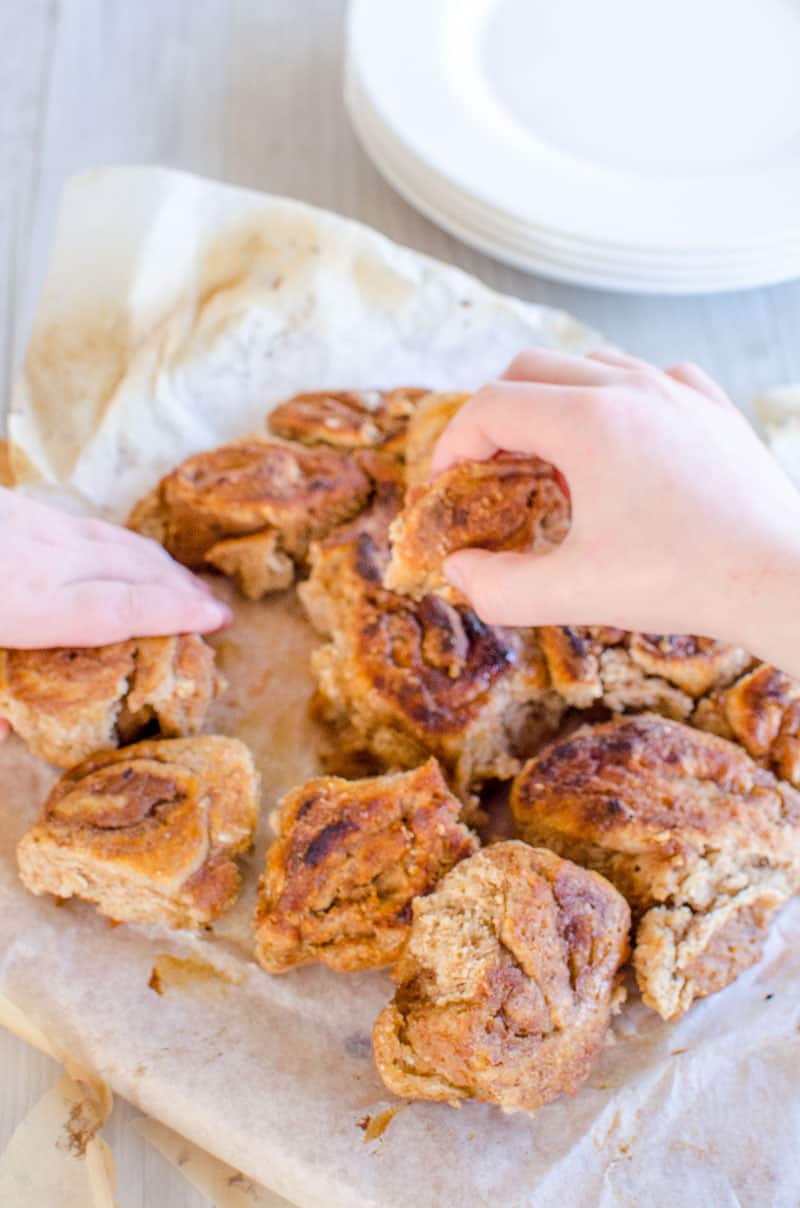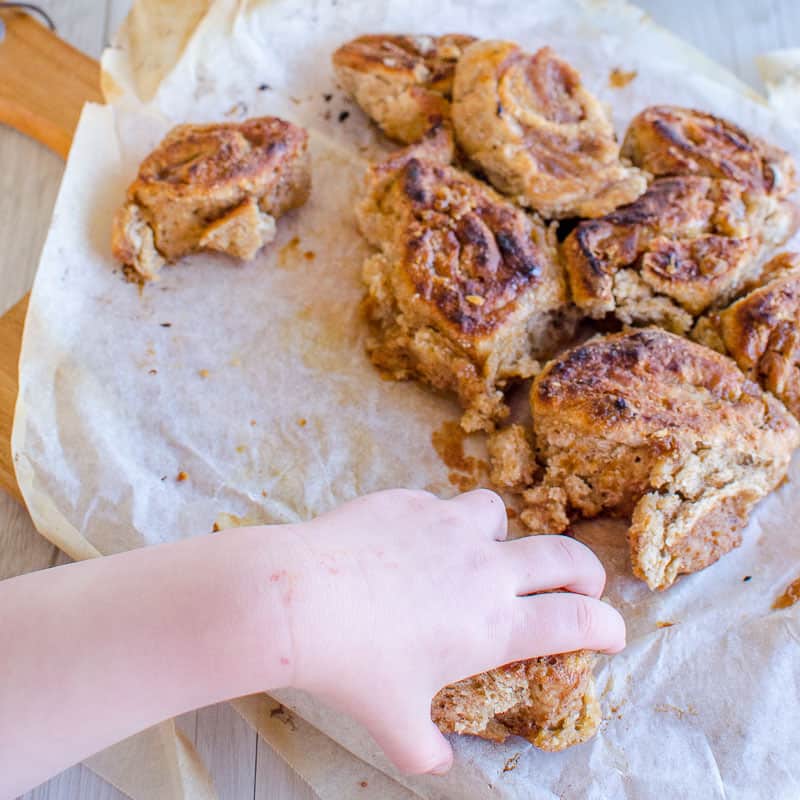 The yoghurt dough I used in this recipe can be used for many things including pizza bases. I also use it for scrolls, here are a couple of recipes blueberry scrolls Cheese and leek scrolls
Healthy Monkey Bread Recipe
Healthy pull apart take on monkey bread, kids love this banana filled bread
Ingredients
1.5 cups self-raising wholemeal flour
1 cup Greek style yoghurt
2 tablespoon peanut butter
2 medium bananas
1 teaspoon cinnamon
2 dates
Instructions
Mix the yoghurt and flour for the dough, it will come together into a ball with a bit of mixing
Knead the dough for 5 mins on a floured board (I use standard flour for kneading rather than wholemeal)
Roll the dough into a rough rectangle (similar to an A4 piece of paper, dough should be approx 0.5-1cm thick
Place the rectangle so that the long edges are parallel with you
Spread the peanut butter on the dough, leaving approx 2 inches along one edge (the long edge furthest away from you)
In a blender purée the bananas, dates and cinnamon
Spread the banana mixture over the peanut butter
Now roll the dough so that you create a long pinwheel sausage filled with the banana filling.
Slice the sausage into 1.5-2cm thick slices
Place these into a baking paper lined dish. You want the pinwheels to be touching each other but for the dish to not be completely packed
Bake at 180 degrees Celsius (360 Fahrenheit) for 15-20 minutes or until golden
Leave to cool
Serve, it is lovely to serve slightly warm
Notes
If you wish to 'glaze' the monkey bread so that it is slightly more decadent 
Finely chop 5-10g butter, mix with 1Tbsp of soft brown sugar, when there are 5 minutes of cooking time to go, sprinkle this butter/sugar mix over the monkey bread. 
This glaze is not necessary, but sometimes I do it if we are having guests
If you need nut free you can leave out the peanut butter
Finely chopped nuts such as walnuts can also substitute the peanut butter
Nutrition Information:
Yield:

12
Serving Size:

1
Amount Per Serving:
Calories:

100
Total Fat:

2g
Saturated Fat:

1g
Trans Fat:

0g
Unsaturated Fat:

1g
Cholesterol:

1mg
Sodium:

26mg
Carbohydrates:

18g
Fiber:

2g
Sugar:

5g
Protein:

4g
Please know this nutrition analysis is based on the ingredients only, this recipe has not been sent to a laboratory for independent testing