THIS POST MAY CONTAIN AFFILIATE LINKS.
This Apple Pie Chia pudding is essentially an egg-free no cook custard, suitable for absolutely anyone, but brilliant for little people mastering the use of a spoon!
Last month I posted my 3 Ingredient Banana Chia Pudding recipe and I received so much great feedback that I thought I'd better get some other flavour options up on my site for people to try.
You will find the recipe video for the banana chia pudding at the bottom of the post, it will give you an idea of how easy it is to whip up a chia pudding for kids.
Chia pudding can sometimes have a bit of an "alternative", "fancy", "hippy" type rap, but these days you can pick them up in any supermarket, and essentially what they allow you to do is replace the egg in almost any recipe quickly and easily.
Hence this Apple Pie Chia Pudding is really just an allergy-friendly custard that you don't even need to cook!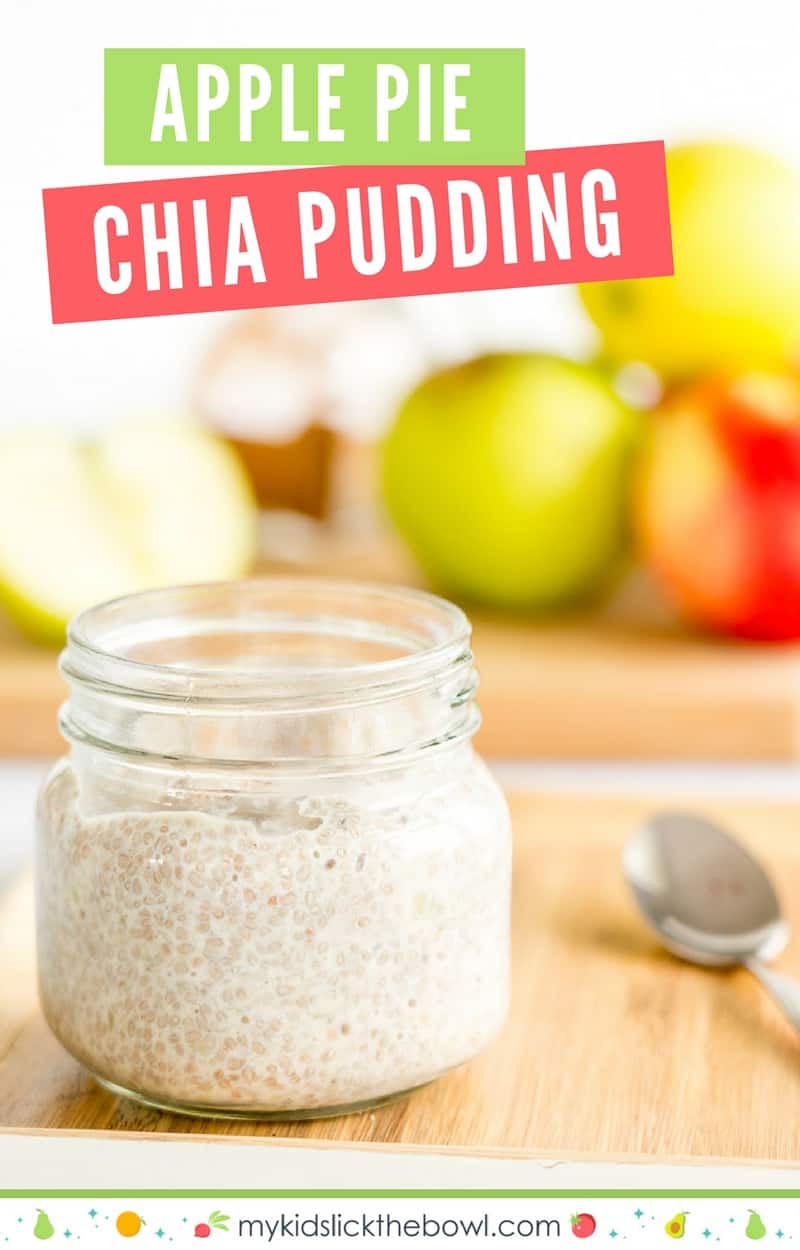 I've been using chia seeds a fair bit on this site to make some of my existing recipes more allergy-friendly, they work brilliantly in burger patties to create a juicy no egg no breadcrumb patty that doesn't crumble.
They come into their own in energy bites like my new Apricot Choc Chip Chia No-Bake Bites (hubby approved I might add)
They allowed me to create my ultimate allergy-friendly cookies free from the top 8 food allergens, and they are great in my Apple Pie Oat Bars.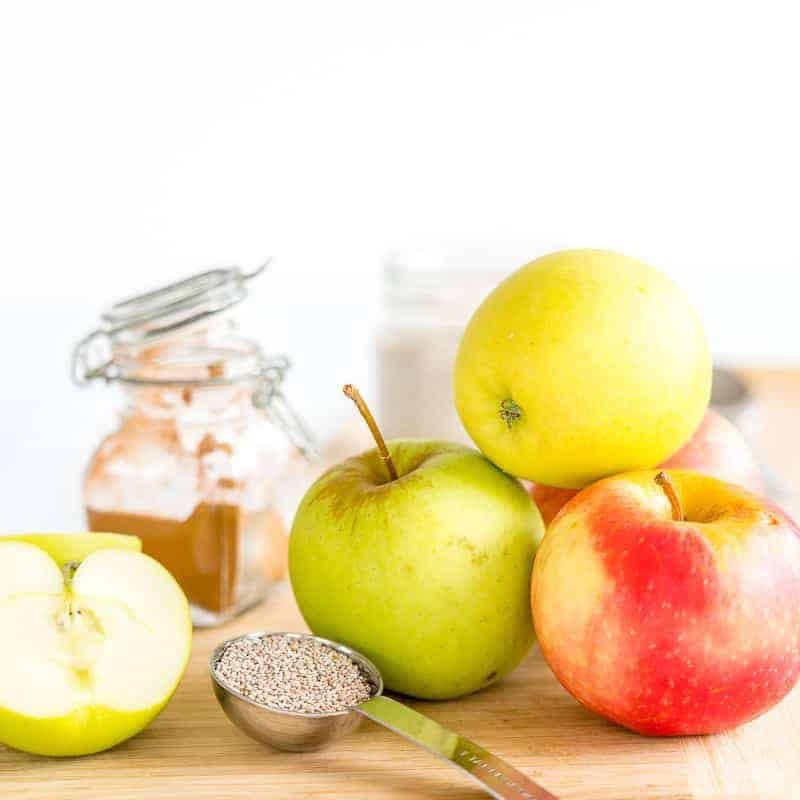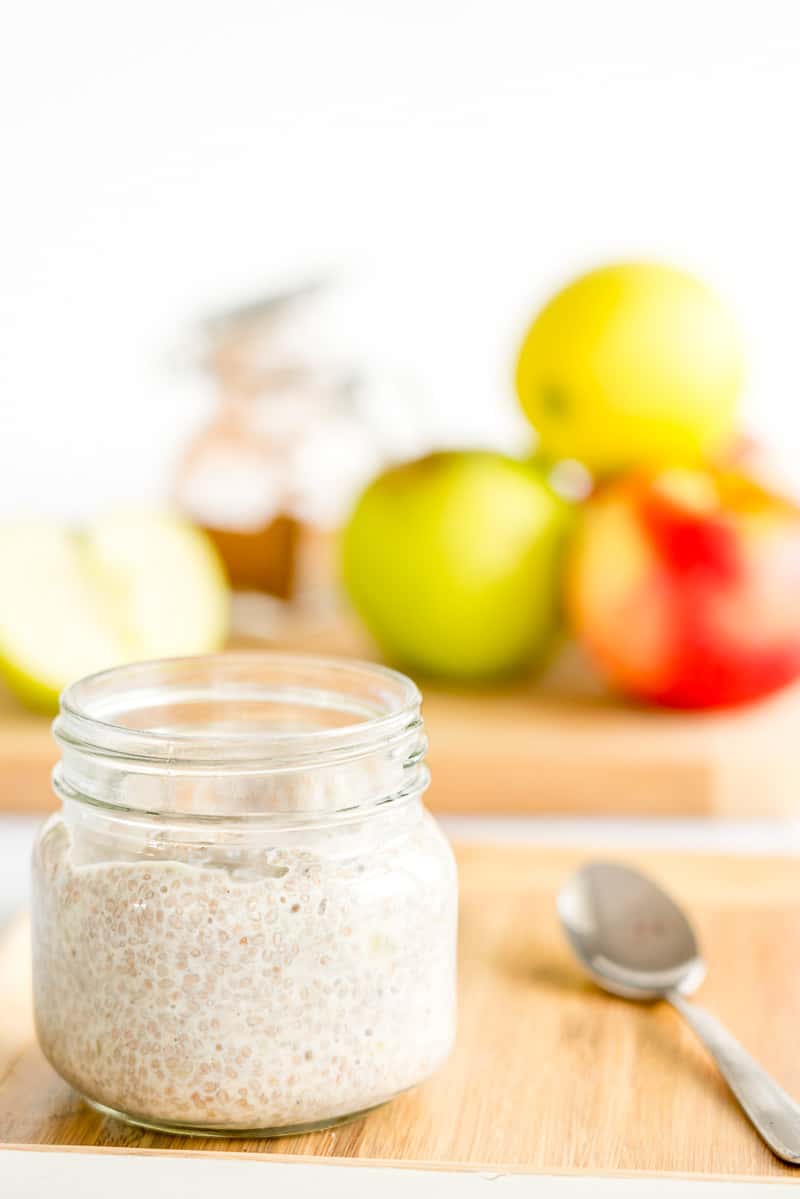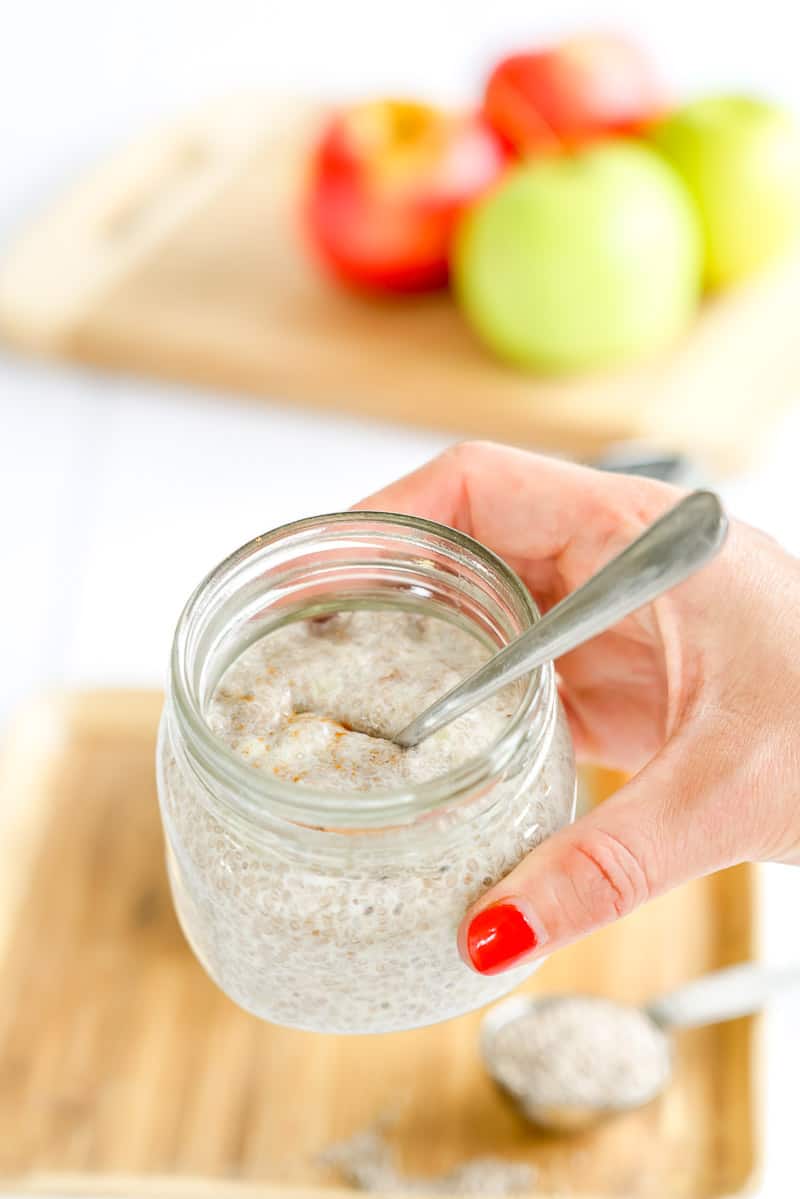 Previously on My Kids Lick The Bowl
---
Apple Pie Chia Pudding
Apple Pie chia pudding, a  healthy recipe with apple and cinnamon, making a sugar-free, egg-free custard also perfect as a an alternative to rice pudding for babies
Ingredients
⅓ cup apple purée  (approx 100g)
⅓ cup milk or milk alternative (approx 80 - 85 ml)
2 tablespoon chia seeds
¼ - ½ teaspoon cinnamon
Instructions
Mix all the ingredients together in a bowl
Pour into a serving bowl or jar, refrigerate for a minimum of 20 mins before serving (you can eat sooner than 20 mins, but the texture will be crunchy)
Notes
Apple purée: By this, I am referring to cooked blended smooth apples. Some people may call this applesauce depending on where you are from. you can either make your own or buy unsweetened applesauce from your supermarket. 
This recipe will work with any milk, dairy, soy, coconut, almond, rice, Whichever you prefer
I make this recipe with no added sweetener, but if you need a little more sweetness in your life, a little maple syrup is delicious in it too
Nutrition Information:
Yield:

2
Serving Size:

1 small pudding aprox ⅓ cup
Amount Per Serving:
Calories:

152
Total Fat:

7g
Saturated Fat:

2g
Trans Fat:

0g
Unsaturated Fat:

4g
Cholesterol:

13mg
Sodium:

87mg
Carbohydrates:

16g
Fiber:

5g
Sugar:

2g
Protein:

8g
Please know this nutrition analysis is based on the ingredients only, this recipe has not been sent to a laboratory for independent testing