Healthy Chocolate Chia Pudding
THIS POST MAY CONTAIN AFFILIATE LINKS.
This healthy chocolate chia pudding is the perfect alternative to store-bought chocolate pudding which can be high in sugar but low in much nutrition.
Kids do love store-bought chocolate pudding cups, and my kids are no exception.
Here in New Zealand, we don't traditionally refer to it as chocolate pudding, it's usually referred to as chocolate custard, chocolate yoghurt or by the brand name of one of the big brands here 'Calci-yum'.
If your kids are chocolate pudding lovers but you are looking for a healthier alternative then this could be it. It is a no-cook recipe that's simple to put together.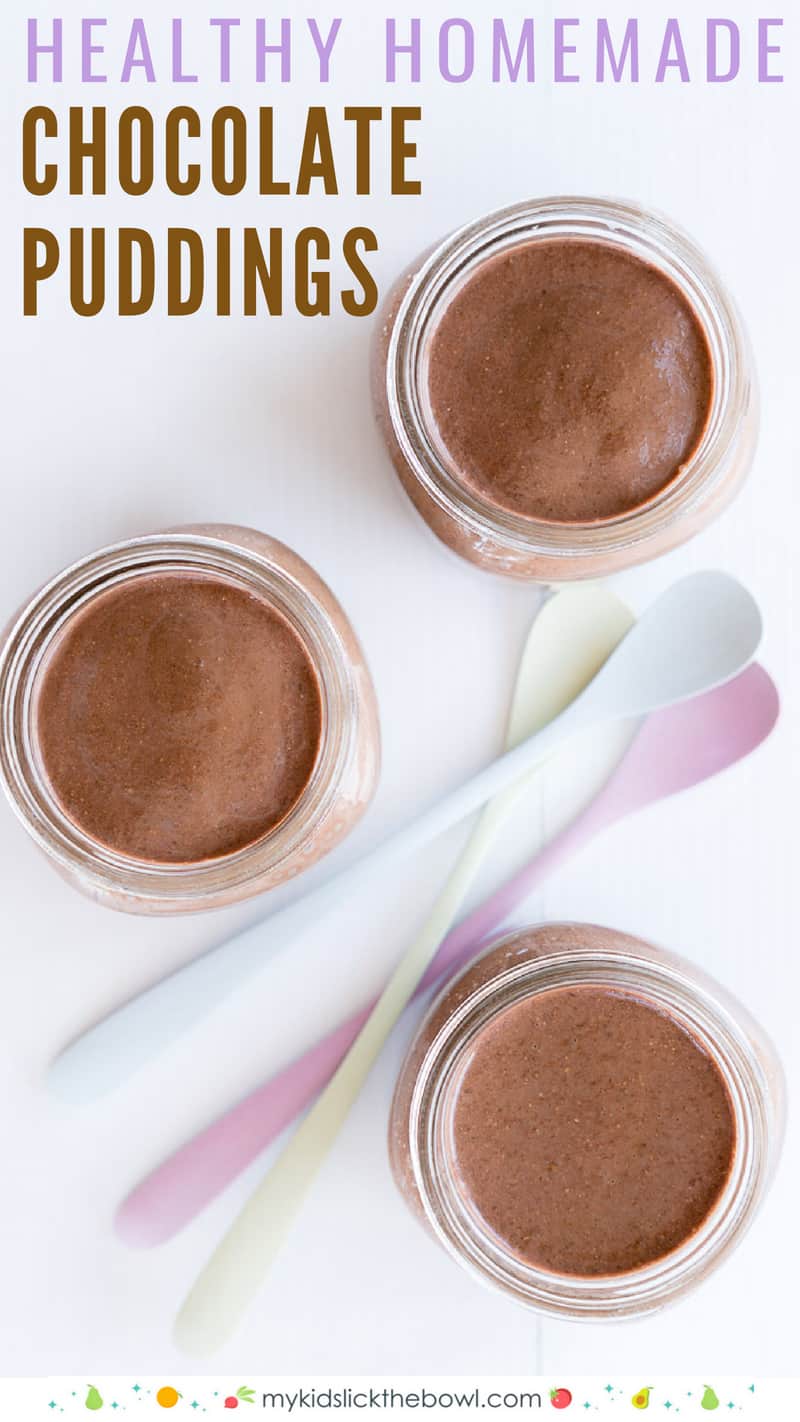 How to make chocolate chia pudding
Chia puddings are very easy to make, in this recipe to create a smooth chocolate chia pudding reminiscent of a store-bought chocolate pudding I simply make a healthy chocolate smoothie using cocoa and chia seeds, leave it to set in the refrigerator and voila it's done
Pudding a healthy breakfast?
Well, I certainly think this chocolate chia pudding could make a healthy breakfast. It contains protein from the milk and chia seeds, fats from the peanut butter, a serve of fruit in the form of banana and extra fibre from the cocoa and chia seeds. Cocoa is actually a rich source of iron too, so all and all not to bad
Is chocolate chia pudding vegan?
This chocolate chia pudding can certainly be vegan, but you will have to be a little selective in the ingredients you choose to use.
Cocoa powder strictly speaking is vegan, however sometimes during processing, the product can be exposed to things other than just ground cacao beans. The product should be labeled if it may contain any other products not vegan.
This chocolate chia pudding recipe will work with all types of milk and milk alternatives, so if you are looking for a vegan chocolate chia pudding be sure to substitute cow's milk for a suitable vegan alternative.
How long can I keep chia puddings keep in the fridge?
These chocolate chia puddings will store in the fridge for up to 5 days. How efficient is that, 5 minutes to make for 5 days supply. You can store them in jars so they are like little pudding cups, or you can make a big batch and just store it in a covered bowl, and scoop out portions with a clean spoon as you need it.
Can babies have chia seed puddings?
Chia seeds, particularly when soaked in chia seed puddings are ok for babies from the time they start their solids journey.
In fact, I have 2 brilliant fruit-sweetened recipes on my site that are perfect for the little ones. Banana chia pudding and Apple Pie Chia Pudding.
This chocolate chia pudding recipe, because it contains added sugar in the form in maple syrup and is quite rich with cocoa is one I would leave for an older child or toddler rather than a first food.
I use chia seeds a lot in many of my recipes, they are great in both my banana oat baby cookies and sweet potato cookies for babies where I use them as an egg replacer to stop these soft style cookies from crumbling.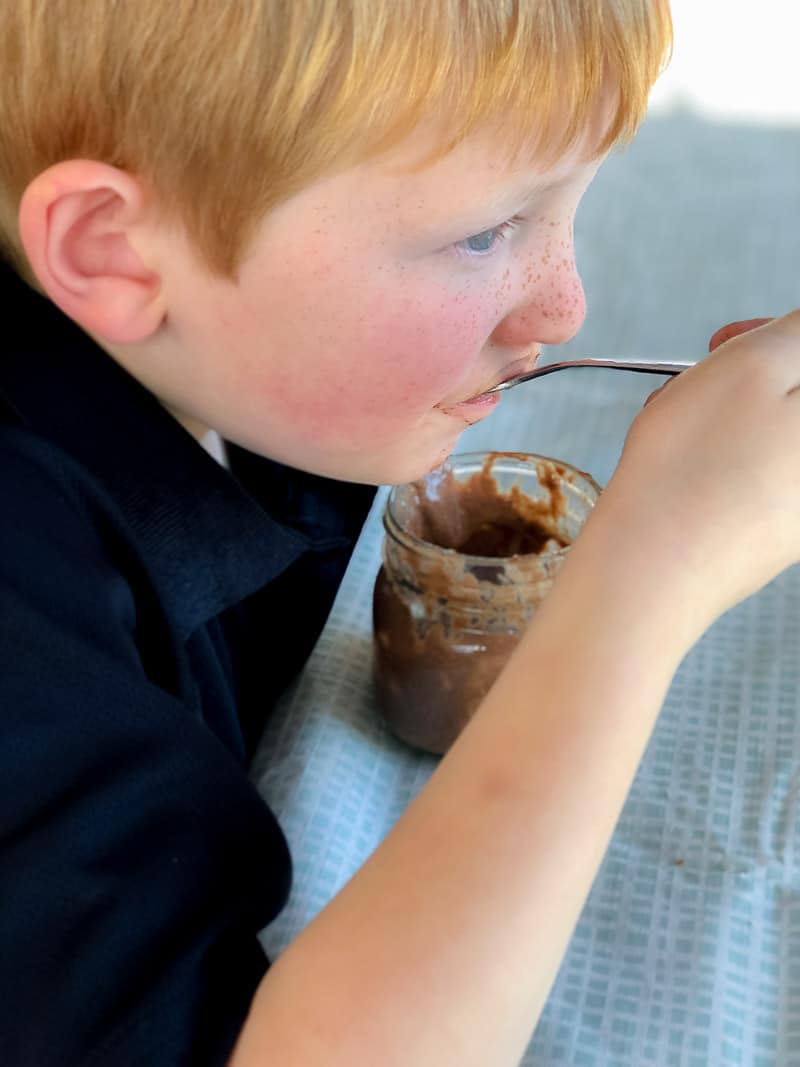 Healthy Chocolate Chia Pudding
Total Time:
4 hours
3 minutes
Healthy chocolate chia puddings a homemade alternative to chocolate pudding  cups, an easy no-cook recipe perfect for kids refined sugar-free
Ingredients
1 Cup milk or milk alternative
1 tablespoon peanut butter
1 tablespoon maple syrup
1 banana (120g)
1 tablespoon cocoa
1 teaspoon cinnamon
1 tsp vanilla
3 tablespoon chia seeds
Instructions
Place all ingredients into a blender
Blend until smooth
Pour into 2 bowls or jars
Refrigerate overnight or for a minimum of 4 hrs, mix will have a pudding-like texture
Notes
The maple syrup can be substituted for honey if desired, it can also be reduced or removed altogether if you prefer a less sweet pudding
Any milk or milk alternative can be used in this recipe
It's also lovely with almond butter
Double or triple the batch and store in a large bowl in the refrigerator and just take out scoops when you need it
These puddings will store in the refrigerator for up to 5 days
Nutrition Information:
Yield:

3
Serving Size:

½ Cup
Amount Per Serving:
Calories:

238
Total Fat:

10g
Saturated Fat:

3g
Trans Fat:

0g
Unsaturated Fat:

6g
Cholesterol:

13mg
Sodium:

114mg
Carbohydrates:

30g
Fiber:

6g
Sugar:

9g
Protein:

10g
Please know this nutrition analysis is based on the ingredients only, this recipe has not been sent to a laboratory for independent testing