It is no secret that I am a little bit of a fan of the no-bake energy bite, or bliss ball. I've been a fan for ages as have my kids but these no-bake energy bites with apricot choc chips and chia seeds are the first my husband also raves about! And that my lovely friends is saying something! This combo is a winner, kid approved, mum approved and wait for it dad approved!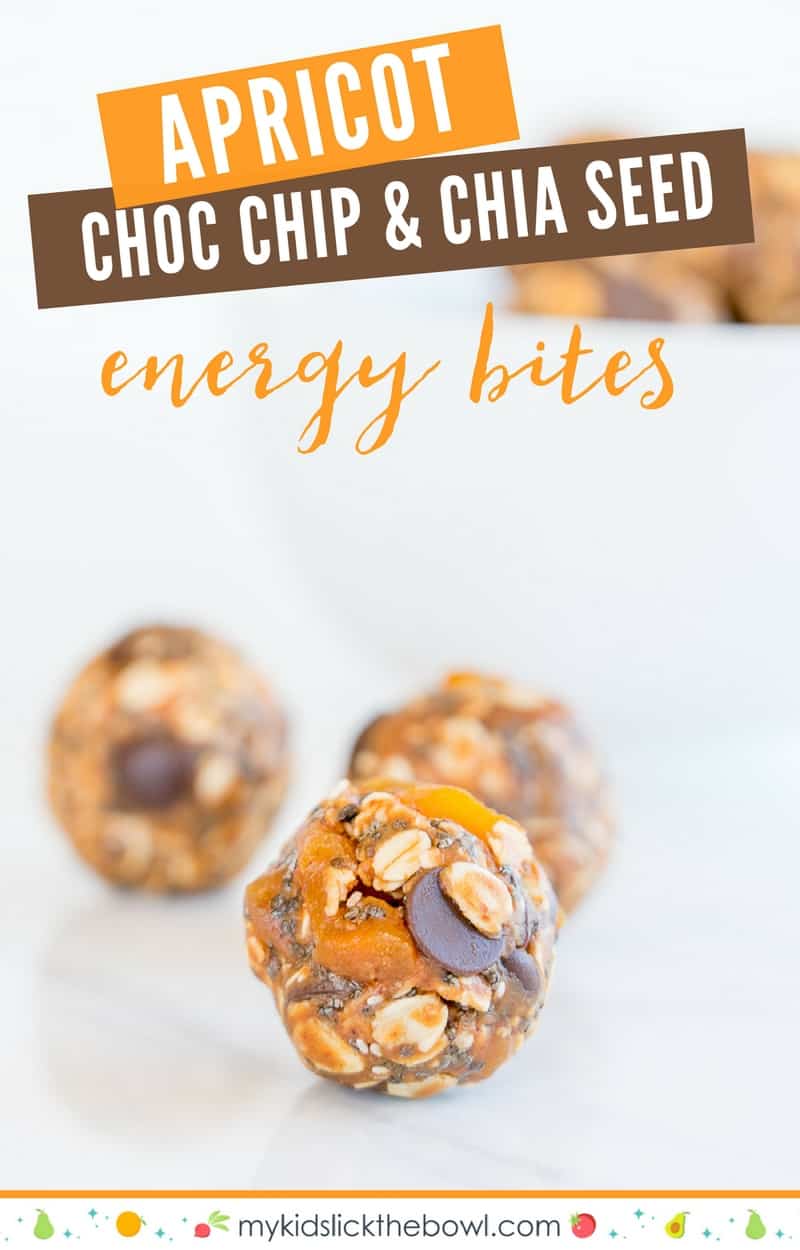 The chia seeds in this help to hold the balls together with less dried fruit than many recipes and also add a good hit of vegetable protein, healthy fats and fibre. I've been on a little bit of a chia seed frenzy lately, rediscovering them in my pantry, my kids have been tucking into my simple banana chia seed puddings, they've been popping up in my healthy apple pie oat bars and even in my new favourite burger recipe! They are brilliant as an egg replacer so also feature in my ultimate allergy-friendly cookie recipe   
I have a number of no-bake bite recipes on my site, they are some of my most popular posts. Be sure to check out my Strawberry Breakfast Bites, Carrot Oat Energy Bites, Nut Free Chocolate Bliss Balls and Apple Oat Energy Balls
You will note in the images of my no-bake energy bites with apricots, chocolate chips and chia seeds that the apricots are quite orange. I know this means that the apricots I have chosen to use contain a sulphite preservative. Sulphur Dioxide E220 to be exact!  To be totally honest though, my kids will not eat the organic dried apricots with the brown appearance and tougher texture, that don't contain a suphite preservative. I merrily eat them, but at this stage my kids won't. I will keep trying, but in the meantime my pantry has both types of dried apricots, those with sulphites/sulfites and without lol!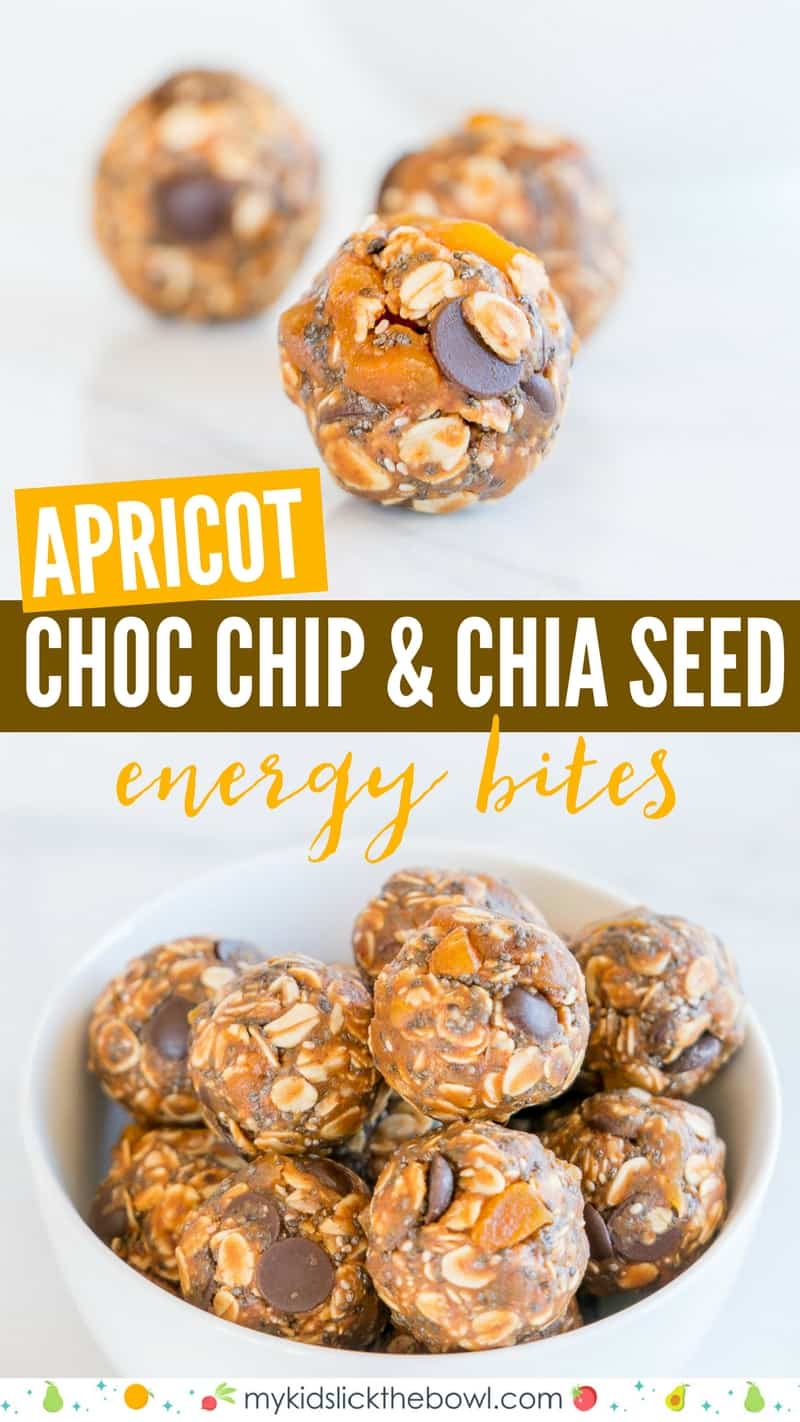 No-Bake-Bites- Quick Recipe Video
Print
No-Bake Energy Bites Apricot, Choc Chip & Chia
Yield 18 energy bites
No-bake bites with Apricot,Choc Chips and Chia Seeds, these energy balls make a healthy easy snack for kids and adults alike
Ingredients
1/2 Cup chopped dried apricots
1/4 Cup dark chocolate chips
1 Cup rolled oats
3 Tbsp chia seeds
3 Tbsp maple syrup
3/4 Cup nut butter (almond, peanut, cashew)
Instructions
Place all ingredients in a bowl and mix
Set the mix aside for 20 mins, this allows the chia seeds to gel a little and will mean the mix is easier to roll into balls
Take spoonfuls and roll into balls
Refrigerate
Notes
Any nut butter can be used, in this version I have used almond butter, but I have a video coming soon which uses cashew butter good old peanut butter is also fine though
Refrigerate for up to 5 days or store in the freezer
Courses Snack
Cuisine Modern
Nutrition Facts
Serving Size 1 ball
Amount Per Serving

Calories 118

% Daily Value

Total Fat 7.1 g

11%

Saturated Fat 0.9 g

5%

Cholesterol 0.1 mg

0%

Sodium 2 mg

0%

Dietary Fiber 2.7 g

11%

Sugars 5 g

Protein 3.3 g

7%
* Percent Daily Values are based on a 2,000 calorie diet. Your daily values may be higher or lower depending on your calorie needs.