Bliss balls are such a handy snack for kids or mum for that matter. I am gearing up for my eldest to start school. Which means nut free bliss balls are needed for lunch box packing.
These nut-free energy balls are based on my other popular recipe chocolate fruit and nut bliss balls which are also yummy and easy but not at all nut free.
Are energy balls healthy?
On the surface, the ingredients for these nut-free bliss balls would seem quite healthy.
Dates
Sultanas/raisins
Sunflower seeds
Cocoa
Coconut
I mean there aren't any 'nasty' ingredients in there, no preservatives, additives or overly processed ingredients which is great.
But the thing is most bliss balls, energy balls, protein balls, whatever you want to call them are actually pretty high in sugar. These ones are as well.
The sugar content is because they are made with dried fruit.
Dried fruit isn't bad per se, but it is quite a concentrated source of energy/sugar/fruit compared to fresh fruit.
I, therefore, think of energy bites as a bit of a treat snack rather than a 'free reign eat as many as you want as often as you want snack'. But they are yummy, and sometimes yum factor wins out!
The other thing to think about when it comes to bliss balls and/or dried fruit is teeth. Dried fruits are not great for teeth, they stick to the teeth and can cause decay. So keep this in mind as well.
I have a couple of bliss ball recipes that are much lower in sugar, they are lower in sugar because they contain far less dried fruit. So if that is more your cup of tea then check out either my strawberry breakfast bites or my carrot oat energy bites
Making Peanut Free and Nut Free Bliss Balls
As I mentioned my kiddos are starting school. Many schools have nut-free or peanut-free policies. (Not all schools, but quite. few). Nut-free lunch box recipes is one of the things I get asked for the most by my readers.
If you come across a protein bite recipe that seems absolutely divine, but contains nuts.. a really simple substitute is sunflower seeds! Just take out the nuts and sub for sunflower seeds,
and boom you will have created your own nut-free energy balls!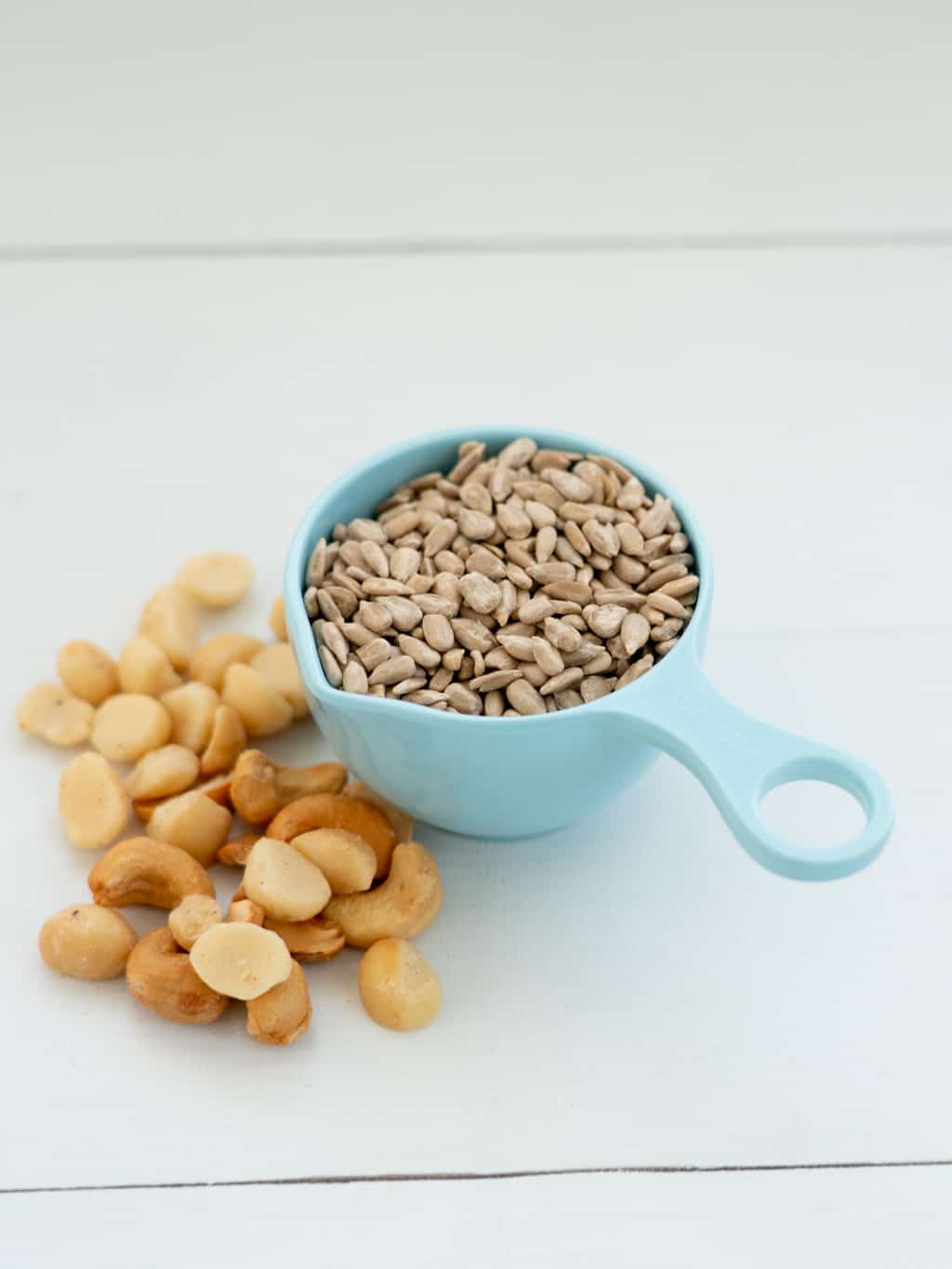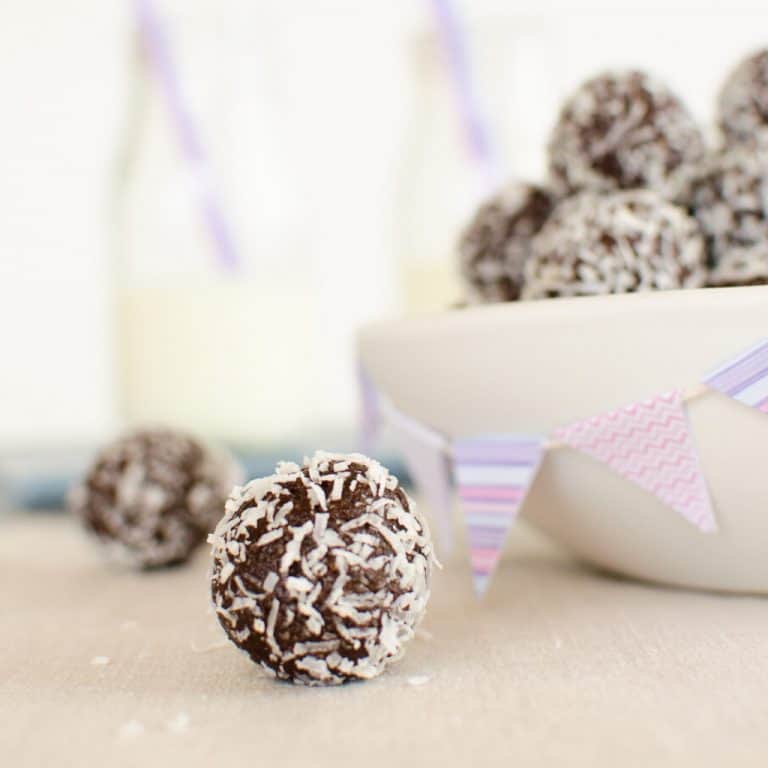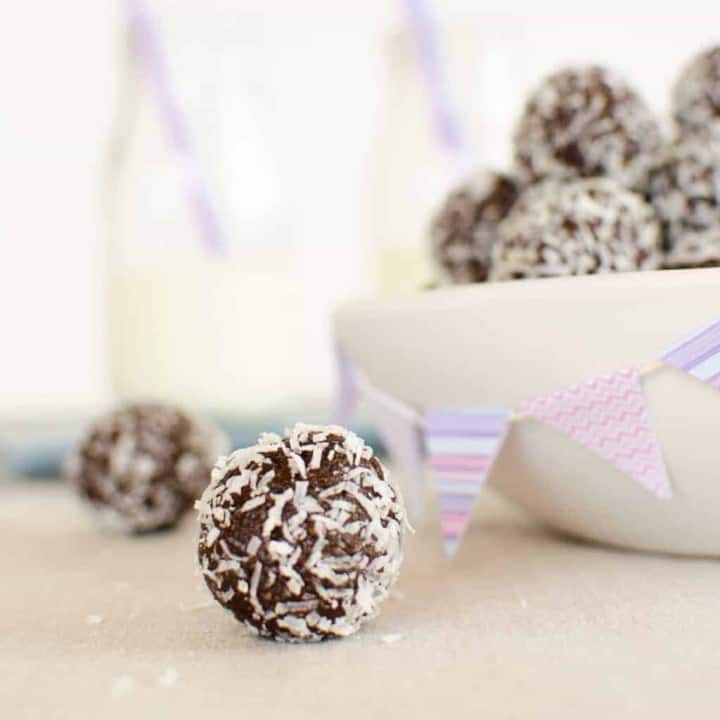 Nut Free Chocolate Bliss Balls
easy no-bake chocolate energy balls a nut-free bliss l recipe for kids
Ingredients
1 Cup sunflower seeds
1 Cup dates
1 Cup raisins
¼ Cup cocoa or cacao
1 Tbsp coconut oil 
Desiccated coconut
Instructions
Put everything except the desiccated coconut into a food processor
Blitz, be patient it will take around 5 minutes for the mixture to form a ball
Roll spoonfuls into balls
Roll the balls in desiccated coconut
Refrigerate for 1 hr before serving
Notes
The coconut oil can be substituted for any mild flavoured oil
Nutrition Information:
Yield:

20
Serving Size:

1
Amount Per Serving:
Calories:

110
Total Fat:

5g
Saturated Fat:

2g
Trans Fat:

0g
Unsaturated Fat:

3g
Cholesterol:

0mg
Sodium:

398mg
Carbohydrates:

16g
Fiber:

2g
Sugar:

11g
Protein:

2g
Please know this nutrition analysis is based on the ingredients only, this recipe has not been sent to a laboratory for independent testing