There is no denying it KIDS LOVE CRACKERS, they literally love them. Unfortunately, not all store-bought crackers are are that health or great for them, with lots of sneaky ingredients like extra salt and sugar in them that kids just don't need.
But don't despair, here are 25 Healthy Homemade Crackers for Kids that are completely doable. As in they are definitely achievable, edible and kid-approved!
In this list of 25 healthy homemade crackers for kids, you will find, savoury crackers, cheesy crackers, gluten-free crackers and even some sweet style crackers.
I hope you enjoy this collection of Healthy Homemade crackers for kids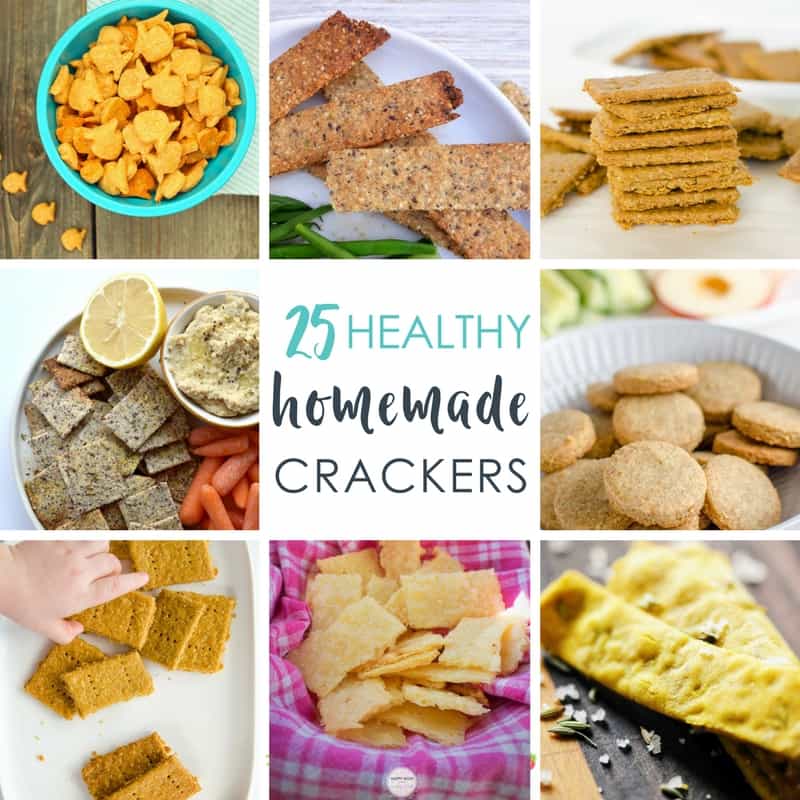 Savoury Style Crackers For Kids
Crunchy Chickpea Oat Crackers
This recipe is one of the most popular on my site. These crackers are so good, my kids love them, I love that they are full of nourishing things for their lunch box, and you know what? They go exceptionally well with cheese and wine for adults too! Find the recipe here: My Kids Lick The Bowl
Whole wheat goldfish cracker
The humble goldfish cracker has had a great makeover by the Super Healthy Kids team. These crackers are so cheesy the perfect savoury hit, p.s. as an adult I love them too. Find the recipe here: Super Healthy Kids
Grain Free Every Thing Crackers
Free of grain, but loaded with everything else including flavour. My family loves these crackers. Find the recipe here: Fork and Beans
Homemade Wholemeal Crackers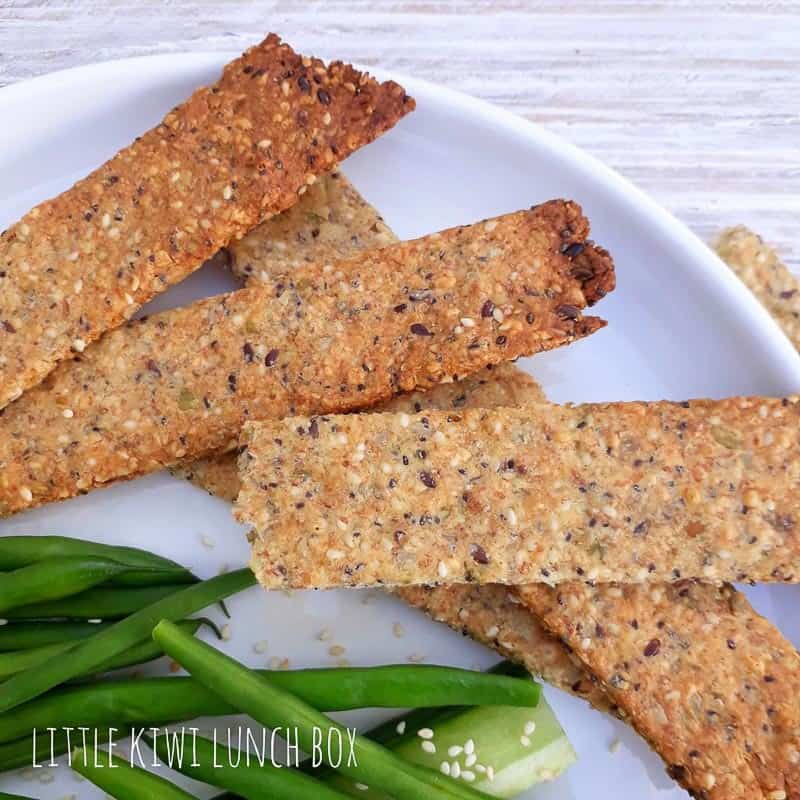 My family loves these crackers, they are just the best for dipping into hummus. Find the recipe here: Little Kiwi Lunchbox
Turmeric & Fennel Seed Crackers
These gluten-free crackers flavoured with fennel and turmeric are so eye-catching in yellow, my munchkins liked them but I skipped the black pepper for the kid version. My kiddos have just not come around to pepper yet. Find the recipe here: Moon & Spoon & Yum
3 Ingredient Cheese Biscuits
These are the ones like your gran would have made. So delicious and full of childhood memories. Find the recipe here: Happy Mum Happy Child
2 Ingredient Hummus and Oat Crackers
Did 3 ingredients seem overwhelming? Did you like the idea of the chickpea oat crackers but again it seemed a bit hard. Give this recipe a shot then, You only need store-bought hummus and oats! Find the recipe here: My Kids Lick The Bowl
Crunchy olive oil & sea salt crackers
This is a back to basics recipe, all you really need is flour, water and oil. Yet you can still make something yummy. Find the recipe here: Make & Taste
Simple Cheese Mini Crackers
100 crackers in a batch and really easy to make. These crackers use atta flour which is an Indian wheat flour used in the making of flatbreads, but it is perfect in crackers too. In NZ it is available in most supermarkets. Find the recipe here: Kidgredients
Quinoa Parmesan Crackers
Quinoa is such a great grain, and add parmesan which is so tasty, these crackers are just delicious. Find the recipe here: A Fresh Legacy
Cheesy Butternut Squash Oatcakes
Three ingredients, I repeat 3 ingredients are all you need to make these! And one of them is a vegetable. Find the recipe here: Sneaky Veg
Celery & Apple Crackers
This is such an interesting combination, but well worth a try, especially as it includes a little veggie hit. Find the recipe here: More Than Just Carrots
Kid approved sweet potato crackers
This recipe is great, kid approved and fabulous for actually making with your kids. Find the recipe here: Play with Food
Homemade Gluten-Free Cheese-its
This super simple recipe only requires 4 ingredients, the end result is yum, and cassava flour is such a great gluten-free option for cracker recipes! Find the recipe here: Crumbly Crew Cooking Vlog
Crispy Crunchy Paleo Cloud Crackers
These guys are super duper crunchy, and you can use the recipe to make any shaped cracker you want. I love the addition of almond flour with all its lovely monounsaturated fats too. Find the Recipe here: Babygram
Healthier BBQ Shapes
If you are from NZ or Australia you will know all about shapes crackers. This is a great healthier take on the original in BBQ flavour. Find the recipe here: Goodie Goodie Lunchbox
Carrot Stars
These are not necessarily crackers per se, as they are a softer style snack. But sometimes if your little one is just starting solids or is not fully equipped with a full set of teeth then a softer style snack is just what you need. Find the recipe here: Healthy Little Foodies
Cheesy Seed Crackers
So there have been a few seed crackers above and a few cheese crackers too. This recipe combines both. It is one from my site, so of course, I will include it. Pumpkin seeds for the win! I hope your kiddos like it like mine do! Find the recipe here: My Kids Lick The Bowl
Wholemeal and Healthy Seeds Lavosh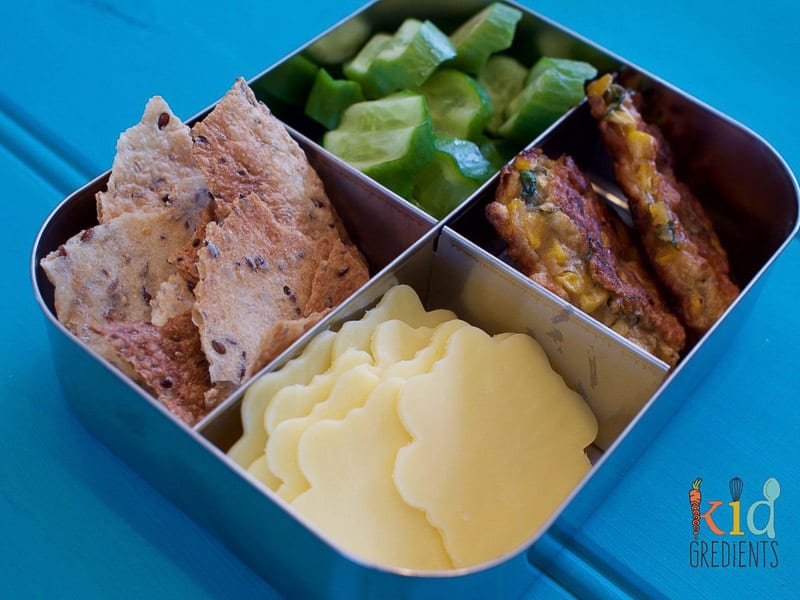 Have your kids tried lavosh? So crunch and crispy a great textural addition to a snack box! Find the recipe here: Kidgredients
Healthier Pizza Shapes
Another one for those who are fans of the shape crackers. This is the pizza version, my kiddos have given them their seal of approval. Find the recipe here: Goodie Goodie Lunchbox
Sweet Style Crackers For Kids
Cornflake Graham Crackers
This recipe is genius. Using the humble cornflake as a flour to make a delicious gluten-free graham cracker style cracker. Find the recipe here: Fork and Beans
Animal Crackers
A sweeter style cracker, packed with healthy fats, nut free wheat free perfect for most allergy kids. Find the recipe here: Super Healthy Kids
Orange Seed Crackers
Packed with seeds, no refined sugar in sight, these are perfect for lunchboxes. Find the recipe here: Healthy Little Foodies
Healthy Cinamon Cookies
This recipe is called a cookie, but it really is a sweet style cracker. Sweet style but low in sugar. Perfect for the kiddos but I also them with a cup of tea. Find the recipe here: My Kids Lick The Bowl