THIS POST MAY CONTAIN AFFILIATE LINKS.
I've been making zucchini slice forever and my kids devour it, these zucchini picnic muffins are a twist on my zucchini slice recipe but with a few extra bits to turn them into the perfect zucchini egg muffins.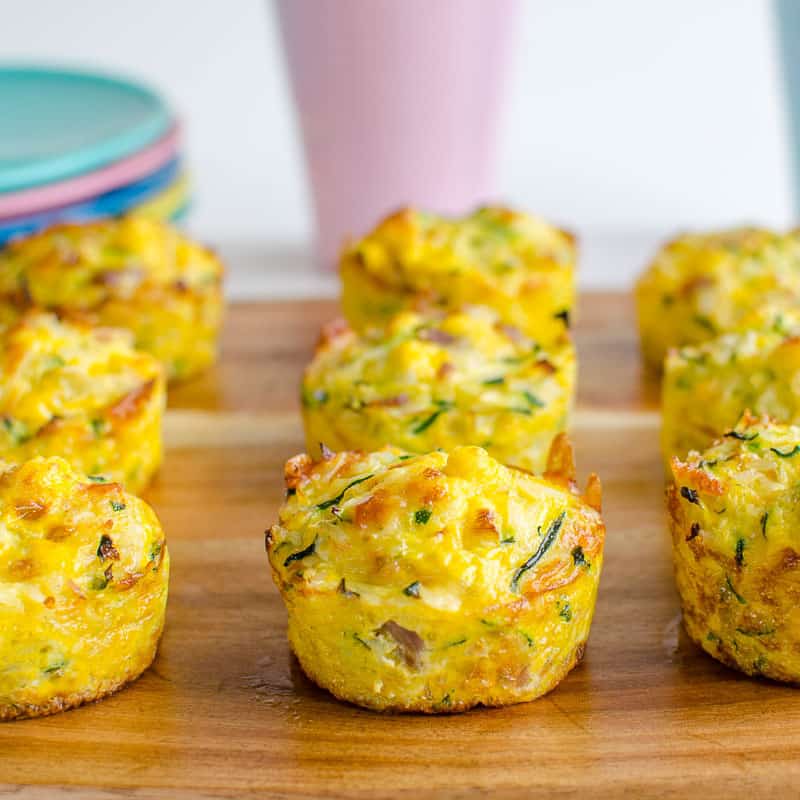 I made them over the weekend as zucchini are finally getting economical again, yay for spring/summer!
Egg muffins for kids
My kids are fans of egg muffins, and I am also a fan of egg muffins.
I like them because they really do fill the kids up and they are a great vehicle for increasing my kids vegetable intake.
I have shared my cauliflower cheese egg muffin recipe previously, they are probably even more sneaky than these this recipe as the cauliflower is basically invisible. In these zucchini muffins the vegetable content is a bit more visible, in that you can see the green flecks.
But here is a wee hack if you are having a lot of trouble convincing your little one to try anything with a hint of green (I HAVE been there too!) The trick is to try peeling the zucchini. If you peel the zucchini, it will be indetectable in these zucchini egg cups.
These muffins are gluten-free, but nice and filling and great for fueling small tummies for breakfast, lunch and in the lunchbox! They freeze and defrost well.
Zucchini muffins for baby?
I do give my youngest child these zucchini muffins. She is 9 months old. For young ones, I don't add any salt, but you may wish to add some seasoning if they are for adults.
If your kids are muffin fans, and you love the idea of zucchini in a muffin but you are after a sweet style muffin, then be sure to check out my new double chocolate grain-free zucchini muffins they are gluten free, dairy free and refined sugar-free with some hidden vegetables to boot!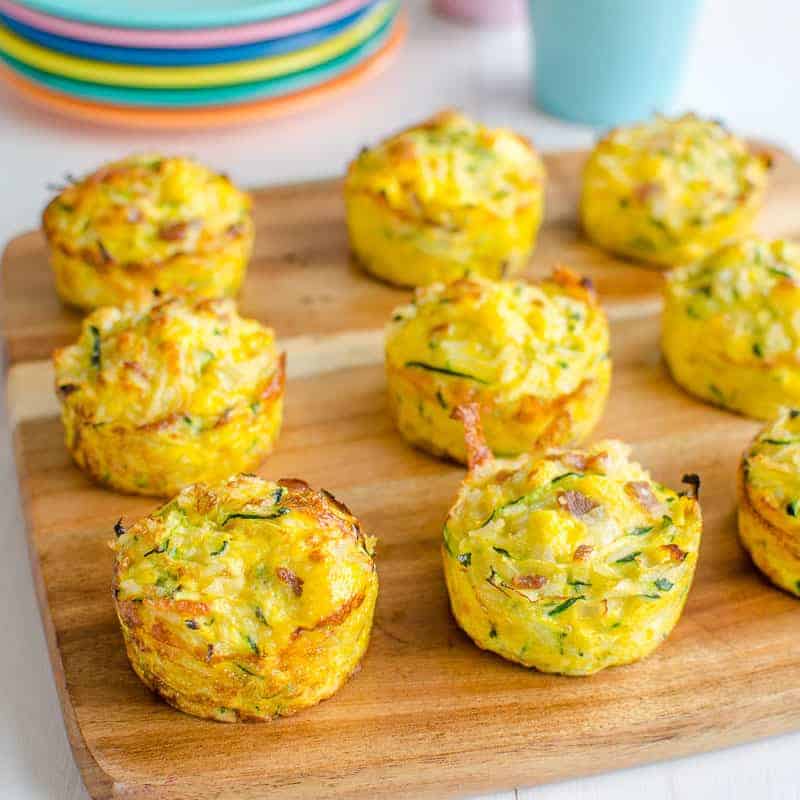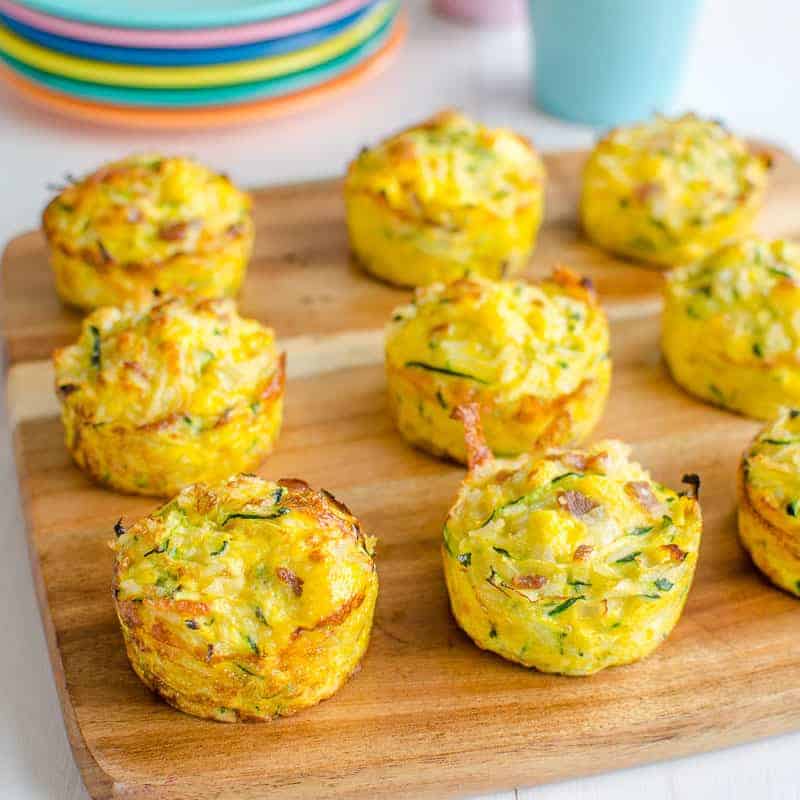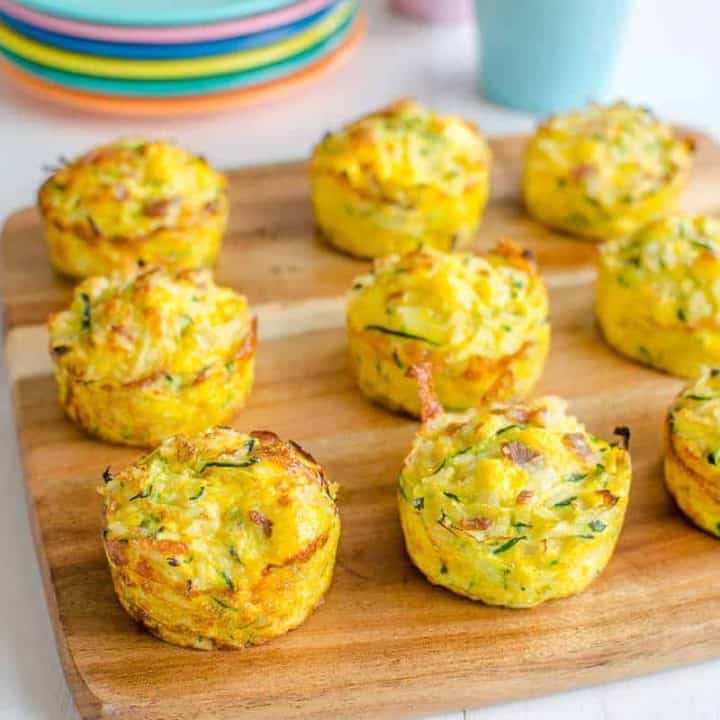 Zucchini Picnic Muffins
Zucchini picnic muffins are simple Egg Muffins with rice cheese and veggies, a full meal in one muffin, great for kids and lunchboxes
Ingredients
4 eggs
1 cup cooked rice
70 g grated cheese ¾ cup
½ onion finely diced 50g
2 rashers bacon finely sliced 50g
175g grated zucchini (approx 2 zucchini)
Instructions
Whisk the eggs
Add the remaining ingredients, mix well
You can add seasoning if you wish, if you use a strongly flavoured cheese you may not need too
Spoon into greased muffin tray, I use a standard sized silicon tray
Bake at 180 degrees Celsius for 20-25mins (360 Fahrenheit)
Notes
For young children you may wish to skip the bacon as this will reduce the sodium contentl
Nutrition Information:
Yield:

9
Serving Size:

1 muffin
Amount Per Serving:
Calories:

128
Total Fat:

8g
Saturated Fat:

3g
Trans Fat:

0g
Unsaturated Fat:

4g
Cholesterol:

98mg
Sodium:

202mg
Carbohydrates:

7g
Fiber:

0g
Sugar:

1g
Protein:

8g
Please know this nutrition analysis is based on the ingredients only, this recipe has not been sent to a laboratory for independent testing