Party Perfect Panda Cupcakes
THIS POST MAY CONTAIN AFFILIATE LINKS.
Panda Cupcakes, my first foray into non-healthy food on my blog. Becuase I am a believer in the fact that kids birthday cakes can be laden with butter, sugar, and fun and it is totally fine. You can read all about my thoughts on kids and cake in my earlier post, these panda cupcakes fall totally into this category!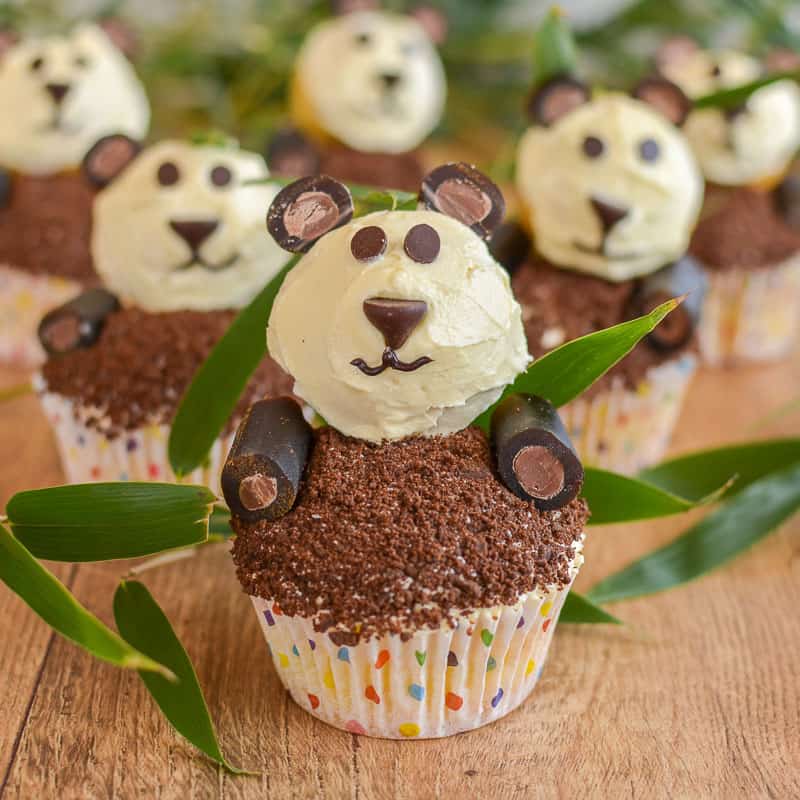 I first made Panda Cupcakes 7 years ago, actually pretty much 7 years ago to the day, I made them for my good friend. This was before I had kids, but I showed my kids a picture of them (the one below in fact) and they asked me to redo them.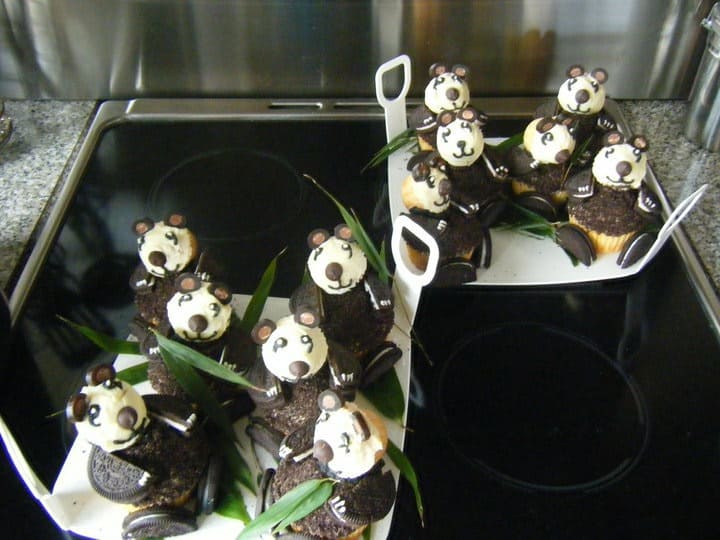 The original Panda Cupcakes I made were inspired by Pinterest, and came about before I was a food blogger and did things like keep Pinterest boards and things. I have hunted and hunted and cannot find the exact post, I've found a similar one by Instructables but not the one I found originally, but I suppose a lot changes in seven years! So if you were or know the original creator of the oreo panda cupcake please sing out.
Anywho, I have changed up the cupcake, I have made it more southern hemisphere, I have discovered Tim Tams make excellent crumbs for a panda tummy, so out with the Oreos and in with the Tim Tams I say! I have also decreased the amount of work involved the first time around I drew on claws and fancy eyes, I have simplified the process somewhat!
Pinterest has loads of Panda Cupcakes and my Kiwiana (eep maybe I should say Australian as the Aussies are very protective of the Tim Tam) are a bit of a different twist with the Tim Tam Crumb and Licorice logs. I hope one day I will see this version flying around Pinterest too!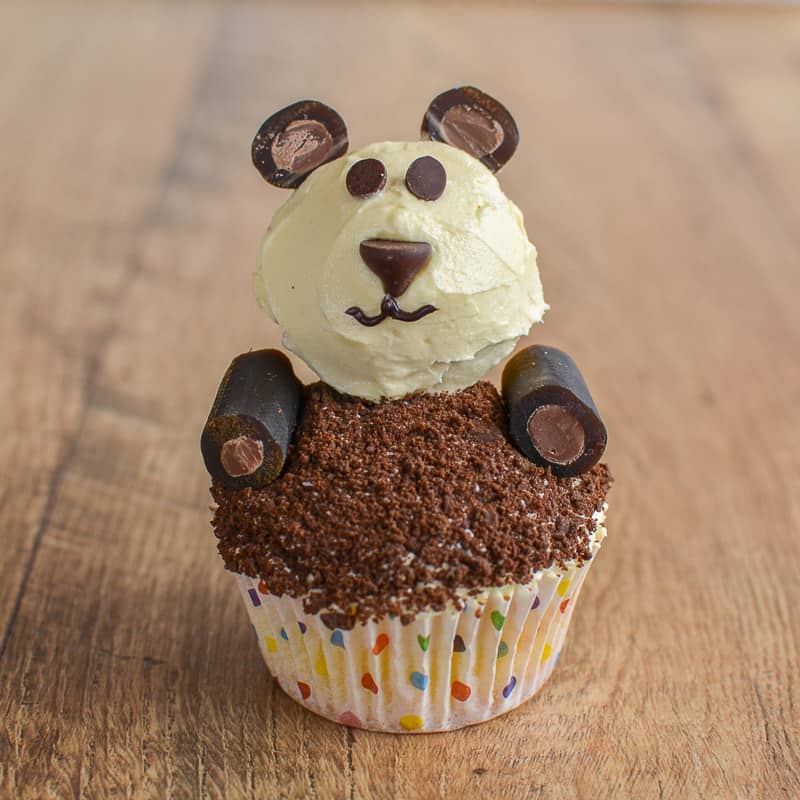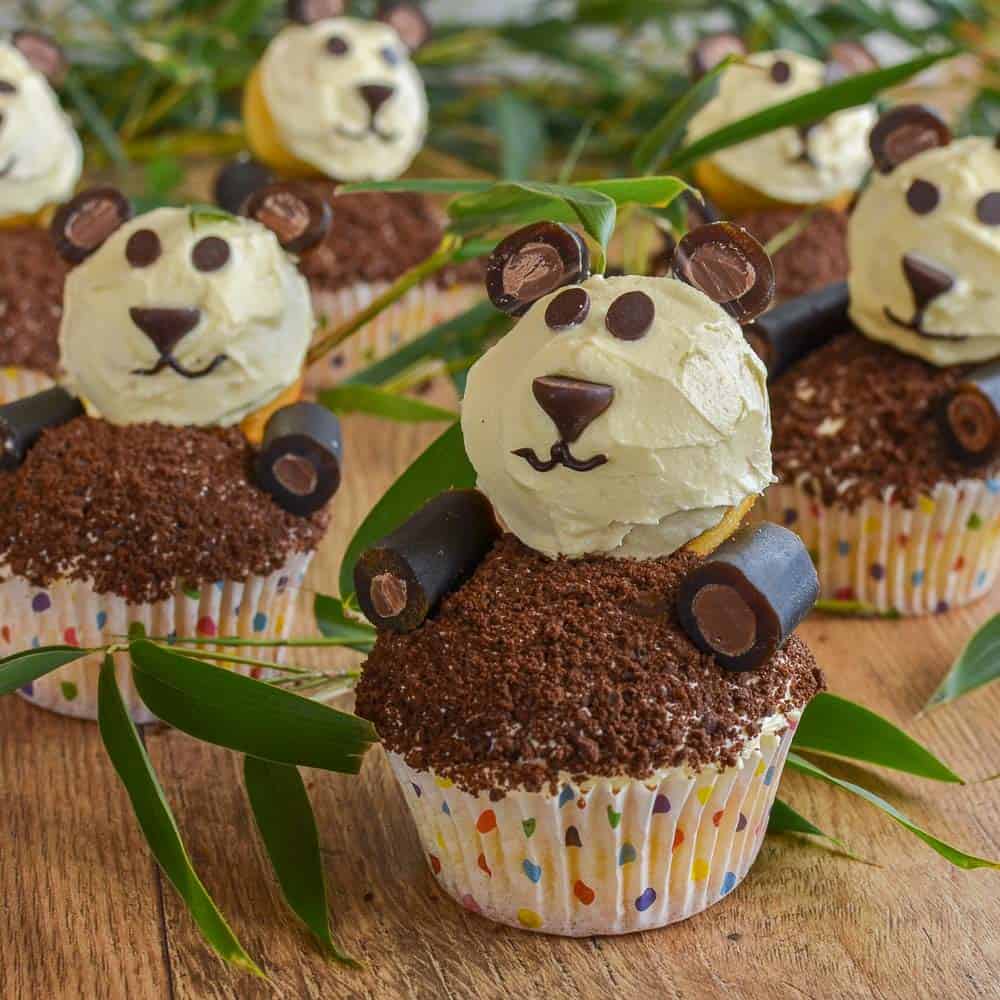 Panda Cupcakes
Fun, cute, delicious panda cupcakes
Ingredients
12 standard sized vanilla cupcakes
12 mini vanilla cupcakes
1 batch icing/frosting
1 Packet Tim Tams or other chocolate biscuits
12 large chocolate drops
24 small chocolate drops
1 packet dark choc gel writing icing
12 toothpicks
2 Packets choc licorice logs
Instructions
Ice all 24 cupcakes
Using a food processor blitz the Tim Tams to a fine crumb (you can also use a rolling pin)
Place the cookie crumbs in a bowl, dip the large cupcake icing side down into the crumb to totally coat it, this will be your panda's tummy
Take the small cupcake, use a large choc drop to make the nose
Use 2 small choc drops for eyes
Use the dark gel icing to draw the mouth
Place a toothpick in the large cupcake, this will hold your small cupcake in place as the head
Once your small cupcake is in place the next step is ears and arms
Take the choc licorice log slice 2 thin slices (approx 2-3mm thick) and 2 pieces approx one inch long
The thin slices are placed on the head as ears
The two longer pieces are placed either side of the head as arms
Repeat until all the cupckaes are decorated
Notes
You can either make your own cupcakes from scratch or use a packet mix
Frosting/icing, it just needs to be thick and white, cream cheese frosting or buttercream works well
I use Arnotts Tim Tams in Dark Chocolate
I use RJs choc licorice logs, there are 3 logs per pack
Nutrition Information:
Yield:

12
Serving Size:

1
Amount Per Serving:
Calories:

754
Total Fat:

35g
Saturated Fat:

9g
Trans Fat:

0g
Unsaturated Fat:

24g
Cholesterol:

118mg
Sodium:

449mg
Carbohydrates:

106g
Fiber:

1g
Sugar:

80g
Protein:

6g
Please know this nutrition analysis is based on the ingredients only, this recipe has not been sent to a laboratory for independent testing