Whole food lunch boxes on a budget - The Countdown Challenge
THIS POST MAY CONTAIN AFFILIATE LINKS.
This week I was challenged by Countdown to pack 10 lunch boxes for $50. Being a kid foodie this is completely up my alley, 10 lunch boxes for $50 I thought… I can do way better than that.
Let me show you how I made 10 real food kids lunch boxes for under $30.
How to make a healthy whole food lunch boxes on a budget
1.Stick with staples
I often hear how expensive items are at the supermarket. And I agree, there are some really expensive items at the supermarket, but there are also some things that are really cheap.
One of my favourite staples is rolled oats. We have them for breakfast, but it doesn't stop there. I use rolled oats in a tonne of items I make and bake for the kiddos lunch boxes.
Seriously the Homebrand rolled oats are $2 for 750g at Countdown. That's, not a special price. That is a price lock down. Which means low prices every day those rolled oats aren't going to change in price for the long term
Some of my favourite price lock down staples
Homebrand rolled oats

Edmonds whole egg mayo

Fresh life sultanas

Essentials plain flour

Peckish brown rice crackers
2. Ditch the packaged foods
I am not a packaged foods nazi, not by any means. We still have packaged foods in our house.
But I do know that they can be much more expensive then making things from scratch. Clearly as a mum of 3 little ones I'm not going to be making everything from scratch. I just don't have the time, But I do try to when I can, and it does save money.
But Ii you do want a list of lunch box snacks I grab straight off the supermarket shelves, well I have that too.
3. Buy in season
Where you can buy your fresh fruit and veggies in season. It will be much cheaper that way. My boxes had apples, pears, mandarins all of which were on "Hot Deal" special at my local Countdown.
I must confess that a couple of the items I made for these boxes were not cheap.
The recent storm has meant Cauliflower, Avocado and Zucchini were pretty pricey, but because I shopped smartly for everything else, even with these expensive items I was well under budget!
4. Shop Specials
Countdown Price Lockdowns means that prices are low every day, they are fixed for 12 months.
Countdown also runs other short term specials though, hot deals, fresh deals all of which can be great. And the club card specials can also be awesome!
10 Whole food Lunch boxes for under $30
I have 2 kids that I pack lunches for. So I have 5 lunch box ideas, that I made 2 of, which is how I got 10 lunch boxes. My kiddos, that I pack lunch boxes for, are 3 and 4yrs old.
The Quick Lunchbox Vid- With NZ Giveaway
If you are a New Zealand Resident, be sure to check out the vid below, and comment with your favourite box, it could mean a $50 Countdown Voucher would be heading your way.
---
Box 1
This box came in at: $3.25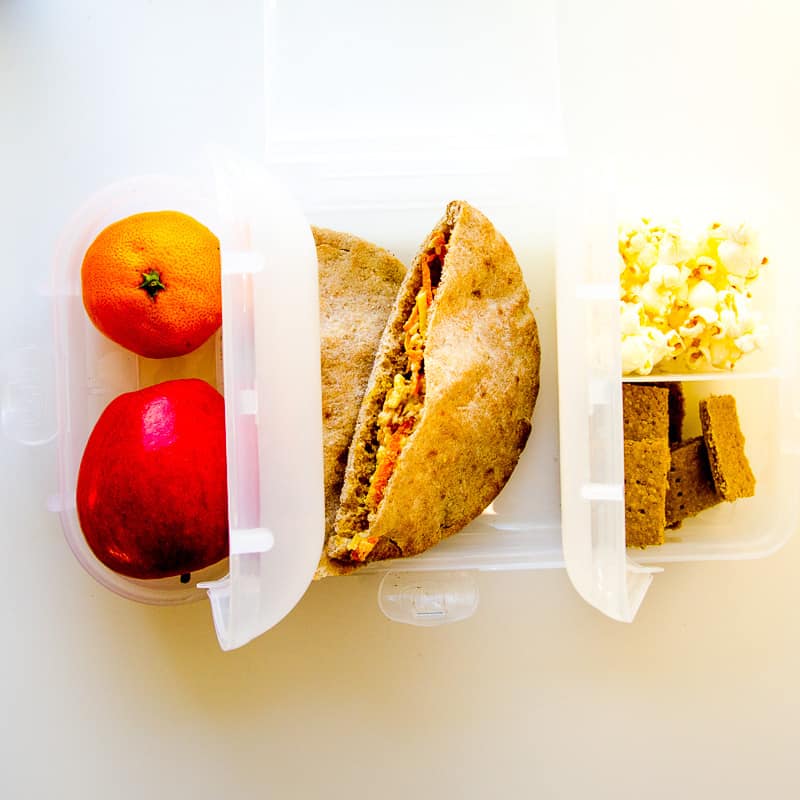 This lunchbox is by Smashbox which you can buy at Countdown
What to buy
Pita Bread, Cheese, Carrot, Hummus, Apple, Mandarin, Chickpeas, Oats, Olive Oil, Garlic, Popcorn Kernels
I love the Giannis wholemeal pita breads as they have fewer preservatives, which makes me happy, as I'm in the camp where I don't expect bread to last for weeks.
How to make it
Pita bread: mix grated carrot, cheese and hummus, use the mix to stuff a pita bread.
Chickpea and oat crackers are super easy to make, in fact, there are two ways, you can either make them from scratch using chickpeas instructions here or you can use this hack, to make a similar cracker but with only 2 ingredients, oats and store bought hummus, find the instructions here
---
Box 2
This box came in at $1.90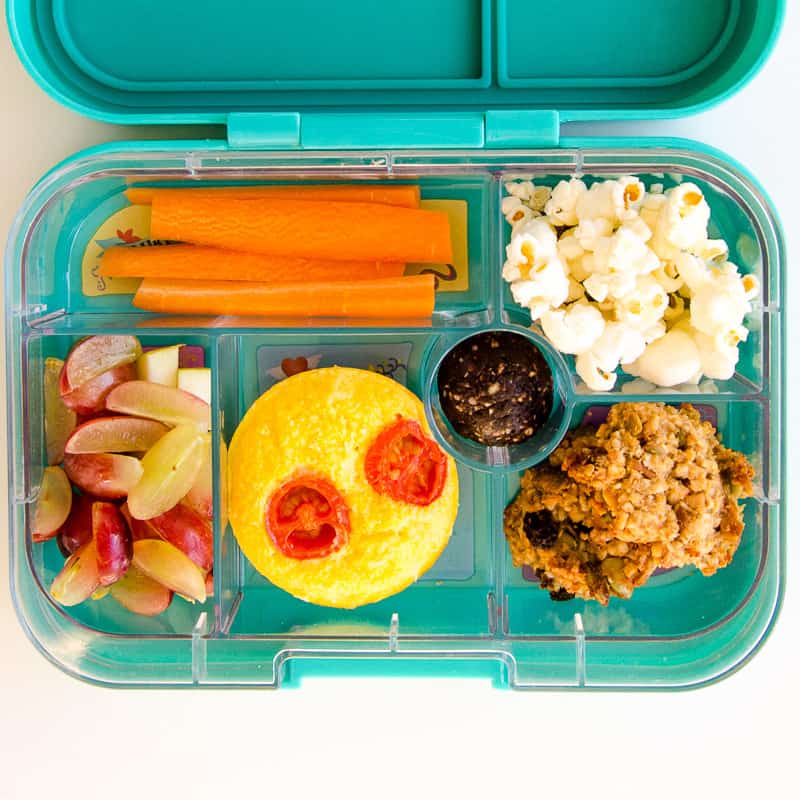 This lunch box is a yumbox original
What to buy
Carrots, Grapes, Apples, Eggs, Cauliflower, Cheese, Oats, Peanut butter, Raisins, Popcorn kernels
How to make it
Apple oat raisin cookies, 4 ingredients is all you need and for these biscuits. They are not nut free, but I included them as at my kids
Cauliflower Cheese Egg Muffins, these are an easy protein and veggie packed addition to the lunchbox
Popcorn. Try popping your own popcorn. It works out so cheap. 2 cents a serve. I actually have a popcorn maker, they aren't expensive and the kids love having popcorn on tap!
---
Box 3
This box came in at $3.08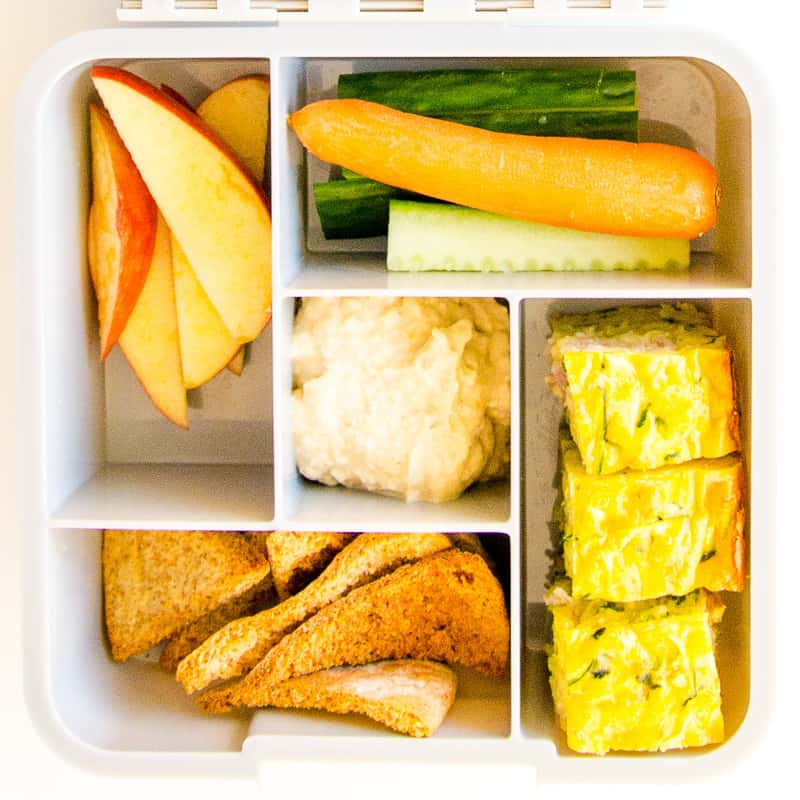 This lunch box is a little lunchbox co bento 5
What to buy
Carrots, Cucumber, Apple, Hummus, Pita Bread. Zucchini, Bacon, Onion, Cheese, Eggs, Flour
How to make it
Zucchini slice. This is a huge favourite with my kids, it has been since they were little and I love it, as you can freeze it! You can use the recipe as a base and substitute other veggies.
Pita crisps, to make the pita crisps, I just cut up my slightly stale pita breads, popped then on a baking tray and sprayed with olive oil.
I baked them at 180 degrees for around 10mins, which turned my slightly stale pita breads into great crunchy dippers for the hummus
---
Box 4
This box came in at $3.03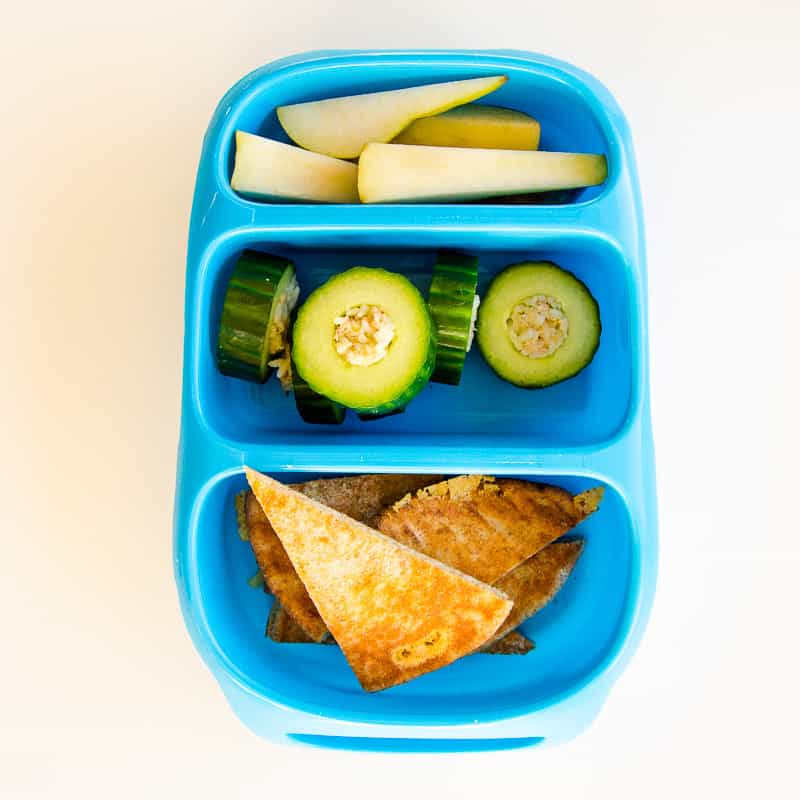 This lunchbox is a goodbyn bynto
It could have come in even cheaper if the avocados were a little more in season.
What to buy
Pear, Apple, Pita Bread, Cheese, Tinned Tuna, Rice, Avocado, Cucumber, Mayo
How to make it
Cucumber sushi is a fun non-seaweed way for kiddos to enjoy a sushi style lunch, And lots of veggie with all that cucumber to boot!
Pita Bread Quesadillas super easy but tasty. Fill a pita bread with cheese and cook in a sandwich press
---
Box 5
This box came in at: $3.29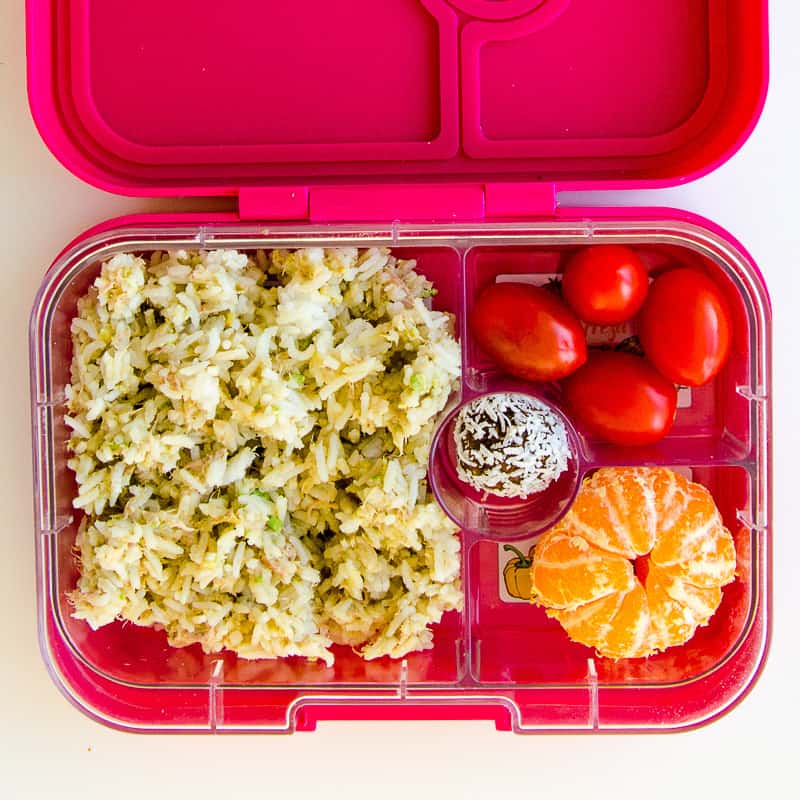 This lunch box is a yumbox panino
What to buy
Tinned Tuna, Rice, Avocado, Mayo, Tomatoes, Carrots, Oats, Dates, Sunflower Seeds, Mandarin
How To Make it
The rice salad is actually the filling I used for the cucumber sushi the day before, When I made the sushi, I saved some for the following day.
The carrot oat energy bites are easy to make and nut free, they also freeze so you can just keep them in the freezer for a lunchbox filler
---
I hope you find these ideas useful! I had a fun time putting it all together in one place.
Thank you Countdown for making it possible