THIS POST MAY CONTAIN AFFILIATE LINKS.
I am a Podcast addict, not just for my own listening pleasure but I also love my kids listening to podcasts I have had a shortlist of my favourite Podcasts for kids for quite some time, but just recently I crowdsourced (ie I asked the amazing followers I have on Facebook and Instagram what their favourite Podcasts for kids were and I compiled the list below!
We came up with 21 Podcasts that cover all the genres.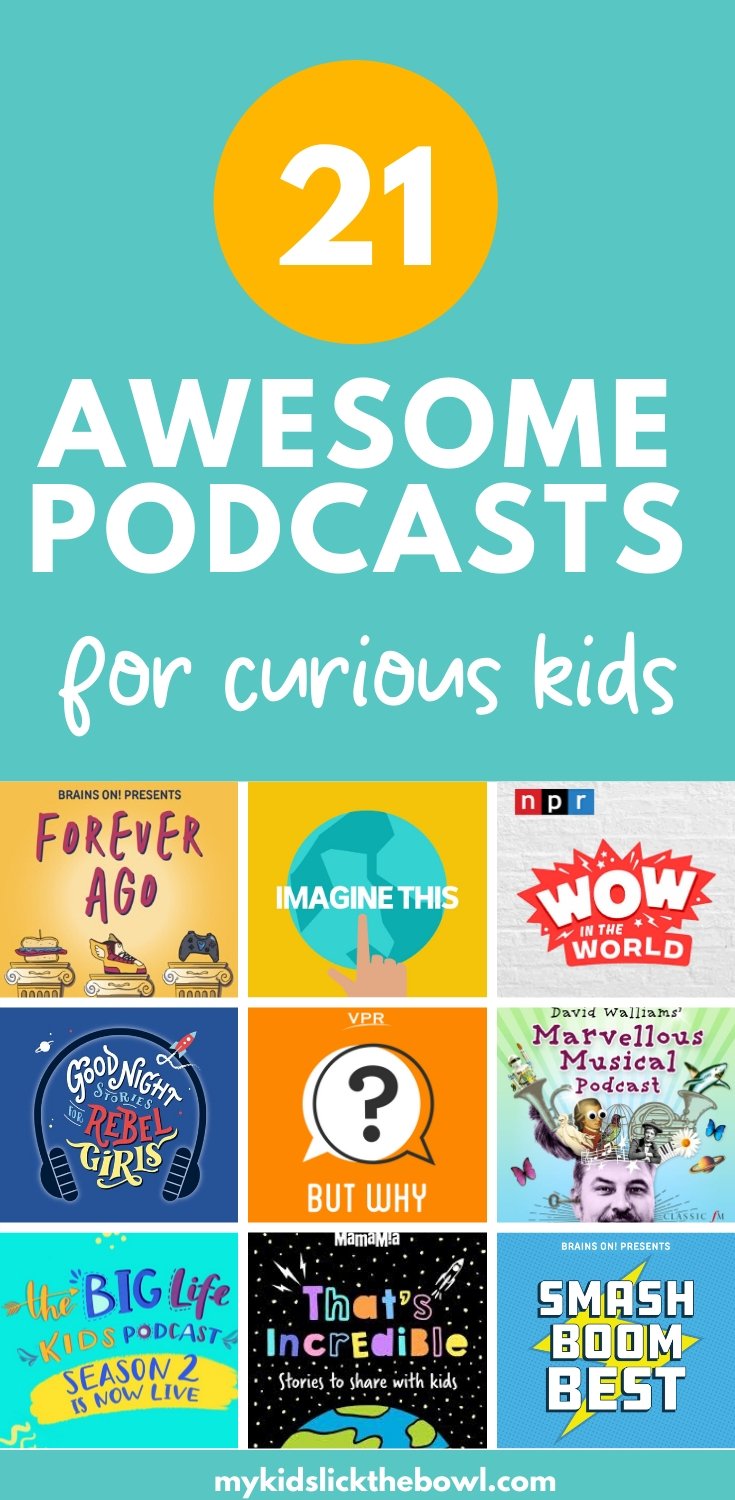 How do my kids listen to Podcasts?
We typically use my phone for podcasts, I have an iPhone so I have subscribed to a number of the kid-friendly podcasts on the Apple podcast app and on the Spotify app. We tend to listen to them either in the car or via a blue tooth speaker at home.
When do my kids listen to Podcasts?
Long car trips
Quiet times at home
When my youngest bub was a newborn and the bedtime routine was a little tricky I would pop on a podcast for the kids to listen to while I settled bub and then came to finish off with some book reading before they went to bed
In the morning if they are up, but I'm not quite ready to start the day, they listen to them and hopefully stay quiet. lol
Podcasts for Curious Kids
Podcasts 1-10 in the list below are Non-fiction podcasts covering all sorts of interesting topics. Science, Technology, Ethics, Nature, Music, definitely 10 of the most interesting podcasts for kids around.
A number of them are by ABC (Australian Broadcasting, they are brilliant and have their own kids' podcast app that is worth downloading)
Mindfulness, Mindset and Relaxation Podcasts.
Podcasts 11-14 below are great podcasts for kids that don't focus on the facts, but more on the state of mind.
Non-Fiction Tales For Kids
Podcasts 15 and 16 are non-fiction stories of incredible women, but they are told in a fairy tale type manner
Fiction Stories For kids
Podcast 17-20 in the list are fictional podcasts including some classics from Rudyard Kipling and Enid Blyton
And last but not least a handy little podcast that is designed purely to encourage kids to brush their teeth for the full 2 minutes 2 times a day
On top of podcasts, I also love some types of screen time that are a little more interactive than simply staring at a screen, like yoga for kids and learn to draw shows, you can check out my favorites here.
Podcasts for Kids
A collection of 21 great podcasts for kids. Including Podcasts for curious kids that answer all the questions they may have about the world around us. Mindfulness, mindset and relaxation podcasts. True stories about amazing people in history, and lovely fictional tales to spark the imagination