THIS POST MAY CONTAIN AFFILIATE LINKS.
Looking for a delicious salad dressing that is a total summer crowd-pleaser (kids included)? Look no further this Mango Dressing is just the thing!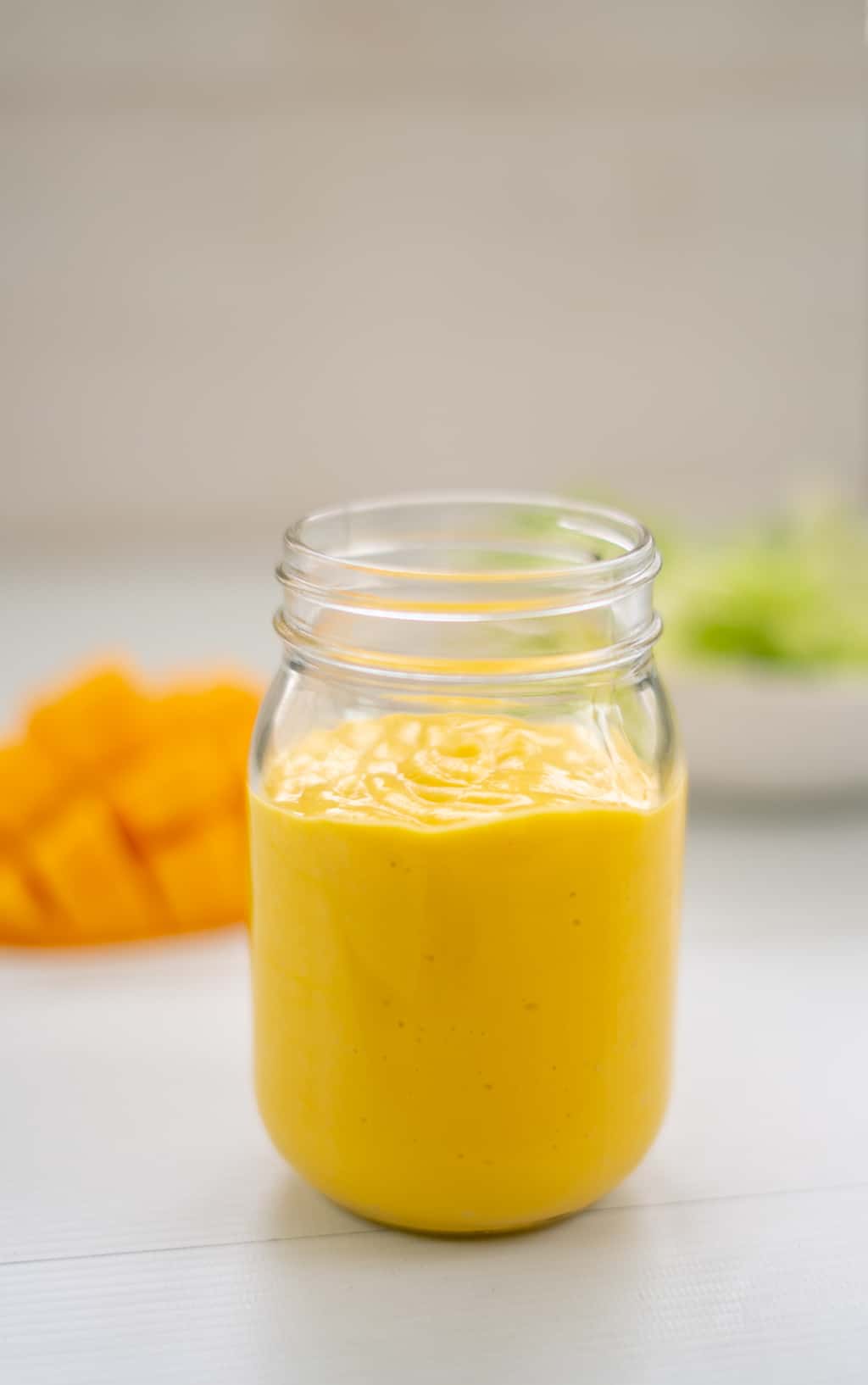 Summer means Sun, Being Social & Salad
For me as a grown up, summer means sun, socialising and salad for dinner with friends. My kids are down with the sun part, totally down with the social part, the salad part… well we are working on that!
I'm a big believer in my kids being part of the family meal, so I try not to make a separate kids meal, but instead, try to make the family meal accessible to all.
So if we are having a salad for dinner, there are 2 things I keep in mind to ensure it is accessible, delicious and ok for everyone; these are:
The way I

plate it

The

dressing

I serve with it
(I'll discuss both these in a just a little bit so that hopefully your kids will also become salad eating kids)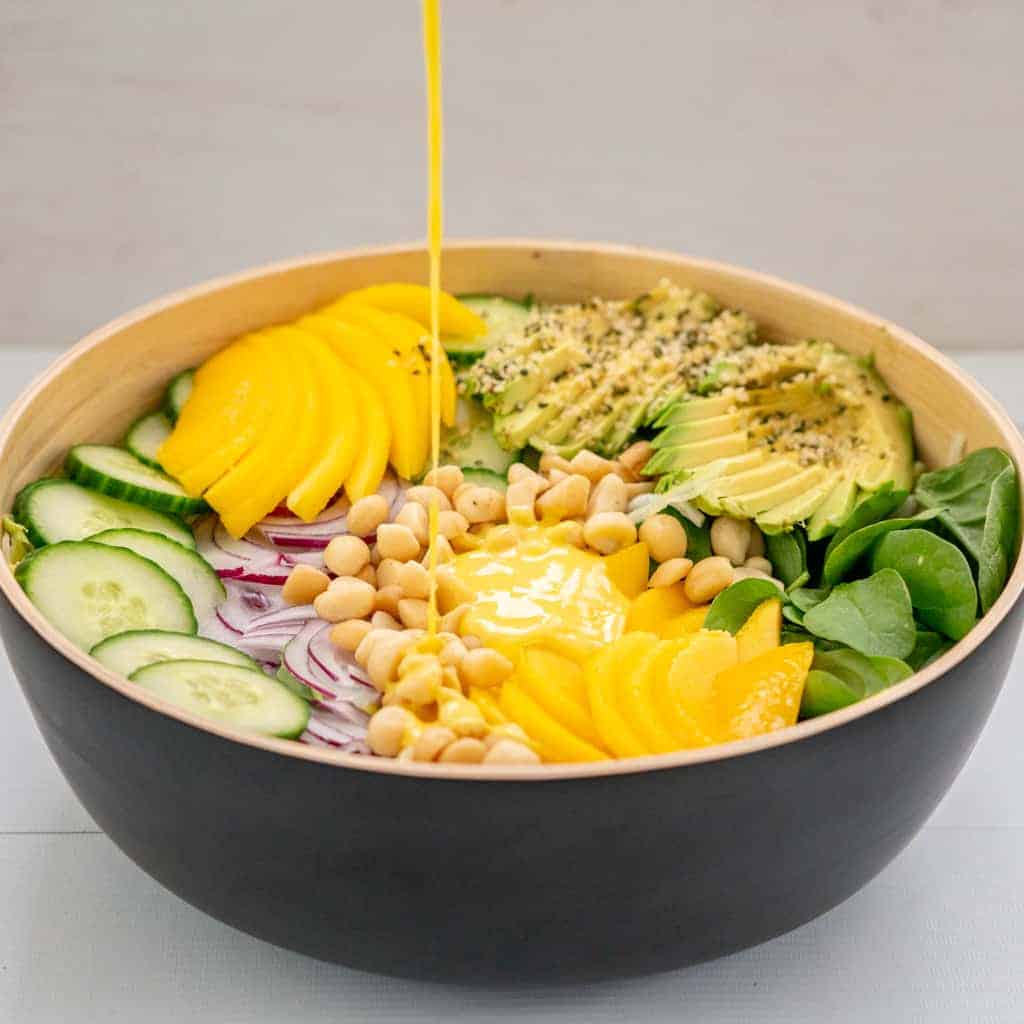 Summer also means On-line Supermarket Shopping
I've teamed up with Countdown to create and share this Mango Salad Dressing recipe, but first I just want to add a third little summer salad hack to this post. And that hack is doing grocery shopping online! Oh My Gosh, Countdown's online shopping service & delivery has totally revolutionised my holiday this year.
Instead of lugging loads of groceries away with us to the bach, or sending some poor soul off to do the grocery shopping, to a crowded supermarket quite some drive away when they could have been relaxing on the beach…
This year I ordered online and had the magical people at Countdown pick my produce, pack my groceries and deliver everything to my bach without me needing to do anything more than order online while enjoying a wine! You should totally give it a go, it is life-changing!
During summer, they deliver to beaches and baches all over NZ so you can continue to enjoy your holiday. Full list of hotspots are here: https://shop.countdown.co.nz/shop/content/summer
How I plate a salad for kids
There is quite a craze on Instagram and Pinterest to plate a salad so that you can see all the individual ingredients, almost like a piece of art, rather than tossing it all together.
Here's the thing, I have been plating salad like this for my kids for ages. Not because it will get lots of likes on Instagram, but because it really is a practical way to plate a salad for children especially if they are a little fussy
Keeping the ingredients separate, means kids (and adults) can build their own salads in their own bowls (avoiding any bits that they really don't enjoy) and then add the dressing themselves.
This means that a kid who may have looked at a salad and said "I don't like it" now has all the individual components to choose from.
So yes they may not like red onion and spinach, but they may love mango, cucumber and avocado, and if that is all they choose to have in their salad.. Well that is totally fine.
How I built my Mango Avocado Salad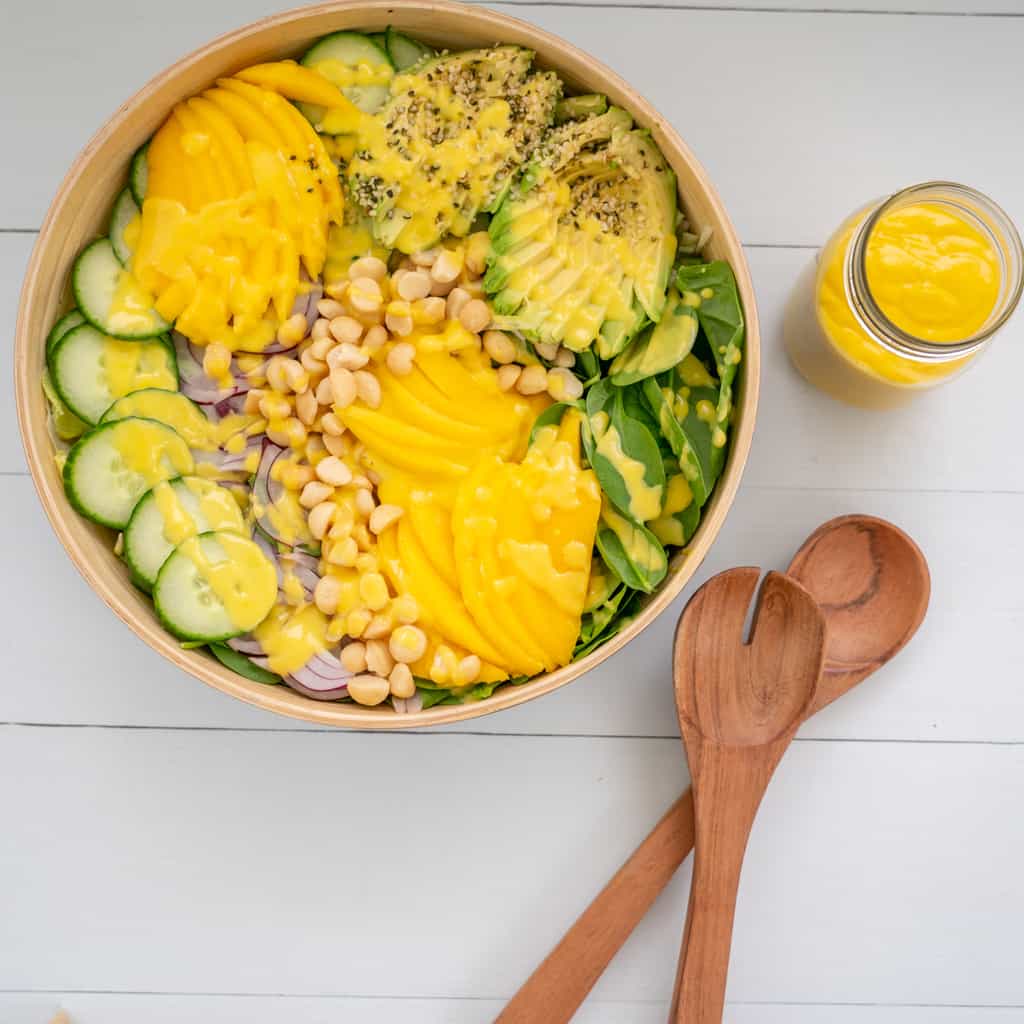 Sliced Iceberg lettuce for crunch and it's also mild flavoured for kids

Baby spinach leaves, for the dark green colour, and it's so easy to grab a bag from Countdown

Cucumber

Red Onion: I soak my sliced red onions in a little orange juice before adding them to a salad, it really makes them more kid-friendly, milder in flavour but still delicious

Avocado to add some fat and creaminess

Mango to add some sweetness (check out the little video which shows a great hack for slicing mango

Macadamias and Hemp Hearts both add texture, crunch, protein and fats
To make it a real filling crowd-pleaser, I also grabbed a Hot Cooked Macro Free Range Chicken from the supermarket and some bread rolls.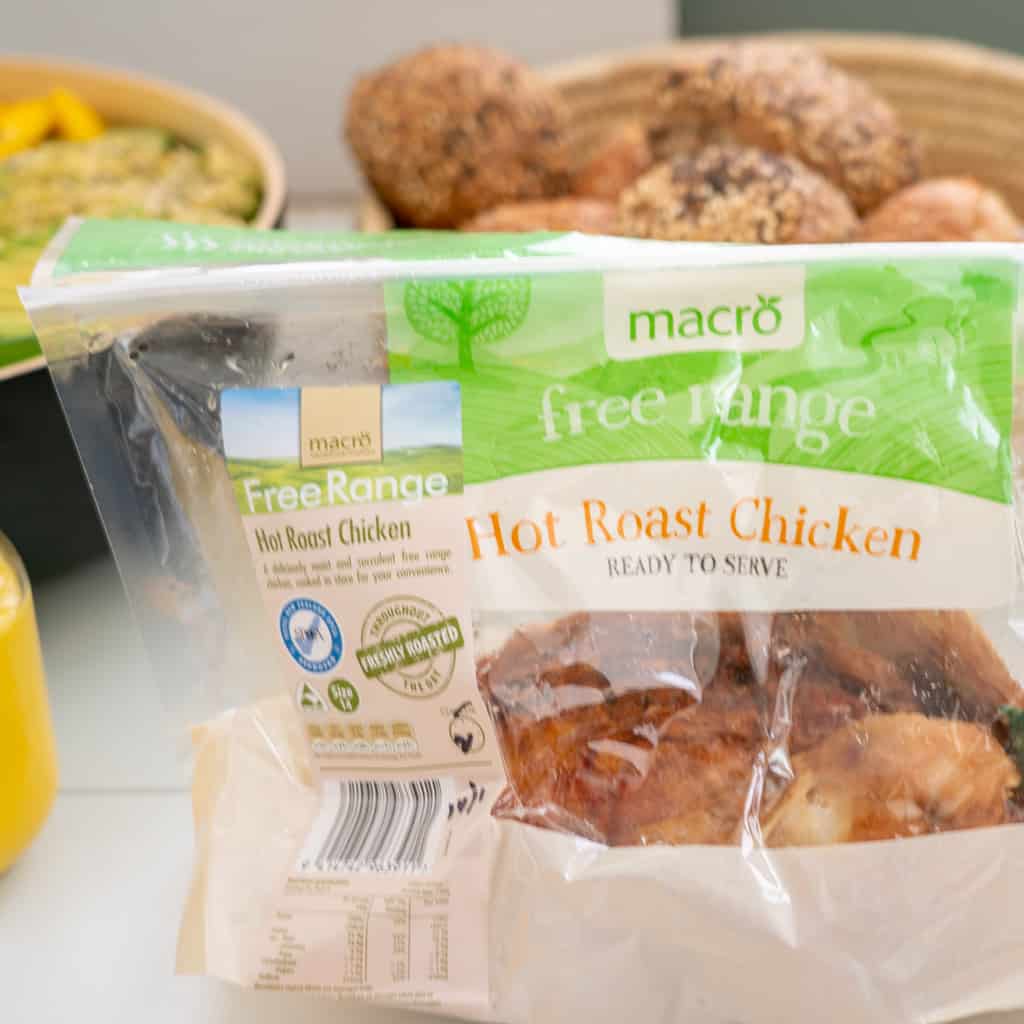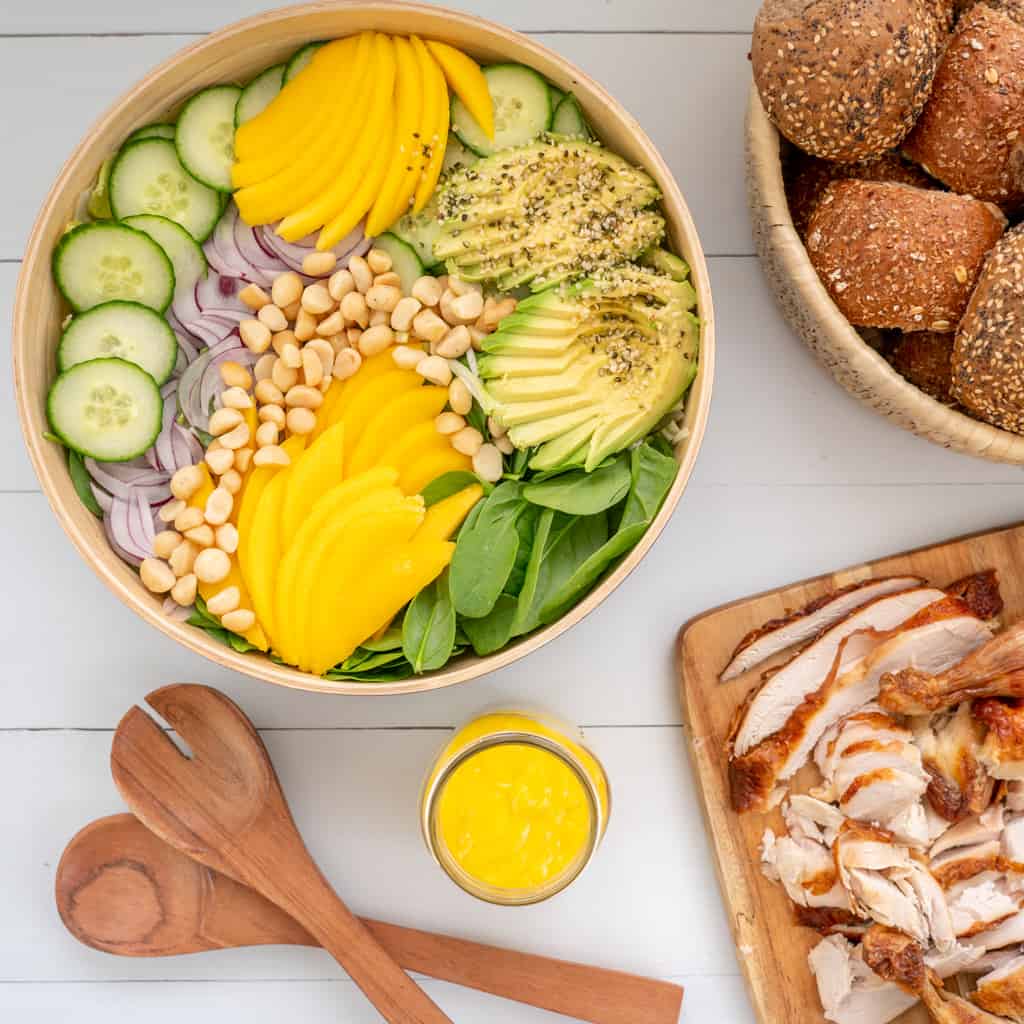 Salad Dressings For Kids
I have found that choosing a kid-friendly salad dressing can really encourage kids to try salad. The Mango Salad Dressing I used on this salad is super simple, 4 ingredients, (5 if you count seasoning) that you just blitz together
When Mangoes are in season it's delicious with fresh mango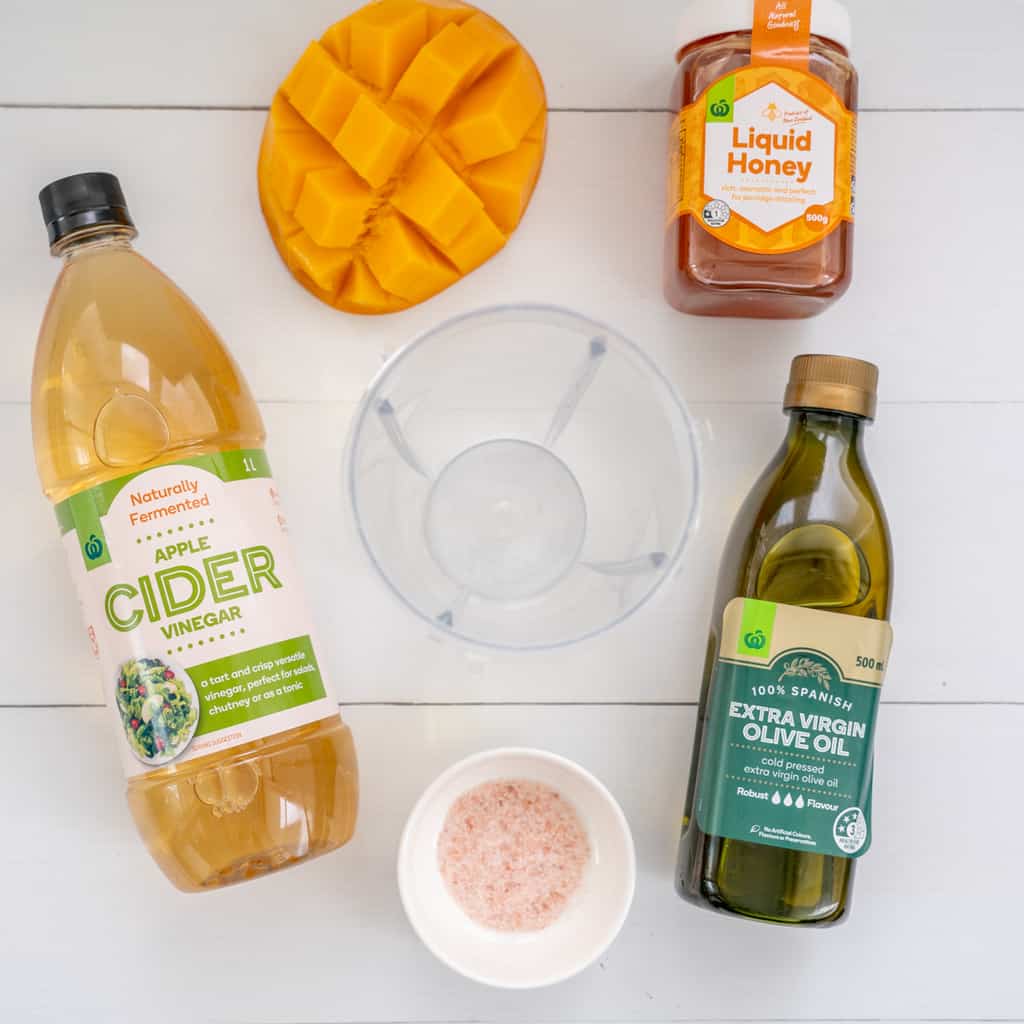 But when they are not, defrosted frozen Mango is also perfectly fine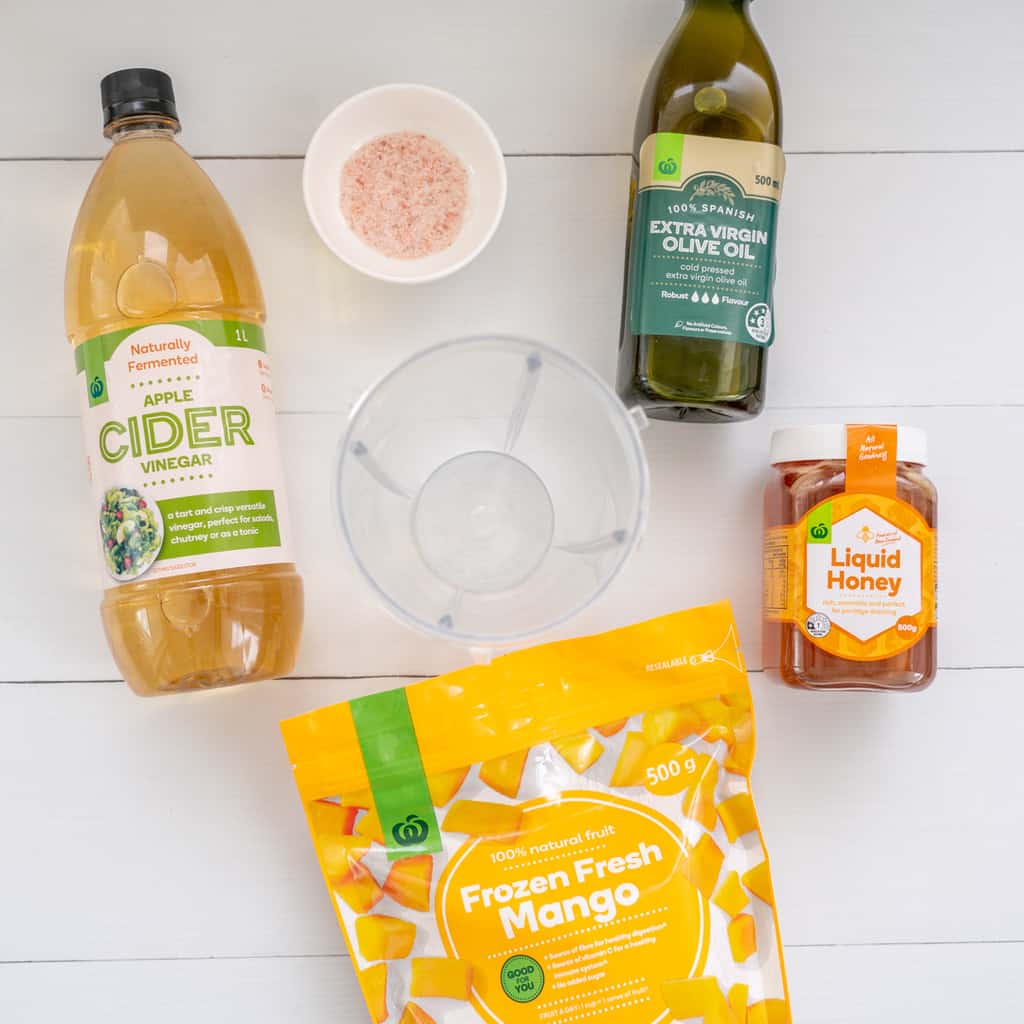 If you are on the hunt for a slightly more savoury dressing, then you can't go wrong with my quick homemade mayo or sriracha aioli.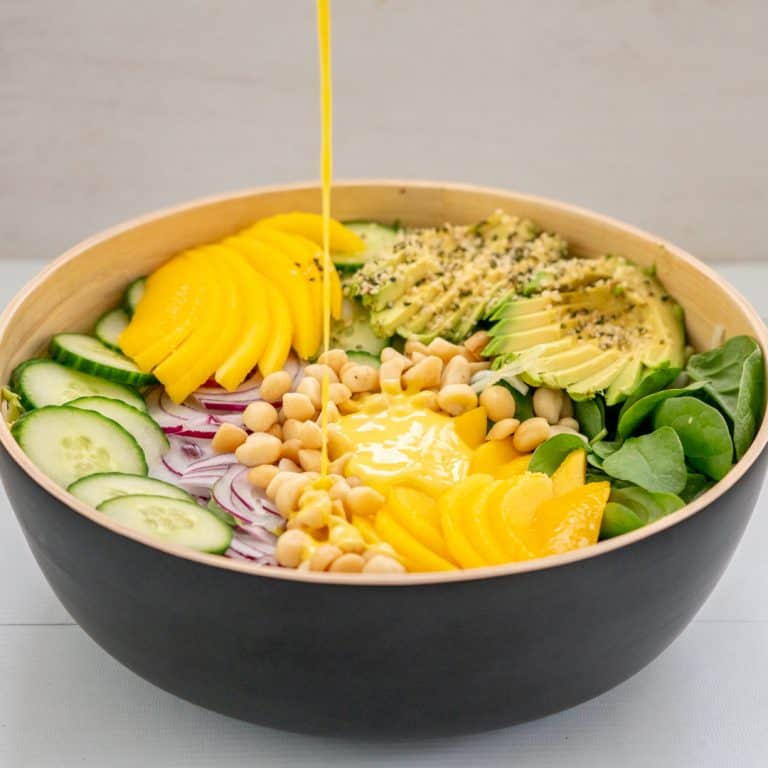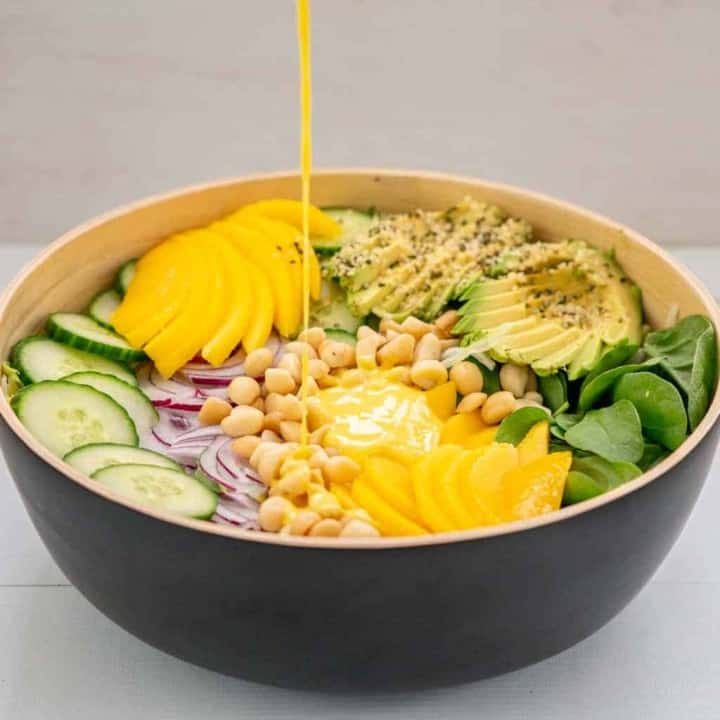 Mango Salad Dressing
So easy, this healthy Mango Salad dressing can be made in a matter of minutes, an absolute crowd pleaser with vegan ingredients, makes any salad kid-friendly
Ingredients
1 Cup cubed chopped mango
3 tablespoon apple cider vinegar
3 tablespoon olive oil
1 tablespoon honey or maple syrup
Pinch of salt
Instructions
Blitz all the ingredients together, you will end up with a thick creamy salad dressing. I use a Nutribullet to do this, but any blender will be fine
Notes
You can adjust the ratio of vinegar, and honey if you prefer a more acidic or sweet dressing
A little chili can be a delicious added to the dressing if you like it sweet and spicy
Works with fresh or frozen/defrosted Mango
Depending on your palate you may find Virgin Olive Oil to strong, a milder tasting oil is an option. Macadamia oil is delicious in this recipe
Stores for 3-5 days in the fridge in an airtight container or jar, make sure you use a clean spoon when serving it, this will stop it being contaminated by other foods and means it will last longer
Nutrition Information:
Yield:

12
Serving Size:

1.5 Tbsp
Amount Per Serving:
Calories:

49
Total Fat:

3g
Saturated Fat:

0g
Trans Fat:

0g
Unsaturated Fat:

3g
Cholesterol:

0mg
Sodium:

12mg
Carbohydrates:

5g
Fiber:

0g
Sugar:

4g
Protein:

0g
Please know this nutrition analysis is based on the ingredients only, this recipe has not been sent to a laboratory for independent testing