THIS POST MAY CONTAIN AFFILIATE LINKS.
This is a very simple recipe for wholemeal pikelets. I have found it brilliant for baby-led weaning as these basic pikelets make the perfect vehicle for nutritious and tasty toppings.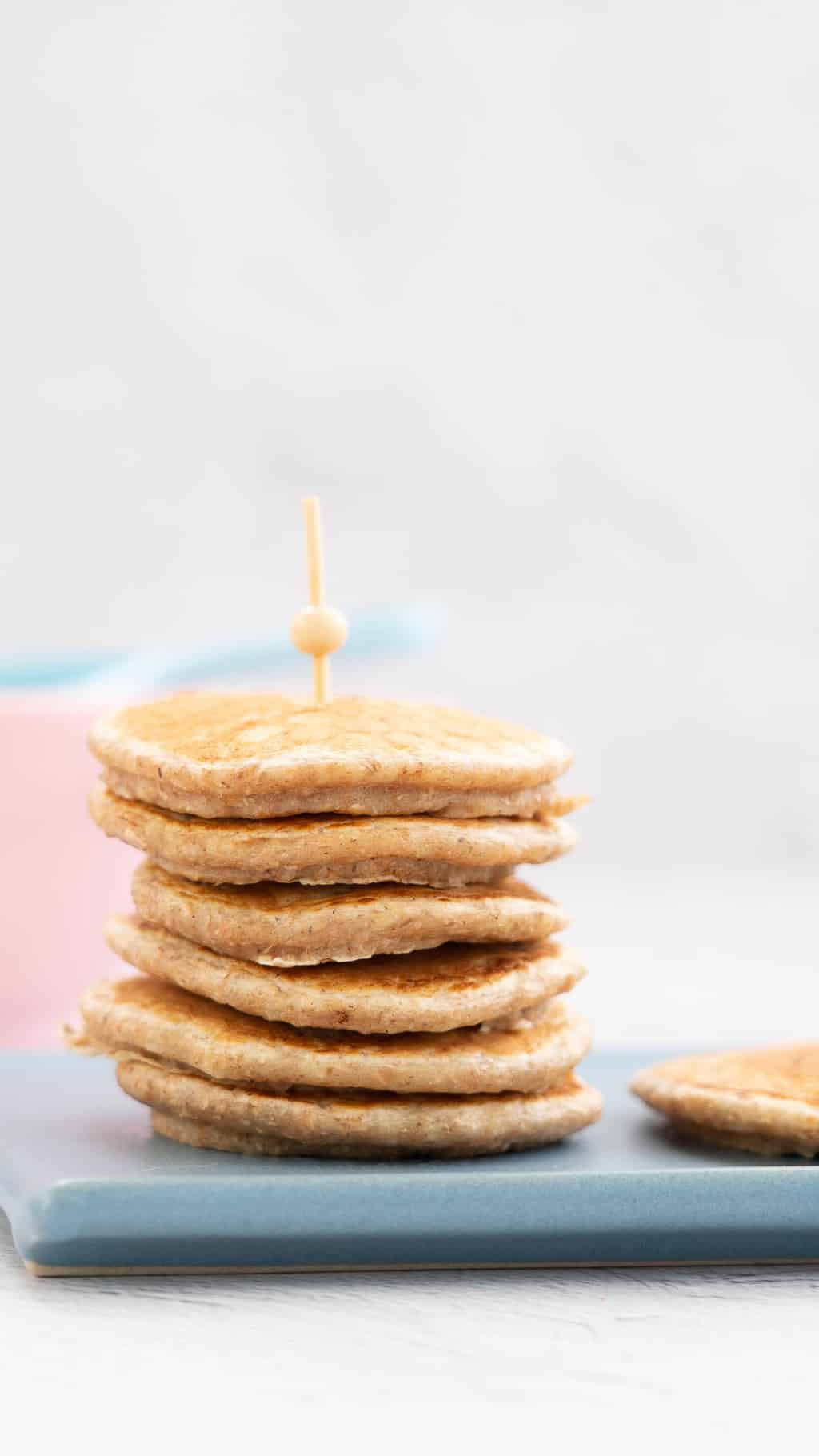 4 basic Ingredients
Pikelets are based on 4 basic ingredients, eggs, milk, flour and a raising agent (I use baking powder).
In a traditional pikelet recipe, there is usually a little sugar and a little salt, I've skipped these to make them suitable for babies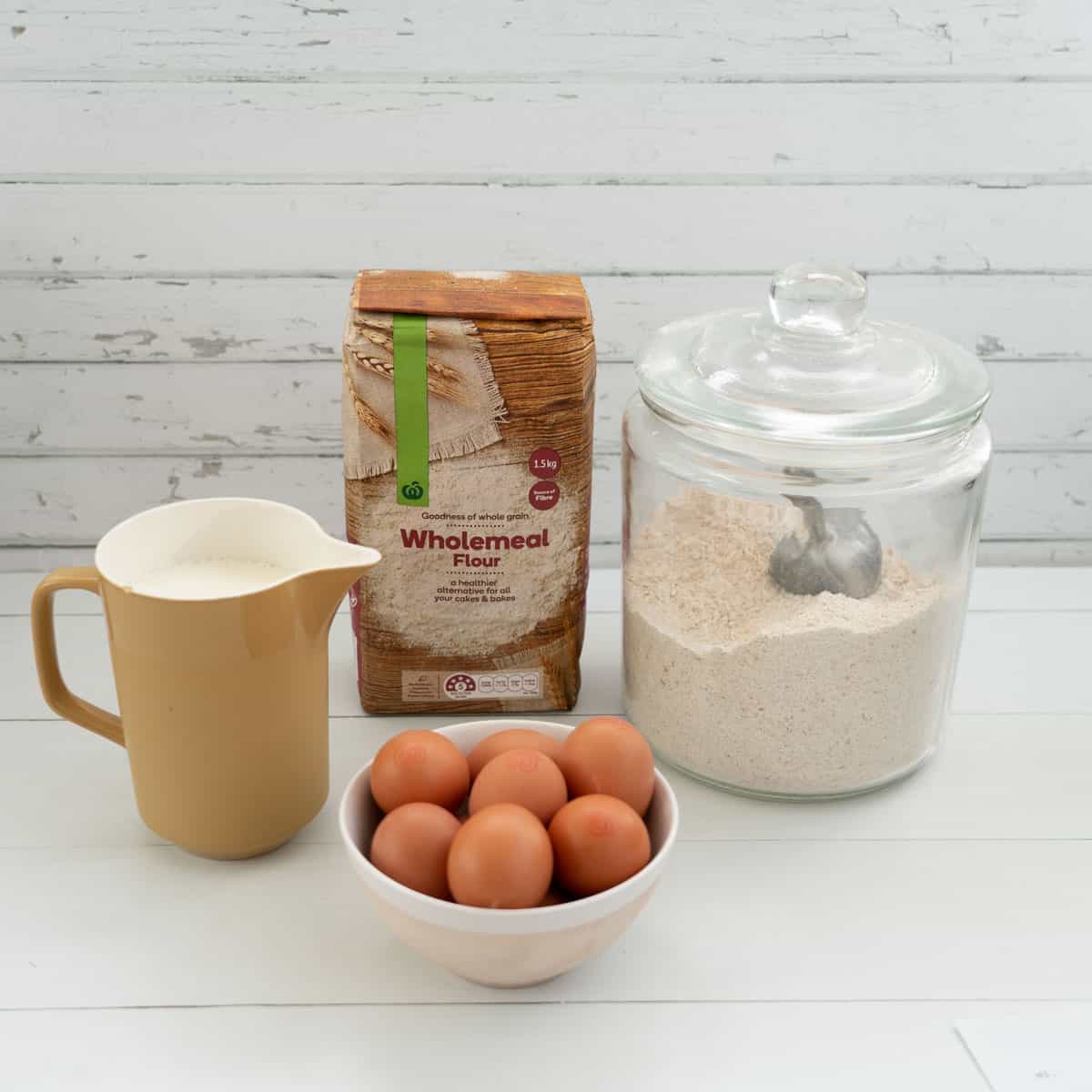 Wholemeal flour vs Wholewheat flour
In New Zealand (where I am from) and in Australia wholemeal flour is very commonplace. Hence I called this recipe Wholemeal Pikelets.
During my blogging career so far I have learned that wholemeal flour may not be as commonplace in other countries. From what I understand I think wholewheat flour is a term used more commonly in the USA.
From what I understand wholemeal flour and whole wheat flour are very similar, and suitable substitutes in recipes, but they sometimes aren't quite the same.
This is what I Whole wheat flour mean a whole wheat grain is milled into a flour. It's many cases it's milled very finely so it has almost the same texture as white flour.
Wholemeal flour, on the other hand, is when a whole wheat grain is milled and sifted into the white and the bran. A percentage of the bran is then added back into the flour. Wholemeal has quite a coarse texture due to the bran
So although not identical they are similar and like I say I'm pretty sure you can happily substitute them in most recipes, and definitely in this pikelet recipe.
Just to be on the safe side, I've included an image of the wholemeal flour that I use in this recipe, as you can see it is relatively course, you can see the bran flakes in it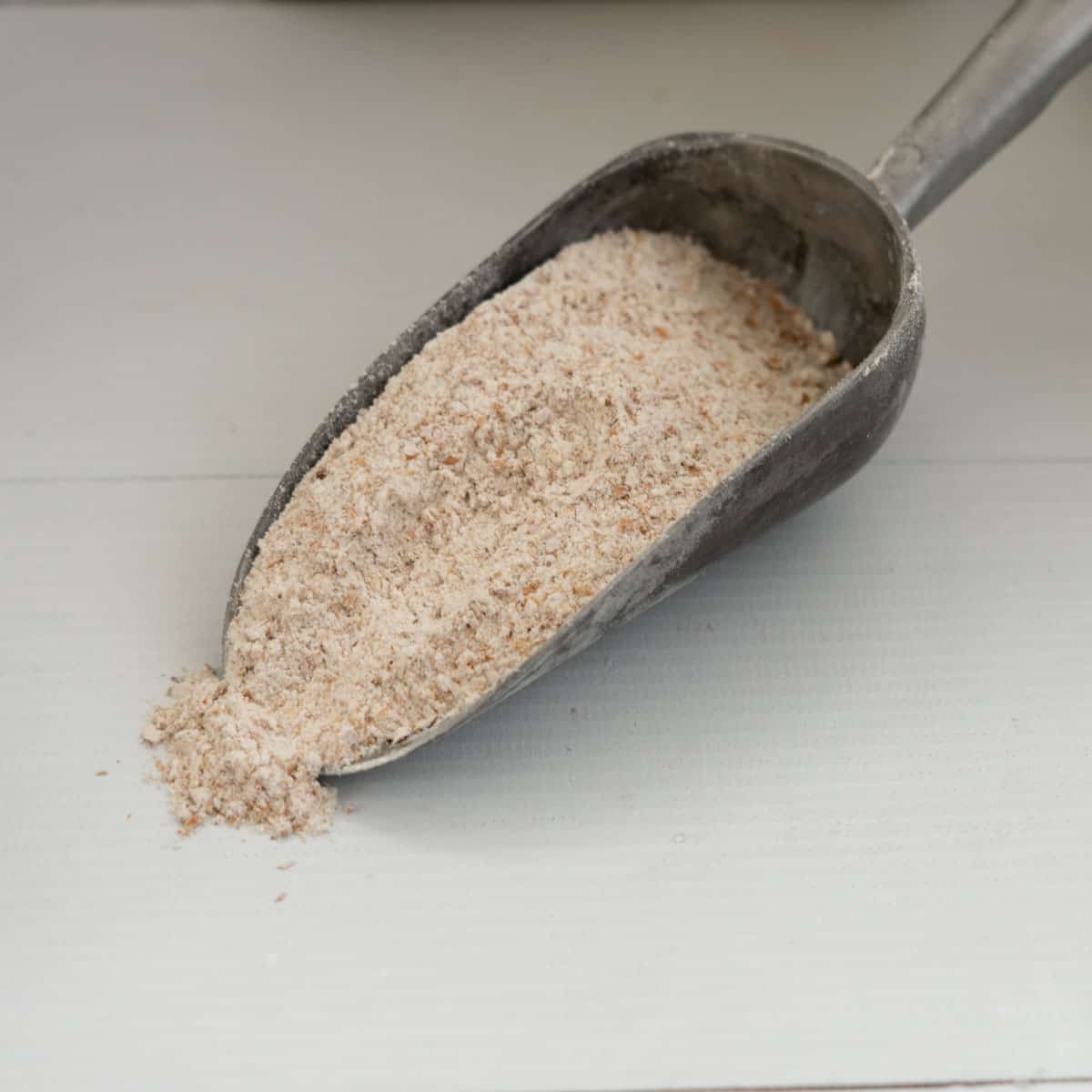 Pikelet Toppings For Babies
Like I said these pikelets are great vehicles for baby-friendly toppings.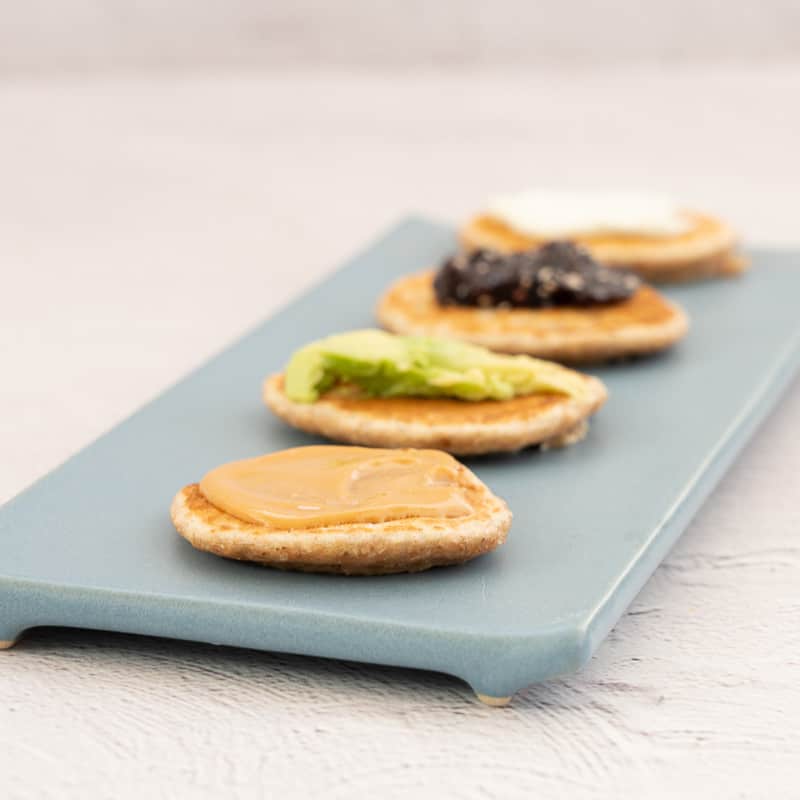 Some nutritious ideas include:
Nut Butters (the latest guidelines suggest we shouldn't delay the introduction of nuts or peanuts for babies
Avocado
Cream Cheese, Ricotta or greek yoghurt
Chia Jam (You can make chia jam with no added sugar)
Mashed banana
The only toppings to really avoid would be those that are high in salt and honey, honey should not be introduced to babies until they are over 12 months old.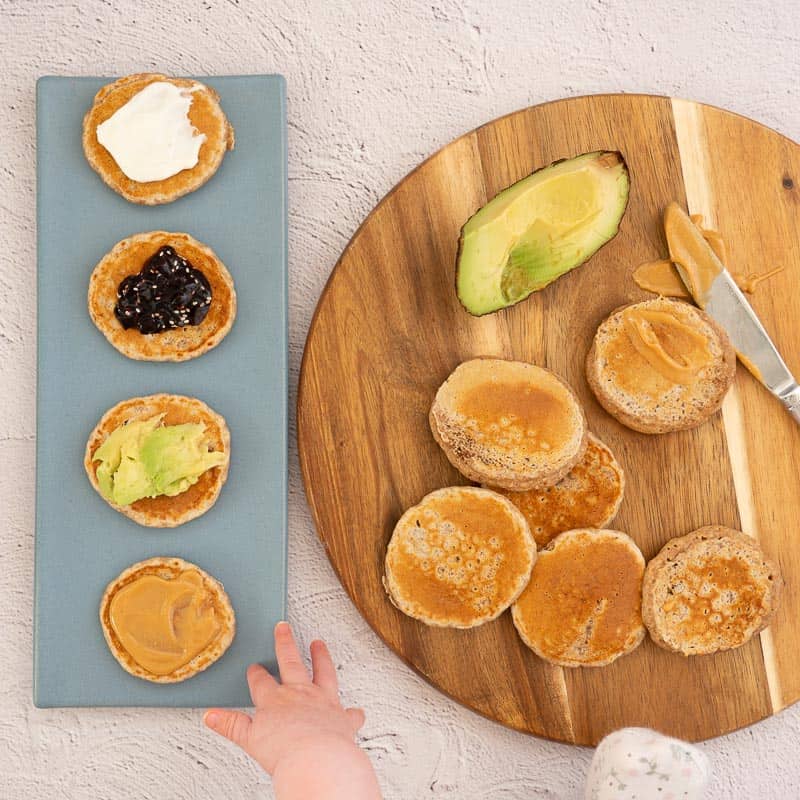 Baby Led Weaning Pancake Recipes
I have one other pikelet recipe on my website Banana Oat Pikelets, they too are perfect for baby-led weaning.
In essence, Pikelets are really like mini pancakes, and when it comes to mini pancakes the most popular on my website are my Apple Oat Pancakes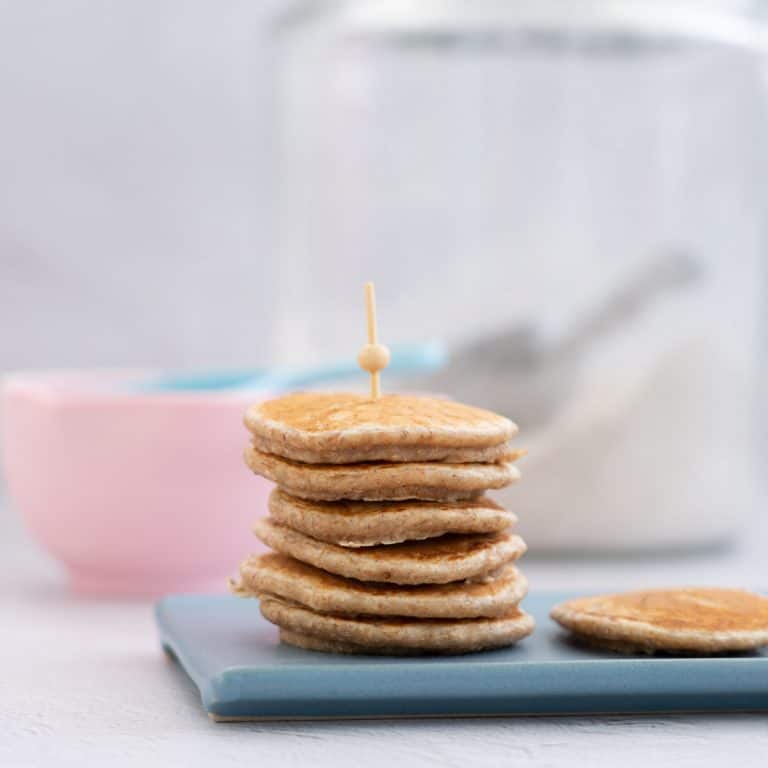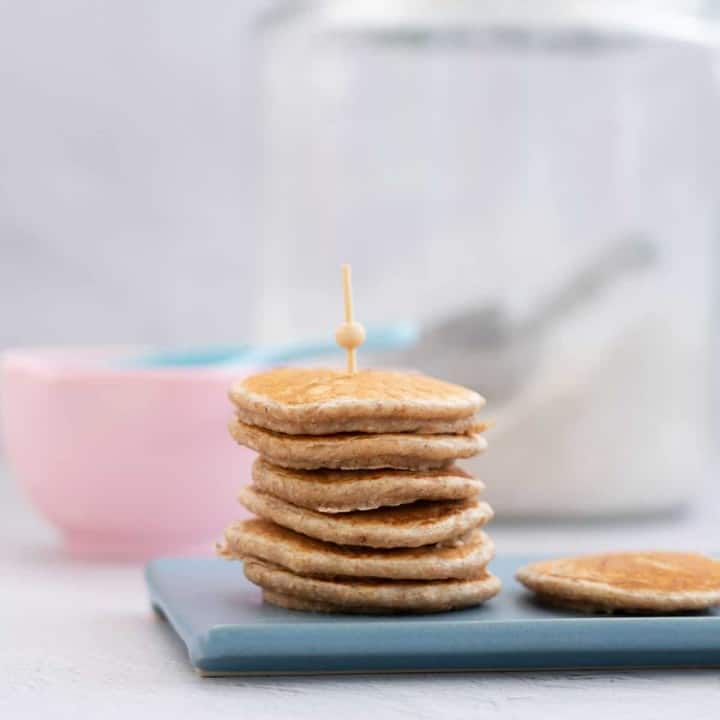 Wholemeal Pikelets
Wholemeal pikelets are a great snack or breakfast for babies toddlers and children, perfect texture for baby-led-weaning
Ingredients
1 cup wholemeal flour (160g)
2 teaspoon baking powder
½ teaspoon cinnamon (optional)
¾ cup milk (180 ml)
1 egg
½ teaspoon vanilla (optional)
Instructions
Heat a pan over medium heat
Place dry ingredients into a medium mixing bowl, use a whisk or fork to combine them well, ie to make sure the baking powder is evenly dispersed through the flour
Add the wet ingredients and whisk until combined
Grease heated pan with either butter or oil
Drop spoonfuls of pikelet mix onto the pan, cook for 1-2 minutes (you should start to see bubbles forming on the surface of the pikelet, this means they are ready to flip
Cook for a further 1-2 minutes on the other side
Notes
I don't add sugar to this recipe when making it for babies, you can add a tablespoon of sugar and a pinch of salt if you are making these for bigger kids
If your baby needs dairy-free, you can substitute the cow's milk for a dairy-free milk alternative
Nutrition Information:
Yield:

12
Serving Size:

1
Amount Per Serving:
Calories:

49
Total Fat:

1g
Saturated Fat:

0g
Trans Fat:

0g
Unsaturated Fat:

0g
Cholesterol:

17mg
Sodium:

95mg
Carbohydrates:

8g
Fiber:

1g
Sugar:

0g
Protein:

2g
Please know this nutrition analysis is based on the ingredients only, this recipe has not been sent to a laboratory for independent testing