THIS POST MAY CONTAIN AFFILIATE LINKS.
Let's talk sandwich ideas for kids, today I'm going to share:
Tips for building a good sandwich for kids
How to prevent soggy sandwiches
4 of my kids favourite and easy sandwiches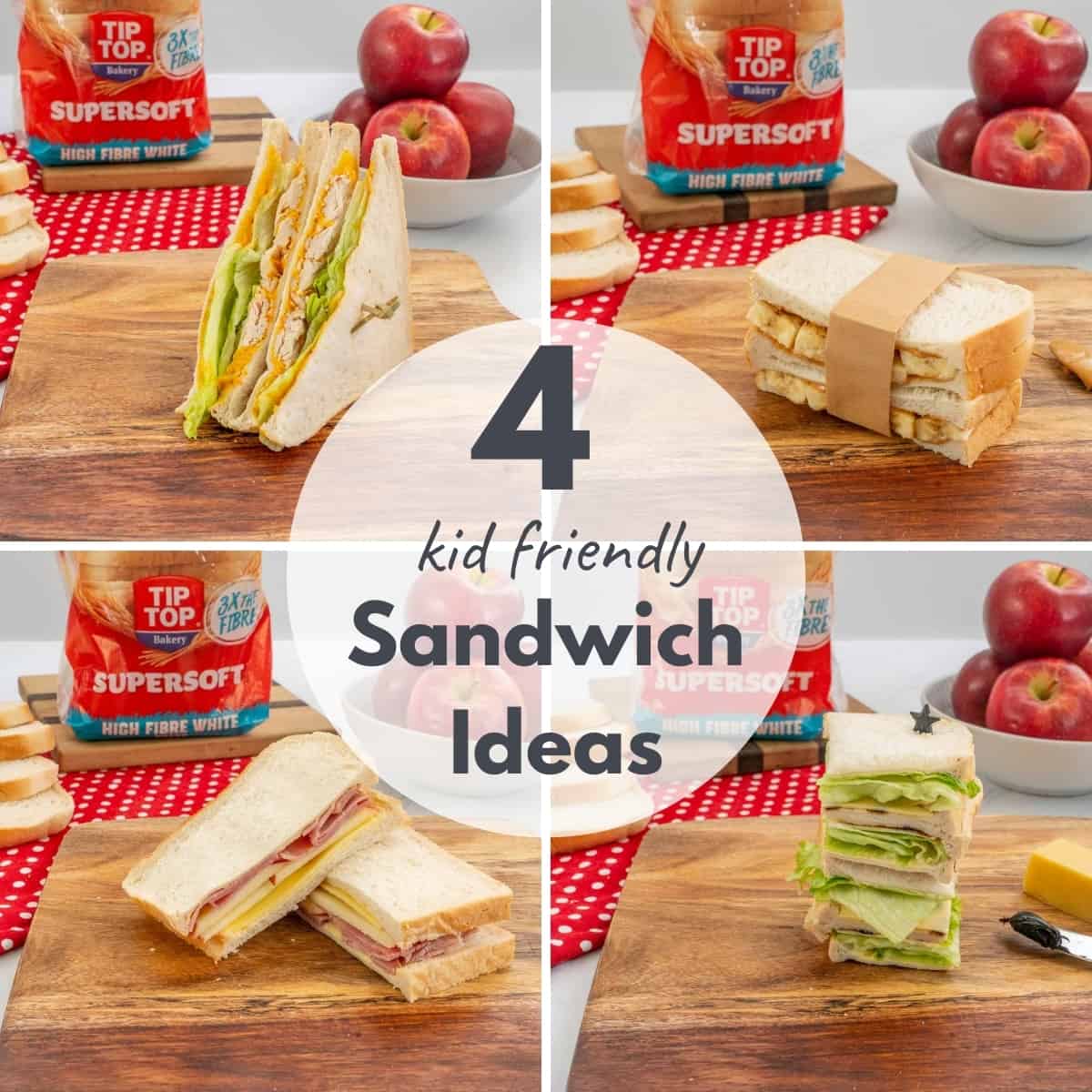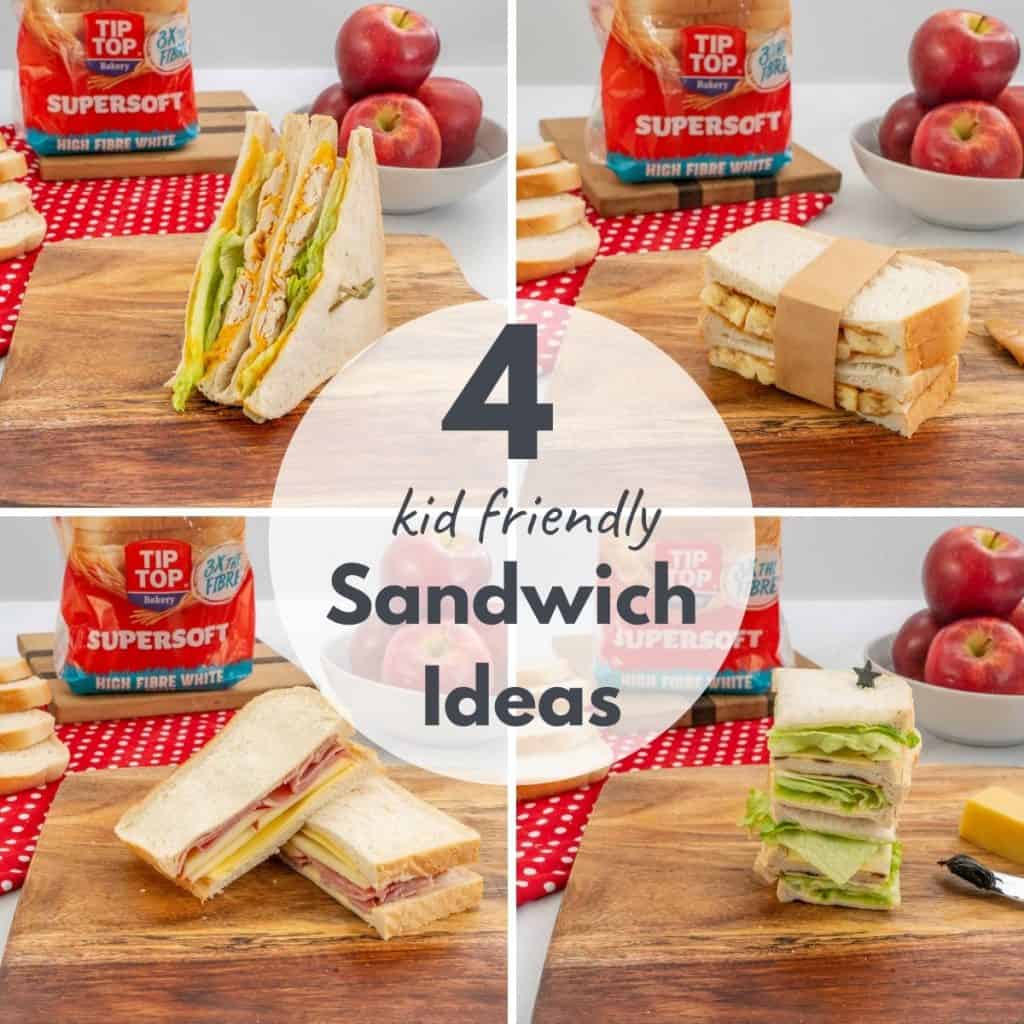 This post was made possible by the NEW TipTop Supersoft High Fibre White Toast loaf. A delicious loaf of white bread that has 3 times as much fibre as their regular Supersoft White Toast loaf. If your kids are fans of white bread then this may be a simple swap to increase their daily fibre intake!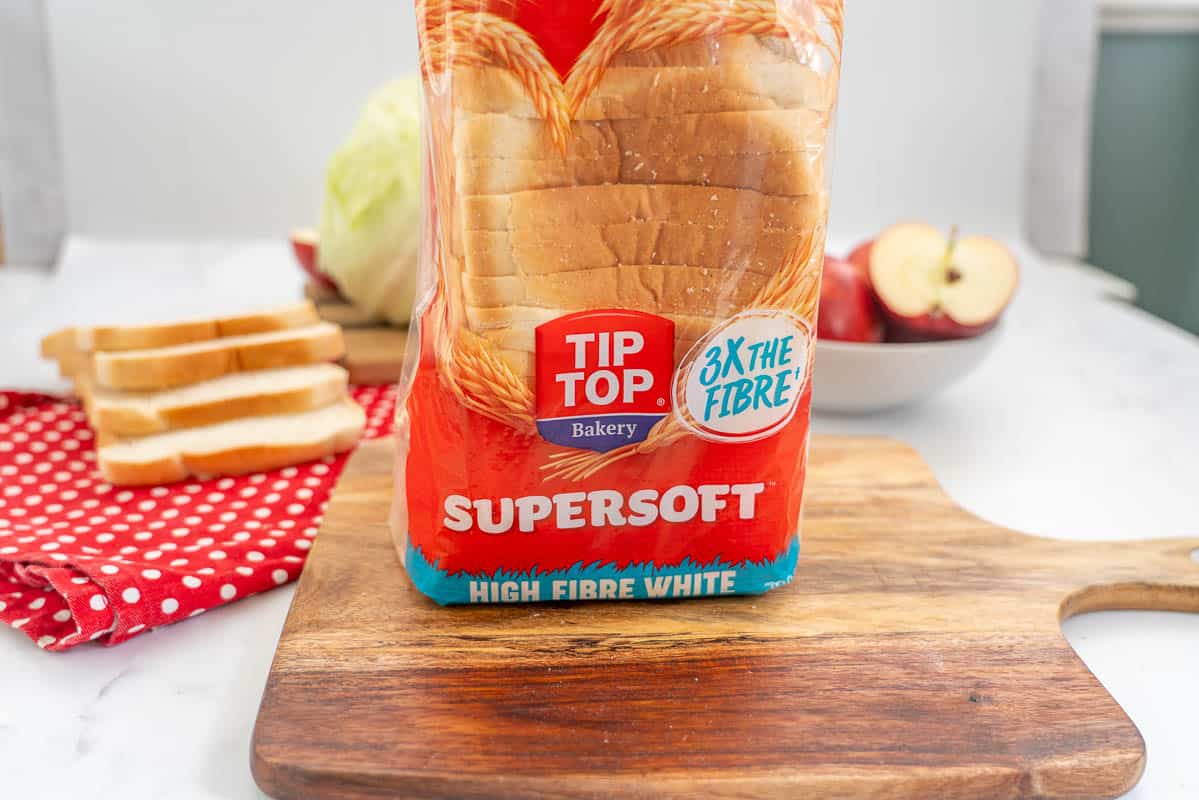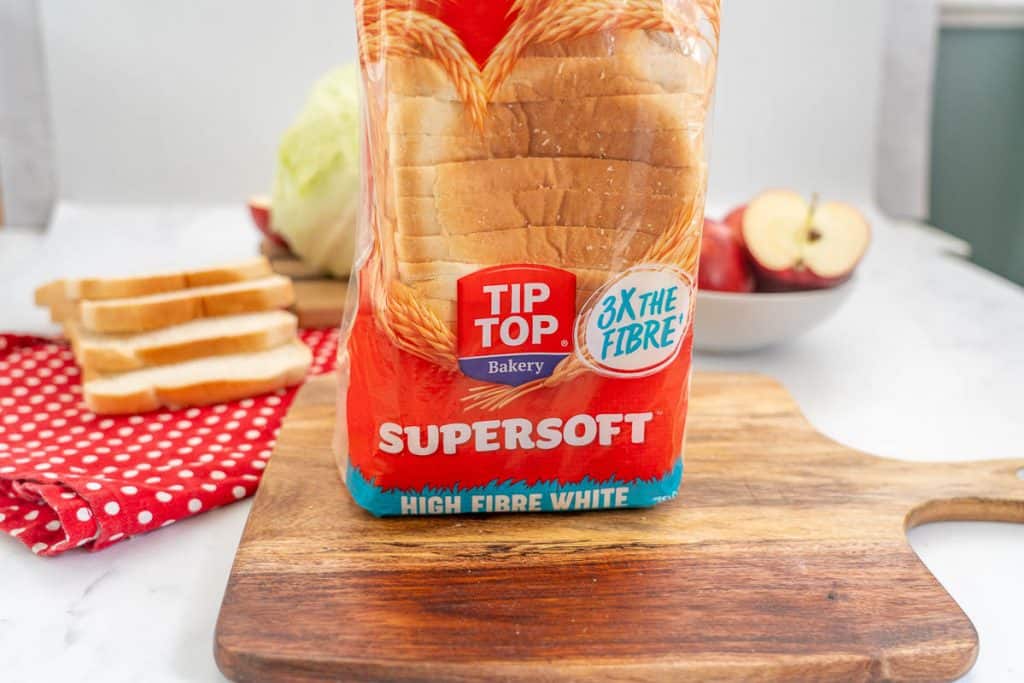 Fibre for kids
According to Sarah Hanrahan, CEO of the New Zealand Nutrition Foundation,
"The requirement for fibre increases as children grow. Bread can be an important source of fibre, particularly when children can be choosy about what they eat and they reject other sources of fibre (or only have in small amounts) like vegetables, wholegrain cereals, legumes (beans and lentils) and some fruits. Generally, bread is well liked by children and can be a useful vehicle to get other foods into the diet e.g., sandwiches that include vegetables like lettuce, carrot, tomato and protein foods like cheese, chicken etc."
Tips for building a good kids sandwich
Keep it simple:
First off, when it comes to sandwiches for the school lunchbox, don't panic. It is fine for them to be basic. They don't have to be exotic or have loads of complex ingredients.
Stick with what they like:
Don't feel pressured to add fillings to your kids sandwiches that you know they don't like. Of course, many parents' goal is for their kids to be adventurous confident eaters. The sandwich in the lunchbox may not be the best time to try out something new, especially if your child is cautious with unfamiliar foods
Start with a protein and or nourishing fat:
Avocado, Cheese, Chicken, Chickpeas, Egg, Ham, Hummus, Nut butter, Meats, Peanut butter, Salmon, Tuna
Add some veggies or fruit
Apple, Banana, Cabbage, Carrot, Celery, Coleslaw, Corn, Cucumber, Lettuce, Pear, Pickles, Spinach,
Extra Flavours
Aioli, Pesto, Pepper, Mustard, Mayonnaise, Relish, Salt, Salsa, Sauce
Keep it cool
On hot days pack lunchboxes in an insulated lunch bag or pop something frozen in the lunchbox to keep everything cool. A warm sandwich can be very unpleasant.
Construct the sandwich to avoid sogginess!
Soggy sandwiches are awful, if you think about how you build the sandwich and the order in which you add the fillings you can really reduce the chance of the dreaded sodden sandwich. I've got some tips below on the best way to build a sandwich.
Top Tips
Here is how you can build a great sandwich for your kids lunchbox!
It's all about the order of of the fillings that can make a huge difference and mean no more sodden sandwiches
Spread the bread with a fat
Fat repels water, so spreading your bread with a fat such as butter actually adds a waterproof layer that will help to prevent soggy sandwiches
Spreadable Fats: Butter, Margarine, Cream cheese, Peanut butter or your favourite nut/seed butter
Solid barrier fillings to the outside
The fat waterproofs your bread, but constructing your sandwich so that the most solid and dry fillings are on the outside next to the bread adds even more protection.
Barrier fillings: Slice of cheese, Meats, Lettuce or other salad leaves (ensure they are dry)
Condiments and juicy fillings in the middle
-Relish, hummus, mayonnaise, aioli
-Tomatoes, Cucumber, Beetroot, Avocado
-Fillings mixed with mayo such as egg salad, or chicken salad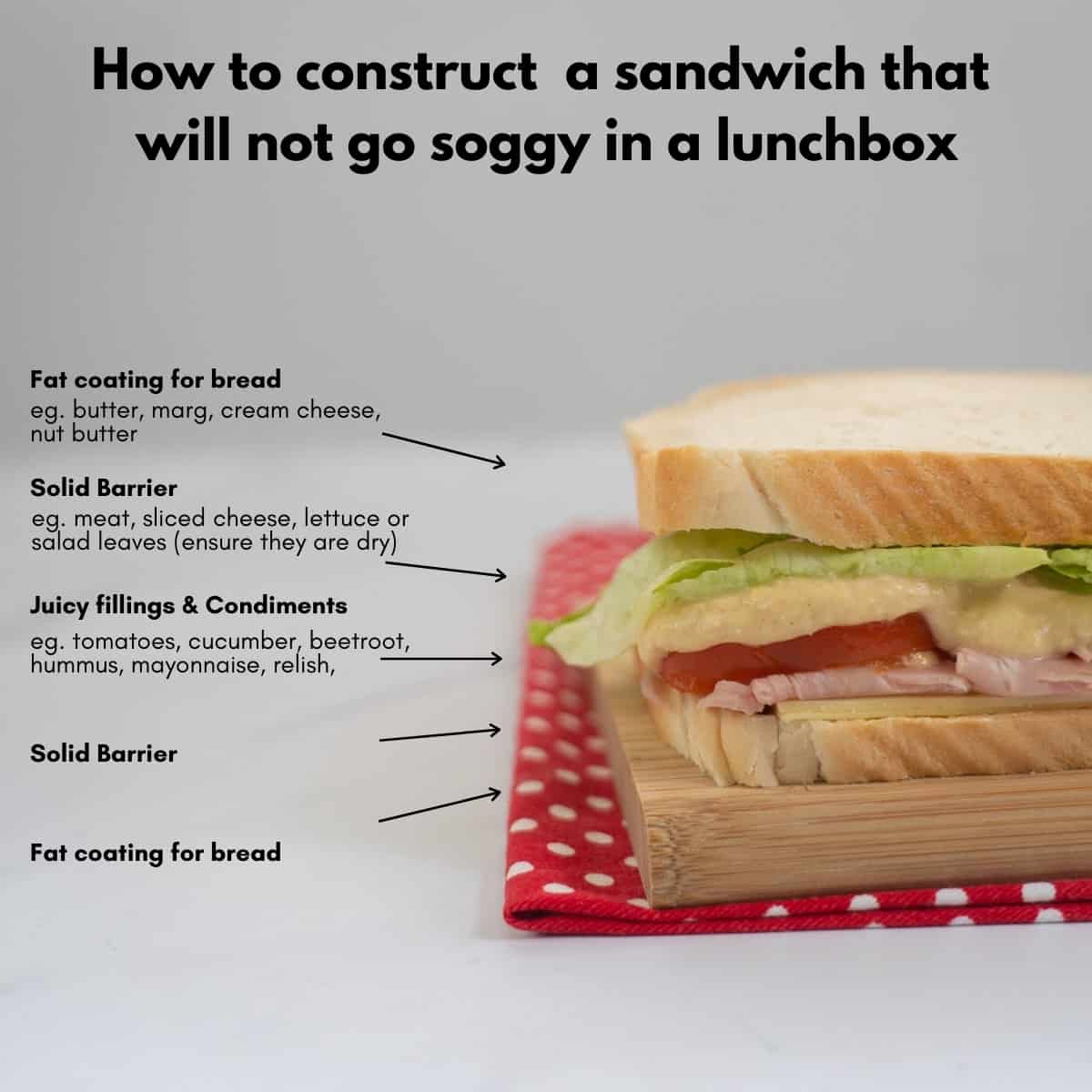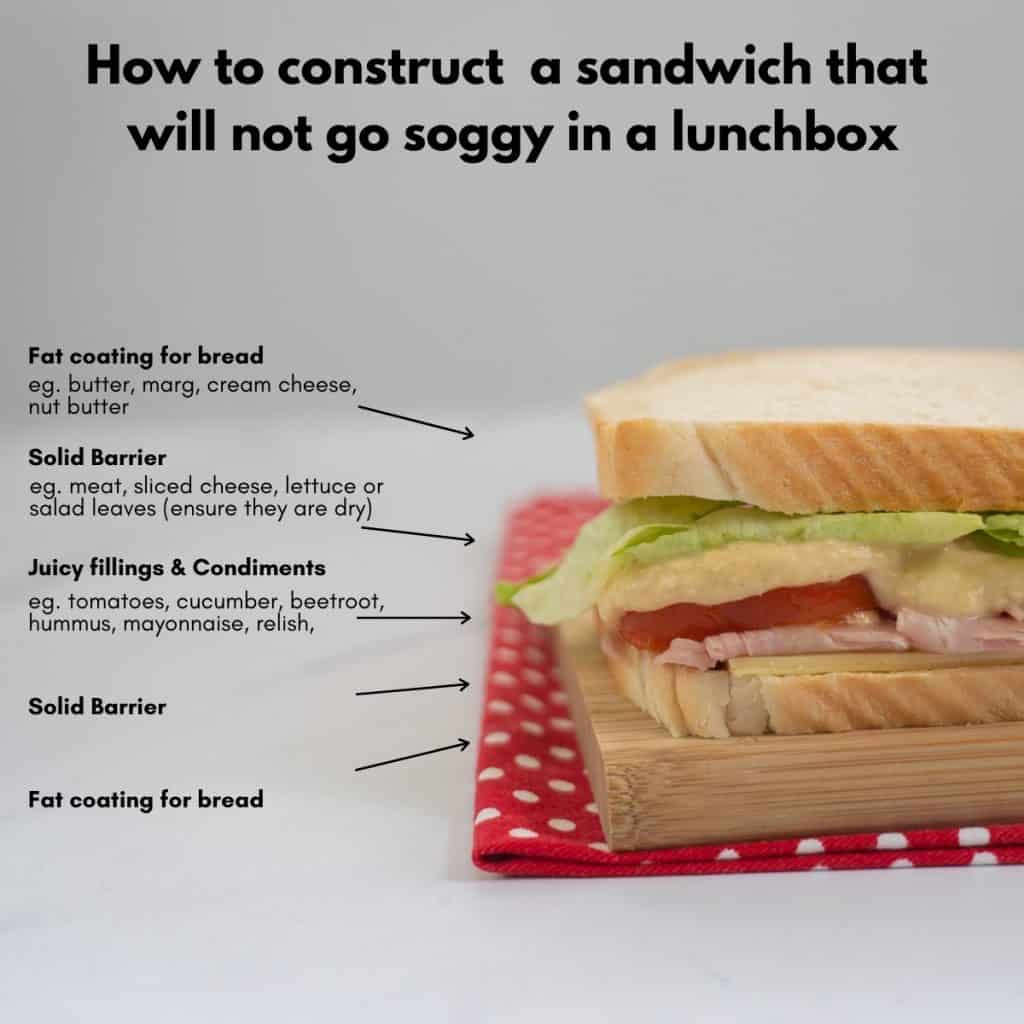 4 Kid Friendly Sandwich Ideas
These are 4 of my kids favourite lunchbox sandwiches. They are easy and have basic ingredients but some of the combos might be ones you haven't considered before. I've made a video that shows how I made all four sandwiches as well.
The Roast Dinner Leftovers Sandwich
If you have leftovers from a roast dinner this is a great way to turn them into a kid friendly sandwich.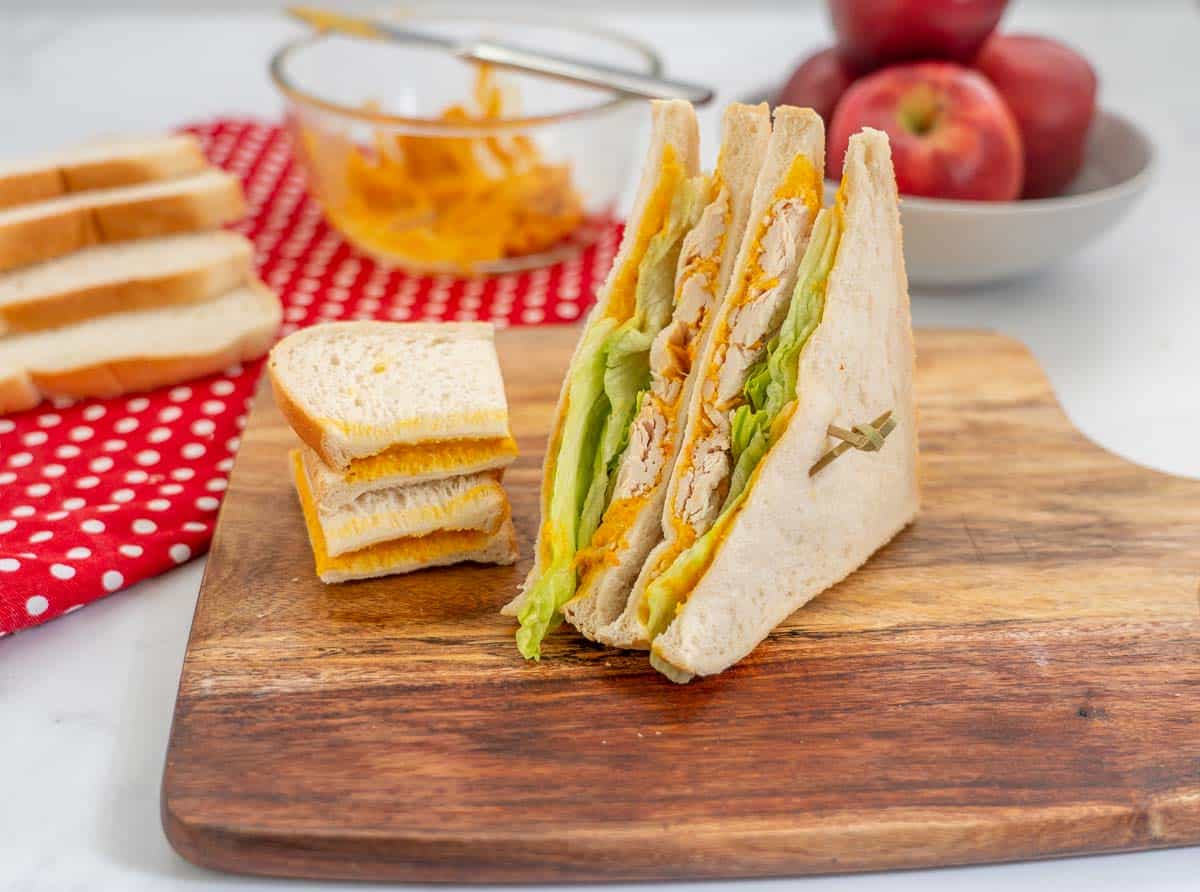 Start with left over roasted root veggies, the best ones are ones with a naturally sweeter flavour, think carrots, kumara or pumpkin.
Blend these with cream cheese, this will make a yummy roast veggie spread. You can store the cream cheese veggie spread in the fridge
Spread the cream cheese veggie spread onto both slices of bread.
Add leftover roast meat (I had chicken)
Optional add lettuce
And you're done, a yummy easy sandwich using up leftovers.
---
Ham Cheese & Apple Sandwich
Adding sliced apple to a ham and cheese sandwich adds some crunch and some sweetness, not to mention a little fruity boost. This is also a great grilled sandwich combo, so try popping it in a sandwich press for something a little different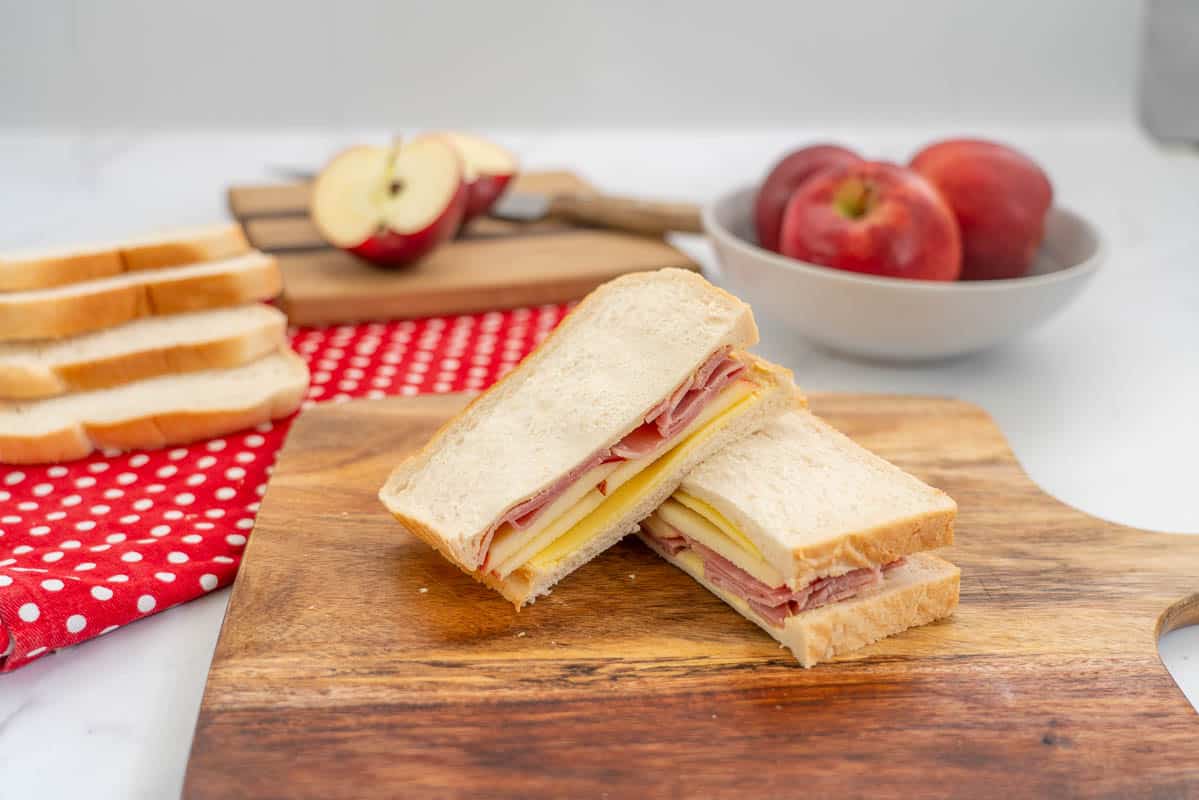 Spread your bread with butter or margarine, this will give your bread a waterproof coating
Add ham, then sliced apple and cheese, you want the apple between the ham and cheese as these barrier fillings will stop the bread going soggy.
Easy as that!
---
Peanut butter and banana sandwich
Peanut butter and banana is a yummy combo, the peanut butter coats the banana stopping it from making the sandwich brown and from making the bread soggy! Of course you will need to check your schools nut policy before you send this one in the lunchbox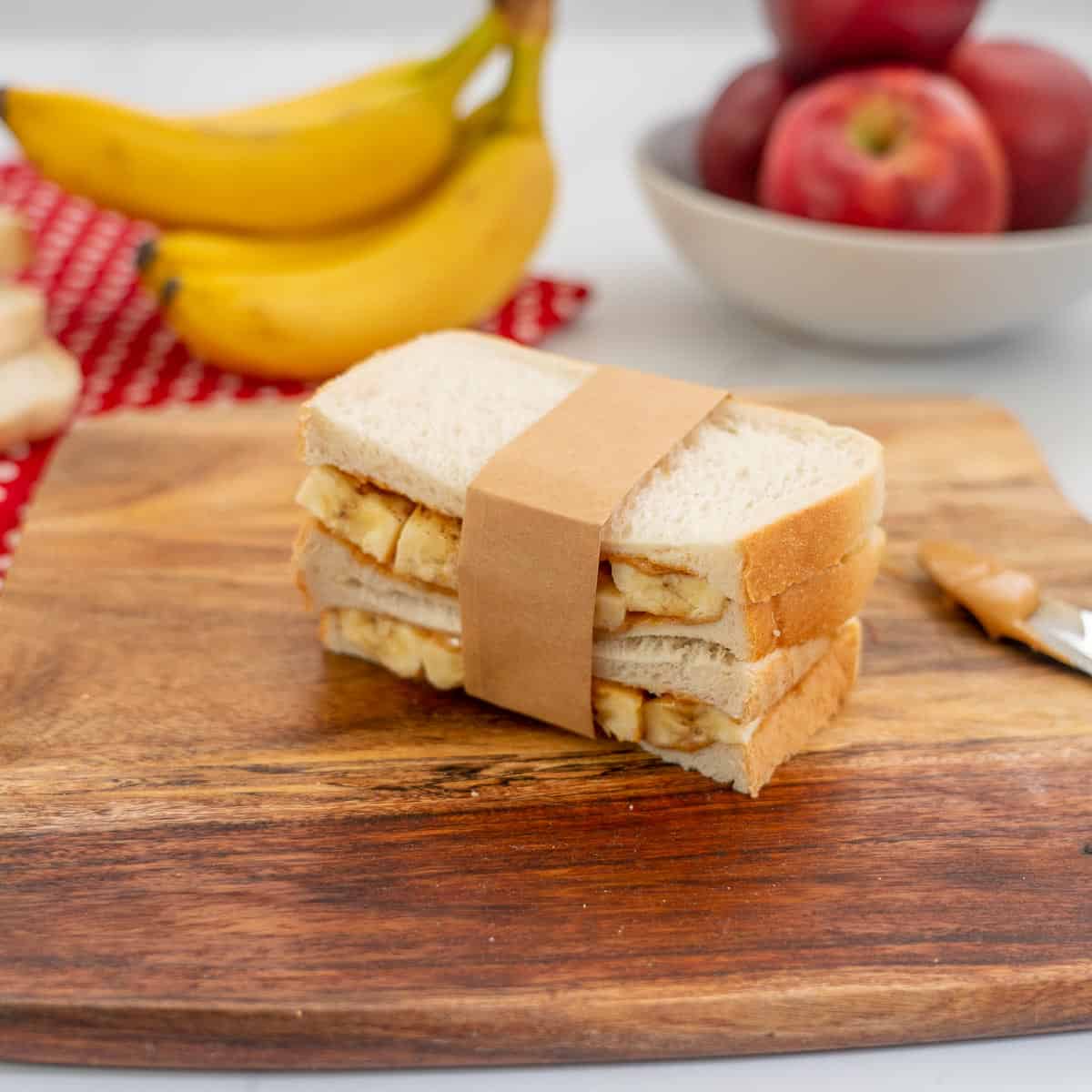 Spread 2 slices of bread with peanut butter
Top with sliced banana
Sprinkle with cinnamon
Sandwich together
---
The Kiwi Classic
As an 80s kid I grew up eating this sandwich combo, it's still so good and my kids love it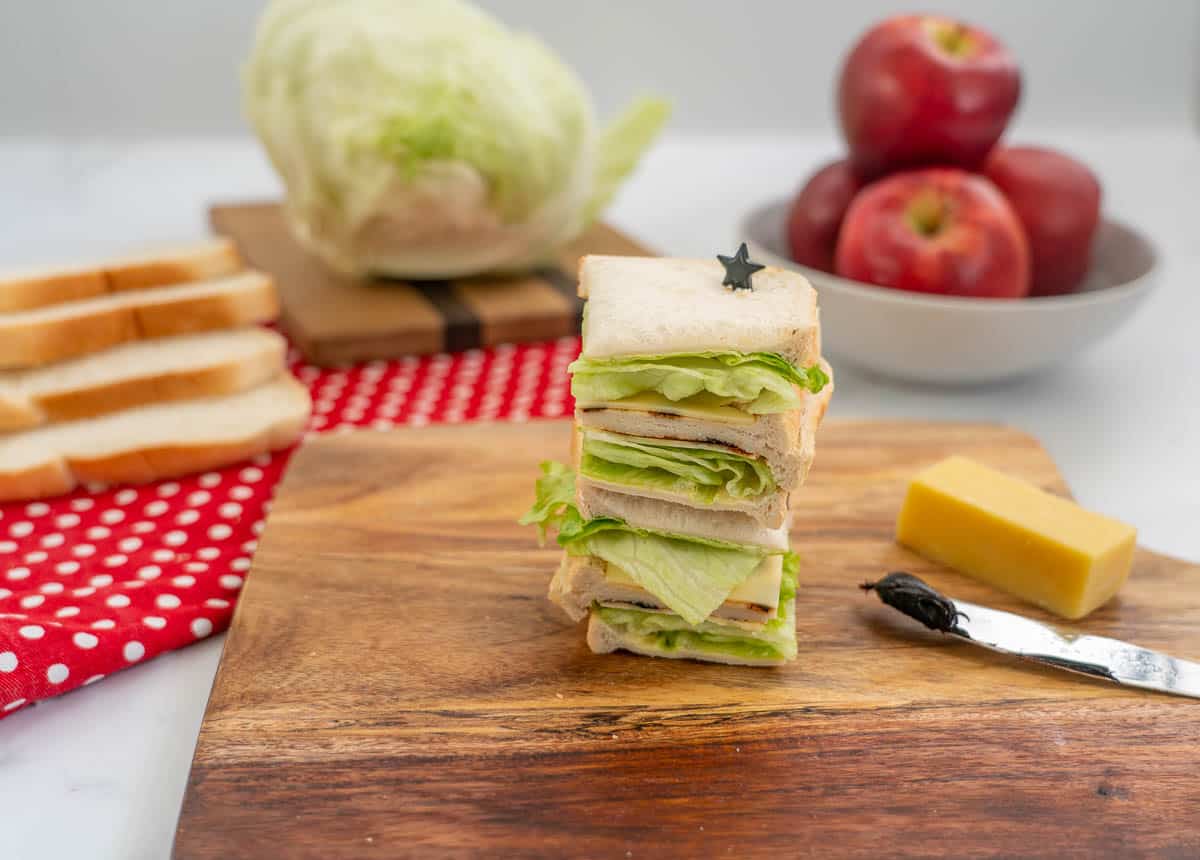 Spread 2 slices of bread with butter or margarine
Add a little marmite (or your favourite yeast spread) not too much though as the flavour is pretty strong
Add a slice of cheese
Add lettuce
Sandwich it all together!
Not everyone loves sandwiches in their lunchboxes, my kids absolutely love it when I make bread cases or check out this gallery for some other kid lunchbox ideas.