I'm not sure about your kids, but sheesh during the holidays they quantity of food they seem to eat rises exponentially! I find muffins quick to make and they fill up tummies like nothing on earth.
These healthy apple cinnamon muffins have been an absolute hit with all three of my kids, which means they have been on high rotation!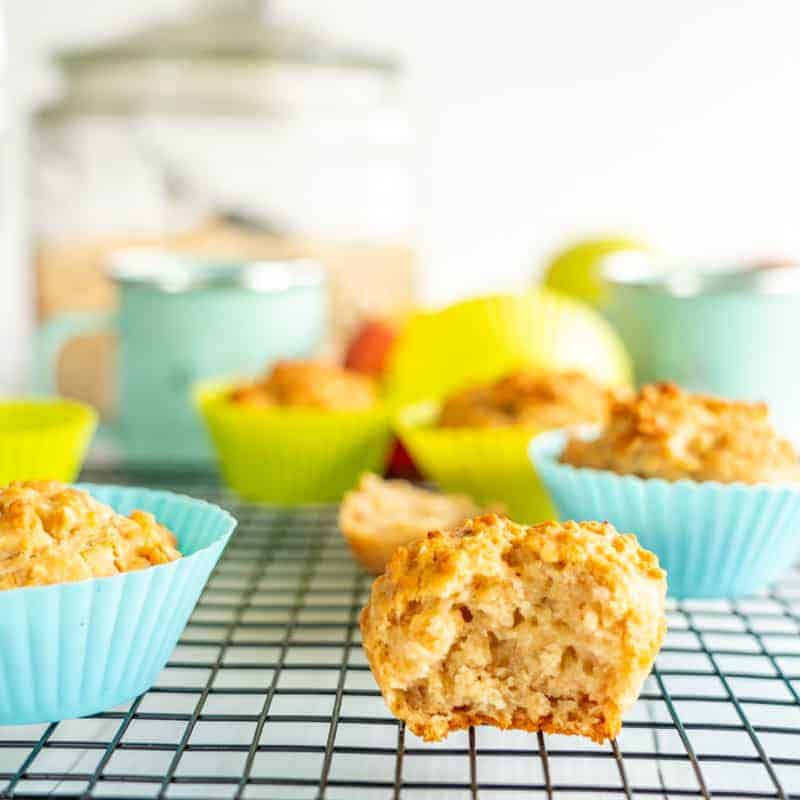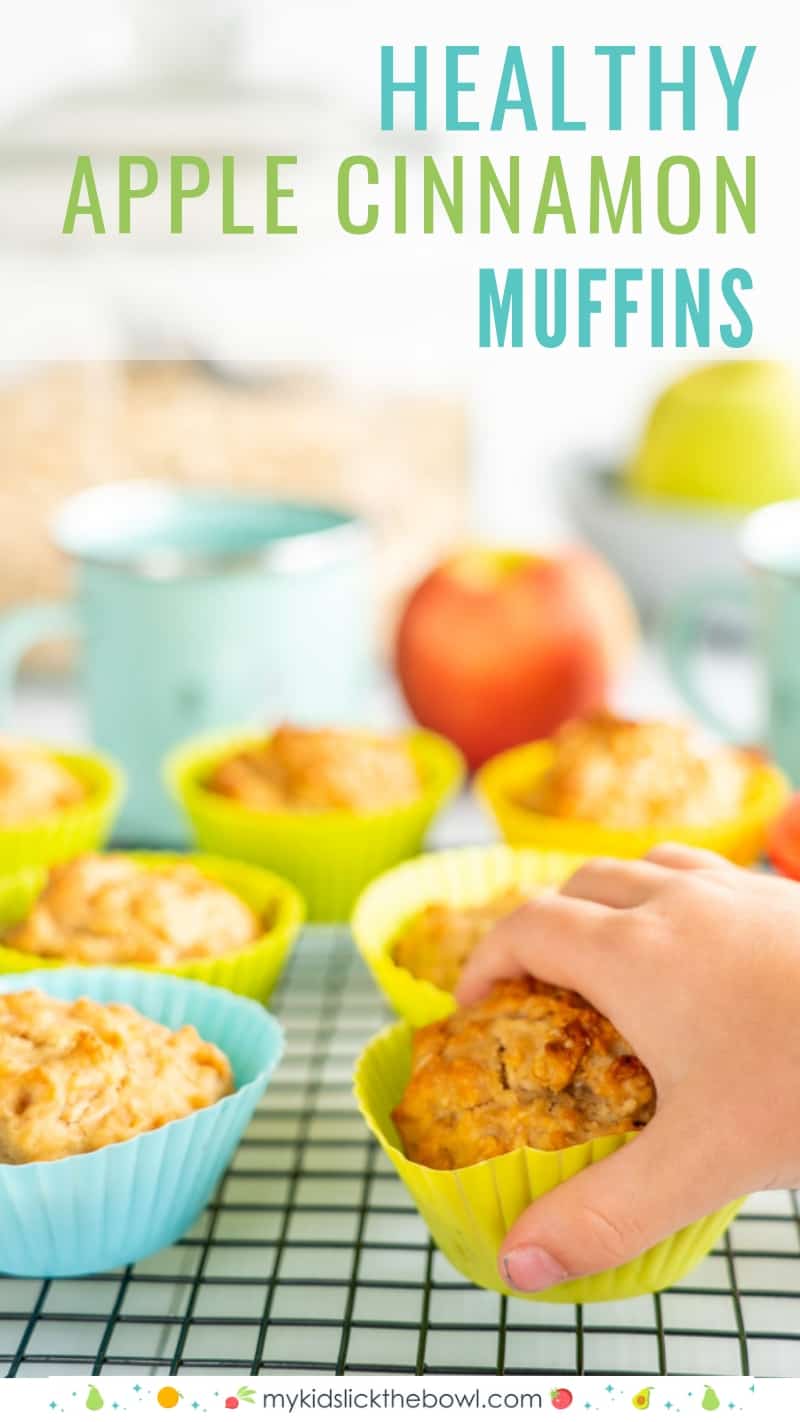 Healthy apple cinnamon muffins with applesauce
I use a little hack in these muffins to make them super easy to make. The hack is applesauce.
Yes in an ideal world I would totally pick my own organic apples, peel them, cook them and purée them to make my own applesauce.
But I'm currently 6 months pregnant with 3 other kiddos to run around after, so sometimes I will take a short cut!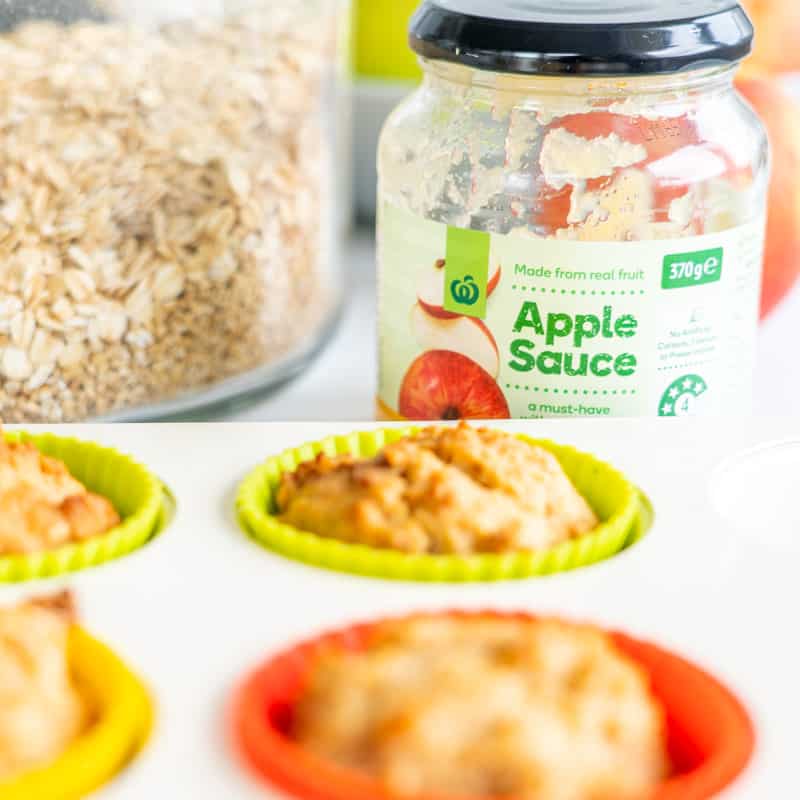 Tips for making applesauce muffins
feel absolutely free to make your own homemade applesauce for this recipe. By applesauce, I am referring to essentially apple purée
If you are going to use store-bought applesauce, look for an unsweetened apple sauce. In the ingredients list, there should be no sugar
You can usually find applesauce/apple purée in either the sauce section of the supermarket or the baby food section, I find it is a lot cheaper to buy it from the sauce section and if you choose the right one it has the same ingredients as the baby food apple purée ie 99%-100% apples
Applesauce means this recipe can be egg-free (apple sauce is a great egg replacer)
Applesauce can also be used to replace oil in a recipe, I prefer my muffins with some oil as I find they are a little softer in texture and keep a little bit better, but in this recipe, you can up the applesauce a little as a substitute for the oil
Applesauce is never going to be as healthy as your child eating a fresh apple, as by creating the applesauce you have concentrated the fresh apples which means by volume applesauce is higher in sugar than a fresh apple. But I do find that it can be useful in baking and does reduce the quantity of other sweeteners or sugars required to make the muffin healthy.
Are these apple cinnamon muffins actually healthy?
Well, that depends a little on your definition of healthy. For me, I consider these a healthy baked product. obviously not as healthy as a plain unadulterated apple, but sometimes kids need a bit more than fruit in their tummies to fuel them up.
I use a 50:50 ratio of flour to oats in this muffin ratio. I often add oats to muffins to replace some of the flour as I find oats provide a more sustained source of energy and are higher in fibre than plain flour.
If you wish to increase the fibre even further you could use wholemeal flour instead of plain white flour. My kids ate the muffins when I made them with wholemeal flour when they were warm, but told me they were too dense/chewy the following day, so I've gone with a mix of oats and white flour for the final recipe.
These muffins are refined sugar-free, egg-free and dairy-free which can make them useful for children with allergies. The recipe should work with gluten-free flour instead of plain flour but I have not tested this.
These muffins are baby-friendly so can be used baby-led weaning as well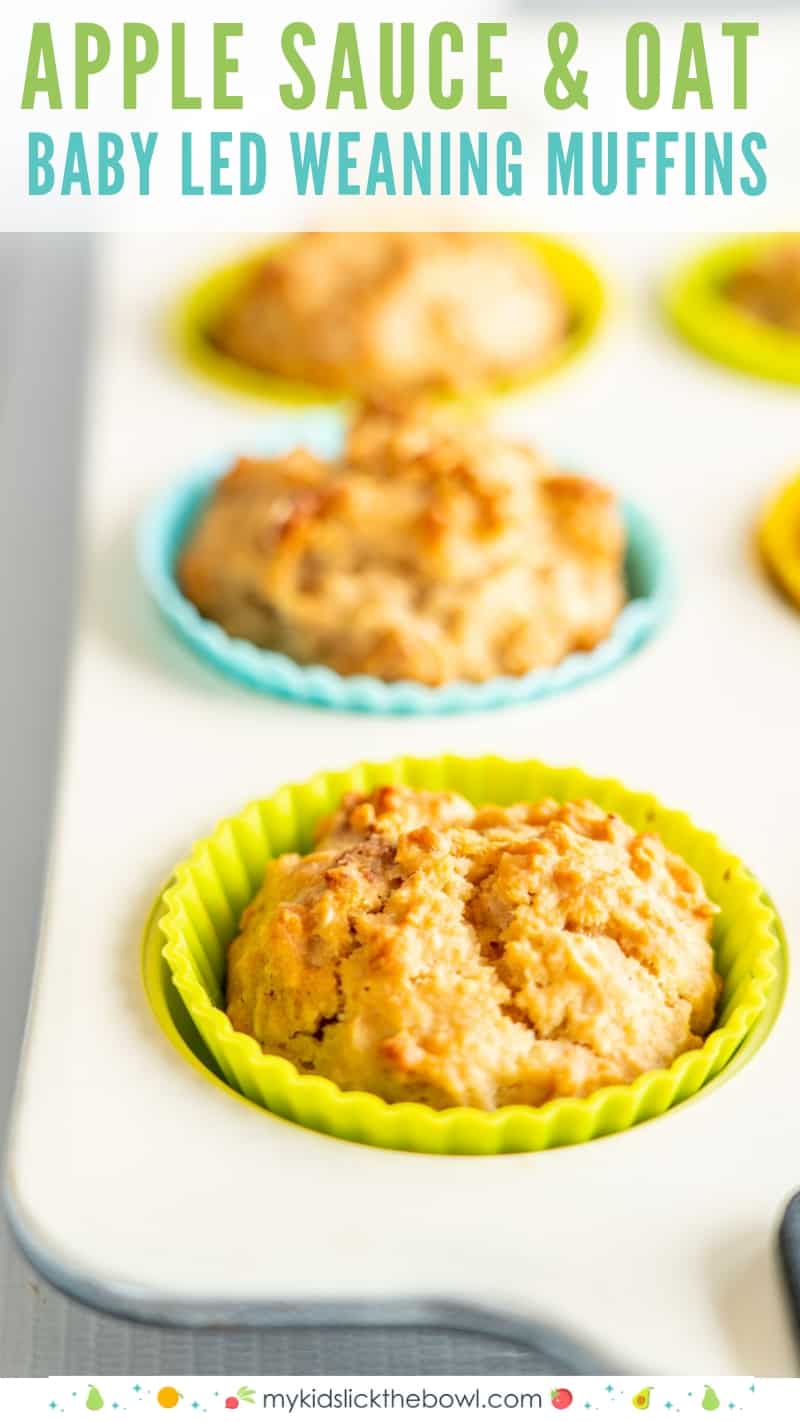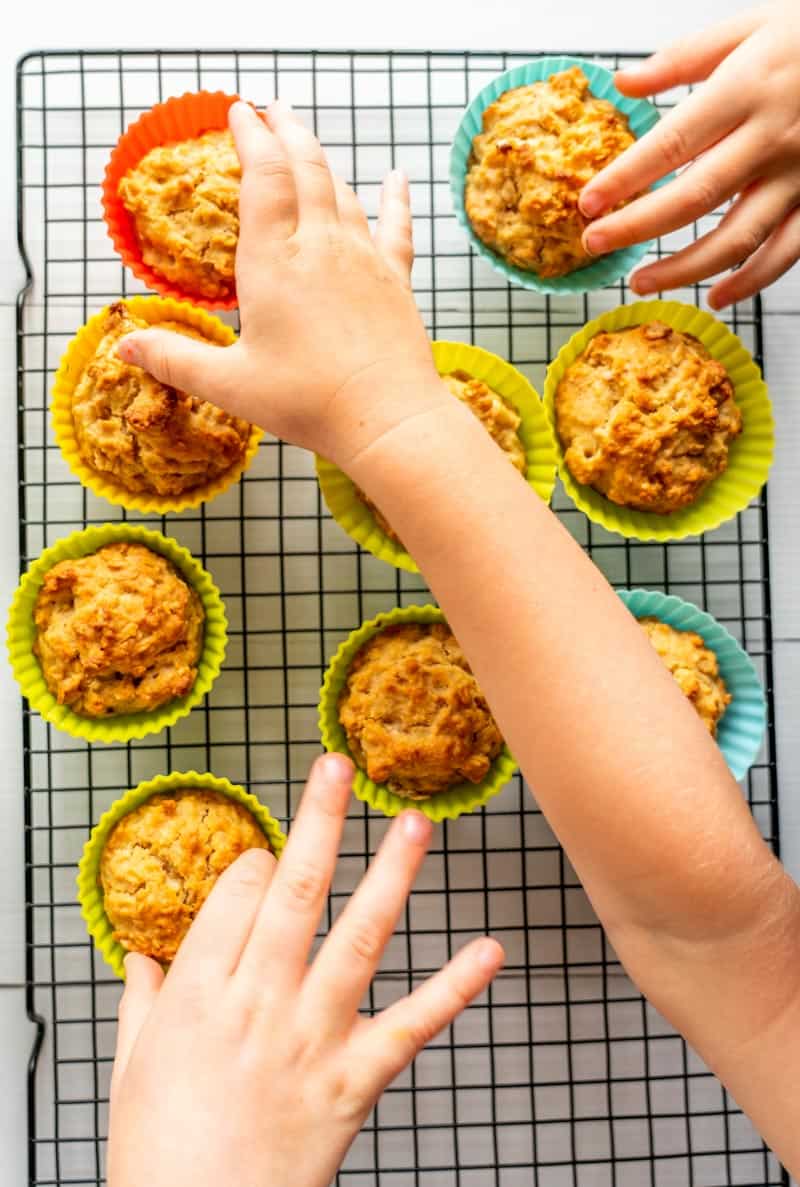 Other muffin recipes to check out on my website
I am an ambassador for Countdown New Zealand this means they support my blog by gifting ingredients for recipe creation. I used Essentials no added sugar apple sauce in this recipe, which was were gifted by Countdown NZ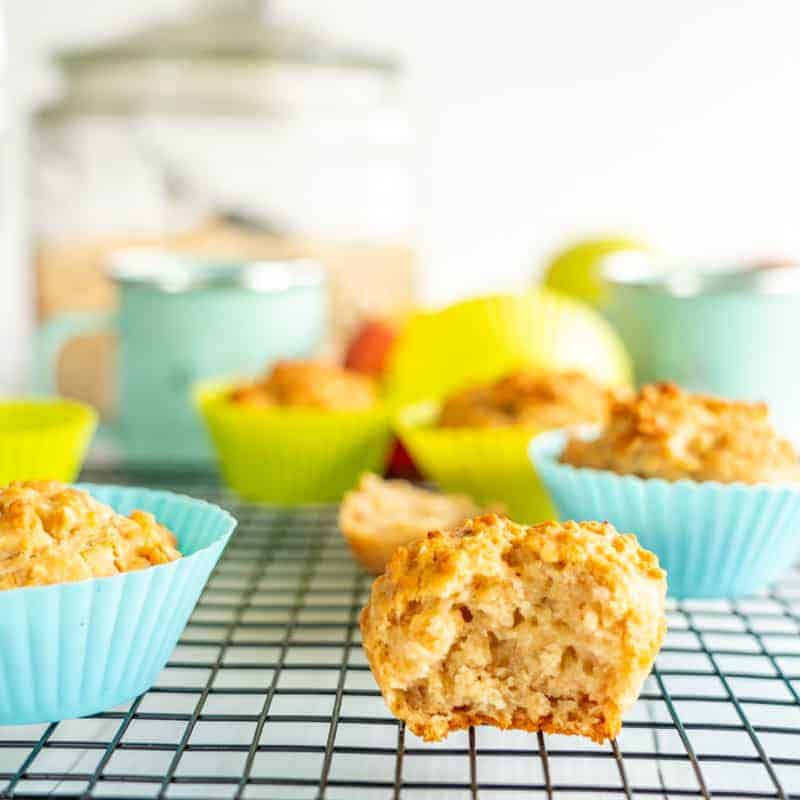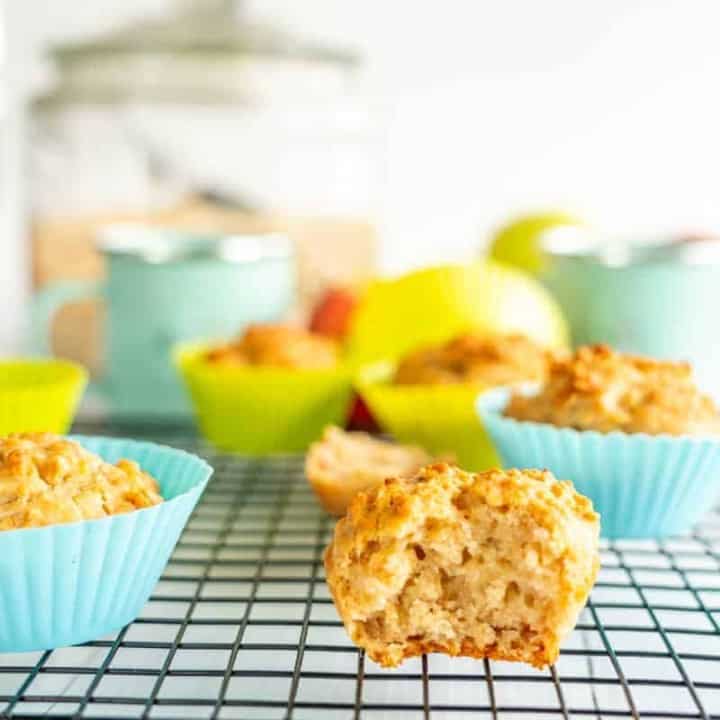 Healthy Apple Cinnamon Muffins
Healthy easy cinnamon spiced apple muffins, made with applesauce, and oatmeal a dairy free egg free vegan recipe also great for toddlers
Ingredients
1 cup apple sauce
0.33 cup oil
1 cup rolled oats
1 cup plain flour
3 tsp baking powder
1 tsp cinnamon
Instructions
Heat the oven to 180 degrees Celsius and line or grease a muffin tin (I have used silicon reusable muffin liners when testing this recipe
In a medium sized bowl mix the applesauce and oil together (I use a whisk for this)
Add the remaining ingredients, I sprinkle the baking powder around as I'm too lazy to sift!
Mix with a wooden spoon until just combined
Portion into prepared muffin tin
Bake at 180 degrees for 30 - 35 minutes
Notes
Be sure to use a non-flavoured oil when making this recipe, a strong extra virgin olive oil will be too overpowering
Nutrition Information:
Yield:

9
Serving Size:

1
Amount Per Serving:
Calories:

178
Total Fat:

9g
Saturated Fat:

1g
Trans Fat:

0g
Unsaturated Fat:

8g
Cholesterol:

0mg
Sodium:

164mg
Carbohydrates:

22g
Fiber:

2g
Sugar:

4g
Protein:

3g
This nutrition analysis is an estimate based on ingredients