This ginger pear parfait recipe is actually a throwback to my boarding school days and a dessert I remember being served. It was always so popular, and so easy to make. So I thought I would recreate it (a little flashier) as at boarding school it was served in plastic cups. But it remains delicious and easy.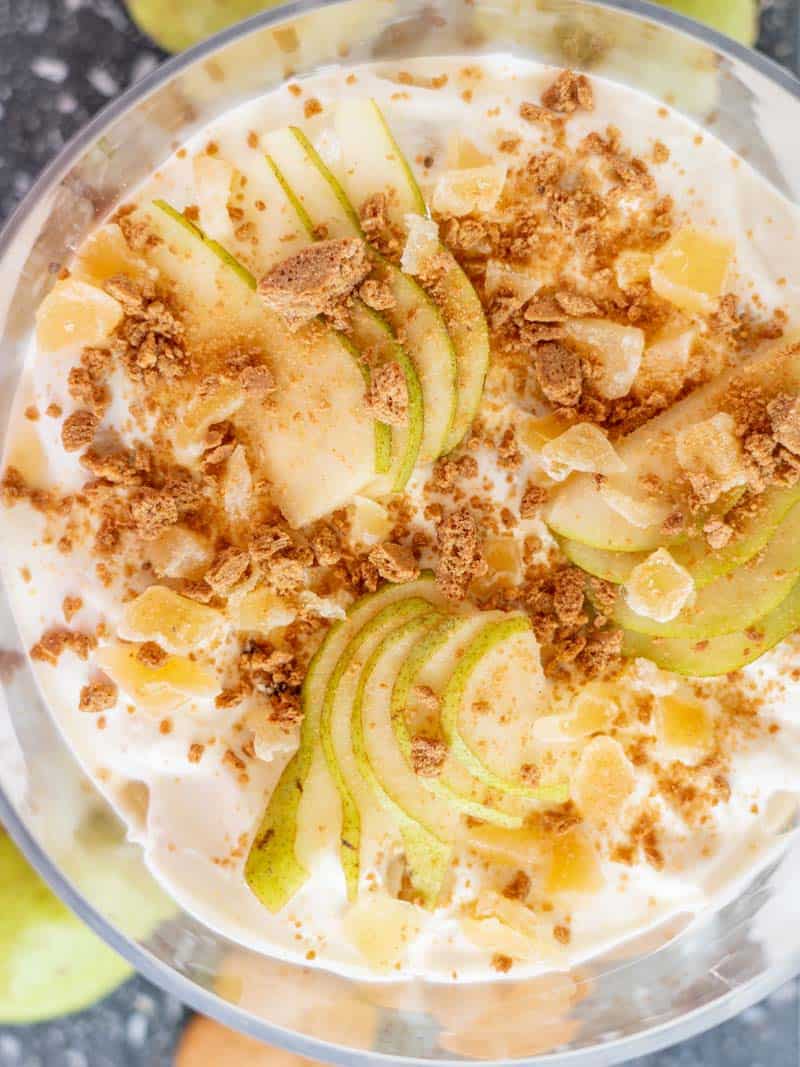 How to make ginger pear parfait with gingernuts!
I make this ginger pear parfait is made with gingernut biscuits. Which I think perhaps in the northern hemisphere are called ginger snaps? I am not totally sure about that. In NZ we have two main brands of gingernut biscuits, and I must say that for me it needs to be a Griffin's ginger nut all the way! Haha , no don't worry the recipe will work well with any hard/crunchy style ginger biscuit.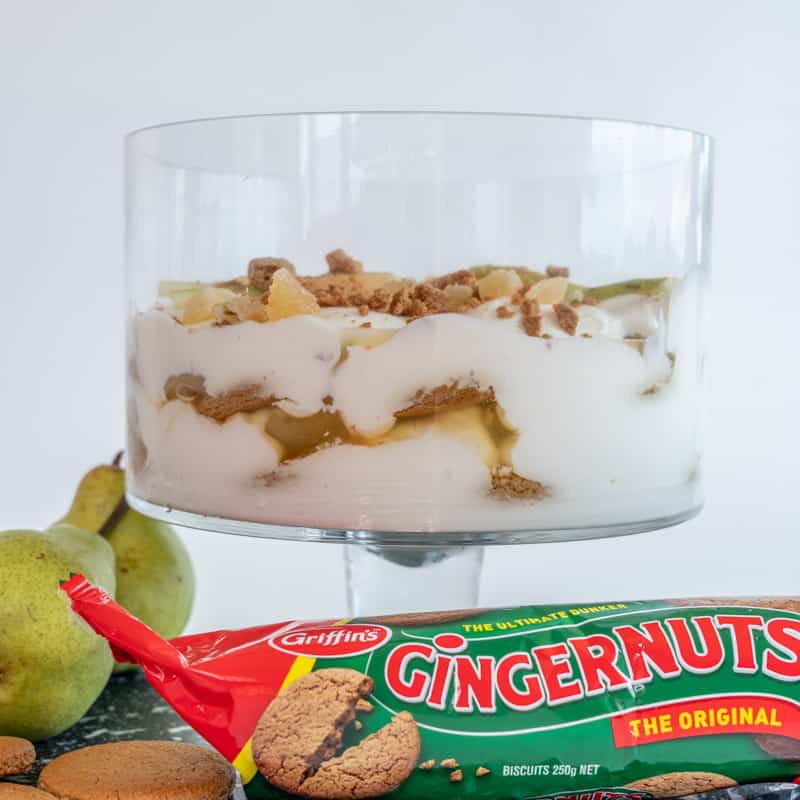 To make a ginger pear parfait with gingernuts you only really need two other ingredients, greek yoghurt, and tinned or poached pears. You can add a few extra things to the top to make it perhaps more festive, but they are not necessary.
Essentially what will happen is once layered and refrigerated you will end up with gooey softened gingernut cookies that kind of melt into the yoghurt. So you end up with tangy, ginger yoghurt with the sweet pears which is just a delicious combination.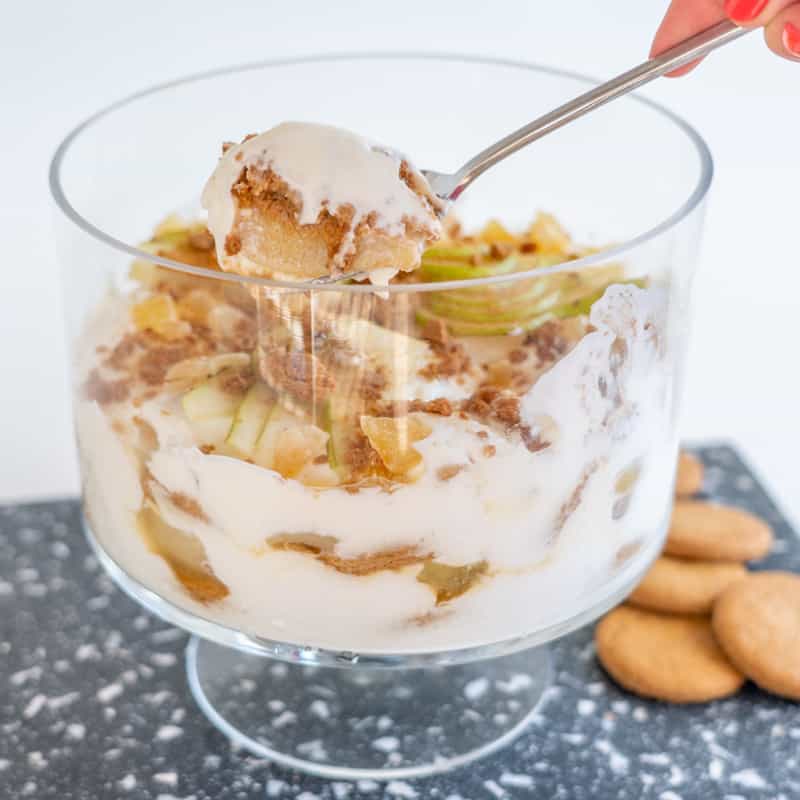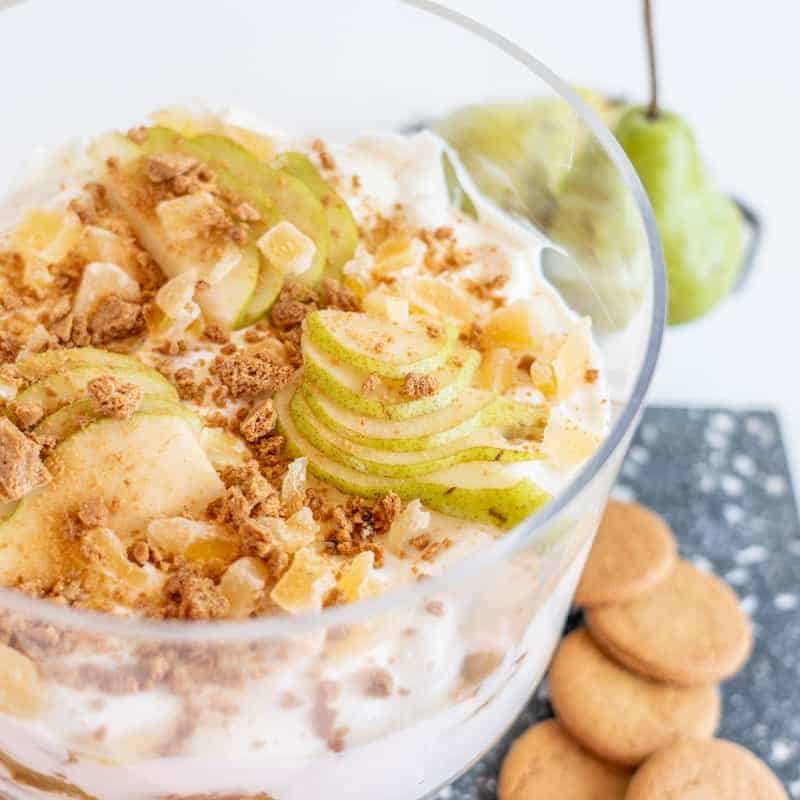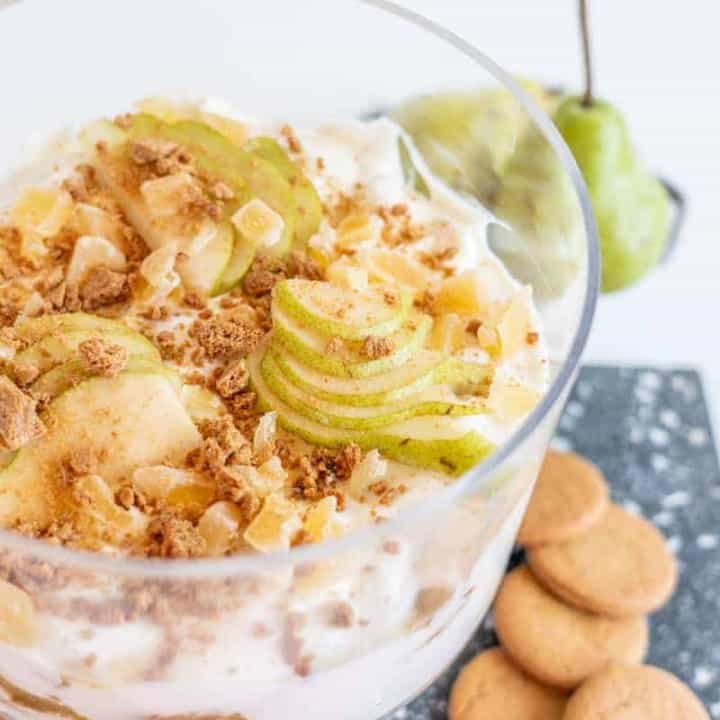 Ginger Pear Parfait
Ginger Pear Parfait an easy lighter dessert made with gingernut (gingersnap) biscuits, yoghurt and pears
Ingredients
250g gingernut biscuits (gingersnaps)
1.5 kg greek yoghurt
3 x 400g cans tinned or poached pear quarters
Crystalised ginger (optional)
1 Fresh pear (optional)
Instructions
Start by draining the pears and reserving the juice
In a large glass serving bowl (a trifle bowl is perfect) start by covering the bottom with a layer of greek yoghurt
Arrange a layer of gingernut biscuits on top of the yoghurt
Pour a small amount of the reserved pear juice on top of the biscuits (this will help them soften
Arrange a layer of pear quarters on top of the biscuits
Top with yoghurt and repeat with another layer of yoghurt, biscuits, pear juice and pears, finally topping with yoghurt
Refrigerate for at least 4 hours but overnight is even better
Top with the following (optional) thin slices of fresh pear, chopped crystallized ginger, cookie crumbs made from 1-2 gingernut biscuits
Notes
Any crunchy gingernut biscuits should work. My favourite in this recipe are Griffin's Gingernuts (not sponsored at all but they are a bit of a kiwi institution and have so many memories for me.
With the tinned pears make sure they are quite soft pears, some brands seem to have firmer tinned pears than other, the softer the better
Topping with crystallized ginger and pears is completely optional, you could try another topping
The amounts quoted is what I found filled my trifle bowl, but you can make this recipe to any size, just layer the three main ingredients, you can even make a single portion in a glass.
Nutrition Information:
Yield:

12
Serving Size:

1
Amount Per Serving:
Calories:

163
Total Fat:

5g
Saturated Fat:

2g
Trans Fat:

0g
Unsaturated Fat:

3g
Cholesterol:

8mg
Sodium:

209mg
Carbohydrates:

21g
Fiber:

1g
Sugar:

11g
Protein:

8g
Please know this nutrition analysis is based on the ingredients only, this recipe has not been sent to a laboratory for independent testing