We are all about Frozen at my house, with a four-year-old and three-year-old girl under my roof an Elsa Cake for a birthday party was going to happen at some stage, and it turns out the Elsa Cake happened this year!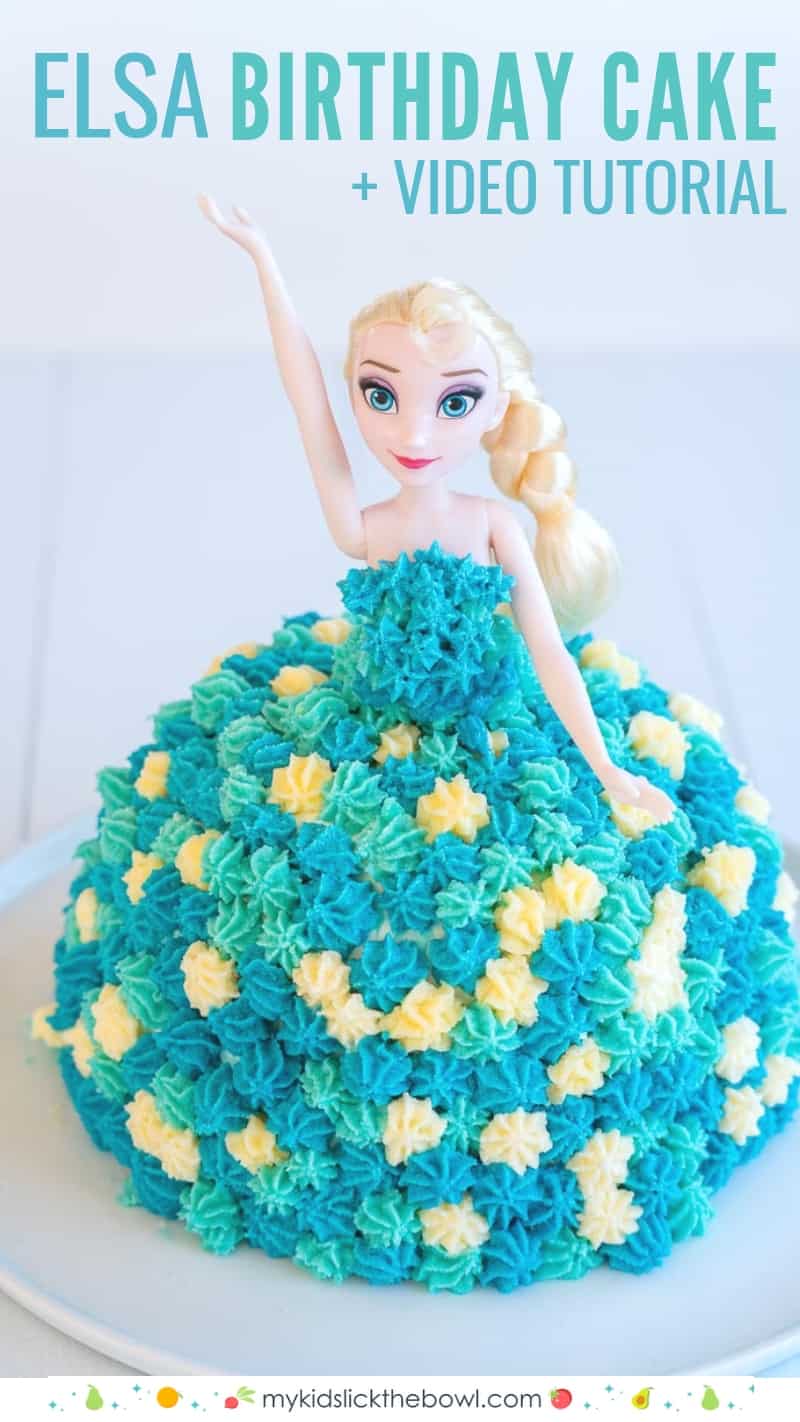 How to make a frozen Elsa Cake?
Making a 'Frozen' Elsa Cake is actually pretty easy, and in my version, it's a no-bake birthday cake! Yes, you heard me right, no-bake birthday cake.
The Frozen movie has ice and snow incorporated all the way through it, so I went 'Frozen' theme on this Elsa Cake too and made it out of Ice Cream. The best thing about Ice Cream Cakes is you can prepare them WAY WAY WAY in advance, and there is no baking involved what so ever.
The Elsa cake video below will take you through how to make a Frozen Elsa Cake, and then further down you will find printable step by step instructions
How to make an Elsa Cake Video Tutorial
How to make an Elsa Cake Topper
Haha, well I'm not really sure if what you would call what I did with an Elsa Doll 'making a cake topper' but it was certainly easy and certainly worked.
I removed Elsa's clothes, and popped off her legs so that she was just an Elsa torso.
I then dug a small well in the top of my ice cream cake and pushed her torso into the top of the cake. Voila that is how I made my Elsa Cake topper!
When I iced the cake I made sure to ice the bodice of her dress back on.
What colour icing for an Elsa Cake?
Well I suppose what colour to ice your Elsa Cake is entirely up to you.
But for the icing effect, I used I decided on 3 colours of buttercream. One-third of the buttercream I didn't colour at all is it remained cream.
I then used a turquoise gel food colouring to colour a third of the buttercream a very light turquoise and then the remaining third a darker turquoise.
If you are really patient and have more than 3 piping bags you could use more shades of turquoise.
How to decorate an Elsa Cake?
To decorate my Elsa Cake I started with using an Elsa Doll as a cake topper. I then made buttercream icing and coloured it so that I had one-third cream, one-third light turquoise, and one-third a dark turquoise.
I filled three piping bags and used an 8-point star tip on each of the piping bags. I'm pretty sure a 6 point star would be fine too though.
I then just took my time and randomly made icing stars in the different colours all over the ice cream cake. I did need to return the Elsa Cake to the freezer a couple of times during the icing process to stop her melting.
Icing the cake was not tricky, and my icing stars are not perfect but they looked fine.
It did take time though, so set the cake up somewhere where you can sit down while you are doing it so you are comfy.
DIY Birthday Cake Ideas
I am a huge fan of homemade birthday cakes, I try to make one for each of my kids each year, so I am building up quite a collection.
The plan is to get all of them up on the blog over the next little while. At the moment the one other I have already done is for the PJ Masks Fans.. if you have a PJ Masks fan then be sure to check out my PJ Masks Rainbow Layered Cake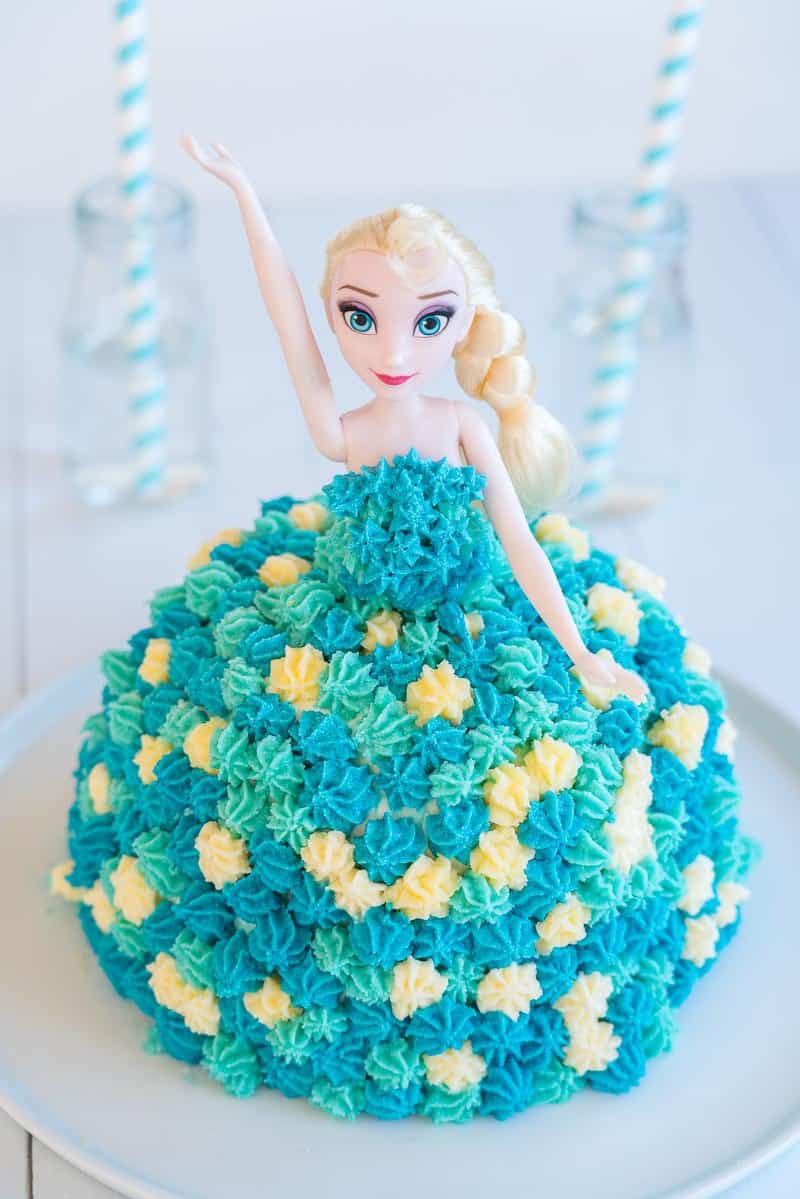 Elsa Birthday Cake
Yield 1 Cake
Elsa Ice Cream Cake an Easy DIY birthday Cake Idea for fans of the Frozen Movie, Includes a video tutorial 
Ingredients
Ingredients
4L Vanilla Ice Cream
150 g mini marshmallows
375 g butter
4.5 cups icing sugar
1.5 teaspoons vanilla
6 Tbsp milk
Blue Gel food colouring
Elsa Doll
Instructions
Leave the ice cream on the bench to soften
Line a medium mixing bowl with plastic wrap
In a second larger mixing bowl combine the softened ice cream with the marshmallows
Scoop the Ice cream and marshmallow mixture into the lined mixing bowl, freeze. This stage can be done well in advance of the party
A  day or two before the party, remove the ice cream and unwrap it. Place it on a large serving plate.
Take the Elsa doll, undress it, and remove the legs (these can be clicked back together after the party)
Take a hot spoon and scoop out a small well in the centre top of the ice cream, press the torso of Elsa into the hole. Place the cake back into the freezer
Prepare the buttercream icing
Start with softened butter (not melted, but soft). Use an electric beater or cake mixer to beat the butter until it is as white as possible. Then add 1/3 of the icing sugar and beat, add 1/3 of the milk, alternate adding the icing sugar and milk until it has all been added, flavour the icing with the vanilla
Separate the buttercream into 3 bowls, add blue food colouring to 2 of the bowls so that you end up with three colours of buttercream, 1 white, 1 light blue and 1 darker blue
Fill 3 piping bags with the buttercream icing, use a star tip
Take the Ice Cream out of the freezer, Pipe stars of icing on to the ice cream to create Elsa's Dress, I did mine very haphazardly and I think it looks fine. If the ice cream begins to melt, place the cake back into the freezer for half an hour or so to re-harden and then continue piping.
Decorate the torso of the Elsa Doll to create an icing bodice for her dress
Freeze the Ice Cream Cake until you are ready to serve it
Courses Birthday Cake
Cuisine Modern