I wouldn't be worth my salt as a kid food blogger if I didn't have a recipe for a version of bliss balls, so here it is.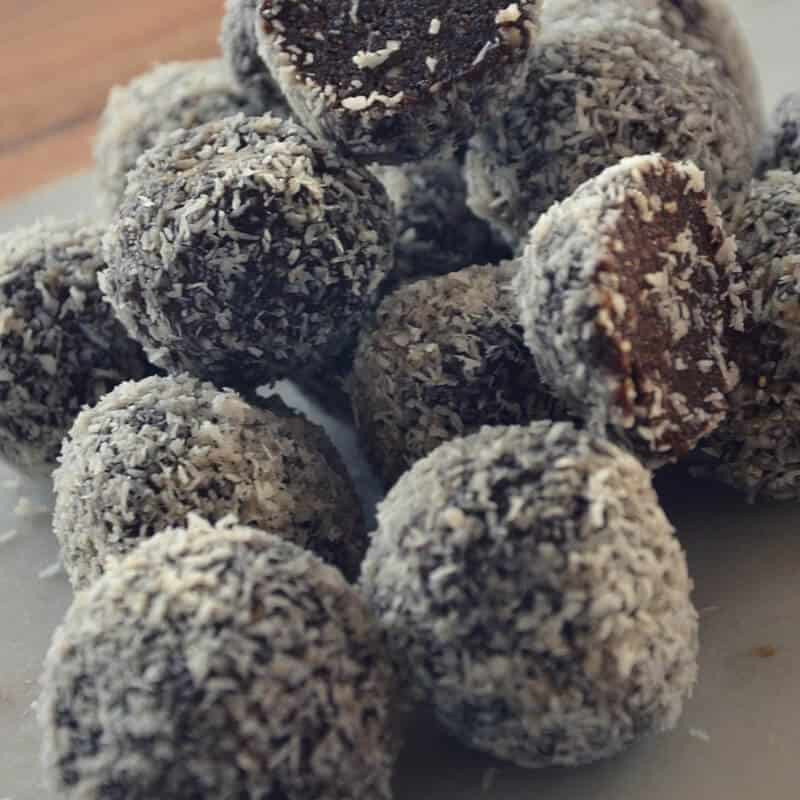 As with everything involving me, my kids and the kitchen, I like to keep things simple. This is an easy recipe that you can substitute a multitude of ingredients, basically just use what is in your cupboard. It is based on about 10 recipes I have used at some point, but now I realise, as long as the ratio of fruit and nut/seeds is right, you can't really go too wrong with what you put in them.
Bliss balls (no matter whose recipe) are typically high in sugar due to the dried fruit content. So bliss balls shouldn't typically be an everyday snack. But they are a great treat, and the perfect thing to get kids involved in the kitchen!  Be mindful about tooth brushing on bliss ball days, sticky dried fruit sitting on kids teeth is not good for them.
My bliss balls contain cocoa. So they are chocolatey. Some people may find this goes against the grain as far as a snack for kids. Below the recipe you will find some extra info on cocoa for those who are interested!
And check out the vid of my 2 year old daughter making a batch
Ingredients
2 Cups dried fruit. (My preference is 1 cup dates, 1 cup sultanas)
½ Cup natural (ie not roasted) nuts or seeds. I like almonds, cashews or sunflower seeds
¼  Cup cocoa powder
1 Tbsp your preferred vegetable oil
Desiccated coconut to finish them off
Method
Place the first 3 ingredients into a food processor. Give a good whizz until a firm paste is formed. This could take 2-3 minutes, patience is key. (If the paste is not coming together and is too stiff after 2-3 mins then add the oil)
Take spoonfuls of the mixture and roll into balls
Toss the balls in coconut
Put the balls into an airtight container and refrigerate. They will be good to eat in a few hours and will last for around a week.

Cocoa
In this recipe I use just normal old unsweetened cocoa powder.  You may have heard of it's close  cousin Cacao, (a few vowels different, and produced through a slightly different process),which is touted by many to have a huge number of health benefits. I don't know enough about the actual science behind  cacao to know if it lives up to the hype (perhaps it could be a blog post). But I do know that humble old unsweetened cocoa powder is nutritionally ok, and adds great flavour to this recipe.
The addition of ¼ Cup of Cocoa adds:
10g Fibre  (equiv. 2 large apples)
7g Protein (equiv. 1 Egg)
2.9mg Iron (equiv. 3.5 Cups spinach)
3g Fat (equiv. 1 Cup standard milk)
0.3g Sugar
A chocolate hit.. which is great for a mum needing an afternoon pick up!