Banana Chia Pudding is a super quick an easy way to make a pudding for little people. Sweetened with fruit it has no added sugar and it is an allergy friendly recipe.
I often make this Banana Chia Pudding with Coconut Milk but it will work equally well with any milk, including cows milk, soy, almond etc, you can literally choose whichever milk you would like or your child prefers or can tolerate
Egg Free Baby Custard – banana chia seed pudding
Yes, you read that right, a chia seed pudding like this banana chia pudding is essentially how you can make an egg-free custard. It is also a no cook/no heat custard which is also brilliant if you happen to be in the one-handed cooking phase of your life (ie. you are a one-handed cook because you have a baby on your hip!)
I have another kid-friendly chia pud on my site, my apple pie chia pudding is flavoured with apples and cinnamon and added sugar-free too. Essentially you can turn any smoothie into a chia pudding, so if you have a smoothie combo they love, try adding some chia seeds and turning it into a spoonable pud!
Banana Chia Pudding -A Vegan and Paleo Custard
This banana chia pudding recipe is both vegan and paleo. I am neither vegan or paleo but I do believe in eating a diet rich in plants and low in sugar, so this means my recipes often fit these dietary patterns although my family is neither vegan or paleo.
This pudding should be suitable for most little ones when they start their solids / complementary foods journey
If you are looking for another healthy take on custard, my peanut butter mousse is also super simple and a perfectly healthy dessert for little people.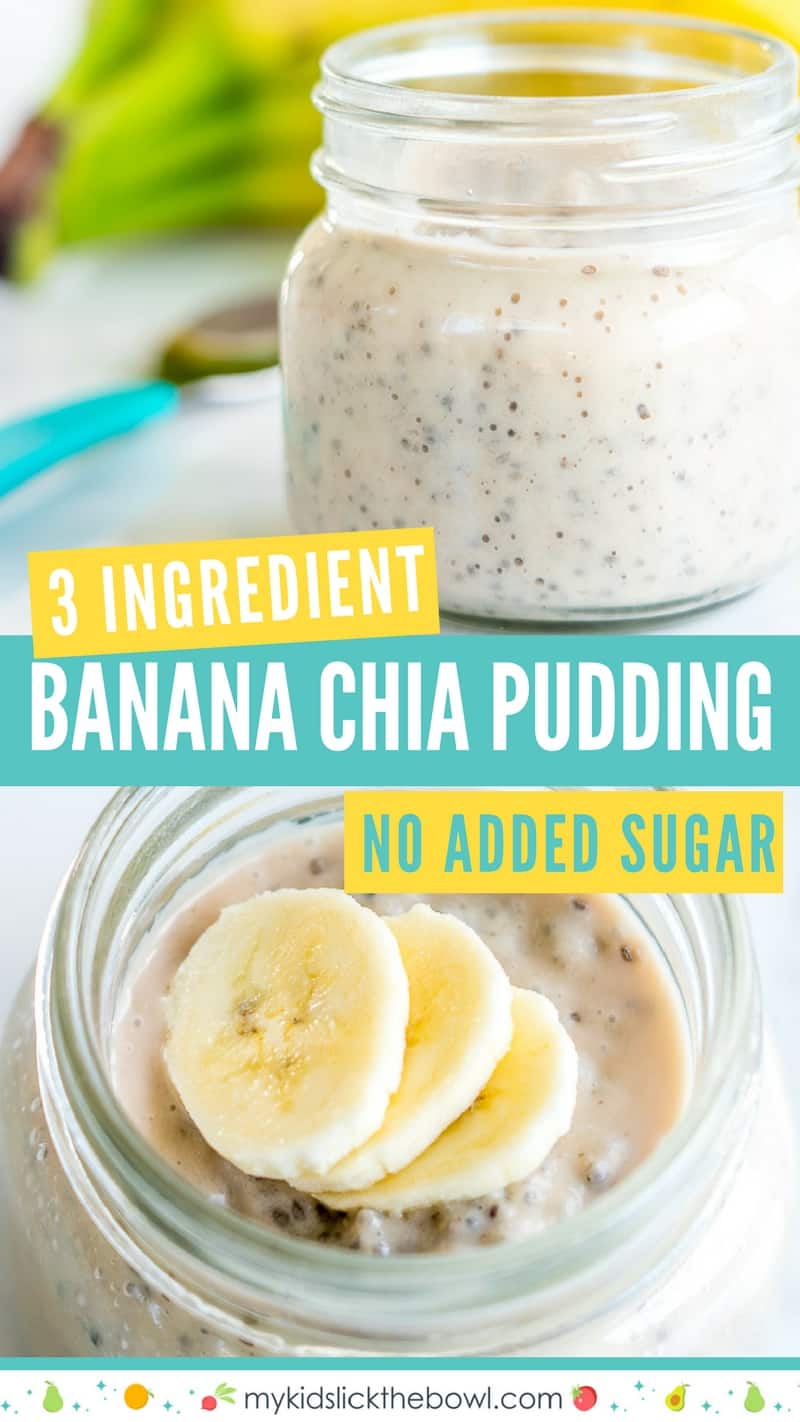 Previously on My Kids Lick The Bowl
---
Banana ChiaPudding Recipe Video
Banana Chia Pudding
Yield: 2 small puddings

Prep Time: 2 minutes

Total Time: 2 minutes

banana chia pudding healthy recipe with banana and coconut milk egg free custard also perfect as a homemade baby food or for baby led weaning
Ingredients
1 ripe banana (approx 100g)
1/3 cup coconut milk (approx 80 - 85 ml)
2 Tbsp chia seeds
Instructions
Blend the banana and coconut milk together as if you were making a smoothie
Add the chia seeds, give a few pulses to mix them in through the smoothie, but so as not to completely demolish them. You can also just stir them in if you prefer
Pour into a serving bowl or jar, refrigerate for a minimum of 20 mins before serving 
Notes
Chia seeds take time to soften and gel, please ensure you leave the pudding for a minimum of 20 mins before serving to ensure you get a smooth custard-like texture. You can prepare it well in advance, ie prepare and refrigerate overnight.
This recipe will work with any type of milk, ie cows milk, soy, almond, oat, any milk that tickles your fancy
This recipe has no added sugar, depending on your kid's palates you may need to add some, a little maple syrup, honey (for over ones) or even a date popped into the smoothie will add sweetness. But try it without as you never know!
Nutrition Information
Yield 2 Serving Size 1/2 Cup

Amount Per Serving

Calories 179 Total Fat 13.3g Saturated Fat 7.8g Cholesterol 5mg Carbohydrates 12.2g Fiber 4.9g Sugar 3.1g Protein 4.8g

Please know this nutrition analysis is based on the ingredients only, this recipe has not been sent to a laboratory for independent testing

please note the nutritional information provided is an estimate based on ingredients, this recipe has not been analysed externally for nutritional profile.