Carrot Bliss Balls - Energy Bites For Kids
THIS POST MAY CONTAIN AFFILIATE LINKS.
These carrot bliss balls started as a wee flurry of healthy Christmas treats I created a couple of years ago when my blog was still very new and all my kiddos were very small.
The original idea was that calling them 'Reindeer Food' was not only a fun Christmas idea but also a great introduction into bliss balls for kids.
When I was little we always left carrots out for the reindeer, and I am proudly continuing the tradition of chomping on carrots in the middle of the night to please my kids going!
It was this tradition that was the launchpad for this healthy Christmas food idea, that and my never-ending quest to make the perfect bliss balls for kids.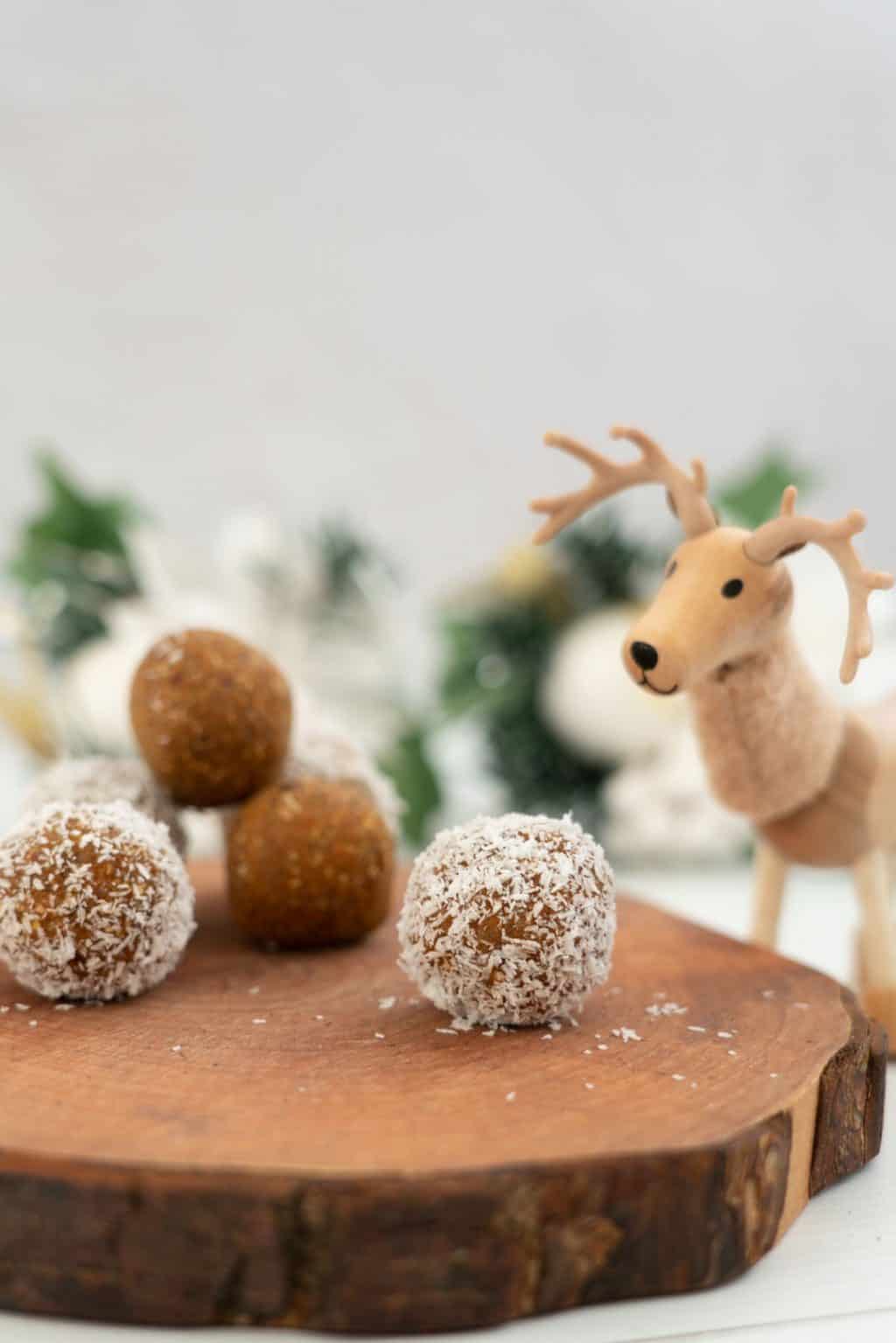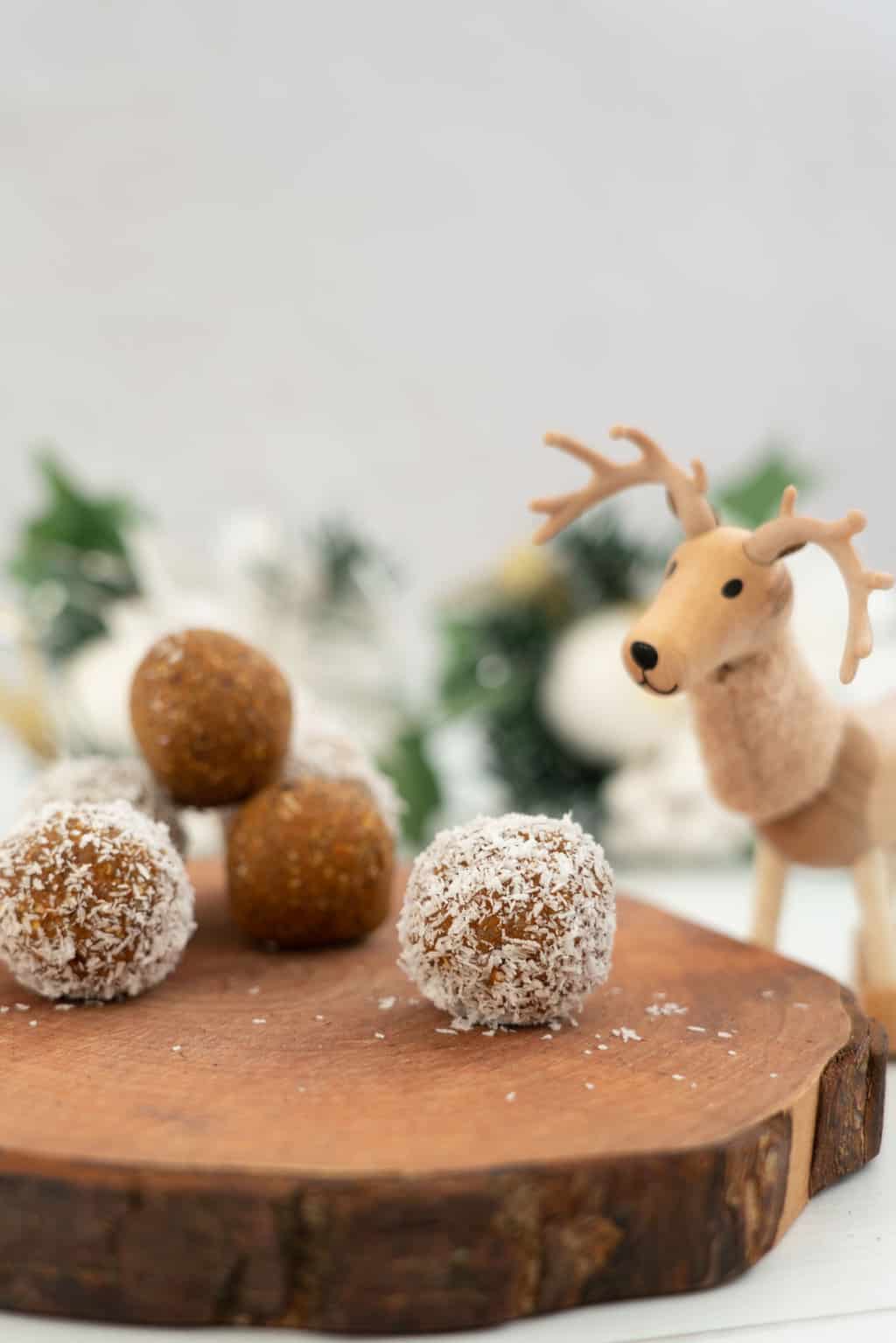 Energy Balls For Kids
My blog is generally inspired by recipes that are suitable for kids. I get asked quite often about my thoughts on energy balls and bliss balls for kids.
I see bliss balls and energy bites everywhere, packed into lunchboxes, all over Instagram and Pinterest and now on my local supermarket's shelves.
For me, although very yummy, many energy balls and bliss balls are still packed with sugar in the form of dried fruits.
Don't get me wrong I am not saying they are all bad, or that my kids don't sometimes snack on energy balls and dried fruits. I am just saying that sometimes they are really high sugar items masquerading as low sugar.
Just because a bliss ball for kids has no 'added sugar' or 'refined sugar-free' it does not mean that the ingredients don't contain naturally-occurring sugars. Dried fruit is quite a concentrated source of sugar and sticky too, so while my kids eat them, I am mindful about how much from both a sugar perspective and dental health perspective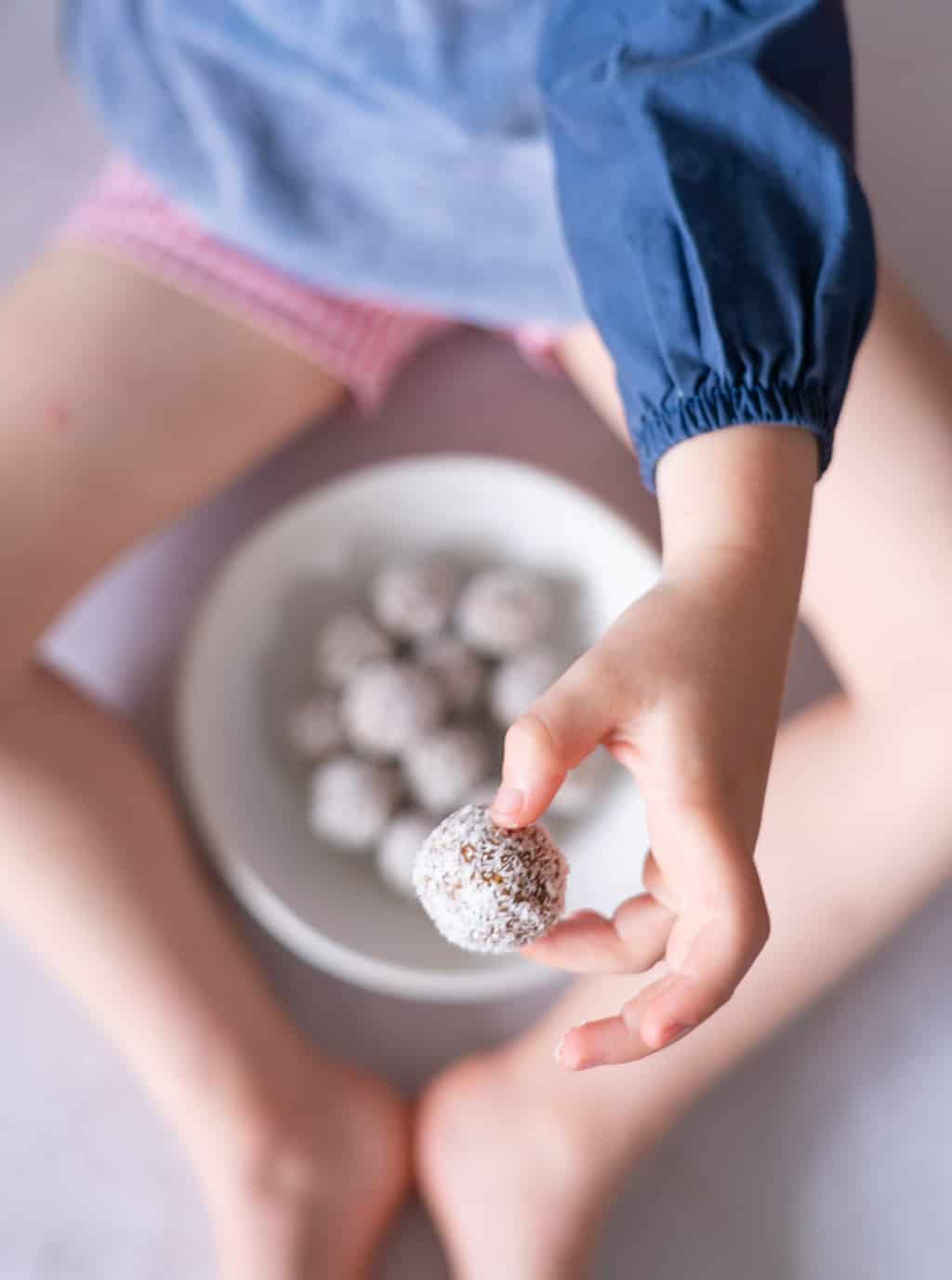 Carrot Oat Bliss Balls
My Carrot energy balls are a lower sugar bliss ball due to the carrot and oat component.
This recipe is also nut-free thanks to the sunflower seeds which means it can be sent in lunchboxes where nut-free recipes may be needed. I would also hate for one of Santa's reindeer to have a reaction to nuts on my watch! (wink wink)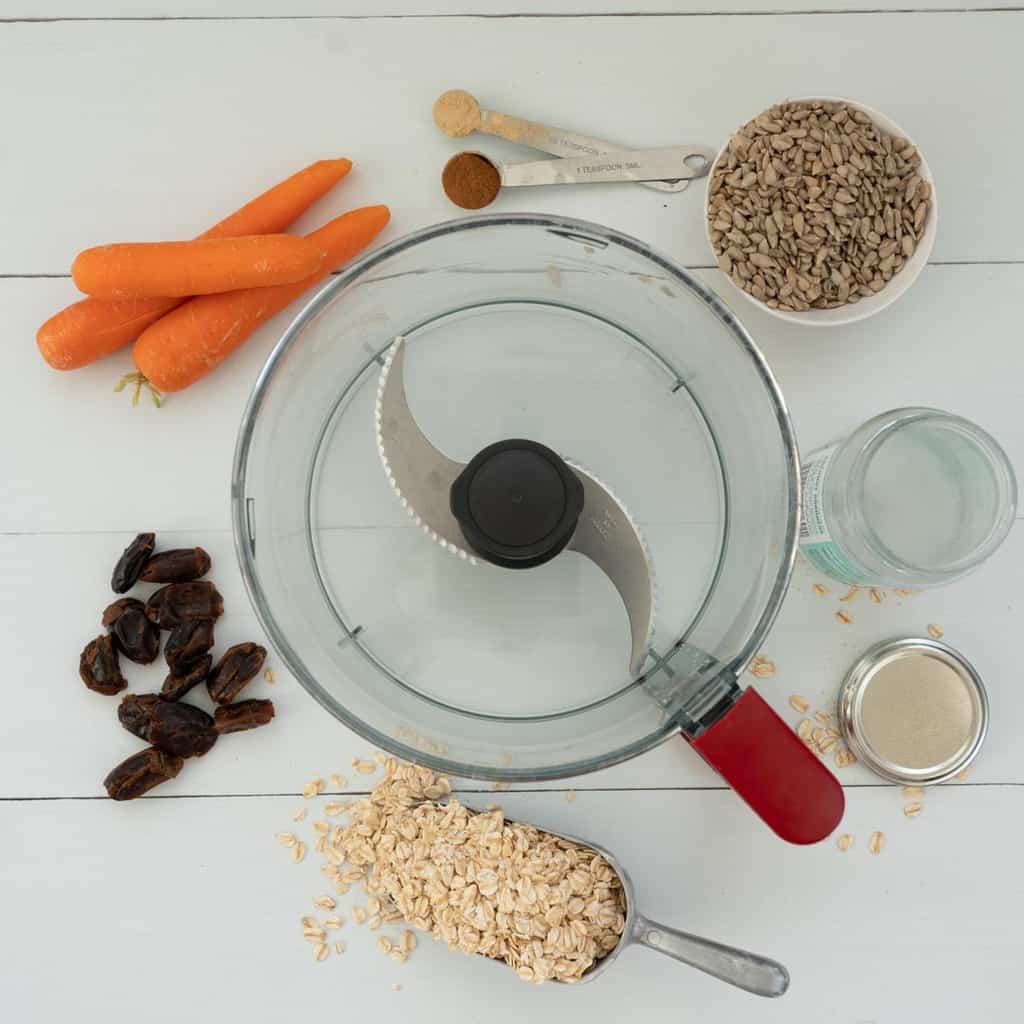 Protein Balls With Dates
Dates give these bliss balls their sweetness. Most bliss ball recipes I see call for Medjool dates.
I don't specify in my recipes which type of dates to use; Medjool or Regular (Deglet Noor). My understanding is they are pretty gosh darn similar from a nutrition perspective.
Where I live Medjool dates are very expensive, so I tend to use Deglet Noor. While the 2 varieties don't vary much from a nutrition perspective they are very different in texture.
Medjool are softer and juicier, and regular dates much harder. To make this recipe you will need a sturdy food processor, particularly if you are using regular dates.
You can always soak the dates in hot water to soften and then drain before adding to the food processor. You can also always sub the dates for raisins or sultanas if you want.
This recipe is by no means hard to make essentially everything goes into the food processor and is blitzed. The mix can be quite sticky when you are rolling it into balls but if you keep your hands damp it will stop the mix sticking to your fingers, a great job for kiddos!
More Bliss Balls For Kids
I am a bit of a fan of lower sugar energy bites, ones that have a bit less dried fruit content than most. If you are looking for other flavour ideas then you might like to check out my Strawberry Bites, or Apple Oat No-Bake Bites.
If it's the carrots that brought you to this recipe, i.e. you are searching for recipes to make with them, then these are all healthy kid-friendly recipes low in sugar but rich in carrots! Carrot Cake Oat Cakes, Roast Carrot Cashew Dip, and a new recipe for my site Carrot Muffins with No Added Sugar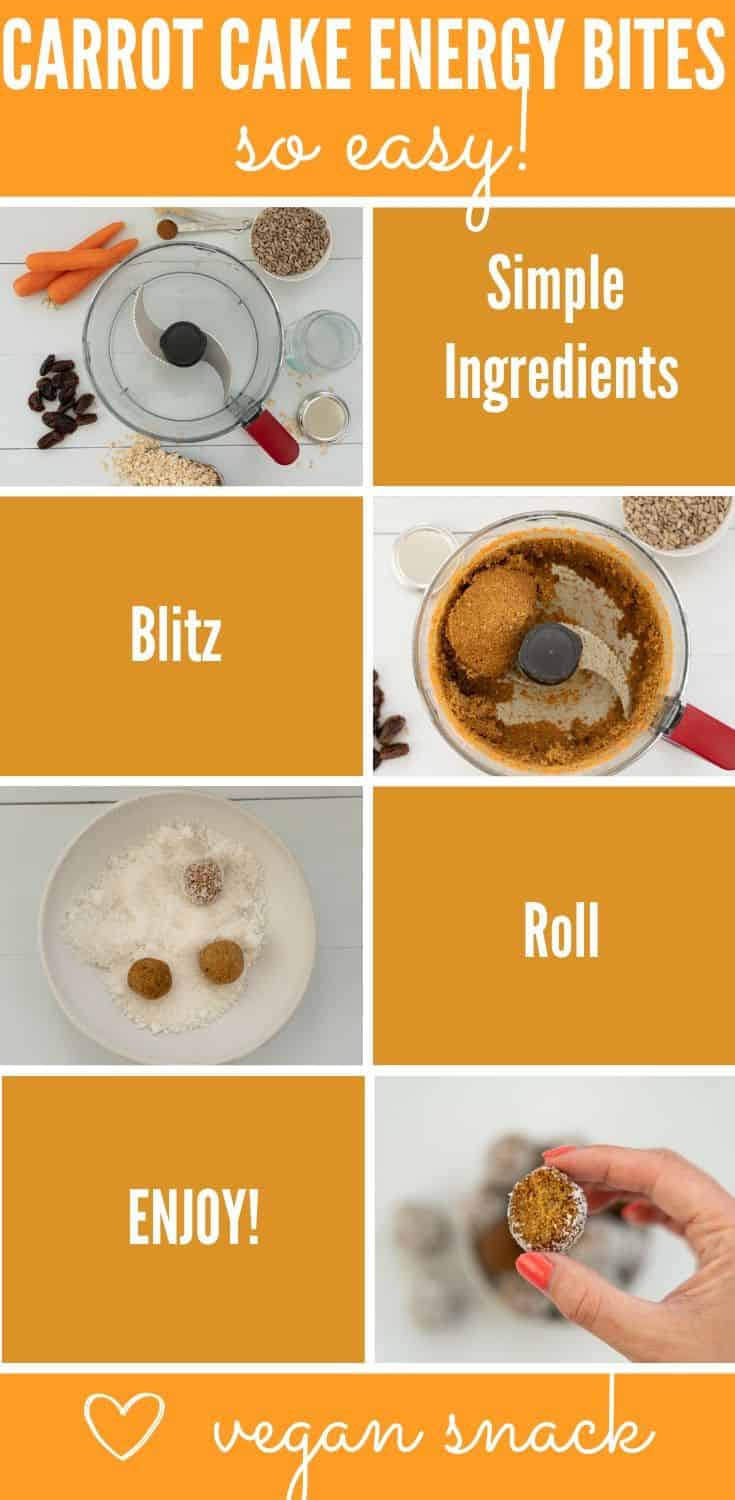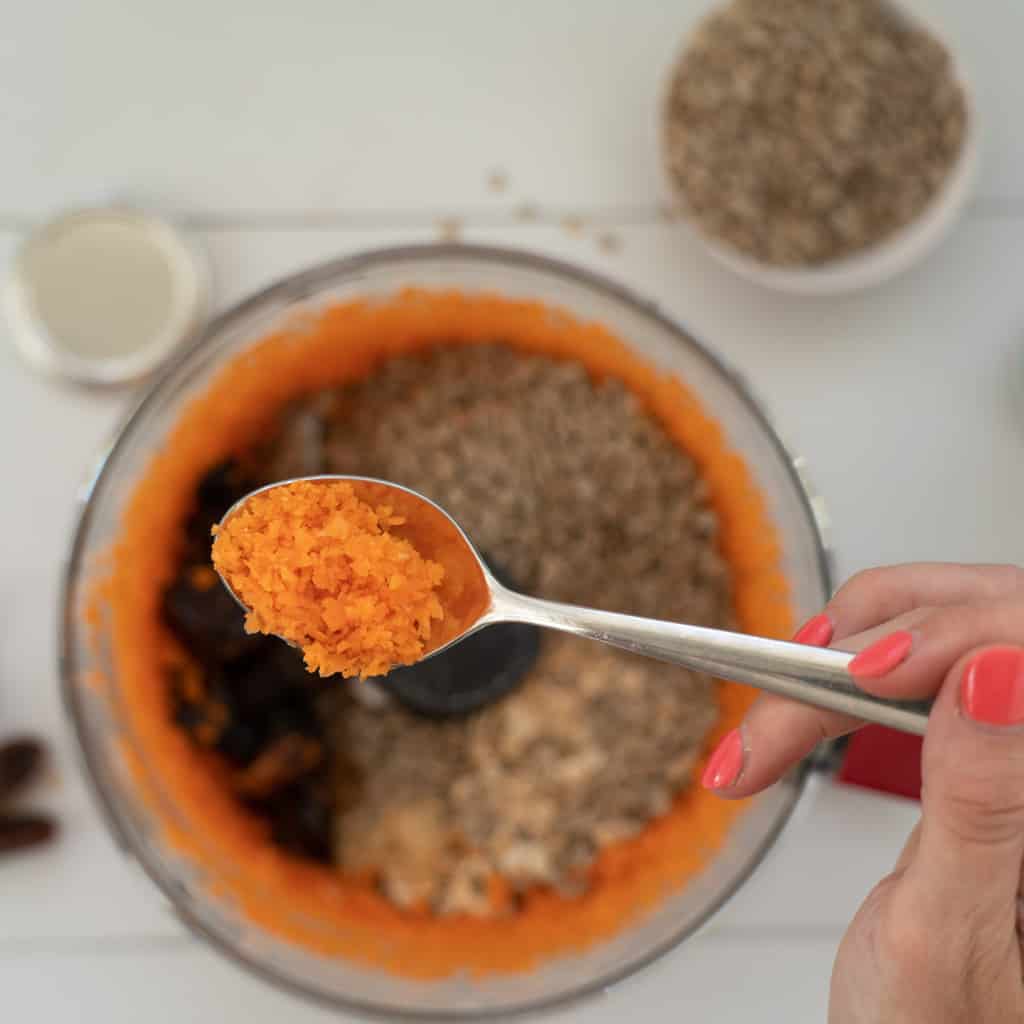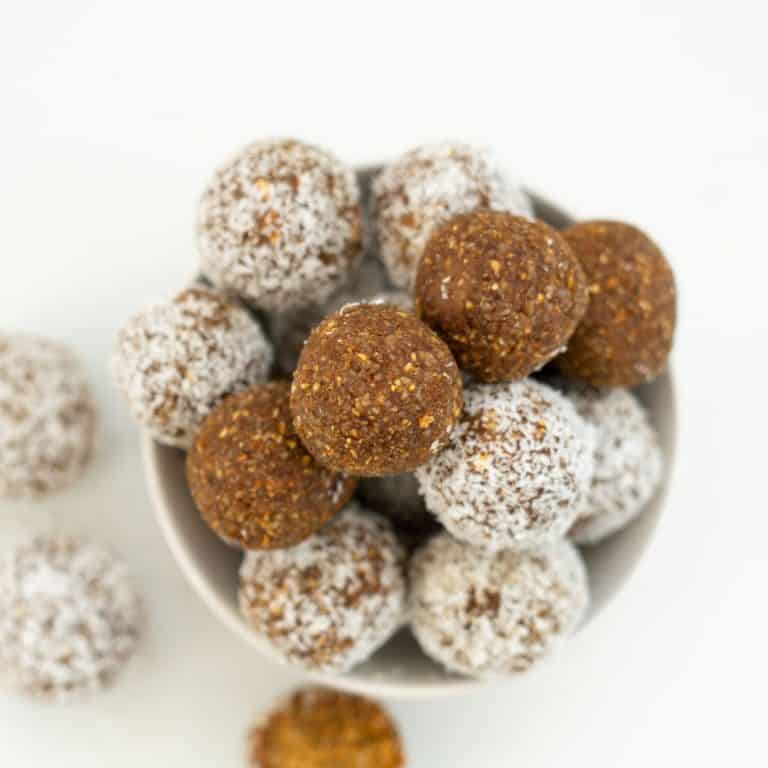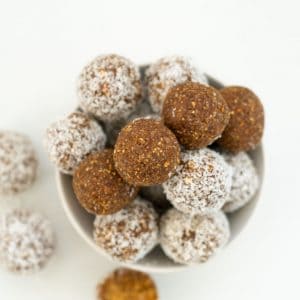 Carrot Cake Energy Bites
Known as Carrot oat energy bites or carrot cake bliss balls, these are a healthy no-bake nut-free energy ball for kids and a perfect healthy Christmas treat, (Reindeer Food)
Print
Pin
Rate
RATE THIS RECIPE
Ingredients
3

medium carrots

1

Cup

oats

1

Cup

sunflower seeds

½

Cup

dates

1

tablespoon

coconut oil or other light flavoured oil

1

teaspoon

cinnamon

½

teaspoon

ginger dried

Desiccated coconut for rolling
Instructions
Watch the quick recipe video before you get started, scroll up a little to find it

Check the notes at the bottom of the recipe for little bits of extra info and help

Place carrots in a sturdy food processor and blitz until very finely chopped

Add remaining ingredients, excluding the desiccated coconut and blitz until the mixture comes together into a large ball. This may take some time, 5 or so minutes of blitzing but be patient it will get there

Using a teaspoon form balls, the mixture will be quite sticky (because of the water content of the fresh carrot) , but the texture improves once you roll in coconut. If yu keep your hands damp it stops the mix sticking to your fingers, Get the kids involved they will love the mess

Roll the balls in desiccated coconut (You don't have to, I sometimes leave some coconut free)

Refrigerate 
Notes
The balls will be quite soft when first made as the mixture is quite warm for them blitzing. Refrigerate for a good few hours and this will improve immensely. 
This recipe is wheat-free but does contain traditional oats so is not gluten-free
You can use either medjool or regular dates, regular dates may need to be softened by soaking in hot water if your food processor is not sturdy
The dates can be substituted for raisins or sultanas
Nutrition
Serving:
1
g
|
Calories:
63
kcal
|
Carbohydrates:
6
g
|
Protein:
1
g
|
Fat:
4
g
|
Saturated Fat:
1
g
|
Polyunsaturated Fat:
2
g
|
Sodium:
267
mg
|
Fiber:
1
g
|
Sugar:
3
g