5 Minute Meals - Chopped Chickpea Salad
THIS POST MAY CONTAIN AFFILIATE LINKS.
Hello and welcome to my second recipe for my 5-minute meals catalogue Chopped Chickpea Salad. The purpose of my 5-minute meal recipes is to give ideas to busy mums for super quick and healthy meals (particularly lunches) that they can make for themselves even when looking after young kids.
My first was a 5-minute meal chicken miso soup, and this one is a 5-minute meal chopped chickpea salad with tuna and avocado.
On that note, can I tell you a little secret, I usually add avocado to my chopped chickpea salads, but if you look closely in this images for recipe you'll see I've made it without avocado. Or at least some images are without avocado as I realised part way through and added it! Becuase just like you, the mums who have stumbled on to my website and recipe, I'm also going flat tack in naptimes and sometimes make mistakes!
Meal prep for 5-minute meals -chopped chickpea salad
My 5-minute meal prep tips for this meal is to stock your cupboard with easy sources of protein. Tinned beans, pulses and lentils are great vegetarian sources of protein and fiber. I always have them in my cupboard for putting together quick meals or stretching meat that little bit further for family dinners. I reckon you probably can't go too wrong with any brand of tinned chickpeas but I do quite like the Watties ones as they are canned in water which means they are less salty. (Please know I am not sponsored or paid by Watties in any way at all, although pipe dreams would be too, lol, but please know this is just an honest opinion and the brand I currently have in my cupboard.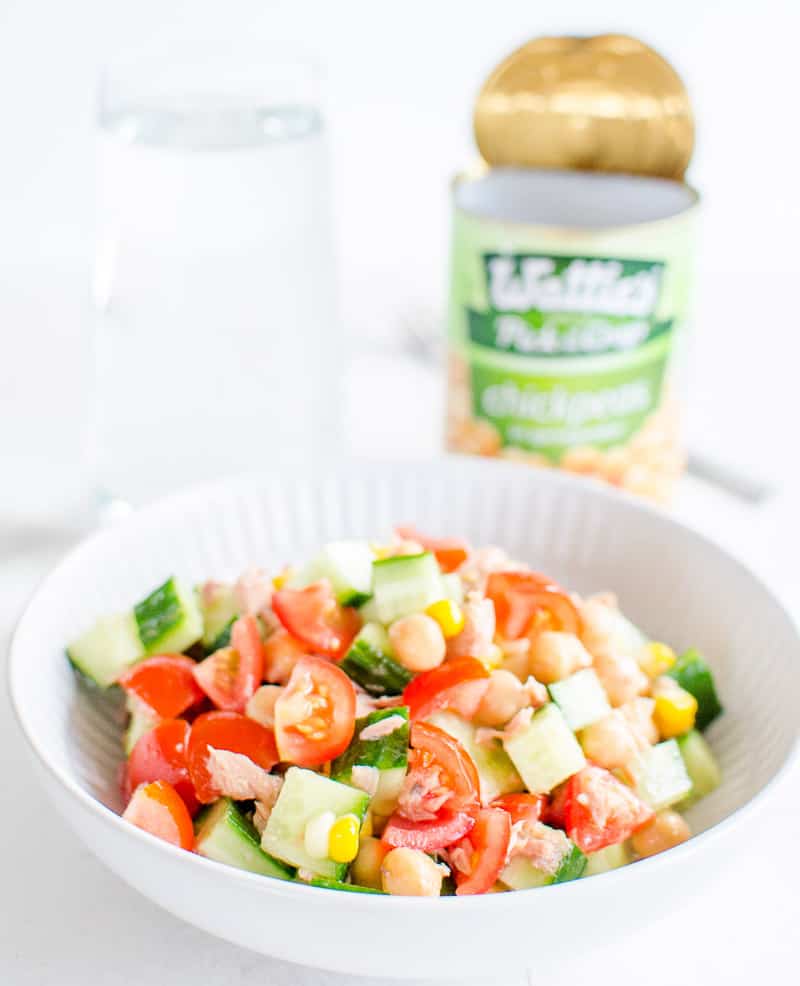 5 Minute Meals - Chopped Chickpea Salad
Yield 1 Salad Bowl
Ingredients
90g canned tuna (small tin)
1 tablespoon olive oil
1 tablespoon lemon juice
S & P if desired
⅓ Cup drained canned chickpeas
½ Cup chopped cucumber
¼ Cup corn kernels
½ Cup chopped tomato
¼ Avocado chopped
Instructions
Open the can of tuna part way, and set it aside somewhere to drain
Take out a large bowl, the bowl that you will be serving your salad in, pop the lemon juice, olive oil and salt and pepper into the bowl and whisk with either a whisk or for, this is creating your dressing
Chop the cucumber, tomato and avocado into pieces similar in size to chickpeas
Add all ingredients to your bowl, including the drained tuna, mix
Serve and enjoy
Nutrition Facts
Serving Size 1 Bowl
Amount Per Serving

Calories 434

% Daily Value

Total Fat 24.2 g

37%

Saturated Fat 3.8 g

19%

Cholesterol 37.8 mg

13%

Sodium 62.2 mg

3%

Total Carbohydrates 29.9 g

10%

Dietary Fiber 8.4 g

34%

Sugars 8.5 g
* Percent Daily Values are based on a 2,000 calorie diet. Your daily values may be higher or lower depending on your calorie needs.