One Pan Pasta - Tomato Sausage & Lentil
THIS POST MAY CONTAIN AFFILIATE LINKS.
One Pan Pasta is such a great family friendly meal to make in the middle of a busy week. My kids LOVE pasta. If I serve a meal with pasta it will be winner in my house, which is why I love the one pan method!
You don't have to bother with cooking the pasta separately, it literally cooks in the sauce. Because let's be realistic, our cooking practices change a little when we go from being DINKS to SINKS (Double Income No Kids, Single Income Numerous KidS)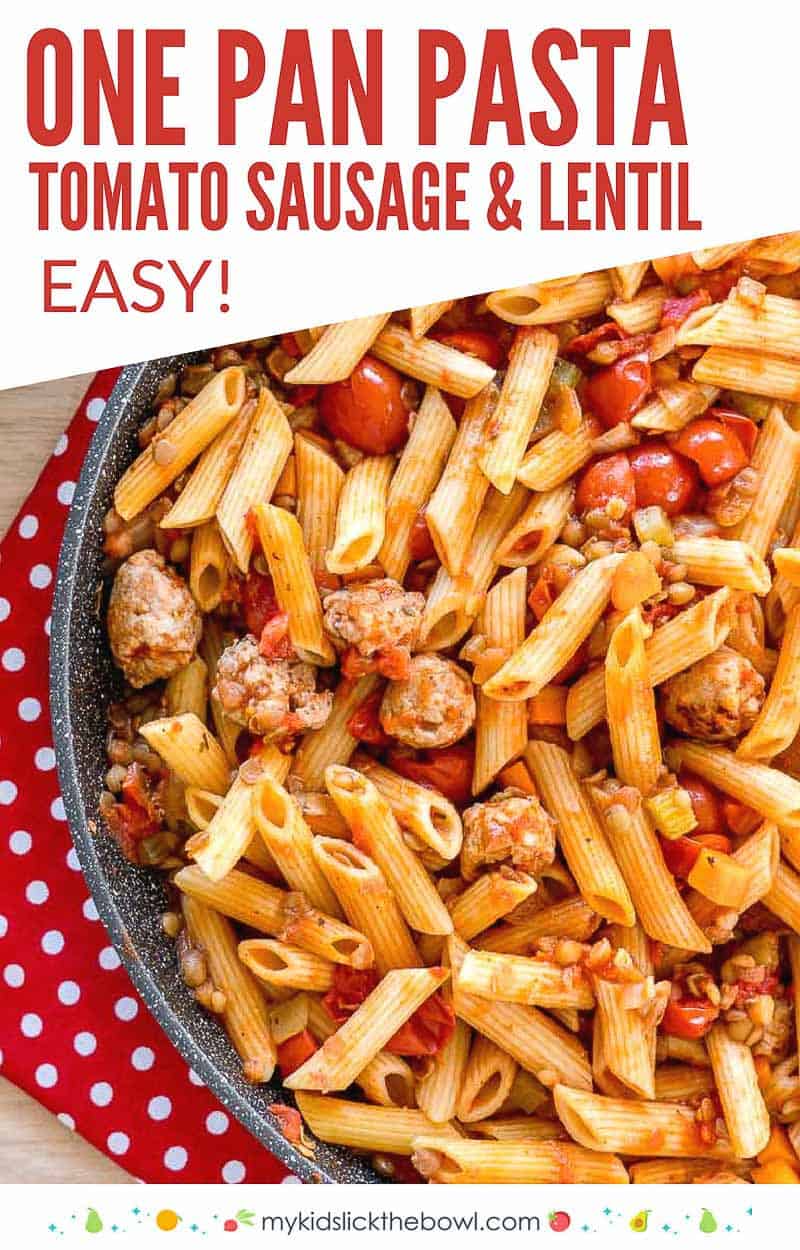 Ease AND cost for family meals are important! I've teamed up with Countdown to create this recipe with their awesome Essentials pasta range.
Great quality on Price Lockdown at just $0.95 for a 500g pack, so fits nicely into our weekly budget!
In this recipe, I use a couple of other products to help make things easier and affordable. Tinned tomatoes are brilliant, look for ones with no added salt or sugar, they make meals simple, healthy and cheap
. Tinned lentils are also so good. I often halve the meat content in a recipe and replace it with tinned lentils, chickpeas or beans, to both cut the cost and improve the nutrition. I've done just this in my One Pan Sausage & Lentil Pasta.
One Pan Pasta - Sausage Tomato & Lentils
An easy one pan pasta recipe flavoured with sausage tomato and lentils a quick no fuss family dinner
Ingredients
1 tablespoon olive oil
1 large onion diced
1 cup diced celery
1 cup diced carrots
2 good quality pork sausages
3 cloves garlic
400g tin crushed tomatoes
400g tin whole peeled tomatoes
1 tablespoon dried Italian herbs
400g tin lentils
300ml stock
350g Dry Pasta
Instructions
I've made a quick recipe for the video, you will find it above
Start with a pan, you will need one with a lid.
Heat oil in the pan over a medium heat
Add the onion, celery, and carrot and sauté until beginning to soften (around 5 mins)
Remove the skin from the sausages and cut up the sausage meat into bite-sized pieces, add this to the pan and brown
Add the garlic cloves, I don't cut these I just peel and smash them with the blade of my knife, sauté everything for a further 1-2 minutes until you can smell the garlic
Add both tins of tomatoes (for the whole peeled tomatoes I quite like using cherry tomatoes as they are a little smaller) and the tired herbs
Drain and rinse the tinned lentils, add these to the pan along with the stock (chicken or vegetable) and give everything a good stir
Add the dry pasta (I use Countdown Essentials Penne Pasta, but other shapes will work fine too), stir, let the mix come to the boil, then cover with a lid and reduce the heat to low. It should take around 15 mins for the pasta to become tender, but this will vary a little depending on the pasta shape you have chosen
If the pasta is not quite tender when you remove the lid, pop the lid back on and cook for a further couple of minutes. If the pasta sauce is thinner than you would prefer, cook the pasta for a few more minutes with the lid off so that extra moisture can escape.
Serve
Notes
I use either vegetable or chicken stock in this recipe
Nutrition Information:
Yield:

8
Serving Size:

1
Amount Per Serving:
Calories:

312
Total Fat:

5g
Saturated Fat:

1g
Trans Fat:

0g
Unsaturated Fat:

3g
Cholesterol:

6mg
Sodium:

230mg
Carbohydrates:

54g
Fiber:

8g
Sugar:

8g
Protein:

14g
Please know this nutrition analysis is based on the ingredients only, this recipe has not been sent to a laboratory for independent testing