My kids love "milkshakes" and this healthy strawberry milkshake is one of their favourites. I'm not quite sure when a milkshake becomes a smoothie.. ha ha but I do know that my kids love the word milkshake and think they are having a very special treat so I often just run with it!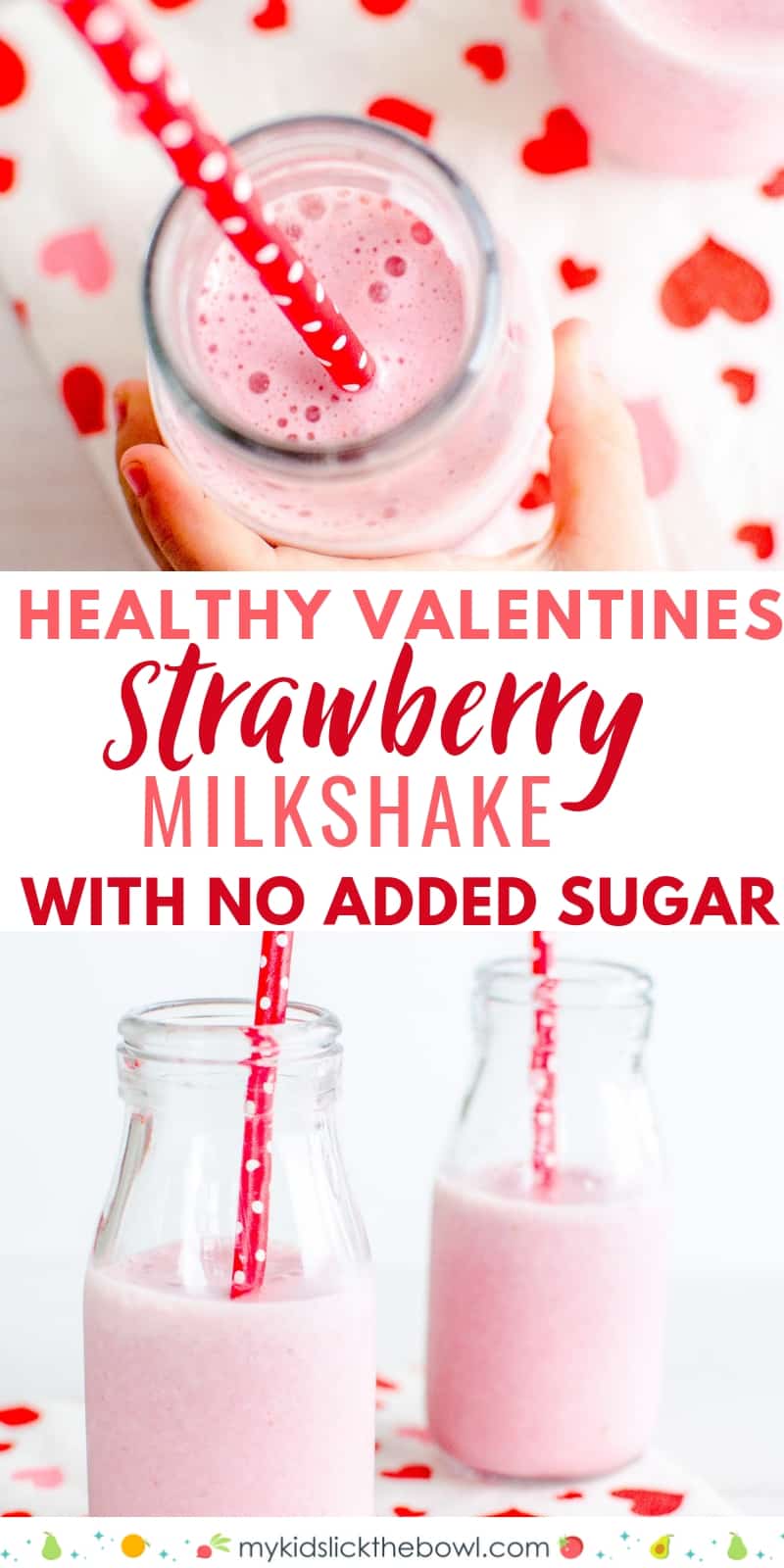 This healthy strawberry milkshake is definitely healthier than a traditional strawberry milkshake or strawberry flavoured milk as for a start it actually contains strawberries! The cashews give an extra creamy factor reminiscent of adding ice cream and a few dates and vanilla extract for good measure make sure the end result is sweet enough without adding loads of sugar or syrups.
If you are looking for other healthy milkshake recipes (smoothies) then I have a couple of others on my site that could be worth checking out, especially the ones that add in a little vegetable hit too! All have been approved by my 3 taste testers
Or alternatively, perhaps you arrived on this recipe because you have strawberries to use up or are after a pink valentines type recipe! If so the list below is for you
Print
Healthy Strawberry Milkshake
Yield 4 Servings
Ingredients
1 cup strawberries (fresh or frozen)
1/2 cup cashews (must be unsalted, can be roasted or raw)
2-3 dates
1 tsp vanilla extract
2.5 cups milk or dairy alternative
Instructions
Place everything in a blender and blend!
Notes
I often use frozen strawberries as it means the milkshake is nicely chilled when first made
I have made these milkshakes with cows milk, almond milk and rice milk all worked well
Courses Drink
Nutrition Facts
Serving Size 200 ml
Amount Per Serving

Calories 176

% Daily Value

Total Fat 5 g

8%

Saturated Fat 1.2 g

6%

Cholesterol 2.5 mg

1%

Sodium 53.2 mg

2%

Total Carbohydrates 18.9 g

6%

Sugars 14.8 g

Protein 6.5 g

13%
* Percent Daily Values are based on a 2,000 calorie diet. Your daily values may be higher or lower depending on your calorie needs.
please note the nutritional information provided is an estimate based on ingredients, this recipe has not been analysed externally for nutritional profile.
The perfect healthy strawberry milkshake image to pin