This Asian style easy chicken corn noodle soup has been a winner with my kids. All of them. Yes, all three, and what's even better it's a hit with my husband and me too. Winning!
Other reasons I love this Easy Chicken Corn Noodle Soup Recipe
Everyone slurping it up is a pretty big reason, but there are a couple of other reasons why I love this soup.
It is quick to make
It only takes 20 minutes from start to finish, and most of that is it just bubbling on the stove
One pot Wonder
There is only one pot to clean after making this soup, I hate doing dishes so this is a major win for me.

Notes on making my easy Asian-style chicken noodle soup
Stock can be pretty high in salt. I quite often make my own, from scratch using the leftovers when we have a roast chicken.
But if this sounds way too complicated to you, then just check you are buying buy a low salt/sodium stock
Noodles you can use whatever you want, My kids and I have been loving it with Pad Thai style rice noodles, ie the thicker ribbon type rice noodles
Feel free to add other veggies, aside from the corn frozen peas go well in this too. Grated carrot always works well, as does thinly sliced mushrooms.
If you have a green disliking kid, try peeling the zucchini, so sneaky but awesome, as it ends up looking like extra noodles! I love frozen veggies and if you don't have fresh corn on hand, frozen will work just as well!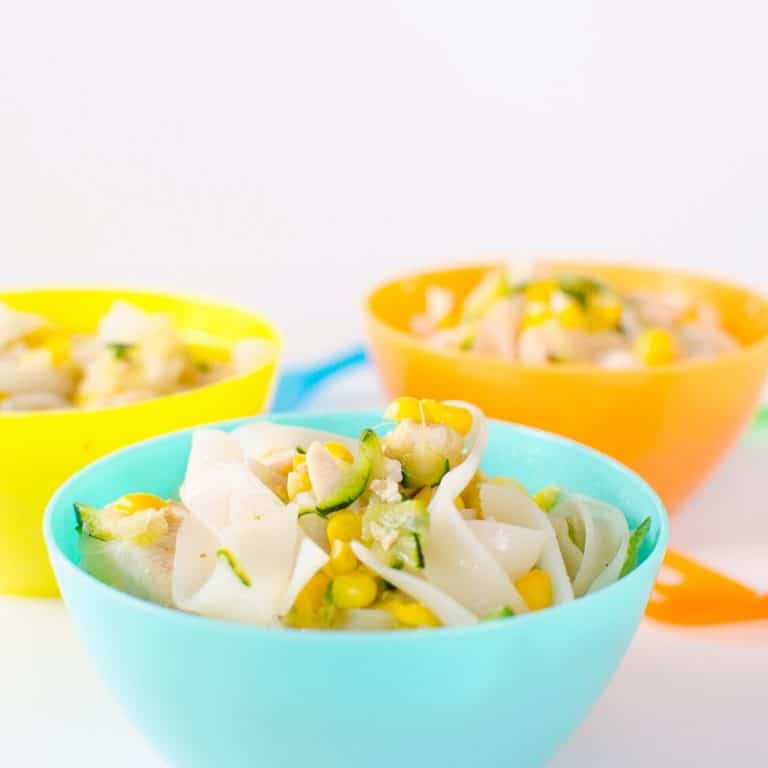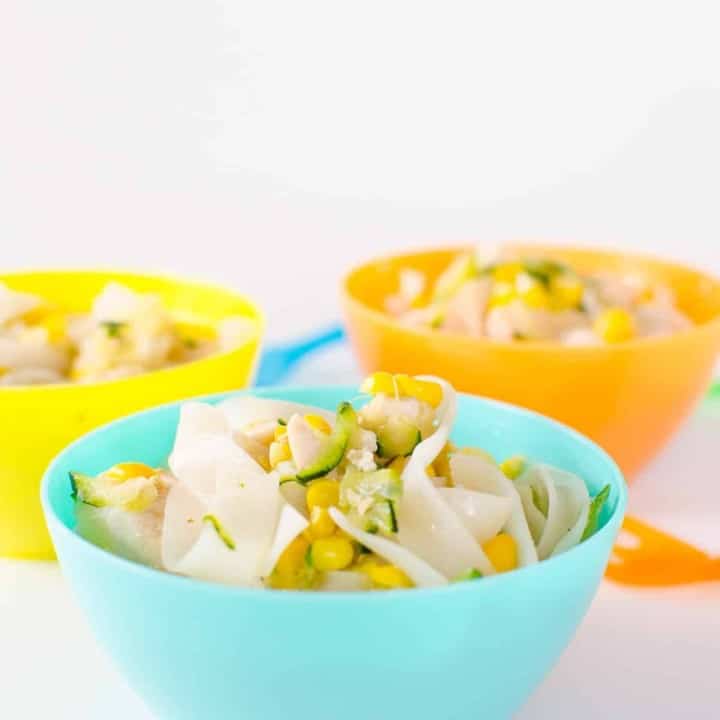 Easy Chicken Corn Noodle Soup
Easy Kid Friendly Chicken Corn Noodle Soup
Ingredients
1 Tbsp Oil
1-2 cloves garlic
2cm piece ginger
500g boneless skinless chicken
1L chicken stock
2 Tbsp soy sauce or Tamri
1 cup corn kernels (fresh or frozen)
2 Zucchini
180g dried rice noodles
Sesame oil
Instructions
Heat oil in a large saucepan over a medium heat
Crush garlic and finely shred ginger
Sauté garlic and ginger for 1-2 minutes until fragrant
Add Stock and Soy Sauce, bring up to a simmer
While this is happening slice the chicken
Add Chicken and Corn to the hot stock
Simmer for 20 mins
Add noodles and cook for length of time recommended on the packet
Grate the Zucchini and add right at the end of cooking it will only require 1-2 mins cooking time
Ladle into bowls and sprinkle with sesame oil before serving
Notes
To be wheat and or gluten free, substitute soy sauce for Tamari
Nutrition Information:
Yield:

6
Serving Size:

1
Amount Per Serving:
Calories:

410
Total Fat:

14g
Saturated Fat:

3g
Trans Fat:

0g
Unsaturated Fat:

9g
Cholesterol:

79mg
Sodium:

664mg
Carbohydrates:

38g
Fiber:

2g
Sugar:

5g
Protein:

32g
Please know this nutrition analysis is based on the ingredients only, this recipe has not been sent to a laboratory for independent testing