THIS POST MAY CONTAIN AFFILIATE LINKS.
Strangely enough, I find curries a particularly successful meal at my house. Even with my resident fussy eater.
So in an effort to add a few quick curry recipes to my site, I thought I would start with an easy curry spice mix for kids. The idea being you make the spice mix, and then you have the base for a number of different recipes.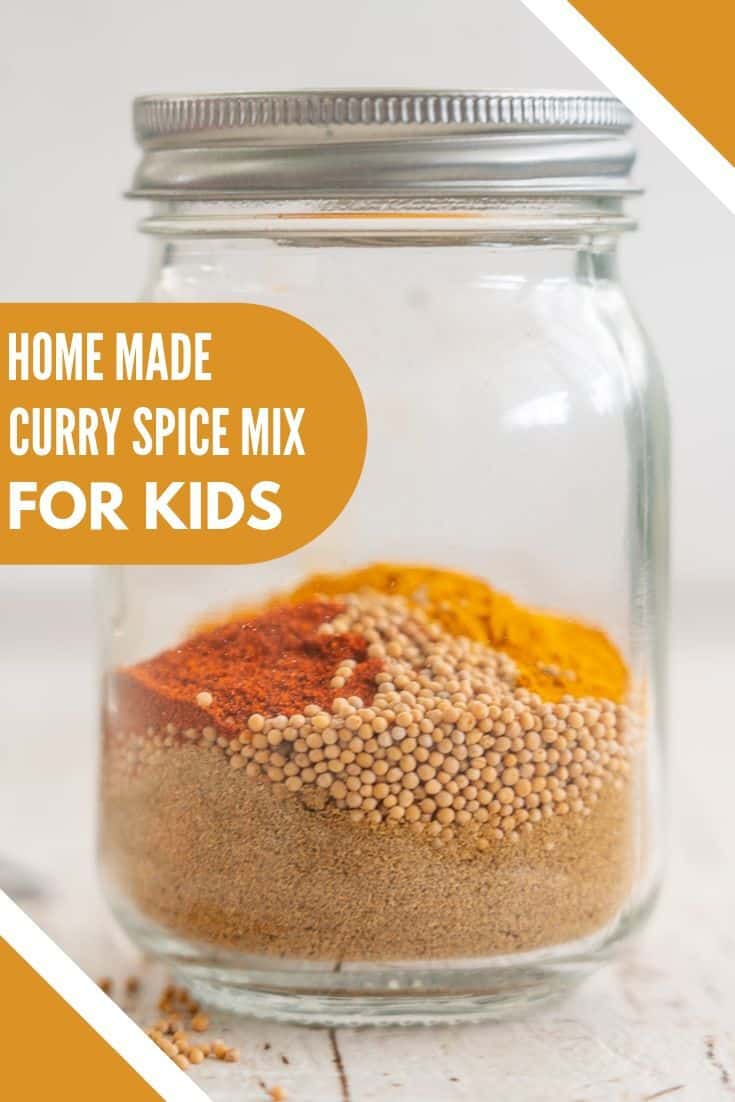 My Curry Spice Mix For Kids
I have one kiddo who is very chilli averse, so this spice mix isn't hot at all but still very flavourful, it's also a bit sweet and probably not overly authentic. But that's ok by me as long as my kids like it.
It's I suppose what you might call a 'yellow' spice mix due to the turmeric, but again I use the term very loosely as I assume if a curry aficionado was to read this spice mix recipe they may crawl up into the fetal position.
But, the goal with this spice mix wasn't to create necessarily the most authentic curry. It was to create a base for quick and easy curries for my kids and perhaps your family too.
Curry For Kids
As I said the plan is to share a number of family-friendly recipes all starting with this spice mix as a base. So far on the site
Chicken Curry - A veggie-loaded recipe including my coconut milk and cauliflower hack!
Creamy Curry Mince - An easy economical recipe my kids absolutely love, recipe coming next week
Easy Fish Curry recipe coming soon
Curried Kumara (Sweet Potato) Soup recipe coming soon
Mango Chicken Curry - A toddler approved curry. This recipe is not based on this spice mix, but it is one that is both very popular with my kids and from what I've been told by my readers too.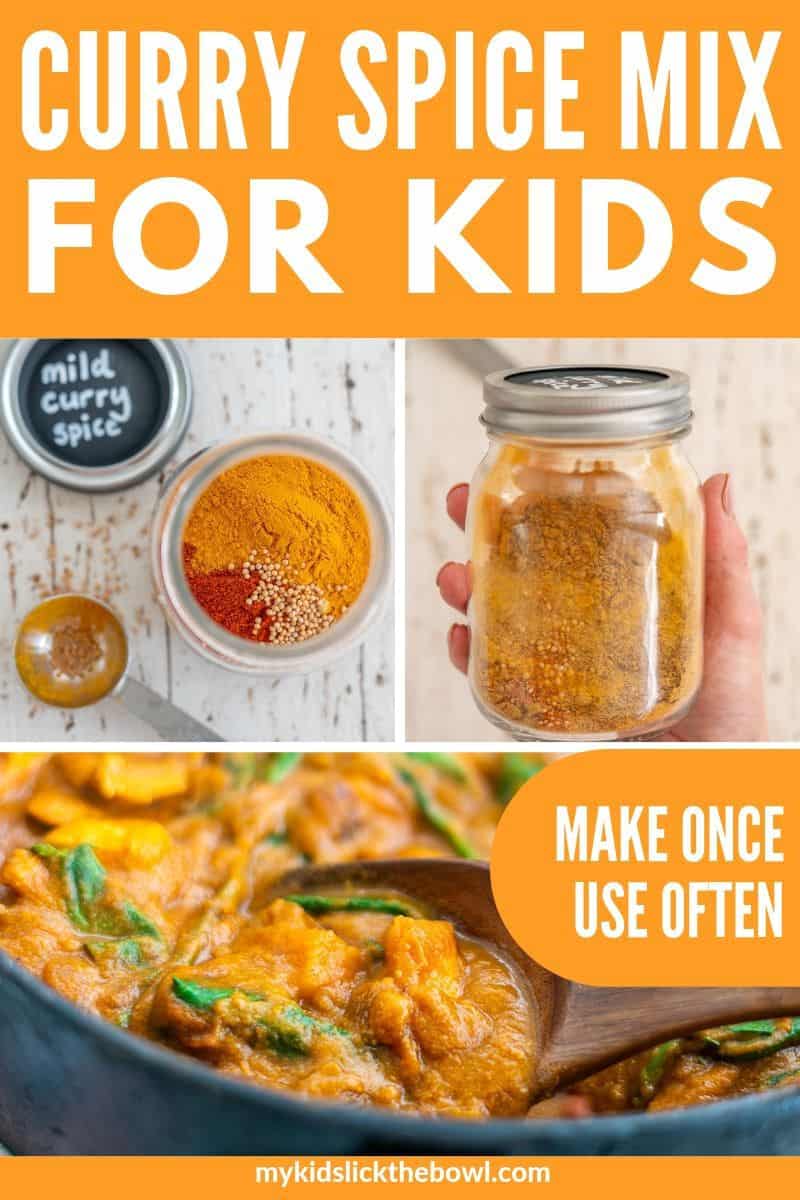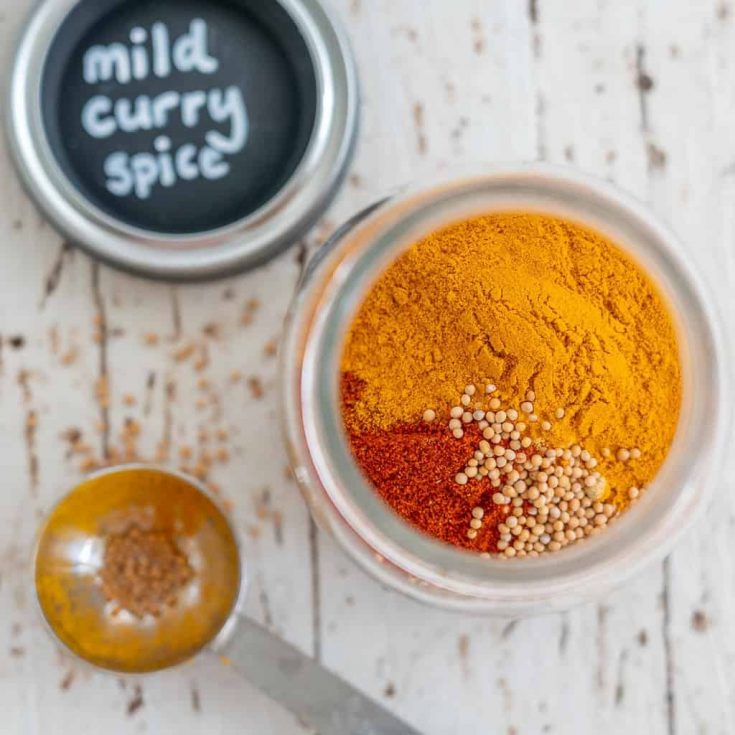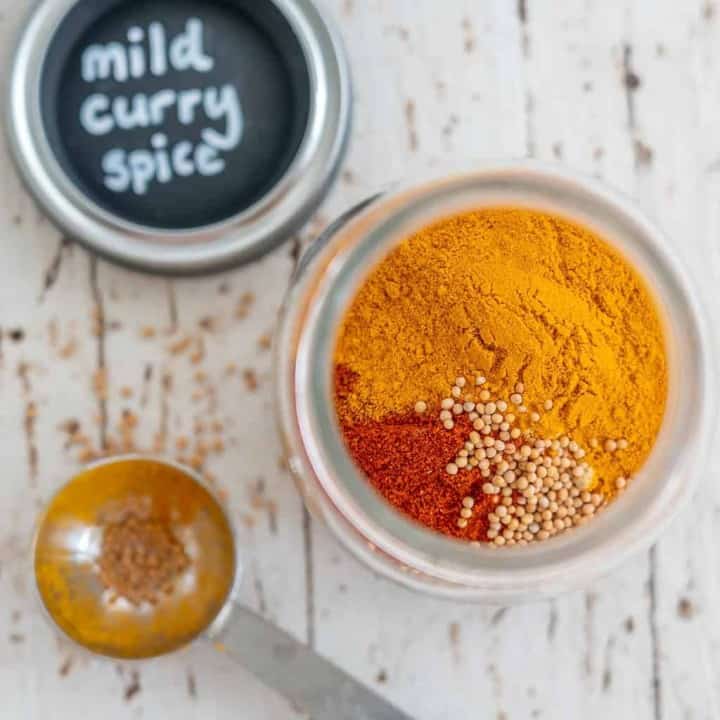 Curry Spice Mix For Kids
Curry Spice Mix for kids. An easy mild spice mix that provides the base for a number of family-friendly curry recipes
Ingredients
6 tablespoon ground coriander
3 tablespoon cumin powder
3 tablespoon Turmeric
2 tablespoon yellow mustard seeds
1 tablespoon garlic powder
1 tablespoon ground ginger
1 tablespoon paprika (sweet not smokey)
Instructions
Place all the spices in an airtight jar
Shake
Notes
Store in the airtight container at room temperature
Nutrition Information:
Yield:

20
Serving Size:

1
Amount Per Serving:
Calories:

17
Total Fat:

1g
Saturated Fat:

0g
Trans Fat:

0g
Unsaturated Fat:

0g
Cholesterol:

0mg
Sodium:

20mg
Carbohydrates:

3g
Fiber:

1g
Sugar:

0g
Protein:

1g
Please know this nutrition analysis is based on the ingredients only, this recipe has not been sent to a laboratory for independent testing