Ok, before we get too far in I have a slight confession. I am not a huge celebrator of Valentines Day.
I am not sure if it is because I am a New Zealander and we are maybe a bit removed from the Holiday, or because my Wedding Anniversary falls on February the 18th and my Husband and I are more about celebrating that.
Eeeek I know right, why on earth have I then embarked on rounding up 30 of the best healthy Valentines food ideas for kids?
Why a round up of Healthy Valentine Kid Food Ideas?
Well, because it gave me a chance to show some appreciation to the wonderful network of kid food bloggers I have been lucky enough to meet over the past 6 months.
Honestly, they have been so generous with their time and knowledge to little old me way down at the bottom of the world in New Zealand.
I want them to truly know I appreciate it and love their blogs and gorgeous ideas. I also am not against the message of Valentines or the idea of showing a little extra love for the precious people in your lives.
So with out further ado, lets get on with the show. 30 Healthy Valentines Food Ideas for Kids.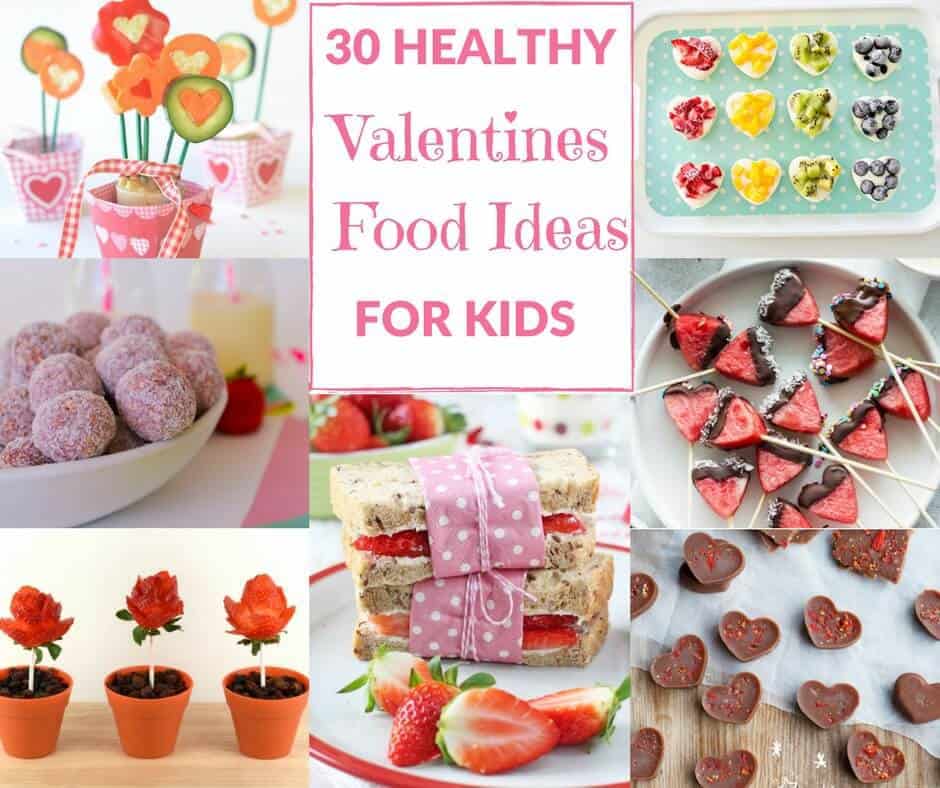 Healthy Valentines Breakfast Ideas
The first recipe up in mine. Because to tell the truth I am quite proud of these pretty pink balls and as I've structured my round up with breakfast first, which makes sense as that is how you start the day, it is totally ok!
Do not be put off by the name, these balls can be served at any meal or even thrown in the lunch box.
From an energy ball perspective they are very low in sugar and not packed with dried fruit either
This super cute idea is from Super Healthy Kids which is one of the biggest and best kid food blogs, websites and information sites around.
These waffles served with fresh berries and their incredibly delicious berry syrup it is sure to be an absolute winner. This year I have been so lucky to start chatting a little bit with Amy from Super Healthy Kids online.
For me as a kid food blogger this is literally like sending a message to your favourite celebrity crush! Amy has been nothing but nice though, even when I have been a little bit of a gushing, lost for words, blog groupie! So thank you so much Amy!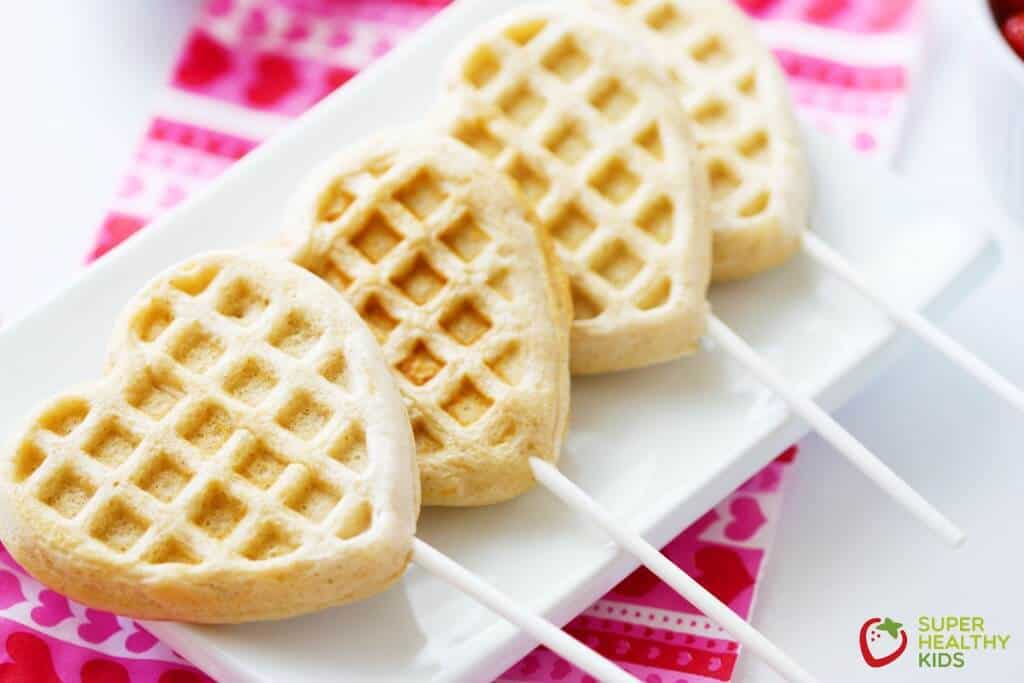 Grace from Eats Amazing not only has this simple and healthy breakfast idea, she is literally the holiday themed kid food queen. So along with this great way to start the day you will find a full Valentines Day Menu on her blog.
Grace is a UK food blogger, a brilliant blogger and someone who is generous with her time. She has happily responded to some of my novice blogging questions and I love her for that.
Cara from Fork and Beans is the creator of this recipe. Have you ever tried making your own bagels? It makes for a great baking project with kids.
Cara is full of allergy friendly ideas and this recipe is not only adorable and delicious it is gluten free as well. Cara has also just become a mum. Sending you and your newly created family of 3 a lot of love from our crazy kiwi family of five.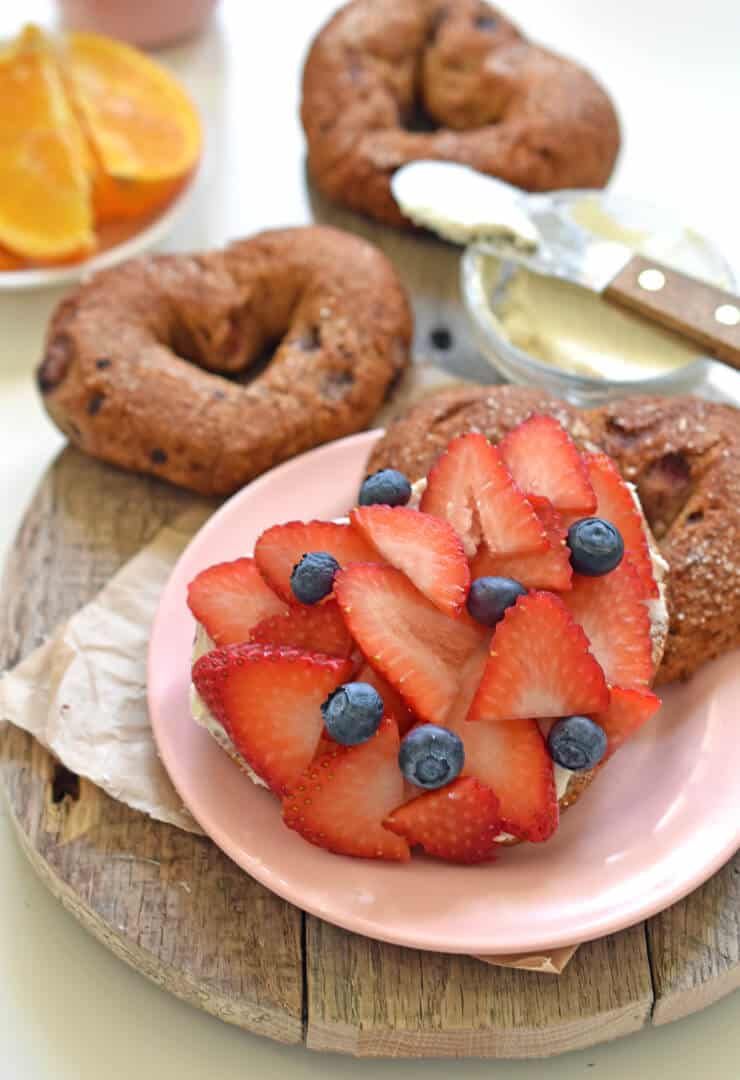 Healthy Valentines Lunch Ideas
This wholesome and heartwarming recipe from Kendra of Tiny Tummy Tales is delicious any time of the year but the addition of the carrot hearts makes it a valentines hit. Prepared in the slow cooker it is a time saver too!
Kendra is now the mum of 4 boys, so if anyone will know anything about timesaving recipes it will be Kendra.
My kids LOVE pizza. Seriously I can put anything on a pizza and it's a winner! Which is why I loved this super simple idea from Eats Amazing. This recipe is so easy the kids might be able to make if for you, rather than the other way around!
If truth be told my kids have a pizza loving mum as well. Pizza is one of my many weaknesses.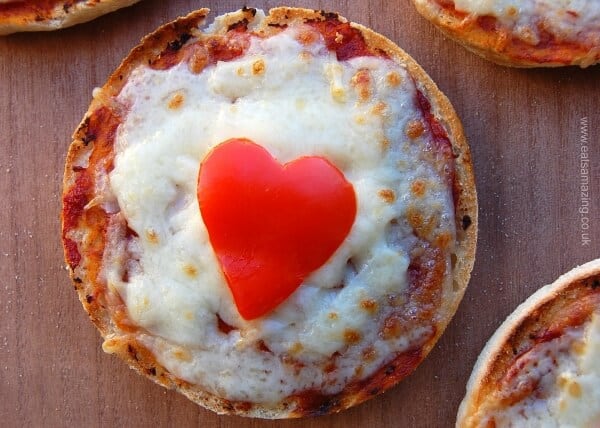 I love that this is such a simple idea! Nothing tricky just a sandwich but such a fun idea for a filling. Ciara is the face behind My Fussy Eater. She is Irish and bubbly and funny, and again another blogger who has been so generous with her time!
Ciara just took out the Kid Food Award at the UK Pinterest awards which is just incredible!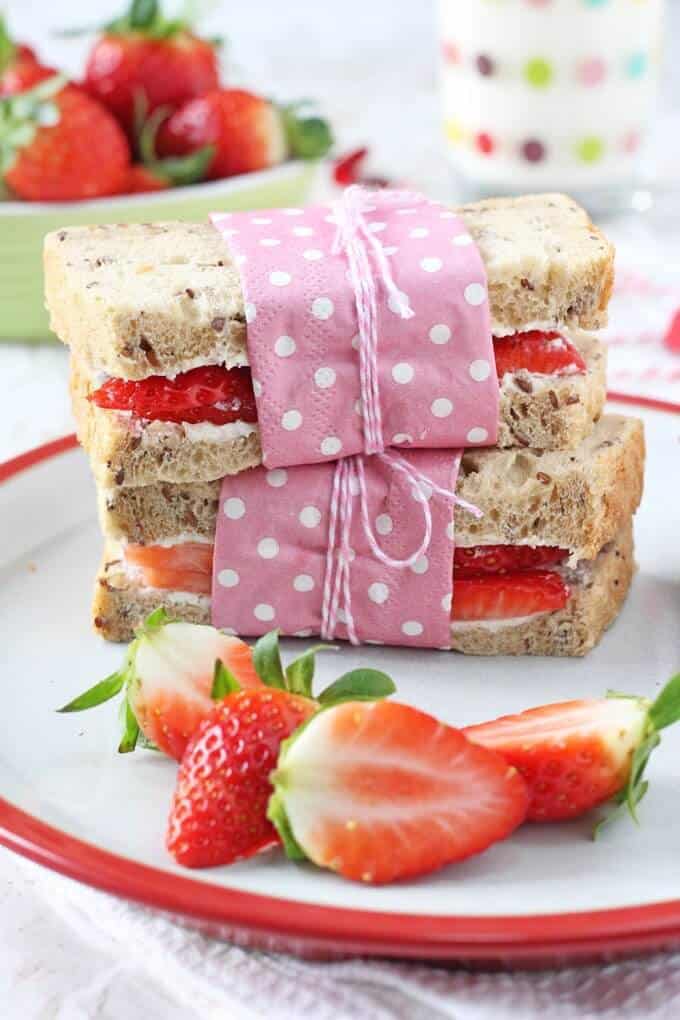 Heart Themed Bento Boxes
Will your kid be heading off to school or kindergarten on valentines day. Maybe you could add a little love to their lunch boxes.
Have I mentioned that Grace of Eats Amazing is the queen of bento boxes. She has some brilliant heart themed lunch box ideas
As does Claudia of Whats Baby Eating which is one of my favourite accounts on Instagram to follow.
Claudia was also incredibly lovely to me when I started off as a fresh faced, bushy tailed no idea what I'm doing on Instagram idiot! Thanks so much Claudia!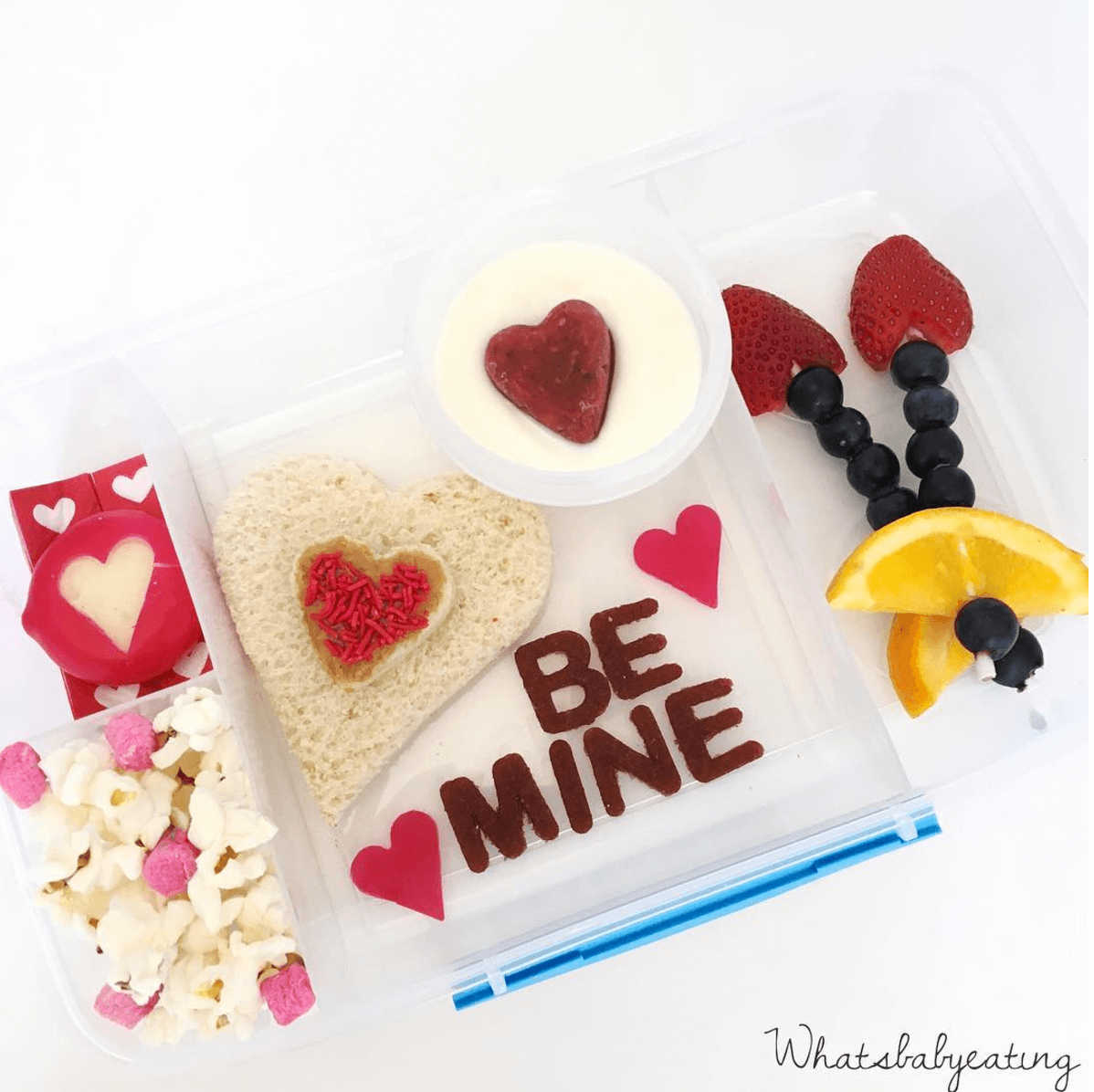 Then there is this cute love hearts lunch box from Kylie at Kidgredients so many healthy hearts packed into this box. The lovely Kylie from Kidgredients is just across the Tasman Sea from me.
She is always up for a giggle, always willing to listen to my grumbles. Although she also makes me snap out of it quick smart! A highly motivated blogger. Kylie you are amazing lovely lady.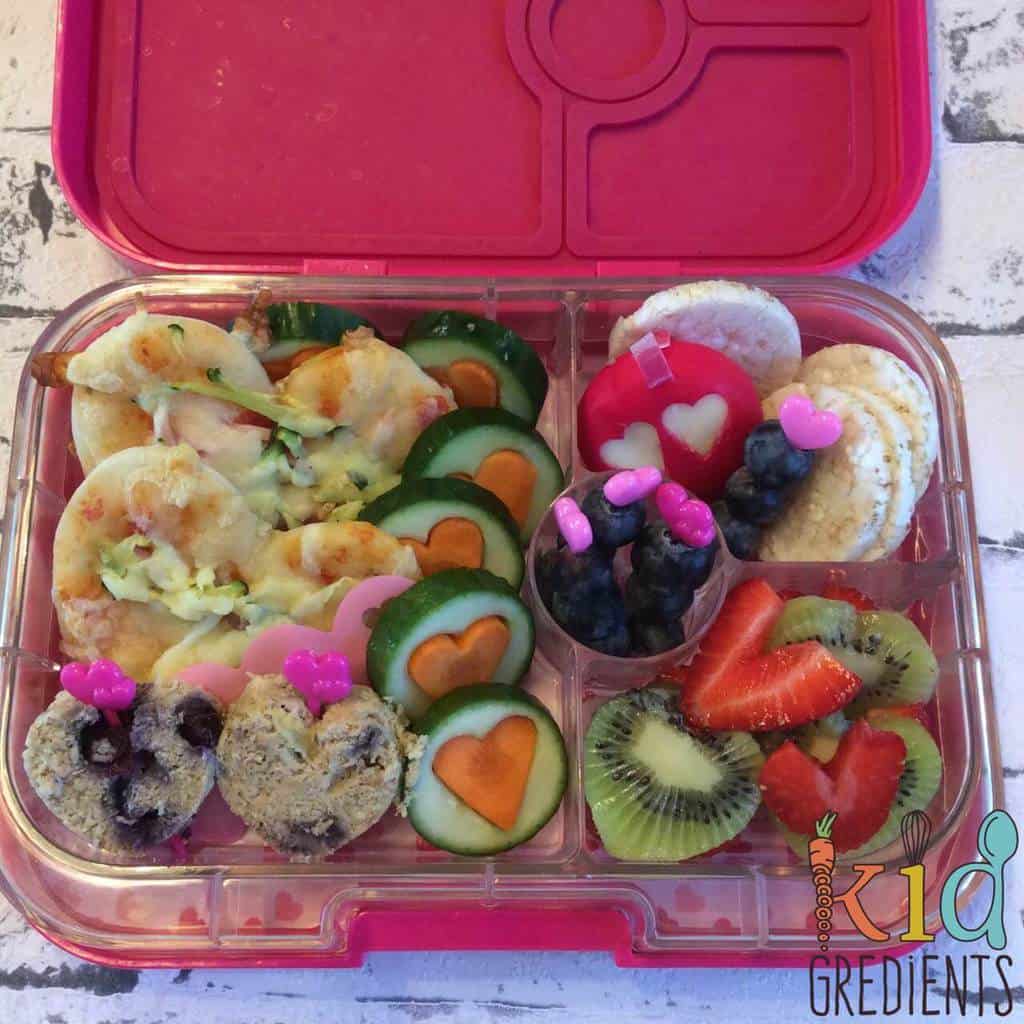 Healthy Valentines Dinner Ideas
Cara of Fork and Beans also has this great dinner idea.
Pot Pies, which are something my kids absolutely love, and I am sure they would love them in these heart shaped dishes as well.
Healthy Valentines Snack Ideas
My kids love popcorn, and I love popcorn as its easy to make and healthy. This version from My Fussy Eater with its flashes of pink is a perfect valentines day treat.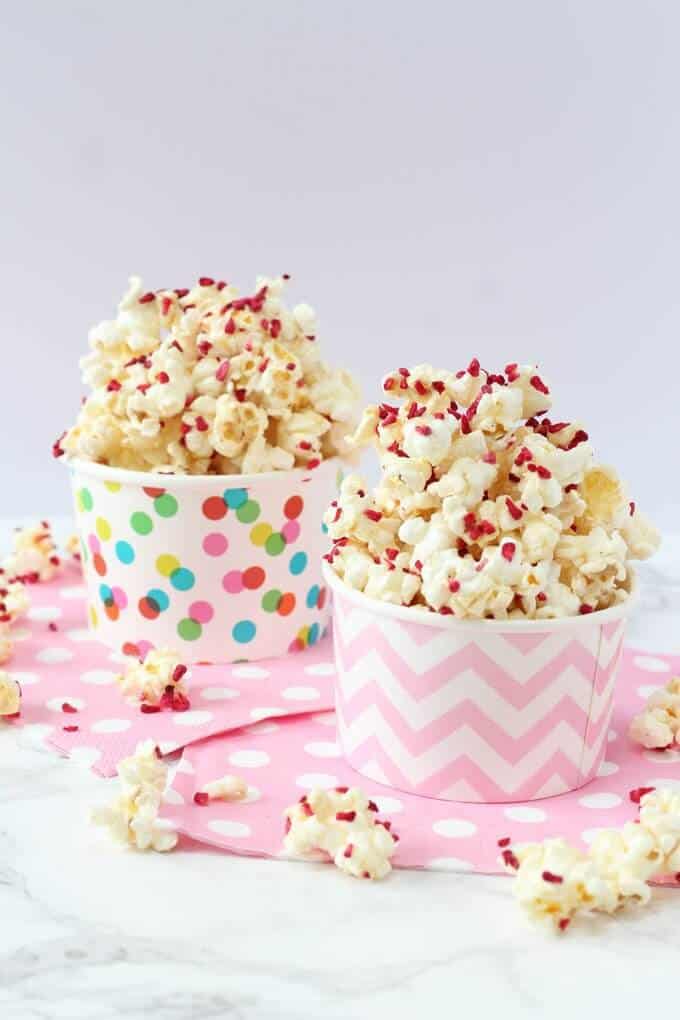 These have been a winner with my kids this summer. So easy to do, and nothing but frozen fruit.
Watermelons are in season here in NZ for Valentines day so they are perfect thing to serve at afternoon tea on a hot day.
Because when it comes to kid food, you can never have enough ball recipes.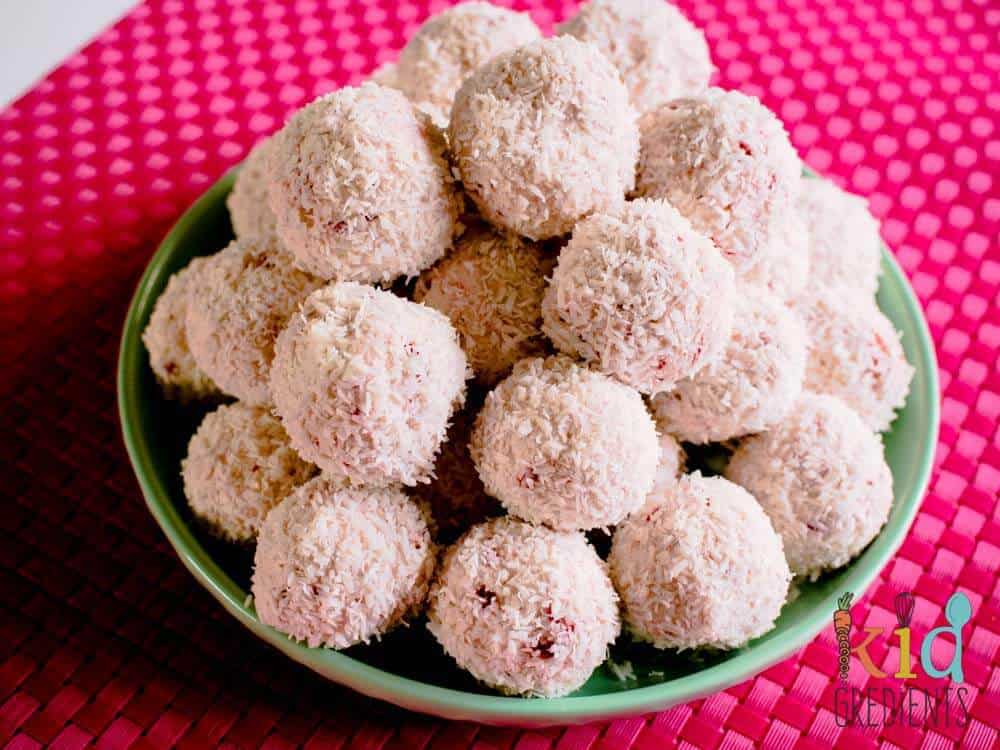 I love this easy recipe from Faye of Baby Led Blog . You only need 4 ingredients to whip them up, and based on peanut butter and jelly but with out the sugar they are bound to be a hit with pretty much most kids.
Faye is in the UK and is another one of my blogging companions who will share a giggle with me when I'm feeling a bit lonely. Love you Faye.
This super cute and simple rainbow idea is from Agnes of Hello Wonderful. I met Agnes through her rainbow coloured Instagram account of pure fun!
She is now one of the most loyal Instagram cheer leaders, I appreciate it so much. Every time she drops by my Instagram account a get a surge of confidence. Thanks Agnes!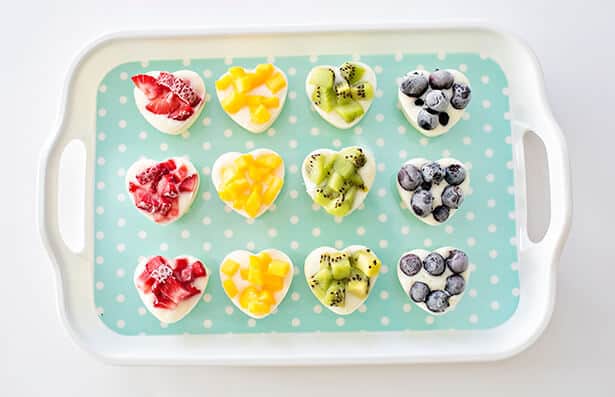 This no bake slice is perfectly pink, perfectly healthy and perfectly simple. Thank you Mandy of the incredible blog Sneaky Veg for letting me include it in my round up.
If you are looking for healthy vegetarian recipes for your family. Sneaky Veg is a great place to look.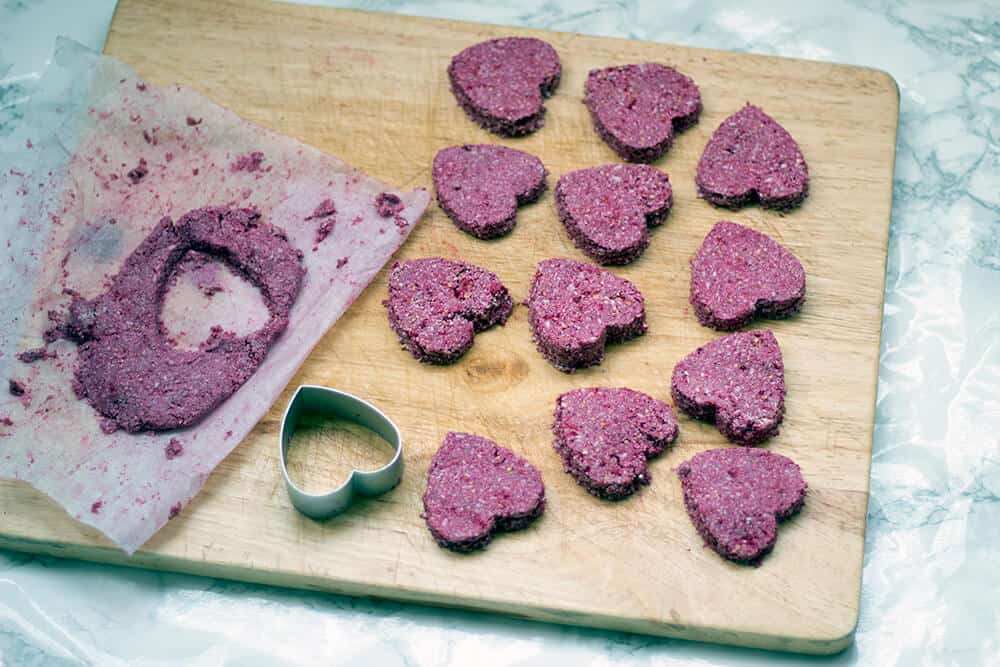 Another one from me. But I promise it is my last. The first place I ever saw Frozen Yoghurt Bark was on The Hello Wonderful site.
My version has a valentines twist. Below is a little video tutorial to show just how easy it is.
Elderberry Valentines Jellies
Karen from Nutritious Yogi is the one to thank for this idea. My kids are gummy fans. I make them often and have tried lots of flavours, but never elderberry.
I have only really just started to get to know Karen. But I am hoping its the start of another blogging friendship.
Healthier Valentines Baking
A cute and healthier take on Doughnuts! Flavoured with blueberry and vanilla this recipe by Baby Led Blog was a hit with my kids. My kids love anything on a stick!
This recipe from Mandy of Sneaky Veg Blog is a jam tart which manages to be refined sugar free. Thanks to the use of a chia seed jam as the filling.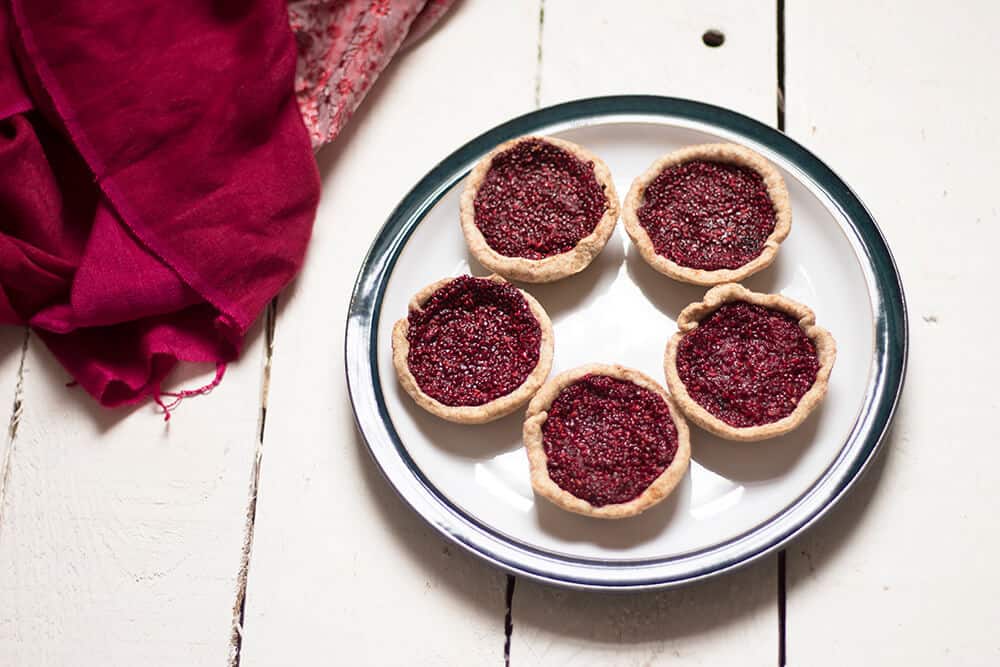 I must confess that as a New Zealander I have never heard of a jammy dodger. But I trust my friend Jen from All About Kids UK and believe they must be delicious but a bit high on the sugar side. She has recreated them.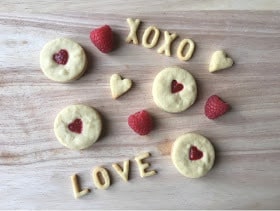 These look simply delectable. Refined sugar and dairy free, but still divine from Aileen the genius behind baby led feeding
If you are looking for a lower sugar biscuit recipes this one nails it. With only 2 tablespoon of sugar in the cookie and 2 tablespoon of Honey in the jam topping across 40 biscuits this is pretty darn low for a sweet style biscuit. Another winner from Kidgredients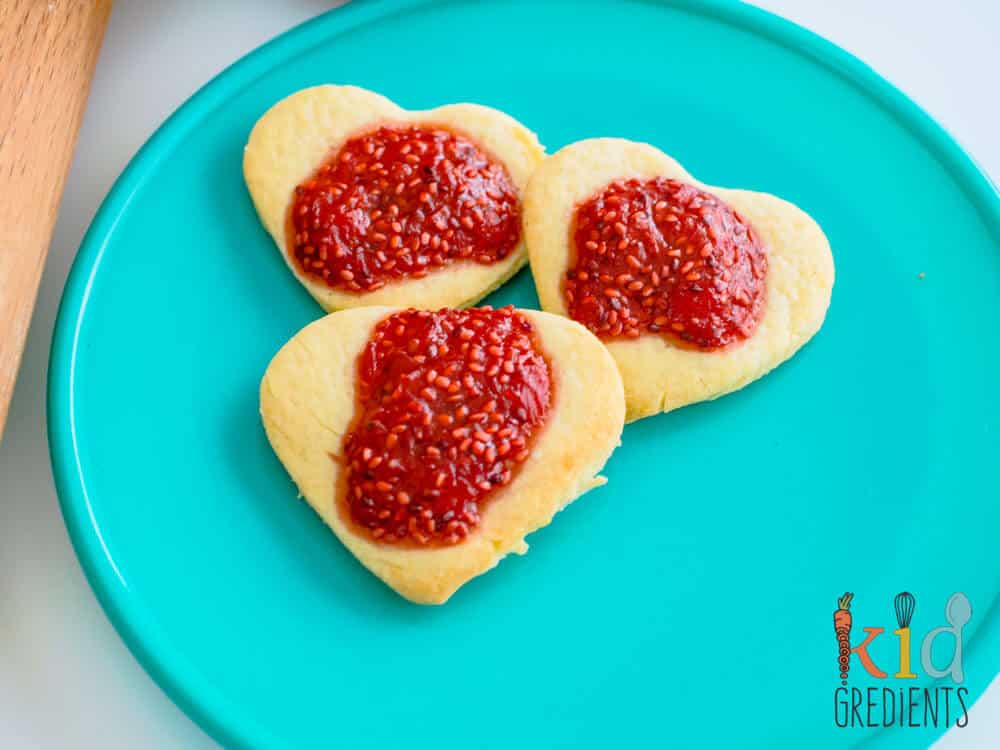 Healthy Valentines Fun Food Ideas
These are so cute!! Grace from Eats Amazing is so clever with her simple but fun ideas. And have no fear there is a video tutorial in the post too!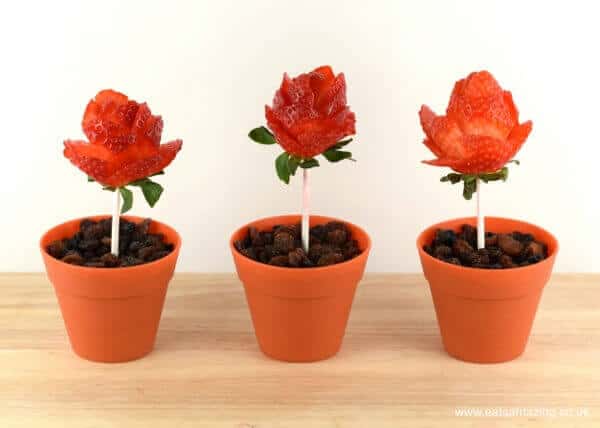 How cute would these be as a table piece for Valentines day or even a kids birthday party. My girls (and my boy) for that matter love cucumber flowers.
But I have yet to create a full bouquet! Mum goals! Thanks Super Healthy Kids for raising the bar!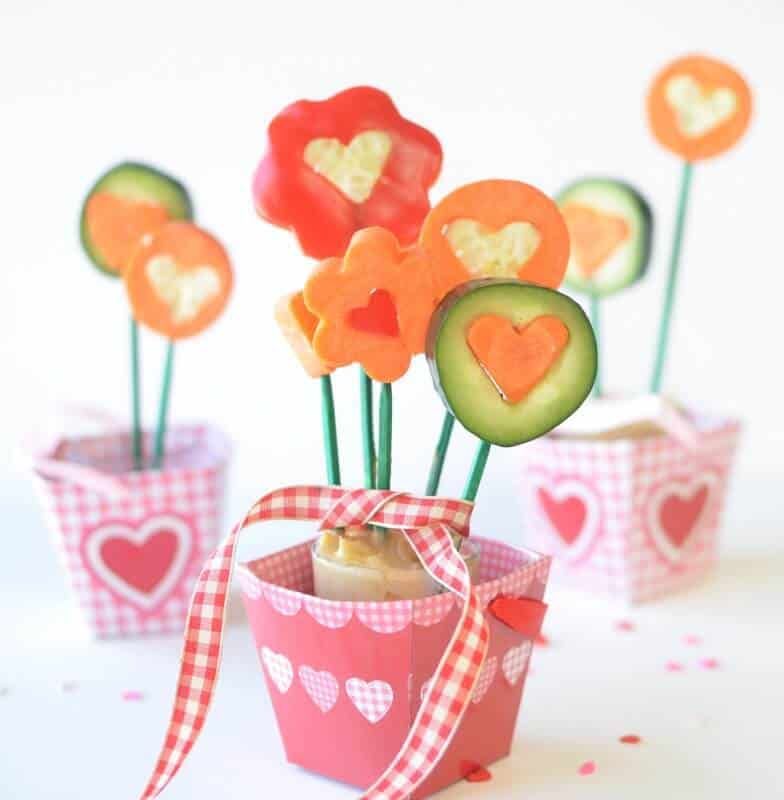 This actually sparked a debate in my household. Not that they are cute, that is a give in. But whether they are ladybugs, or ladybirds? In NZ I am pretty sure we would say ladybird, but I have no idea why.
Either way these are gorgeous and include my kiddos favourite things Strawberries and Blueberries Thanks Stacey from The Soccer Mom Blog for the cute idea.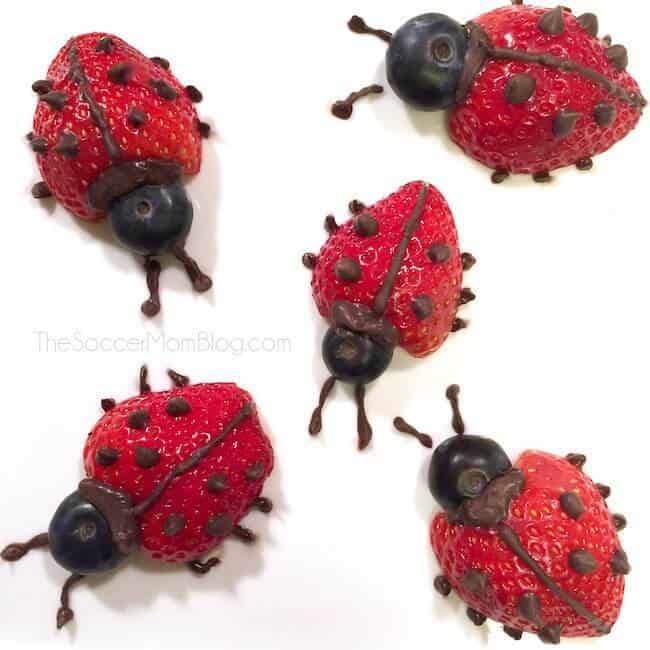 Healthier Valentines Chocolates
First I want to set the record straight, My kids have treats, and I have treats. In fact I am hopeful I might receive a box of delicious chocolates on Feb 14.
So my kids do get to have treats and they do eat chocolate because I am a huge believer in a healthy relationship with food being as important as healthy eating.
I have only really come across baby led feeding by Aileen relatively recently, But I have already gained some great ideas from browsing her blog, and shared a few giggles with her online.
These chocolates are relatively low in sugar and have goji berries as an ingredient to boot!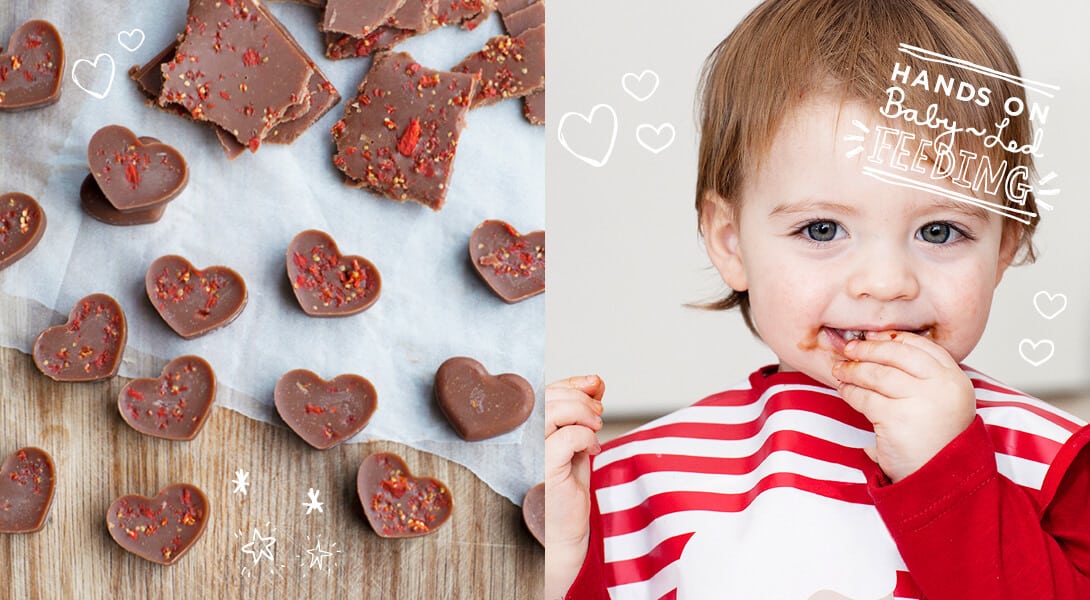 Another great recipe from the Amy of Super Healthy Kids. One of my favourite parts to this aside from the chocolatelyness (spell check says this is not a word, but I do not care) was the intro.
Turns out Amy and I are on the same page when it comes to treats, chocolates and sweets for kids.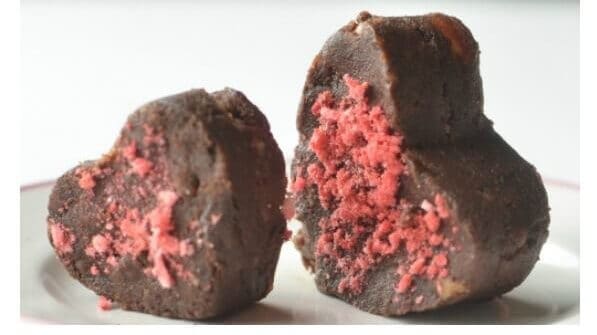 This gorgeously simple but delicious idea is from Kiddielicious Kitchen. I love this blog by the lovely Anja and Minna, mainly for their photography. Everything, and I mean everything on their site is spectacular! But also healthy, and innovative to boot!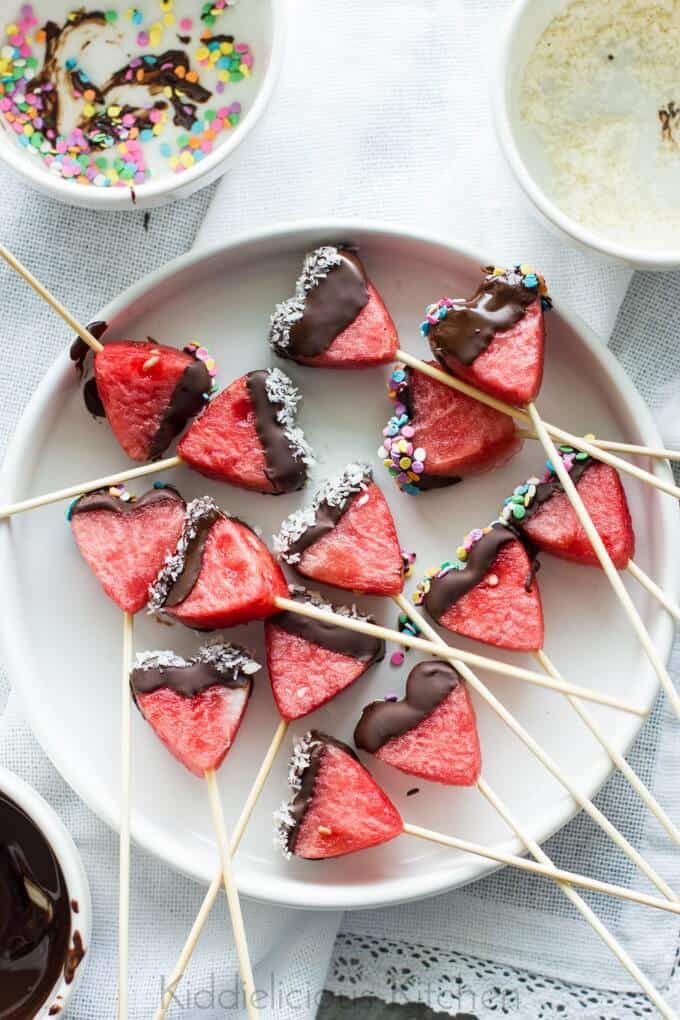 So there we are 30 Healthy Valentines Kid Food Ideas. I had such a fun time putting this round up together.
Especially as it made me realise how many relationships I now have with such wonderful kid food bloggers. I am one lucky blogger to have so many on line friends.