My favourite feijoa recipe, feijoa, and almond loaf
Feijoas, they are a Kiwi institution. This feijoa and almond loaf is my go-to for using up all the feijoas that are around at this time of year.
Here is a confession. For me, I find feijoas a bit too overpowering as an everyday eating fruit.
When it is feijoa season I eat a few fresh, but not 1000's like some people. Sacrilege I know, maybe I am not a true kiwi!
But as with everyone in New Zealand, despite not actually having any feijoa trees in my backyard, I still end up with bags and bags, and bags of them of them from neighbours, friend, and family
Thankfully I love them in baking and so do my kids.
This is a very basic recipe that makes a nice moist loaf. My kids love it and so do I.
I like that it is relatively low in sugar, high in fresh fruit, adds nuts to my children's diet and most importantly uses up a fair amount of feijoas!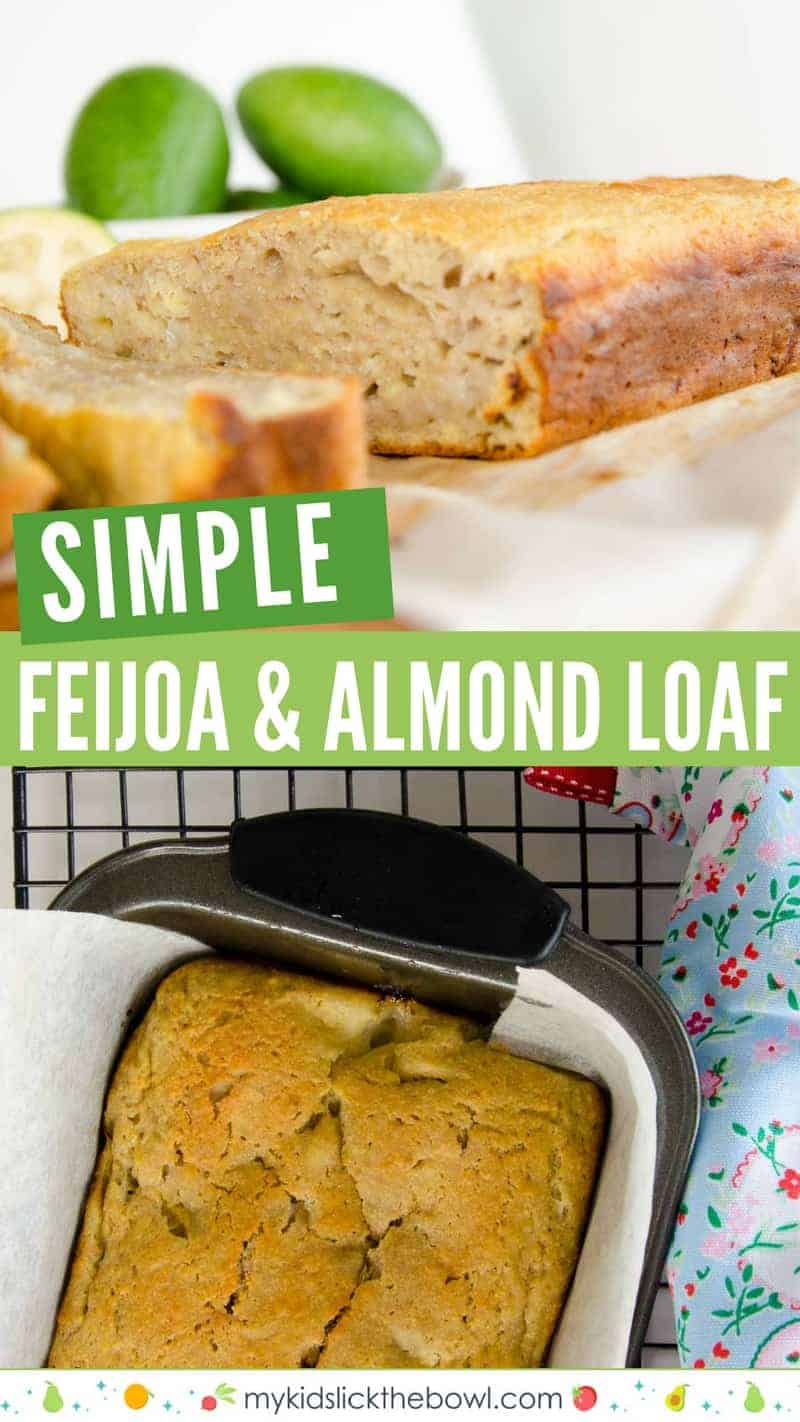 Feijoa and Almond Loaf
A delicious and easy feijoa and almond loaf
Ingredients
1 Cup flour
1 tsp baking powder
¼ Cup sugar (I like to use brown as it adds a nice flavour)
½ Cup ground almonds
2 Eggs
¼ Cup milk
1 ½ Cup mashed feijoa
Instructions
Sift flour and baking powder (or use self raising flour)
Stir in the sugar and ground almonds
Whisk the eggs and milk, mix into the dry ingredients
Stir in the mashed feijoa
Pour into a lined loaf tin
Bake at 180 degrees celsius for 35-45min
Notes
Try wholemeal flour or a 50:50 mix with standard flour to increase the fibre content
Add ½ teaspoon of dried ginger to the dry ingredients
Swap the feijoa for banana when feijoas are not in season
Nutrition Information:
Yield:

12
Serving Size:

1
Amount Per Serving:
Calories:

103
Total Fat:

4g
Saturated Fat:

1g
Trans Fat:

0g
Unsaturated Fat:

3g
Cholesterol:

31mg
Sodium:

84mg
Carbohydrates:

14g
Fiber:

1g
Sugar:

5g
Protein:

4g
Please know this nutrition analysis is based on the ingredients only, this recipe has not been sent to a laboratory for independent testing