Are seeds a good alternative to peanuts in a school lunch box?
The rise of Peanut allergy has had a flow on affect to the foods we can pack in kids lunches. Peanut Butter sandwiches are on the out. Are seeds a good alternative? Are they safe to send, are they nutritious and are they economical. In this article I look at just that.
Allergy
The rise in peanut allergy and subsequent ban on peanut in kids lunch-boxes was the reason behind this article. So lets start with looking at allergy when it comes to Nuts and Seeds.
Allergy Prevalence of Nuts and Seeds
Peanut Allergy
It is well established that Peanut Allergy is on the rise. When I completed my Nutrition and Dietetic Study approximately 13 years ago (I know, I'm getting old).  I always quoted 1% as the prevalence of Peanut Allergy.  Fast forward to present day, and studies are now finding much higher figures.  The ASCIA Peanut, Treenut and Seed Allergy Fact Sheet now quotes 3% as the possible prevalence in children based on an Australian Study.  So that is a possible  3 in 100 or 1 in  a typical classroom of 33 kids.
A funny thing about Peanuts is that they are not nuts. No, peanuts aren't nuts at all they actually fall into the food class of legumes. Other legumes include foods like chickpeas, soybeans, peas, lentils. I mention this because sometimes people assume the reason some kids are allergic to both Peanuts and Tree nuts is because they are similar types of food and this is why they may react to both types of 'nuts'. This is not the case, legumes and tree nuts are very different,  it is more to do with the person than the food. An individual with a peanut allergy is more likely to have allergies to other foods just because they have a peanut allergy.
As I go on through this article discussing seeds as alternatives to nuts in the lunchbox. Please note I am writing this for kids who do not have a diagnosed Peanut allergy. If your child has an established peanut allergy please follow the advice you have been given by your doctor regarding avoidance of tree nuts and seeds. If you haven't been given advice on this for your peanut allergic child, then do ask your health care professional about your specific circumstances. There is some information on this in this Fact Sheet from ASCIA
If your child does not have a peanut allergy the general consensus from global allergy professional bodies is there is no benefit in delaying the introduction of any potentially allergenic foods past the age of 6 months, including nuts and seeds.
Tree Nut Allergy
Most other nuts fall under the category of Tree Nuts. Pretty clever really because they are nuts which grow on trees!  This category includes nuts such as Almonds, Cashews, Walnuts, Hazelnuts etc. It was relatively difficult to find allergy rates for the individual tree nut types.  A 2015 Systematic Review found Tree Nut Allergy to be <2%.
Seed Allergy
Tracking down information on seed allergy rates was tricky. There appears to be very little data available. Although in the literature it is generally agreed that seed allergy is rare, but that rates are or could be on the rise.  A recent 2016 review  found sesame seed allergy to be 0.1-0.2%. The authors of this review did not provide prevalence figures for other seed allergy as they were unable to locate any research outside of case studies.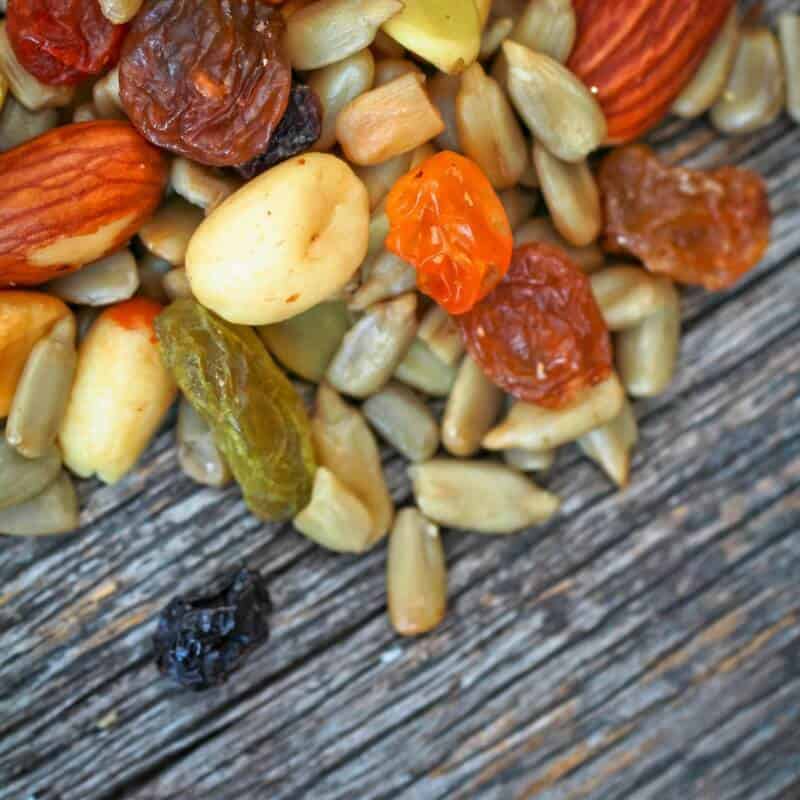 Nutrition Nuts vs. Seeds
Protein Content
When it comes to protein content it is a essentially a dead heat between nuts and seeds. The protein content across varieties varies a bit. But both nuts and seeds are good sources of protein.
Protein Content of Nuts & Seeds
So both nuts and seeds will provide a great source of protein in your childs lunch box.
Iron Content
Sesame seeds are a standout when it comes to iron content.  Although it always pays to remember that unless a nut or seed is 100% digested on it's way though our body it will not provide 100% of it's nutrients. A little bit disgusting I realise, but I hope you understand what I am eluding to. Some foods have a tendency to pass through us relatively whole! This issue is obviously not just related to iron, but to any nutrient a nut or seed contains.
Iron Content of Nuts and Seeds
Nuts and Seeds are vegetarian sources of iron. Which means the type of iron they contain is non-haeme iron. Non-haeme iron is unfortunately not as well absorbed as haeme iron in the body.
Many children are not getting enough iron
Kiwi Kids are by no means exempt. Despite living in the land of plenty the most recent National Nutrition Survey found
80% of kiwi kids were not eating enough Iron
14 % of kiwi kids under the age of two were iron deficient
These statistics are in line with many other countries and are quite surprising and concerning.
I have discussed iron in 2 of my previous article.
Calcium Content of Nuts & Seeds
Growing bodies and bones need calcium. Nuts and seeds can provide this important nutrient.  Sesame seeds and Chia seeds are the winners on this front. But again seeds are by no means lagging behind there nutty counterparts.
Price
On the price front, I think seeds might just beat nuts to the post. Or at least in the NZ Countdown supermarket I checked. Nuts and seeds can be a relatively expensive purchase. But if you buy wisely and buy on special you can save a few dollars.
Cost Comparison Nuts & Seeds*
Are seeds a good alternative to nuts in school lunches?
After looking at allergy rates, nutrition and price I think YES, they are a great alternative. It is for this reason I have been looking nut free seedy recipes for school lunch boxes. Please check your School, Daycare or Kindergarten Policy on Nuts and Seeds however. In NZ it seems must facilities are Peanut free, some all nut free but most are fine with seeds. This is not across the board however.
Nut Free Seedy Lunch Box Recipe Ideas
At this stage I have 2 fabulous recipes that are nut free but packed with seeds and perfect for lunch boxes. But keep and eye out as I will be posting a round up of my favourite seedy recipes from the web, Pinterest and kid food bloggers this week.
Does your child go to a nut free School, Kindergarten or Day Care?
My kidlets attend a Kindergarten. It is a small kindergarten with a max of 18 kids per day. This kindy is nut peanut free which means I can still send peanut butter sandwiches. My kids kindy only has a peanut ban when they have a child enrolled with a peanut allergy.