Popcorn is such a fantastic quick treat for kids. The crunchy texture is always a winner. I make home popped popcorn for my kids pretty regularly. We usually have it plain as a snack or as something a little playful to add to their lunch boxes.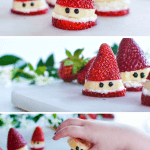 At the moment I am all about Christmas. I am a Christmas lover so I have been putting my thinking cap on to come up with healthy but fun Christmas treats. My first effort was these Strawberry Santas but this time it is popcorn!
What you need to make Healthy Christmas Popcorn
Well it wouldn't be Christmas if there wasn't a healthy smattering of red and green colours in the popcorn!
My first thought for red was Cranberries, but alas these quickly came off the list. Do you know why? Well the reason was that I could find no dried cranberries in my local grocery store that didn't have added sugar. Check the pack of any that you are using, most only had cranberries as about 60% of the ingredients, with the their ingredient listed being sugar. Which means 40% added sugar. So cranberries were off the list. My substitute was Goji berries
Then I needed green. I went with Pistachio nuts and pumpkin seeds (some people may call them pepitas)
Healthy Christmas Popcorn
Ingredients
3 Tbsp Oil with a high smoke point
1/3 Cup popcorn kernels
1/4 Cup Goji berries
1/4 Cup Pumpkin seeds or Pepitas
1/4 Cup shelled pistachio nuts
Instructions
Add the oil to a large heave based saucepan
Add 2-3 kernels of pop corn
Heat on a medium to high heat
Wait for the kernels to pop, once this happens add the rest of the popcorn kernels
Put the lid on
Once the kernels begin popping, shake the saucepan over the heat to keep them moving.
When the popping slows to a few seconds between each pop, remove from the heat and leave for another couple of minutes
Remove lid and pour popped popcorn into a large bowl
Add the berries nuts and seeds and mix
Serve your festive popcorn
Notes
I like to use Ricebran oil or coconut oil for popping popcorn. They have high smoke points and a mild taste.
Are your kids popcorn lovers? I would love to hear if they like this christmas version